In case you've been living under an icy boulder, you know that the much anticipated film Frozen 2 comes out this weekend.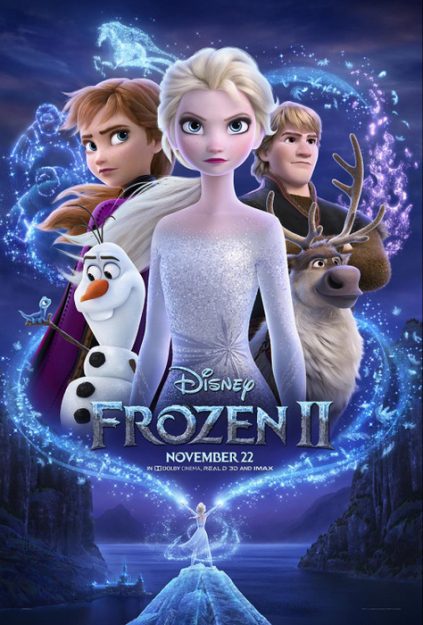 I had the chance to see the movie early– for some reason multiple theaters around Orlando were playing it frequently starting November 21 at around 6PM. Did anyone else's city do this? Why say the release date is the 22nd if everyone can see it the 21st?
I digress…
I was nervous and anxious about the film. After all, it's very hard to make a sequel that lives up to the original — and this is Frozen we're talking about!  Billion dollar-grossing, Academy Award-winning, Millions of dolls-selling, Can't get "Let it Go" out of your head FROZEN. How can Disney possibly top that?
To find out, you can read my SPOILER FREE (I promise!) review below. Unless you haven't seen the trailers, in which case you'll want to exit now. Go read this instead.
Much like its sister-film (pun very much intended), Frozen 2 is a story of love and family.  Arendelle's castle gates are open now, and Anna and Elsa (and Olaf and Sven and Kristoff) are living their best lives as a normal family. Well, as normal as a reindeer, talking snowman, princess, her boyfriend who was raised by trolls, and ice queen can be.
But something calls Elsa to an enchanted forest, and we learn she must discover the truth of the past, but beware — the journey will be dangerous. Chilling, isn't it?! (Pun intended again. Just assume all the puns are intended if they're about ice.) She sets out on adventure with her sister, and of course Sven, Kristoff, and Olaf, in tow.
That's about as much of the plot as we will be discussing now — like we said we don't want to give away any of the HUGE plot points and surprises you need to see to believe. But we will answer the big question: did we enjoy Frozen 2?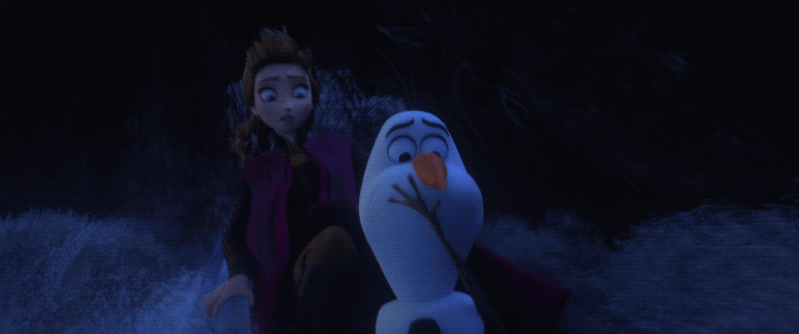 I am happy to report, that in my humble opinion, Frozen 2 is a winner. In fact, in many ways, I liked it MORE than the original.
Let's start with the visuals. The movie is STUNNING. Like breathtakingly gorgeous. Even if you (somehow) hate the movie, you'll at least have a beautiful view! It's the kind of animation that makes your jaw drop — akin to Toy Story 4 or iconic scenes in Cinderella or Beauty and the Beast. 
In addition to the visuals, the movie has a gorgeous soundtrack. Just like the original, there are several numbers in a variety of styles, that are sure to make your Spotify playlist. That said, I think the music in the original is slightly better than the sequel. While Kristoff actually gets to sing in this one (yes, Jonathan Groff!), you just can't beat "For the First Time in Forever" and "Let it Go." Though, Elsa does have another iconic song that I've already belted out in my car.
But the real beauty in Frozen 2 is the story. It's funny, touching, action-packed, well-paced, tear-worthy, and immersive. The new characters are great additions without overshadowing your favorites. (Sterling K. Brown's character had me giggling.) Olaf is hysterical, and Sven is adorable — just like you remember.
And Elsa isn't the only strong independent woman on the screen — Anna really comes into her own in this film. In fact, the story focuses a lot on Anna and her growth and love for her family, in addition to Elsa's quest for the truth. Both are incredible role models for the young kids who idolize them.
And while the story is darker than the first, there's enough Olaf one-liners and shots of the new cute lizard for your kids to enjoy themselves. In fact, they probably won't fully grasp what's going on. But you will, and I promise you'll be surprised/moved/entertained.
Overall, Frozen 2 is worthy of the name. It will make you think, laugh, and feel your feels — isn't that what all the best Disney movies do?
Are you looking forward to Frozen 2? Let us know in the comments!
Join the AllEars.net Newsletter to stay on top of ALL the breaking Disney News! You'll also get access to AllEars tips, reviews, trivia, and MORE! Click here to Subscribe!