Walt Disney World has a LOT of character meal options and each one is very different. From the prices to the characters you can meet, food, and atmosphere, a lot can go into choosing where to dine.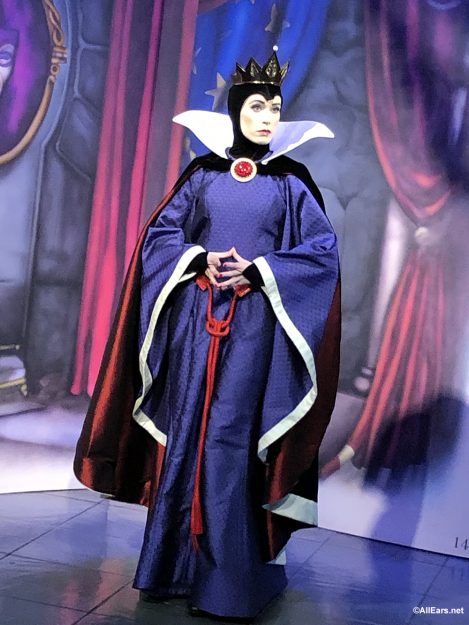 If meeting characters is a must-do on your list, then character dining is a great way to do that. They're beneficial because 1) you'll get a meal, 2) you won't have to waste a FastPass or time in line on meet and greets at the parks, 3) you can sit in your chair and let the characters come to you.
Seems simple, right? Well, it sort of is, but the catch is that these dining options can be PRICEY. Since you have the opportunity to interact with different characters while dining, Disney hikes up the prices.
So, which ones are worth your time and money, you ask? Well… we've got all the answers for you here! We have ranked each character dining spot based on price, food, characters, and experience.
1. Cinderella's Royal Table
Why do we have Cinderella's Royal Table ranked highest you ask? Well, for starters, you get to eat INSIDE the castle in the Magic Kingdom. And really, nothing compares to that experience.
Though the portions can be a little small for the price, there's nothing more magical than meeting the princesses like Aurora, Cinderella, and Snow White inside the castle, especially if you have little ones.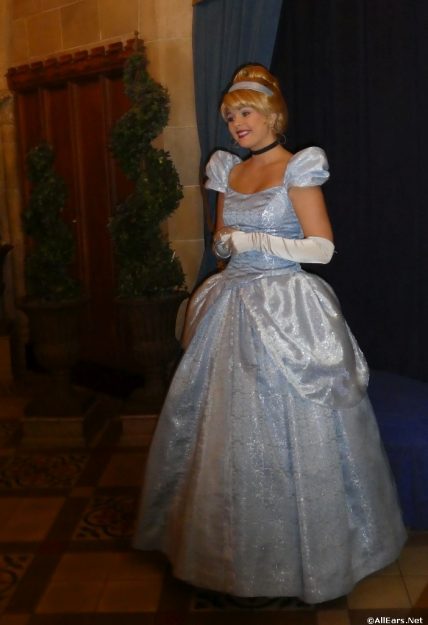 It's expensive, but it's the perfect way to create lasting memories. And no, this might not rank as someone's number one to-do if they have visited the parks multiple times. BUT this is the must-do character experience for first-timers, because there's nothing else like it.
These reservations fill up VERY quickly, so you will need to make them 180 days in advance. And be warned, you will have to pay for the experience when you make your reservation.
2. 'Ohana Breakfast
Coming in a very close second is 'Ohana breakfast at the Polynesian Village Resort. We love dining here because it allows you to escape from the typical buffet-style meal. Food options include freshly made pineapple-coconut bread, Uala Kahiki (Fried Potatoes), Pua'a (Pork), and Hua Paka (Scrambled Eggs).
The food is great and the characters are fun because they're different from most locations. Here, you'll meet Mickey, Pluto, Lilo, and Stitch dressed in their best Hawaiian gear!
And if you're seated near the windows, you will have an incredible view of the castle!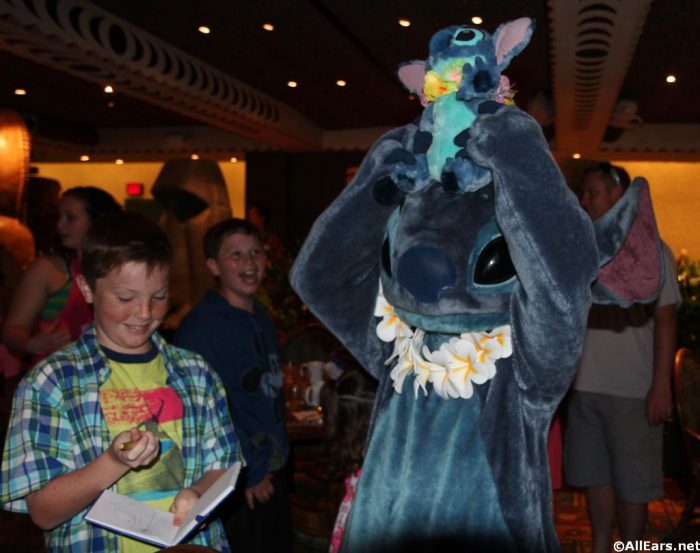 3. Artist Point
Artist Point is a newer character location at Disney's Wilderness Lodge.
We enjoy Artist Point because of the theming — everything from the food to the drinks is inspired by Snow White. With options like cottage beef stew, Brothers Grimm roasted chicken, miner's treasures sponge cake, and the smoking mirror cocktail, items on the menu will make you feel like you're a part of the Snow White story.
There are also some pretty great character options: Dopey, Grumpy, Snow White, and the Evil Queen. This is great because Grumpy and Dopey typically only meet guests during Mickey's Not So Scary Halloween and Mickey's Very Merry Christmas parties.
We enjoy the menu options and really like the atmosphere — a unique dining experience.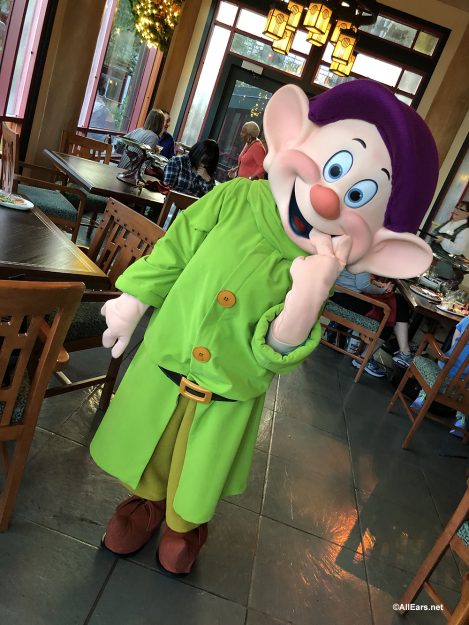 4. Trattoria al Forno Bon Voyage Adventure Breakfast
Want to meet Ariel and Eric in one place? Want to dine on a tower of Rapunzel-themed pancakes? Then, this is the character dining option for you. Trattoria al Forno's Bon Voyage Adventure breakfast at Disney's BoardWalk will give you the chance to meet multiple princes and princesses at once. This is pretty rare since the princes don't meet regularly in the parks.
We love meeting everyone while trying some fun themed breakfast options like Pascal's palette (fresh fruit, yogurt, honey, and granola), King Trident's shipwrecked al Forno (calzone with scrambled eggs and toppings), and the swimmer's delight (egg white omelet with smoked salmon).
What stinks about this location is that it's rather expensive and you can only meet characters during breakfast. This means reservations are often hard to come by.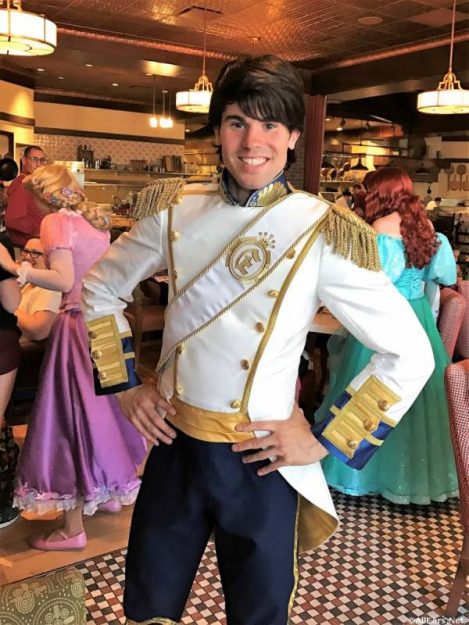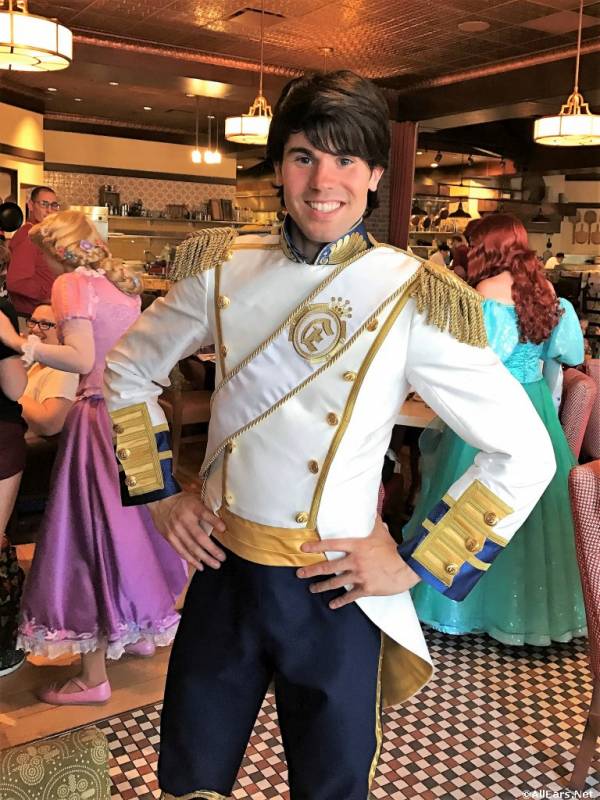 5. Garden Grill
I love dining at Garden Grill in Epcot because the location isn't usually crowded and the food is really yummy, at breakfast, lunch and dinner.

The restaurant will slowly circle around as you enjoy delicious eats like creamy mashed potatoes and sliced turkey breast with gravy at lunch or dinnertime, or Chip 'n Dale's ooey-gooey Sticky Bun Bake and hearty bacon, ham and eggs at breakfast. Farmer Mickey, Pluto, Chip and Dale will walk around and greet you while you chow down on your family-style meal.
And, if you dine at the end of the night, the restaurant is usually pretty empty and the characters will spend more time interacting with you. I feel like this is a hidden gem at Disney that usually has open reservations.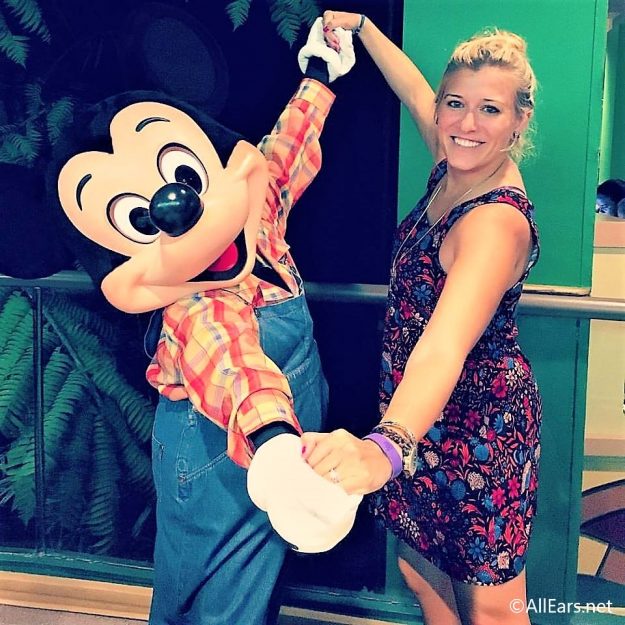 6. Tusker House
Tusker House is a good dining option at Disney's Animal Kingdom if you're looking to meet characters like Donald, Daisy, Mickey, and Goofy. We love the difference in dining options and the fact that the characters are dressed in their adorable safari outfits.
The breakfast buffet has typical breakfast fare, plus a few more exotic treats, plus you get the delicious POG juice (passionfruit, orange and guava). The dinner buffet includes options like hummus dips, roasted pork, basmati rice and curry chicken, and banana bread pudding.
Although we really enjoy this spot, it's often crowded and noisy, but we've found the characters to be so much fun, especially sassy Miss Daisy!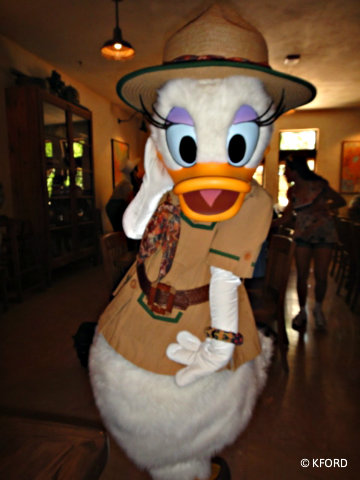 7. Crystal Palace
If you love Winnie the Pooh, then Crystal Palace at Magic Kingdom is the place for you. Come join in the fun as you meet Pooh, Tigger, Eeyore, and Piglet. Meeting Piglet is a real treat because you can't meet him at any other location!
This is buffet-style dining with typical breakfast foods like scrambled eggs, fruit, and bacon for breakfast, and soups, salads, and carved meat options for lunch and dinner.
I love eating here during the Happily Ever After fireworks because the wait staff will usually let you go outside to watch them and then will let you return to finish your meal. The end of the night is also when the restaurant sees fewer guests so the characters will have more time to play around with your group.
But, we have to admit, most of the time this location is crowded and it can get a little hot and stuffy.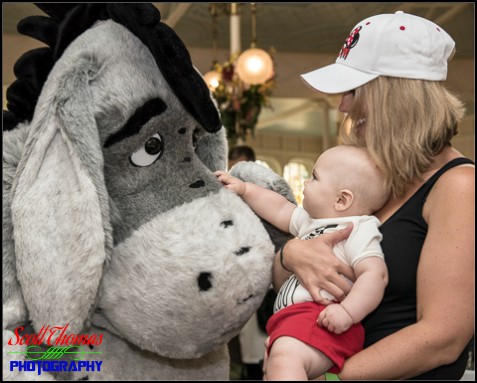 8. 1900 Park Fare
1900 Park Fare at the Grand Floridian Resort and Spa offers unique character greeting options. At breakfast, you'll often meet Alice, the Mad Hatter, Mary Poppins, Pooh, and Tigger.
And at dinner, you will be able to meet Cinderella AND Prince Charming along with Lady Tremaine and the Evil Stepsisters.
The interactions here are always lots of fun — especially when Prince Charming or Cinderella decides to dance with a young prince or princess diner. The atmosphere is a little quieter than at other character meals, but that's not always a bad thing. The buffet has a lot of the same options as many other restaurants, although we've found the cold Strawberry Soup here to be a standout.
It can be pretty hard to get a reservation here since people want to meet Cinderella and the characters and also want to visit the Grand Floridian, so make sure you make these reservations as soon you can!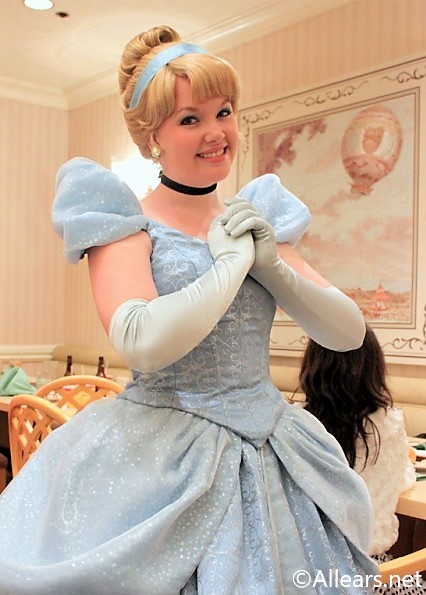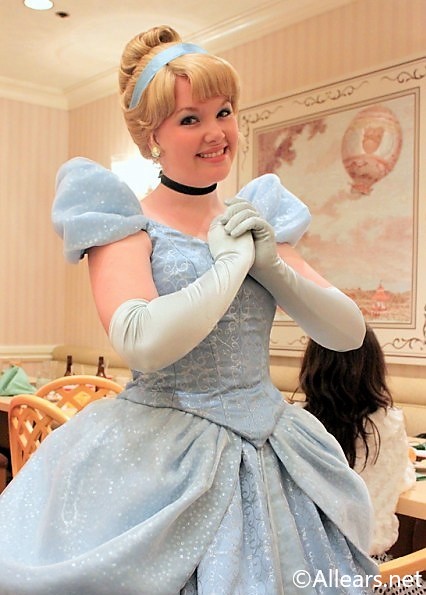 9. Akershus Royal Banquet Hall
Akershus Royal Banquet Hall is a lesser-known princess character meal in Epcot's World Showcase. We feel that this location is pretty laid-back as far as character meals go. You'll usually see Snow White, Belle, Ariel and Aurora — maybe others, but not Anna and Elsa. You have to visit them at the Royal Sommerhus on the other side of Norway pavilion.
The menu items here can be a little unusual — they offer some traditional Norwegian dishes — so they might not please everyone in your party. Be sure to check out the menus before booking your dining reservation at this spot!
If you do choose to dine here, try booking your reservation before park opening so you can be one of the first in line for the very popular Frozen Ever After attraction next door. This usually has a long wait, so if you can save time by avoiding that line, it'll let you knock more stuff off your to-do list.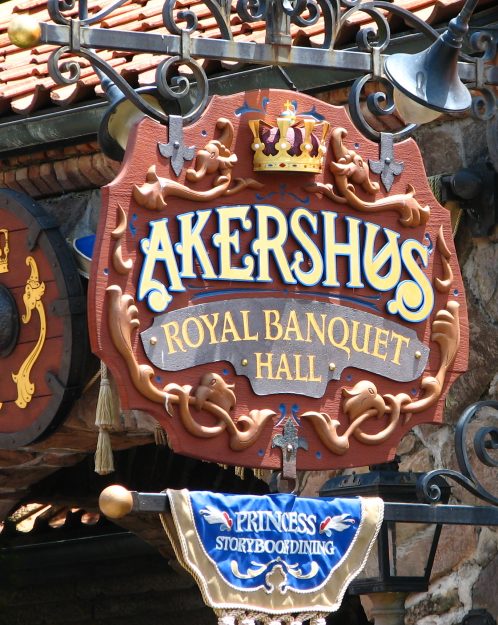 10. Hollywood and Vine
Hollywood and Vine in Disney's Hollywood Studios is THE place to go if your kids want to meet Disney Junior characters like Vampirina and Fancy Nancy. Be forewarned though — the Disney Junior characters are only at breakfast.
If you're dining here for lunch or dinner you'll meet Mickey, Minnie, Donald, Goofy, and Pluto. The meal's theme and menu changes often, based on the season.
The atmosphere is generally loud here and the food is pretty typical buffet fare.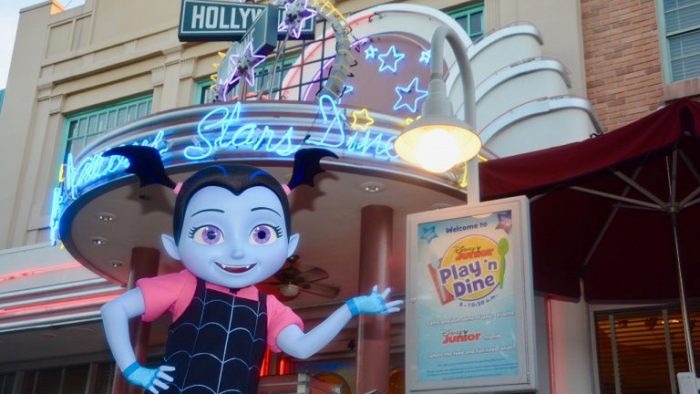 11. Cape May Café Breakfast
The Cape May Café at Disney's Beach Club Resort offers a more relaxed character meal — Minnie's Beach Bash. But it doesn't offer as many character options — just Minnie, and a few friends. And though it is less expensive, the experience just doesn't blow us away. This is another location with standard breakfast buffet options like an omelet station and fruit.
The last time we dined here we were disappointed with the food and felt very rushed.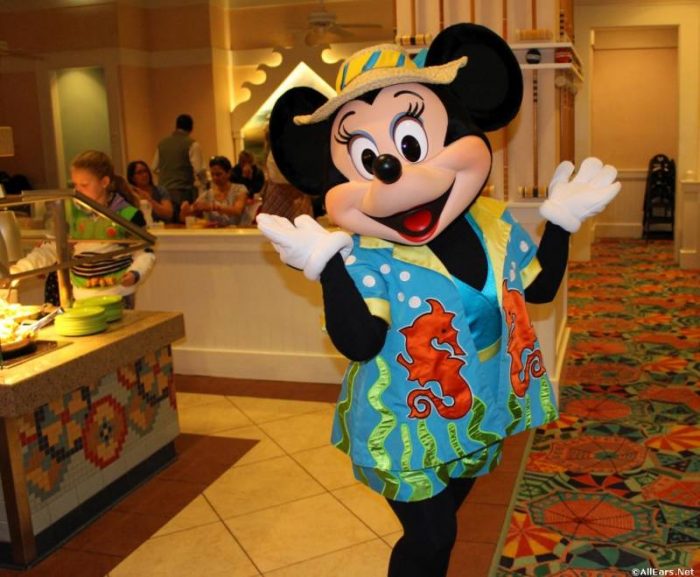 12. Chef Mickey's
Many people rave about Chef Mickey's at Disney's Contemporary Resort as the "IT' character dining spot. Here you can meet Mickey, Minnie, Donald, Goofy, and Pluto in their chef outfits, which is really cute!
But we think that it's way too crowded, serves boring, standard food like mac and cheese, salad, and carved meats, and is too big of a restaurant for the characters to move around efficiently. It's very noisy, both from the other diners and the monorail periodically passing overhead. Overall the experience feels rushed and messy.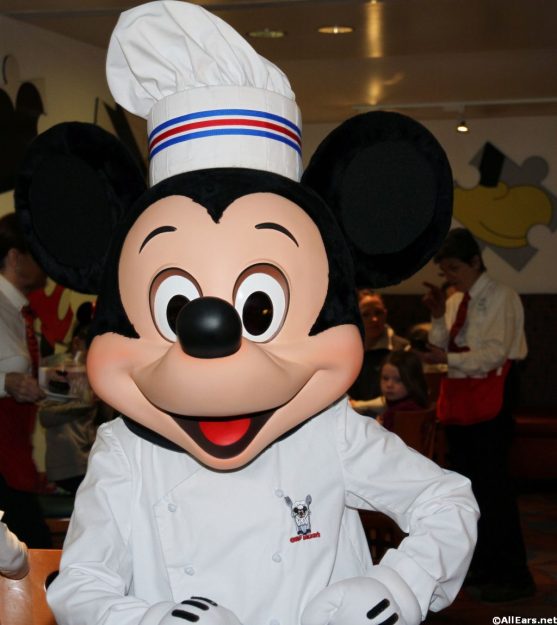 13. Garden Grove
Located at the Walt Disney World Swan, this is a less expensive and less well-known character meal option. Characters appear every night at dinner, and at breakfast on Saturday and Sunday. The main drawback is that you can only meet two or three characters here — most of the time it's just Goofy and Pluto, sometimes Chip 'n Dale show up. The big advantage here, though, is that it's a lot easier to get reservations and it's usually a lot less frantic.

Dinner is a buffet or you can order from the a la carte menu, and there are often themes, like seafood night. Weekends, breakfast is just a buffet, with offerings like Mickey Mouse Belgian waffles, made-to-order omelets and corned beef hash.
14. Ravello
Ravello at the Four Seasons Resort Orlando is on our list simply because it's another character meal option that you might not have heard of. Obviously it's a little harder to get to, since it's not on Disney property, and it is also a bit more expensive.  But if you're having trouble booking something at Crystal Palace or Cape May Buffet, and you're desperate dine with characters, you might consider this.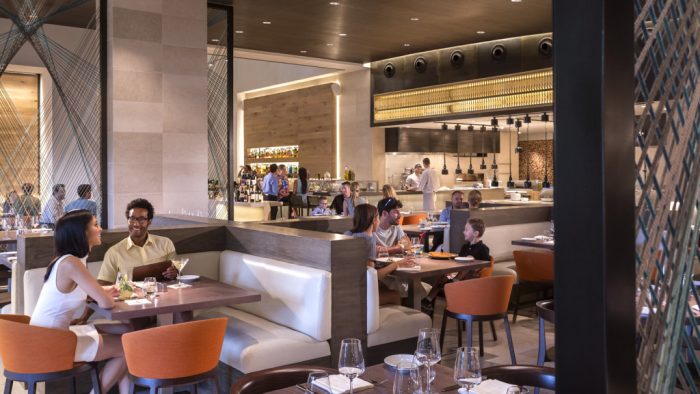 Honorary Mentions
A few other locations where you can meet a character or two while eating that aren't true character dining spots are Be Our Guest restaurant and Chip 'n' Dale's Campfire Sing-A-Long at Fort Wilderness.
Beast typically greets guests in his castle during dinnertime. He does not go from table to table, so you may have to wait in a bit of a line to meet him if you spy him after you're done with your meal.
The Chip 'n' Dale Sing-A-Long happens nightly at Fort Wilderness and is a great place to meet these characters for FREE. You can actually interact with Chip 'n' Dale as you toast s'mores and watch a movie under the stars.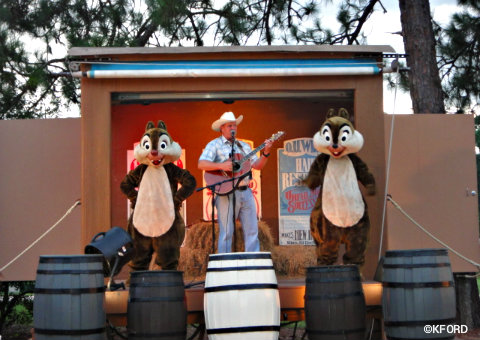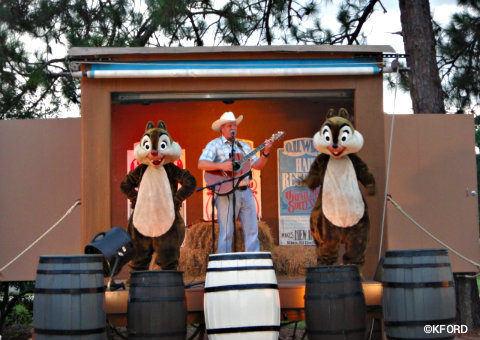 Those are our rankings for all the character dining at Walt Disney World — we realize that Your Mileage May Vary! Dining is such a subjective thing and your family's likes and tastes may differ wildly from ours.
Also, things change! Not only do chefs and menus change, but sometimes the restaurants themselves shake things up. In fact, be on the lookout for a new character dining location that will be making its way to Toy Story Land very soon. Read all about the new Roundup Rodeo BBQ table-service location here! 
Which character dining experience would you rank as Number One? Let us know in the comments below! 
Be sure to follow @allearsnet on Instagram and Twitter!
Check out our YouTube Channel for reviews, news, information and more!
Click below to subscribe to the AllEars® newsletter so you don't miss any of the latest Disney news!