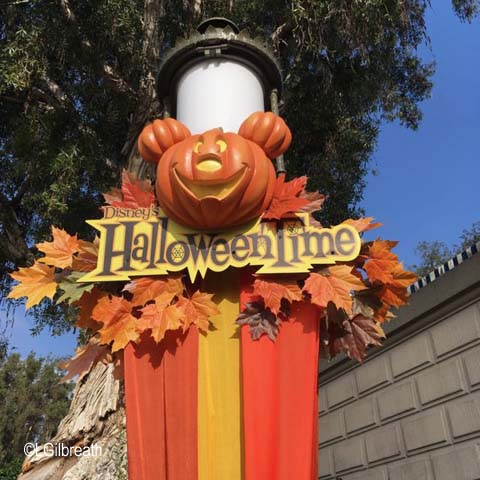 It's Halloween Time at the Disneyland Resort! This very popular annual celebration runs through October 31.
There are so many activities and entertainment that I thought I'd put together my list of things that shouldn't be missed during Halloween Time. I tried but I couldn't keep it to only five… there's just too much to experience.
1. Ride a holiday attraction. There are five different attractions that get Halloween makeovers! The iconic Haunted Mansion Holiday, now in its 18th year, is always a favorite – there's a new gingerbread house every year. There's also Space Mountain Ghost Galaxy, with its eerie space ghost. It's especially spooky at night.
Over at Disney California Adventure, Mater and Luigi get into the "spirit" by changing up their attractions: Mater's Graveyard JamBOOree and Luigi's Honkin' Haul-O-Ween. Both attractions feature a new selection of Haul-O-Ween-themed songs. The lyrics are a scream!
After the sun sets at Disney California Adventure, the Guardians of the Galaxy attraction becomes Guardians of the Galaxy – Monsters After Dark. Guests get to experience the Collector's Fortress after the Guardians of the Galaxy break out – when all of the Collector's creatures are also on the loose! Baby Groot has wandered off and Rocket is trying to find him amidst the monstrous mayhem.
2. Take a photo with a Halloween-costumed character. The characters also get into the Halloween fun with their own costumes! Over in Disneyland you'll find characters such as Mickey, Minnie, Pluto, Goofy, and Chip and Dale in Town Square wearing their Halloween costumes.
In Disney California Adventure, the Disney characters are found along Buena Vista Street, and in Cars Land you'll find Mater as a "Van-pire", Lightning McQueen as a super hero, and Red the Firetruck as a clown.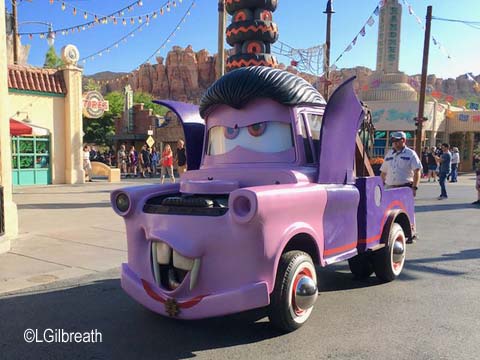 3. Visit Radiator Screams. The town goes all-out for Haul-O-Ween, and all of the residents have decorated their homes. There's so much to see, from Scary the "Scare-car" at the entrance, to the "car-achnids" infesting the trees, Sarge's "pump-can" patch, the spider car outside Flo's, the Zombie car at Lizzie's, Luigi's festive Tower of Tires, the Dia de los Muertos sugar skull car at Ramone's, and the statue of Stanley at the Court House wearing a witch hat.
4. Enjoy some festive foods or a sweet treat. The variety of seasonal foods, beverages, snacks, and sweets during Halloween Time is, well, scary. Just about every restaurant and kiosk features something special! I don't even know where to start. There are a number of different churros (pumpkin spice, anyone?), brownies, cupcakes, parfaits, macarons, funnel cakes, etc. And of course there's always the seasonal caramel apples and cake pops.
Lots of specialty beverages, too, like green apple lemonade. Many of the savory items turn up the spice: Fire Dragon Tacos, Slow-Burnin' Mac and Cheese, Cosmic Chili Pasta, Haunted Firehouse Chicken Sandwich, and a spicy Halloween Hot Dog.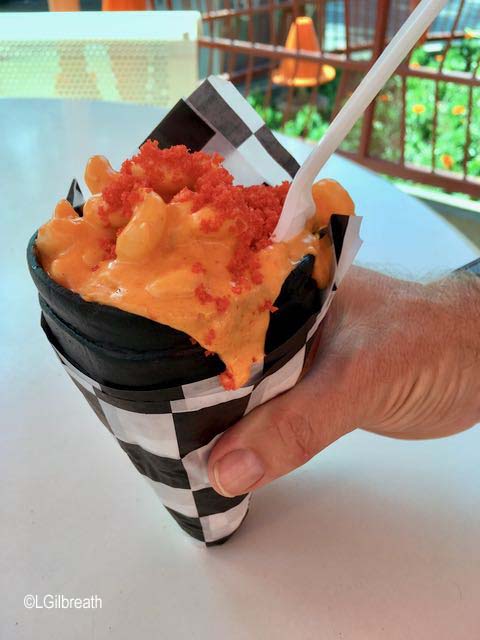 5. Visit the parks after dark. Nighttime brings even more of a fiendishly fun atmosphere to the parks. The oversized character pumpkins and Oogie Boogie above the respective park entrances light up, as do the hundreds of pumpkins on Main Street.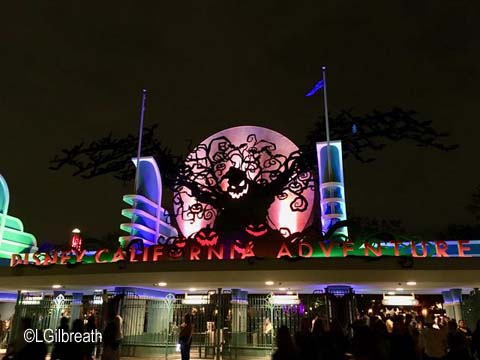 A frightfully good effect is the Headless Horseman on Buena Vista Street. At night his pumpkin head flickers with light, and the eyes of his black steed glow red as it breathes steam.
Radiator Screams also has some great Haul-O-Ween lighting. At dusk is the Sh-BOO moment, where the lights come on as the sheriff welcomes everyone to Radiator Screams. Don't miss the eerie eyes on the Court House.
6. Celebrate Dia de los Muertos. There are several places to do this. In Disneyland, Zocalo Park in Frontierland has a Dia de los Muertos display, and special food items in the Rancho del Zocalo restaurant. Over in Cars Land, Ramone has a sugar skull car outside his shop, and an ofrenda honoring Doc Hudson inside.
Plaza de la Familia in the Paradise Gardens offers the most activities. There are face painting, photo opportunities, a memory wall, and a mask-making craft for the kids.
An art exhibit celebrates The World of Coco, and the Paradise Garden Grill restaurant offers a special Mexican food menu.
A Musical Celebration of Coco, which tells the story of "Coco" with music, dancing, and puppetry, is performed several times a day. It's very colorful and energetic. The viewing area is limited, so get there early.
Honorable Mention: Mickey's Halloween Party This is a special after-hours event at Disneyland on select nights in September and October, which requires a special ticket. All guests are welcome to dress in costume and can trick or treat at areas throughout Disneyland. Most attractions and restaurants are open. There are special character greeting areas, dance parties, and entertainment. This is the only opportunity for guests to see the Halloween Screams fireworks show and the Frightfully Fun Parade, which is preceded by the ride of the Headless Horseman along the entire parade route. It's not cheap – tickets range from $115-$130, depending on the date – but it's a lot of fun. Some nights are already sold out for this year, so if you're interested in going, get your tickets soon.
That was my list of things not to miss during Halloween Time – what are your favorites? Did I leave something out?