As we wind down both summer and the convention-goer's season, I had the opportunity to check out a relatively new con to the year's schedule: Crunchyroll Expo.
Crunchyroll, known to anime fans as the largest anime streaming service in the world, held their second-ever Expo this past Labor Day weekend at the convention center in San Jose. The convention drew more than 45,000 in turnstile attendance, an incredible turnout for a second-year convention. The three-day event included panels, screenings, and tons of merchandise. (See any familiar Disney faces in there?)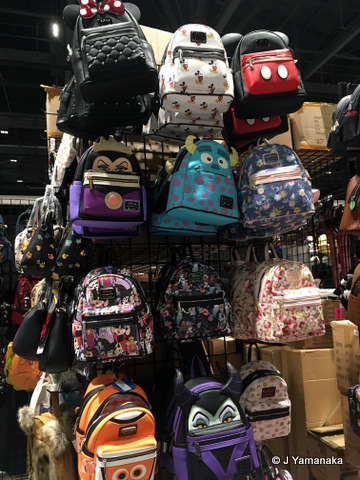 [Note: Anime can contain content for all ages, including adult themes and imagery. Forewarned is forearmed.]
My experience there started after the end of a tedious seven-hour drive up from Los Angeles in Labor Day traffic at the separately ticketed Kick-Off Party, which was replete with a taco bar, live entertainment, and a screening of "Fireworks."
The next day started off with ELEVEN ARTS, an anime distribution company, presenting a number of films they are bringing to theaters:

Laws of the Universe, Part 1–releasing October 12, 2018

Maquia: When the Promised Flower Blooms, the English dub–releasing September 21, 2018

Laughing Under the Clouds: Gaiden Part 1 and 2 (Part 3 coming in 2019)

Haikara-san: Here Comes Miss Modern Part 2–releasing this Winter
[I loved part 1. Go see it.]

Liz and the Blue Bird–releasing November 9, 2018

Penguin Highway–premiered at Crunchyroll Expo
Later, Director Robert Rodriguez, Producer Jon Landau, and star Rosa Salazar met to talk about "Alita: Battle Angel–From Manga to Film."
Landau is a long-time collaborator with James Cameron, both on "Titanic" and "Avatar," and was heavily involved in the development of Pandora – The World of Avatar in Disney's Animal Kingdom. Landau recounted the almost 20-year journey the two had made to adapt the classic manga for the screen.
Some notes from the panel:
–Cameron had written some 600 pages of notes and a 200-page script before getting involved with "Avatar" and handing it all over to Rodriguez.
–Because Cameron has three daughters, he was intrigued by the manga's story of a young woman coming to terms with who she is and what she can do.
–From the beginning, Cameron had the concept of a photoreal character with manga eyes.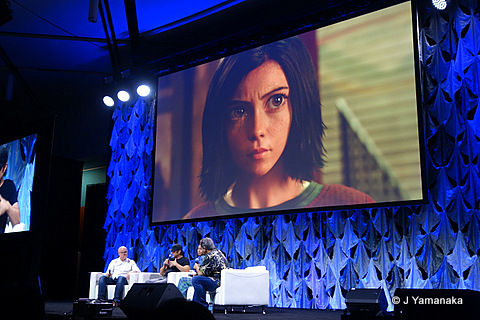 –The story takes place 600 years in the future, when a cyborg doctor finds the core of a young girl and transplants her into the body he made for his late 12-year-old daughter. The film then follows her on her journey from something thrown out with the trash to a hero, able to make a difference.
–"Alita: Battle Angel" is scheduled for release December 21, 2018.
There were also panels on both Women in Anime and Manga, and Women In Animation, which included Pixar's Domee Shi (director of the recent short "Bao.")
NOTE: Most panels with talent from Japan requested no photos.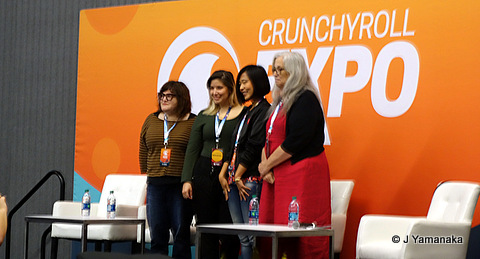 It was an interesting contrast to see the different challenges and strategies women face working in these areas both in Japan and in the US. The impression one got was that women in animation/comics may face less overt discrimination in Japan, but that the situation may depend more on their adherence to accepted roles. In today's atmosphere, it's hard to imagine a female animator from the US giving advice to newcomers — even as a joke, which this certainly was — to "never forget your makeup so they will cherish you more and remember to use foundation that lasts for 24 hours" as did one Japanese panelist.
There was also a presentation from Crunchyroll's new game division on their first in-house release "DanMachi – MEMORIA FREESE," a mobile RPG (role-playing game) based on the anime, "Is It Wrong to Try to Pick Up Girls in a Dungeon?"
The free-to-play game is available on both the App Store and Google Play, and features the original voice cast from the anime (based on the light novels from Fujino ÅŒmori).
If the volume of audience feedback was any indication, "Sports Anime with Johnny Weir" was a highlight of the weekend, with the always entertaining two-time U.S. Olympian, three-time U.S. National Figure Skating Champion given the task of making sense of a series of increasingly bewildering anime clips. While Weir stated that his anime consumption has only included "Yuri on Ice" thus far, he finds much to appreciate in the field and plans to watch "The Rose of Versailles" next.
Over in the Crunchyroll Industry Panel, the company gave a look ahead at the many future events and programs they have coming up.
From the Crunchyroll Movie Nights department, was the announcement of "Haikyu!! The Movie: Battle of Concepts" and "Yuri on Ice" making their way to the big screens in limited engagements.
On their streaming service, they have a number of new and returning simulcasts planned for the upcoming Fall season:

RErideD – Derrida, who leaps through time — an original TV anime about a young man who accidentally time-travels 10 years into a future devastated by a robot apocalypse.

Radiant — based on a French comic, it follows a young wizard infected with magic by the Nemesis monsters that plague his world.

Double Decker — an original TV anime following an unconventional cop buddy team.

That Time I Got Reincarnated as a Slime — a lonely, dissatisfied office worker meets his demise and gets a second chance at life in an alternate fantasy realm as a slime monster.
Their next announcement was a new package deal with the digital streaming platform VRV, which aggregates a number of anime/fandom/genre channels such as Crunchyroll and Funimation. The Crunchyroll Super Fan Pack will bundle together all the benefits of premium membership to Crunchyroll and VRV, along with memberships to Aniuta US, J-Novel Club, and Utomik.
Returning series include "Bee and Puppycat," "Gary and His Demons," "Black Clover," and "Jojo's Bizarre Adventure!"
There was also a Masquerade one night, highlighting all the amazing and intricate cosplay of the weekend, hosted by Johnny Weir.
Throughout the weekend there was a nonstop stream of anime showing in various screening rooms, both brand-new and classic, premiering features and series. Here are trailers for some of the ones I managed to squeeze in between panels:

The Rising of the Shield Hero, Ep. 1

The Night is Short, Walk On Girl
Around the Exhibitor's floor, there was no shortage of things to gawk at, from art installations, to photo-ops, to tricked-out cars, to an entire swimming pool filled with Bananya plush.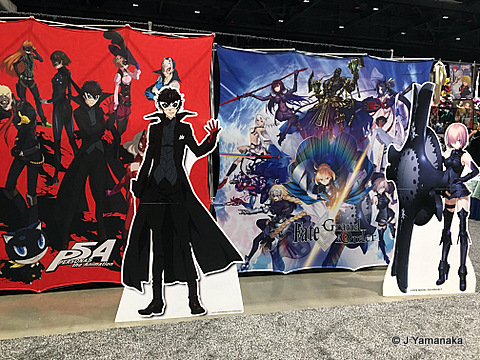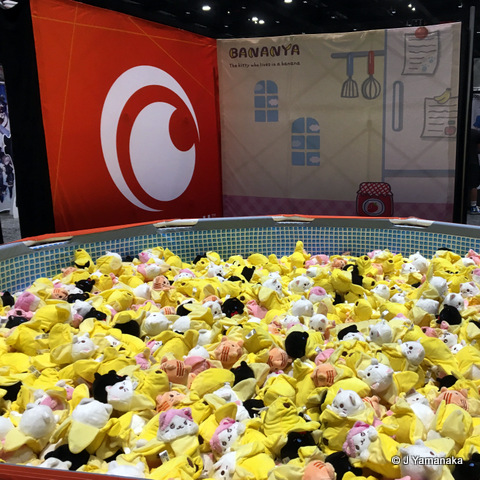 So I would have to say, given that this is only the second year Crunchyroll has put on this convention, I didn't have huge expectations for it — but I was very pleasantly surprised.
There was a substantial amount of programming available for the three days, even given that Monday ended at 3 p.m., and almost no lines of consequence. Whether it was the high level of organization or just that attendance hasn't maxed out yet like every other convention around by now, it was actually possible to just walk into panels five minutes before they started and get a seat. No waiting for hours on the off-chance you get in before the rooms fill and no walking around the floors without feeling like you need your own oxygen supply… which was WONDERFUL.
Even autographs tickets were free and readily available for folks such as Pixar's Domee Shi and Matthew Luhn.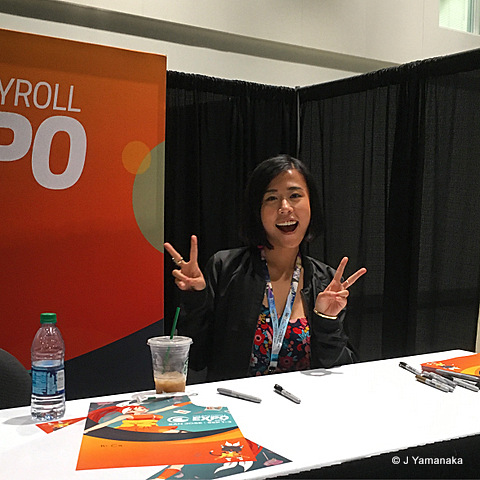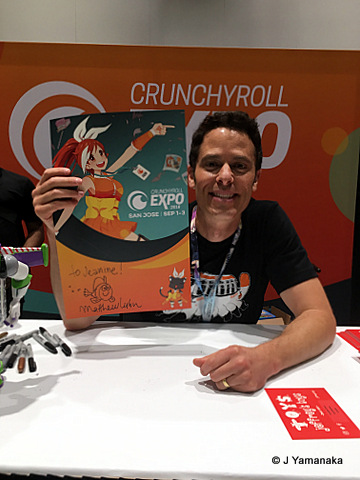 This may have been the first convention I attended this year (and I attended quite a few) where I was able to really look at the booths in Artist's Alley because there wasn't a perpetual crowd of 20 people between me and all the art. In addition to general admission tickets, Crunchyroll also sold VIP/VIP+ tickets which, while attractive to people wanting the exclusive merchandise offered with them, were definitely not essential to see the panels you wanted to see, as is often the case with larger conventions.
If you're interested in anime and want to find out more about how it's made or see it on the big screen or just buy a bunch of merch, the Crunchyroll Expo is an excellent choice for a convention. And let's face it — you like Disney animation; I like Disney animation. But, unfortunately no matter how much we like animation, it's still gonna take Disney-Pixar four years to make a film, so we might as well look around a little in the meantime. The Crunchyroll Expo is already scheduled for Labor Day weekend next year, so I would encourage potential attendees to go while it's still growing and before it gets as unwieldy and difficult to navigate as all the more established cons.