The Disneyland Resort offers several Halloween-themed attractions – but there's only one that transforms each night.
During the day, Guardians of the Galaxy – Mission: BREAKOUT! is a wild ride as Rocket enlists the help of Terran guests to break the rest of the Guardians of the Galaxy out of The Collector's Fortress. But at night during Halloween Time, it's monstrous mayhem as in the aftermath of the Guardians' escape, Rocket again seeks aid to help locate Groot, who has wandered off somewhere inside the Fortress. Which is now full of angry creatures who also escaped captivity when Rocket blew the generators.
But despite that little setback the tours of the Fortress still continue. The first sign that all is not quite right is at the entrance.
Also, Tivan employees look a bit frazzled – and they are all wearing yellow safety vests that are blackened and torn…and is that blood??? (And you can see this one captured a very dangerous escapee!)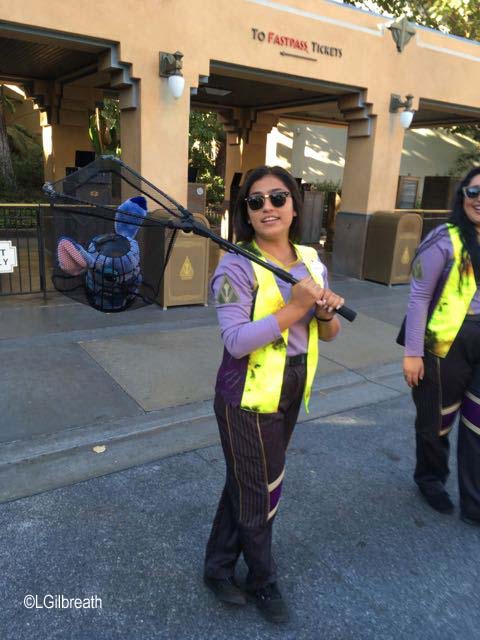 Once inside the Fortress, well, below you can see for yourself that the situation is not exactly normal, despite Apheta's assurances.
Sorry, no video of the ride itself – but it is SO much fun, and there are some really great visuals. The cast members seem to really enjoy working this version of the attraction, which makes it even more entertaining. "Monsters After Dark", a 1970s punk rock-style song, was written especially for the attraction by Tyler Bates, composer for the Guardians of the Galaxy movies. It's dark but high energy.
The "regular" attraction shuts down at about 4:00 so that the necessary changes can be made, and it opens up as Monsters After Dark by 5:00 – or as soon as it's ready. When I was there recently, the queue was opened at about 4:30, and they started letting people into the building at 4:40. The first gantry lift went up at about 4:45. The attraction is VERY popular, and the standby line builds quickly. It's usually well over an hour wait.
Fastpasses are available for Monsters After Dark. They are not released at any specific time: instead, they go by the usual Fastpass clock, and when it clicks over to a Fastpass window starting at 5:00, then the Fastpasses distributed are for Monsters After Dark and not Mission: BREAKOUT!.
There will be a Monsters After Dark t-shirt – it's not available as of this writing, but it is expected to arrive soon.
Have you experienced Monsters After Dark? What did you think? Please leave a comment below!