One of the aspects of Halloween Time that many guests most look forward to each year is all of the special food and beverage offerings. Each year the culinary team seems to come up with even more incredible Halloween creations. Sometimes they are almost too pretty to eat.
But one of the issues each year is finding them. But not to worry – this year there's a Halloween Time Food Guide. The guide is available at information booths around both parks, though I haven't seen it any of the park entrance turnstiles.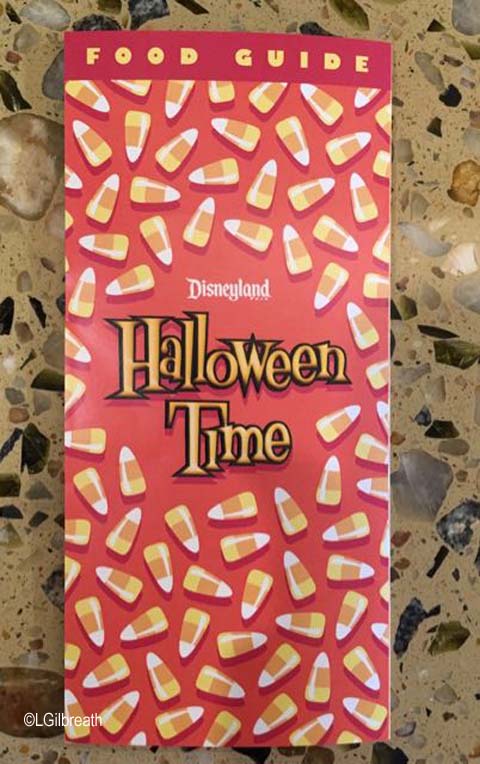 The fold-out has information on Disneyland on one side and Disney California Adventure on the other. Locations that feature
Mobile Order
are identified with an icon. There's also a list of some of the souvenir novelties that are available like popcorn buckets, mugs, and straws.
Though there are check boxes so you can keep track of what you've tried, there's no prize for trying everything – except maybe a trip to the dentist. 🙂 Yes, the majority of the items are sweet. At least six kinds of churros, a variety of cookies, cupcakes, macarons, and donuts, and of course caramel apples, cake pops, and crispie treats. And it can't possibly be Halloween without several pumpkin spice items: funnel cake fries, milkshake, churro, bundt cake, and beignets.
Here's a look at some of the sweet items that are available – and this is NOT all of them!
I was disappointed at what seems like a small selection of savory items…I feel like there have been more in the past. While there is a special dinner menu at Blue Bayou, that's only offered on Mickey's Halloween Party Nights. I wouldn't want to spend precious party time on a long dinner!
I've only had the opportunity to try a few items so far…starting with the Slow Burnin' Mac & Cheese Cone from the Cozy Cone Motel ($8.99). This item returns from last year. The cheese sauce is mildly spicy – the crunchy topping is a bit more spicy. The black cone is edible, but there was no additional flavor added to it.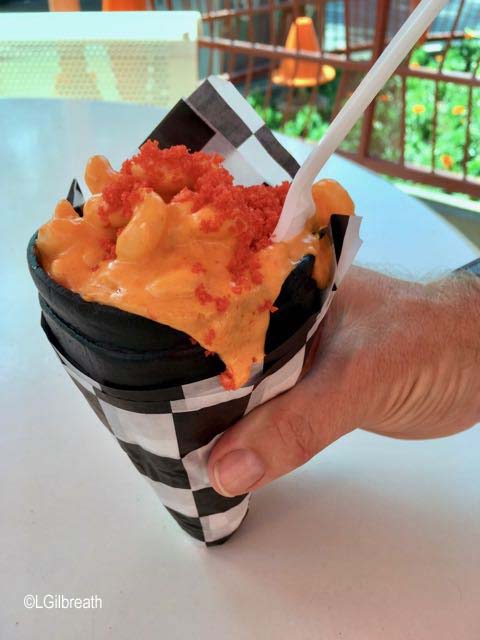 The macaroni is good-sized spirals. It was not bad.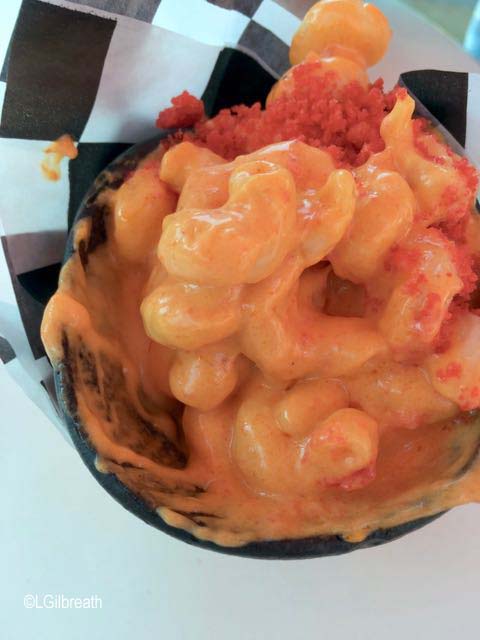 The
Sleepy Hollow Cupcake
is at Fiddler, Fifer, & Practical Cafe ($6.99). The actual cake part was quite small. It was topped by a huge mound of cream cheese icing, though – to support that white chocolate Headless Horseman, I suppose!
The cake was red velvet with a chocolate mousse filling, with chocolate crumb "dirt" on top. The dirt may have been my favorite part. There was too much icing, and I didn't eat much of that, though I enjoyed the cake.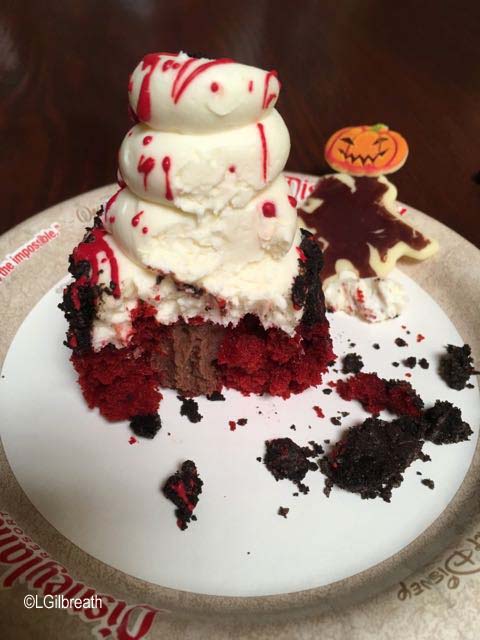 The seasonal specialty beignets at the Mint Julep Bar are
pumpkin spice
. I had to try them. They were pretty good – but a little too much nutmeg, I think.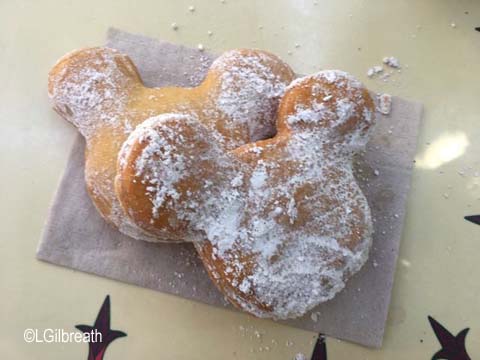 Pacific Wharf Cafe features Bacon Cheddar Ale Soup in a sourdough boule ($11.49). That was really good. Especially just to dip the bread in it. Though I never feel like you really get very much soup (or salad) here because that hollow in the bread boule isn't that big.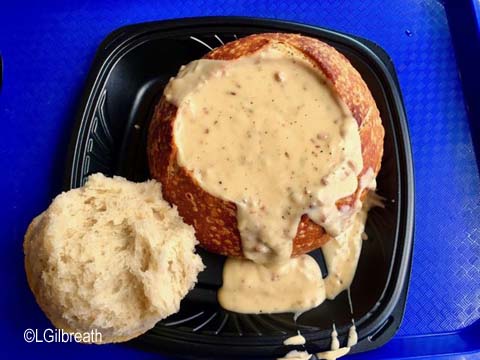 My favorite so far is a new one from the Jolly Holiday Bakery Cafe: the Sweet Potato Hand Pie. At $4.99 I think this one is a bargain compared to some of the other items. The crust is tender and flaky, and the filling inside is so flavorful – all of the warm spices but in just the right balance. It's finished off with a topping of frosting and toasted marshmallows. I thought that might put it over the top and make it too sweet, but it really didn't. As far as I'm concerned this is the absolute "Must Try" during this Halloween Time season at Disneyland.
At a media event I spoke to Chef Scott Daffron about some of the treats and the special merchandise that are available:
Have you tried any of the Halloween Time food and beverage items? What are your recommendations? Please leave a comment below!