"What is a 'Memory Refresher'?" you may be asking. I'm so glad you did. It is the new layered frozen slush drink that is available at Bing Bong's Sweet Stuff, the new candy-and-oh-so-much-more shop at Disney California Adventure's Pixar Pier. (If you missed it, you can take a First Look Inside Bing Bong's Sweet Stuff.)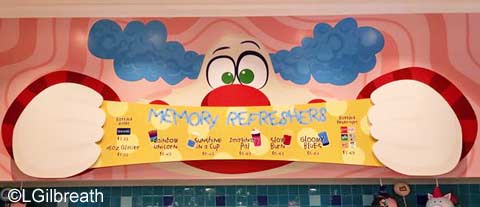 Memory Refreshers are available at the Jangles the Clown area of the shop… why they are under the purview of a somewhat nightmarish character I really don't know. Maybe this is the kinder, gentler Jangles.
In any case… the different Memory Refreshers are inspired by the characters that inhabit the world of the movie "Inside Out", with names like Imaginary Pal, Sunshine in a Cup and Slow Burn. There are six different slush flavors that can go into them: cherry, pink lemonade, lemon, lime, grape, and (blue) raspberry. Some of them also include flavored syrups, different flavors of popping pearls and/or candy.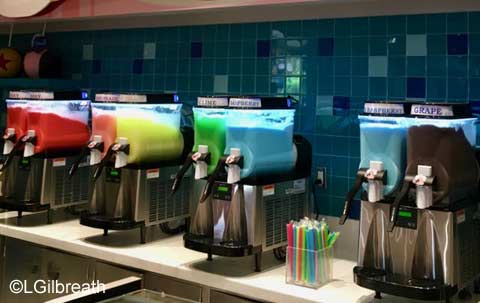 We had to try the Rainbow Unicorn, because it contains almost all of the slush flavors (missing pink lemonade). It's topped with Rainbow Nerds candy.
I was expecting this to be really, really sweet – but it wasn't. Yes, it was sweet, but not syrupy sweet. We both pushed the straw around so we could sample the flavor of the different layers – they were all good, though I think we both preferred the cherry and the blue raspberry. None of them were too dominant or strong. Even when we got down to the end where they were all mixed together it still tasted good.
The Nerds added some crunch and a tart flavor, but I think I would've preferred it without them.
These are the choices currently on the menu: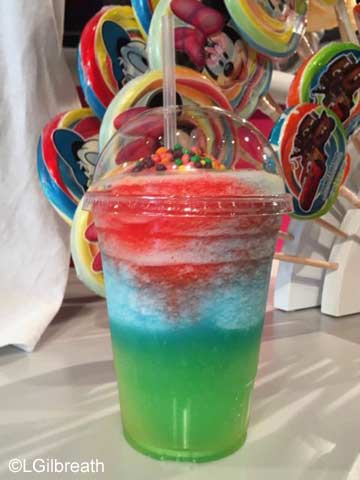 Rainbow Unicorn – Lemon, Lime, Blue Raspberry, Grape, Cherry, topped with Rainbow Nerds
Sunshine in a Cup – Blue Raspberry, Lemon, topped with yogurt popping pearls
Imaginary Pal – Pink Lemonade, Grape, topped with cotton candy and a marshmallow flower
Slow Burn – Cherry, Lemon, topped with habañero lime syrup
Gloomy Blues – Blueberry popping pearls on the bottom, then topped with Blue Raspberry
All of these are listed on the menu at $6.49 but our Rainbow Unicorn was $5.99 AND we got a 20% annual passholder discount, so it was $5.16.
Was my memory refreshed after drinking this? I don't remember. 🙂 It WAS a refreshing drink on a hot day, though. Next time I'd try one of the other flavors, perhaps the Imaginary Pal with pink lemonade and grape.
And no, it didn't give me brain freeze.