To all who come to this photo trivia game, Welcome! Along the way, the photos can make us relive memories and see details Walt's Imagineers put into everything we love in Walt Disney World!
Now for Challenge #522:

And here's the answer:


Copyright © Scott Thomas
The Magic Carpets of Aladdin at the Magic Kingdom! Look out for the camels; they spit.
Antoinette Leblanc were the first to send in the correct answer! Congratulations to Antoinette and to all our winners this week! Blake Schmidt, Bonnie Jean, Brian Gallant, Cameron Lange, Carol Baranowsky, Cathy Fleming, Chris, Gretchen, And Katie Barnes, Claire Gregory, Deb Gallo, Deb Ragno, Emily Hudson, Gloria Martin , Grumpy's Groupies, Herb Miller, Jeremy Reichelt, Joann Albrecht , Kara & Jay Rueckel, Karrie Rodriguez, Ken Maikowski, Leigh Mertz, Linda Ranatza, Margaret Convery, Mark Hardy, Maureen Tavrell, Mike Amor, Mike Walter, [email protected], [email protected], Renee Hardiman, Scott Sangston, Steve Porter, Sue And Ed Adams , Susan Higginbotham, Team Bonnie Sue, The Kertes Family, The Nufranick Family, The Parker Family, The Patterson Family, Theresa Maradei, Theresa Rucando, and Vickie Barca!
_______________________________________________________
Challenge #523 Where in the world is this?
So where are we now? Want a hint? You're looking at the bottom of the ride "car" as it goes over you.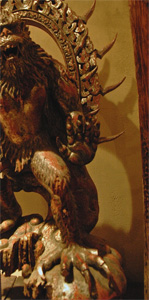 Do you know? Do you have a guess? Please send in your answer, before the end of the day on Thursday, February 15th, by clicking on the blue box below.
Please do not post answers using the Feedback Form link at the bottom of this post.
See you soon, Players!


_______________________________________________________________________
Everyone who sends in a correct answer to a Where in the World Challenge this month will be entered in a drawing at the end of the month for some special AllEars® goodies!
–