We attended the Celebration at the Top – Savor, Sip and Sparkle event at California Grill on Sunday, October 1. This was a MNSSHP night at Magic Kingdom, so we started at 9:15PM with fireworks at 10:15. Times vary with the MK fireworks schedule.
We arrived and checked in at the California Grill podium on the second floor, then we were escorted up to the restaurant and shown to the event rooms. They had a table with "glow" flutes of sparkling wine as we exited the elevator. There was a large room with tables and a bar on one side, and a smaller room with maybe 8 small tables and the food stations on the other side.
Each table had a light-up necklace for each guest to take home as a party favor. We decided to sit in the smaller room since the seating in the larger room was already almost full. The waitstaff were wonderful and made sure our glasses were always full. In addition to the sparkling wine they had a full bar available, but we did not order anything from the bar.
Food selections were sushi rolls – California, Veggie, and Spicy Tuna.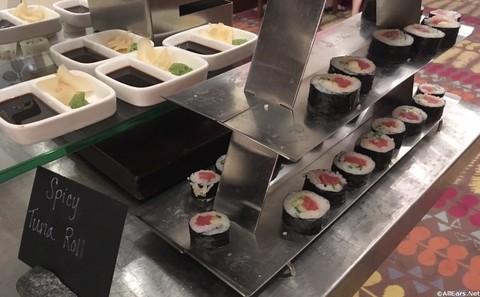 There were mini lobster rolls topped with micro greens on the sushi table as well.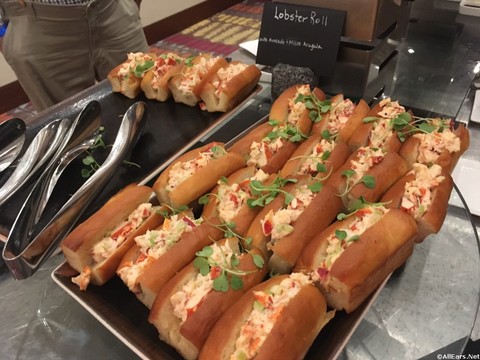 For hot selections we had pork belly Bao buns, chicken satay skewers, and 2 choices of flatbread – BLT or Cheesesteak. The appetizers are all served buffet style so guests can serve themselves and come back for additional bites at leisure.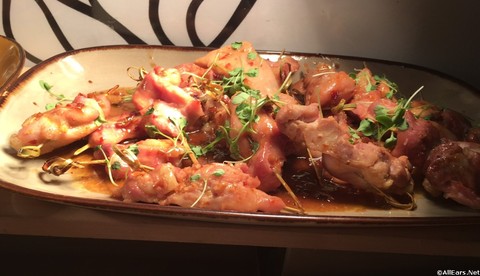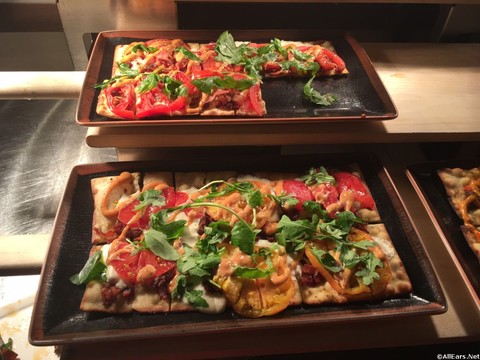 We struck up a conversation with a lady at the next table who was traveling solo from the UK, and before we knew it we were headed out to the observation deck for Hallowishes. The music was piped in and we had a lovely view of the show. At the conclusion of the fireworks we went back inside for dessert.
The dessert offerings were an assortment of "mini" portions including fruit tarts, chocolate ganache cupcakes, and vanilla cheesecake. We chose to have coffee along with dessert.
They had one of the photo frames for guests to pose with to commemorate the evening as things were winding to a close.
We really enjoyed this event! It is offered on select Sundays for $99 per person.