This week, Monday, October 16th, "Star Wars Rebels" starts its countdown to the end with the one-hour fourth season premier episode "Heroes of Mandalore: Parts One and Two."
[Unattributed photos and video courtesy of Disney]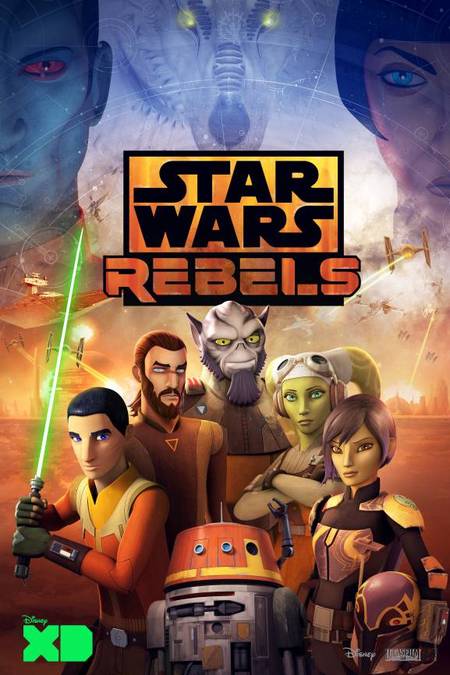 For those who may have fallen a few (or more than a few) episodes behind, you can now binge watch all three preceding seasons on the DisneyNow app. For those lacking the time or who just need a quick reminder, Disney has put together a collection of clips to acquaint you with the story so far:
This first episode of the season focuses on Sabine who, on a mission to rescue her father from the Empire, finds a devastating weapon and must decide whether to use or destroy it.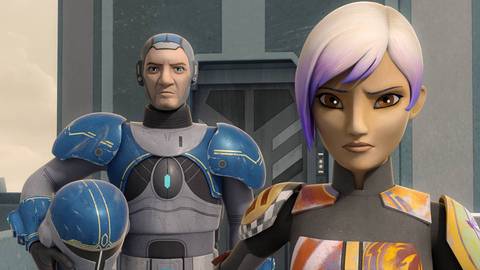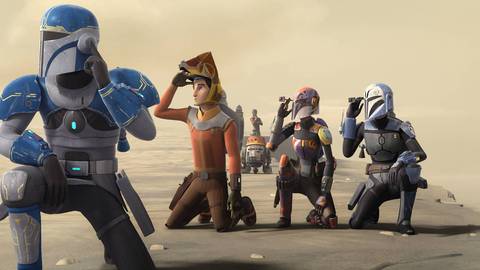 For a more in-depth look at "Star Wars Rebels," we can take a look back at this year's Star Wars Celebration Orlando at which Rebels was represented in a couple panels. The first was "Dave Filoni: Animated Origins and Unexpected Fates," with Dave Filoni and Pablo Hidalgo.

[The panel begins at 1:25:00]
–Filoni on George Lucas wanting to bring back Darth Maul: "We would be in a story meeting and he would often say something like 'I've got an idea and you're going to love it' and I was always like 'oooh. That so seldom lines up. But then he said 'we're going to bring Darth Maul back,' and I said 'really…how does that work?' And he goes 'I don't know! You'll figure it out!'"
–On Maul: "Maul hasn't experienced any personal growth. He hasn't gotten over anything. He hasn't grown, except in his anger and his need for revenge."
–On the Obi-Wan-Darth Maul fight: "I know it's dangerous to not do a big fight, I know a lot of people would want a big fight, and it's just Maul's technique to go really quick, 1-2-3. So it didn't feel like Maul if he didn't get a shot in at all, so that it's block-block, then he goes for that move…that's where I decided to put that move in (the move that took down Qui-Gon.) It also visually tells the story that Obi-Wan paid attention, you know that moment was put into his brain, and that he could defeat it. Again, it shows a progression from master to apprentice that Obi-Wan then could later defeat something that Qui-Gon couldn't."
–Filoni had originally planned for nine clones to return to Rebels as an homage to Walt Disney's Nine Old Men of animation, but Production cut them down.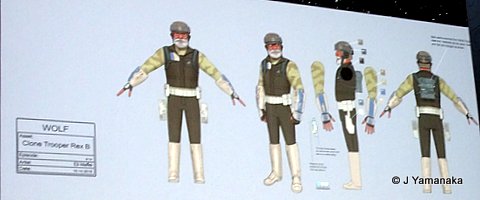 Later on in the course of the weekend, "Star Wars Rebels" had their big Season Four panel with Executive Producer Dave Filoni, Steve Blum, Taylor Gray, Tiya Sircar, Freddie Prinze Jr, and Vanessa Marshall in house.

[The panel begins at 1:10:00]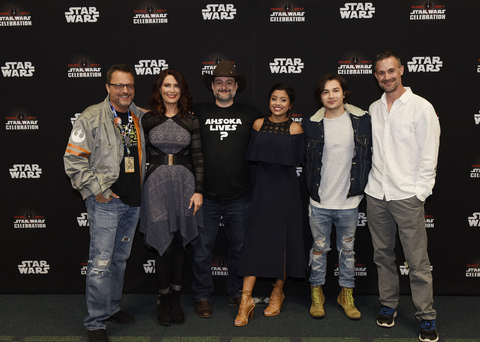 —Prinze Jr.: "Season 4, he's still blind but he sees more than he has ever seen before. He knows what path these rebels need to be on–it takes him some time to figure it out, but once he does, it is a certainty that you have seen in other Jedi before, and you will recognize it as a historical moment in this character's development and growth…Season 4, the stuff that Kanan has to go through is very adult, but Star Wars has always been very adult, even for kids, and it teaches real lessons and the good guys don't always win and sometimes people you loved, like Obi-Wan Kenobi, who's supposed to be there forever…that moment for me, as a kid, is what locked me into Star Wars, because it seemed real…and Obi-Wan got got, and that made me hate Darth Vader for three movies! So when you see a Jedi with clarity, I think you sort of…you get a sense of belonging to that person, 'cause you've seen Kanan struggle for so many years to be a decent Jedi. But I think his mistakes made me fall in love with him, and I hope his faults are what make you guys fall in love with him too."

—Sircar: "If there are any Mandelorian fans out there, I think you will be happy with some specific episodes in this upcoming season. I think you might be surprised where we end up and…who might show up? There might be some people you know, there might be some people you've never seen before, they might all be Mandelorian…is that good? I will say that I think Sabine is in a new place this season. Over this last Season 3, we saw her sort of step into her own in a way we hadn't seen her before–we always knew she was super capable…the epitome of this Mandelorian warrior who happens to also be this incredibly creative artist–I don't think we've seen that kind of dichotomy before…I think she's gotten beyond those issues with this family and now she's got all these other issues with her other family, and we'll get to explore some of those in Season 4."

—Marshall: "I think things are coming to a pinpoint there, and I think that she's really impacted by the losses that the group experiences in Season 3. I think she's more focused and committed than ever to get the job done. It's vital, it's essential, and…not that she was kidding earlier, but I think the windows of opportunity and…not the hope, because they always have hope, but I feel they are pressed to the very edges of their ability to handle what's put before them. It's now time to really get it done, and I think you'll see that in Season 4."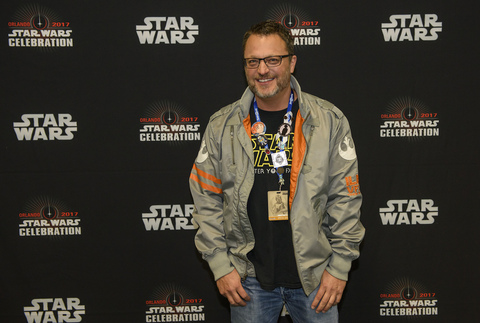 —Blum: "He's actually becoming a more responsible citizen, I think, rather than just being a tough musclehead, so I think we'll be looking forward to him making maybe smarter remarks and better choices. We'll see."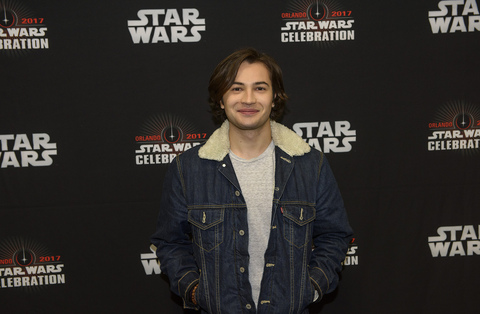 —Gray: "We've seen him grow up. He's seen the good and the bad…Season 4 is really a thing of deciding what kind of Jedi–and even transcending that–what kind of person he wants to be as he grows up, having seen everything. And he realizes that as he's stepped away from Lothal and joined this family and become dependent on them and learned what he can, it's now time to go back and see what he can do for his people."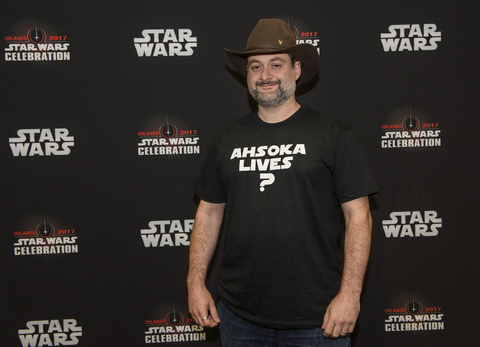 —Filoni: "I firmly believe that each generation has to have their own piece of Star Wars. I feel that this show, for a lot of kids growing up with it, is as much a part of Star Wars as any of the movies, and I really appreciate that love from you guys. And I feel creatively, that I can make this story about these characters the most meaningful that it can be by arcing it to where I need to get to at the end of this season. So I know that's tough, it's tough for me, but believe me, I can say that I know what it's like when I don't get to end a series, and what happens when you don't end a series is you wind up making t-shirts and you have to prolong…it wasn't as fun."
After the big presentation the panel members (minus Prinze Jr.) met for a somewhat smaller press conference.
–Filoni notes that while the winding down of the series may include somber and tragic events, this is part of the hero's journey that must be experienced to achieve a joyful, inspirational whole.
–He also predicts that Kanan and Ezra in this last season will explore their relationship and commitment to The Force and face the choice of whether to act out of fear and succumb to wickedness, or hold fast to their belief and faith in love and virtue and stay with the Light Side.
–On being asked what about their characters do they wish kids to find inspirational: Marshall picks Hera's ability to hold onto hope; Blum likes Zeb's willingness to be vulnerable; Sircar thinks Sabine demonstrates how people can form new families where they least suspect; and Gray admires Ezra's self-confidence and inner strength.
–Thrawn is the first major villain to return for another season.
–Marshall was elated to hear Hera mentioned in "Rogue One," as "it's like a life insurance policy."
"Star Wars Rebels" returns for its fourth and final season beginning Monday, October 16 with five airings of the one-hour episode "Heroes of Mandalore: Parts One and Two" throughout the day (12:30am, 3:00am, 7:30am, 5:30pm and 9pm EDT/PDT) on Disney XD and the DisneyNow App.