I never thought that one of my vacation goals would be completing a 5K. My family and I were on a Disney cruise, for crying out loud, and I was willing to sacrifice precious beach time on a tropical island, not to mention extra sleep and the Cabanas buffet, in order to join actual runners on a hot trail. I blame it on the special runDisney medal.
I became focused on this particular runDisney event earlier this year when we booked our three-night Bahamian cruise and I realized my children were old enough to participate. You see, my husband and my kids have been running runDisney races at Walt Disney World for several years, but I have not been able to join them. I suffered a knee injury four years ago and had been dealing with subsequent complications since then. Just 11 weeks before we set sail, I had a total knee replacement surgery, and I decided one of my recovery goals would be to walk the Castaway Cay 5K. (I would not be cleared for running by the time of our cruise at the beginning of October.)
Despite my determination to complete the 5K, I found myself questioning my decision when I was in the company of a group of serious and casual athletes that morning. The last time I could consider myself an athlete was when I was in high school, many years ago, and I had not trained at all for this event. I was relying on the fact that I used to be a quick walker and that I log many miles at Walt Disney World as an annual passholder.
On race morning, we met at 8 a.m. at Evolution, an adult lounge, where we received official Castaway Cay 5K bibs (cool!) and basic instructions. The minimum age to run the 5K is 10 years. Participants with younger children were encouraged to be at the front of our group departing the ship so they could drop their children at the kids' club on the island.
We had to walk about a mile just to get to the starting place, Pelican Point, for the 5K. (Trams normally run to this location, but not for the start of the race.) The brisk walk was not a casual, sight-seeing stroll; we did not stop for photos or anything else! Once we reached Pelican Point, we were reminded of the race route, which can be a bit confusing, and the water stops. We also were told that the staff would count the mile we walked to the starting line if we were unable to do the second loop on the course, which also was about a mile.
And with a verbal cue, we were off! My husband and my 14-year-old son took off running, while my 12-year-old daughter stayed behind to walk with me at the back of the pack. We each quickly realized that what we had heard about the heat and humidity being oppressive, even at 9 a.m., certainly was true. My family of runners had written off complaints about the Bahamian weather and assumed they would be better equipped to deal with it as Florida residents who regularly exercise in 90-degree weather. Not so! Even my son, who as a competitive swimmer is the most physically fit of all of us, said the heat got to him and he had to walk part of the race.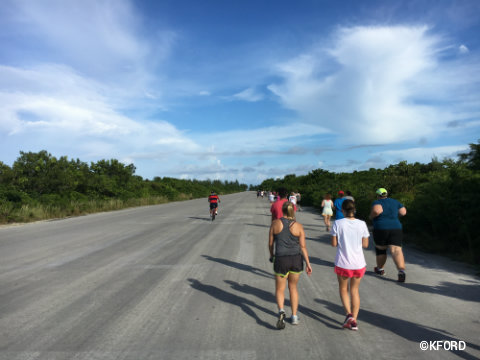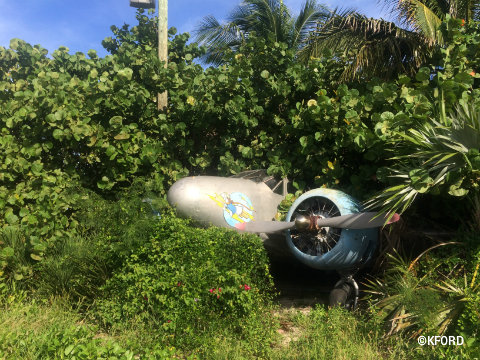 I struggled almost from the start with the complications I was having with my feet, although my knee felt fantastic. And the heat certainly didn't help. My daughter and I pushed on through what a cast member called "The Loop of Death" or "The Loop of Fun" — your choice, he said — for the first lap. That part of the course is thick with trees and brush and, frankly, not very scenic even though there were some themed props. When we came out of the loop, we grabbed more water and headed down the runway to a parked plane and back. I realized at that point that I was going to have to take the option of counting the trek over as part of my 5K, and skip the second "Loop of Death." Definitely "The Loop of Death." My swollen and painful feet just couldn't go any farther, so my daughter and I kept up our pace back to the start/finish line.
My son was there to greet us, and my husband who also completed the entire course appeared shortly after us. Our family posed with our medals by the starting sign, creating the souvenir that I most wanted from this Disney cruise.
Tips
** Sign up for the Castaway Cay 5K onboard the ship at either Guest Relations or the Port Adventures desk. There have been mixed reports about a cap on the number of participants so I'd recommend signing up on your Embarkation Day.
** This runDisney race is free. Yes, you read that correctly. The cost of the 5K — and your bib and medal — is included in your cruise fare. Those familiar with runDisney races know what a deal that is!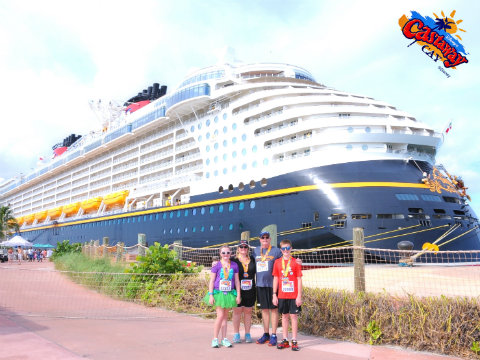 ** Cast members provide a storage box for belongings you do not want to carry during the race. That way, you do not have to return to the ship if you do not want to. My family and I were so sweaty and tired after the 5K that we definitely wanted to go back to our room to get changed and grab our beach things. Plus, I wanted to take a photo in front of the ship with our bibs and medals. I'm glad we did because the photographers were gone from that location when we re-emerged back onto the island.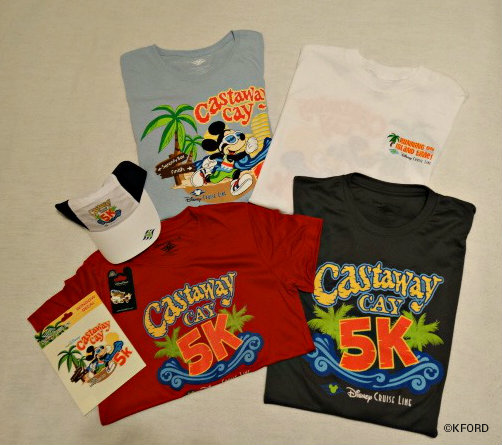 ** Want some merchandise to announce your accomplishment? I sure did! Conveniently located adjacent to the start/finish line is Buy The Seashore, which sells Castaway Cay 5K T-shirts, tech shirts, hats, collectible pins and window decals. A smaller selection of items is available at the other gift shop, She Sells Sea Shells and Everything Else, which is closer to the ship.
** The Castaway Cay 5K takes place on the island each day that a ship docks there. This race is different from the Castaway Cay Challenge 5K, which is paired with a race during from the Walt Disney World Marathon Weekend to give participants the same medal regular 5K participants receive plus a challenge medal. That event is set up more like other runDisney races with characters on the course plus special activities and speakers onboard the Disney Dream.