I guess you could call my 12-year-old daughter a veteran of the Bibbidi Bobbidi Boutique at Walt Disney World. She has been an eager customer at the royal beauty salons four times since her first visit at age 4.
For those not familiar with the Bibbidi Bobbidi Boutique locations, they are magical Disney salons that are staffed by fairy godmothers-in-training who grant princess makeovers to girls ages 3 to 12. They have been so popular that The Walt Disney Company continues to add locations, the most recent being on its cruise ships. (The Disney Fantasy was the first four years ago, followed by the Disney Magic and Disney Dream last year. The Wonder will emerge from its dry dock with a salon next month.)
Fast forward to my family's recent cruise on the Disney Dream. My daughter decided that she wanted to experience the Bibbidi Bobbidi Boutique on the ship for the first time. Sadly, it would be her last time, too, as she is aging out of the experience. Still, my daughter thoroughly enjoyed her time at the onboard Bibbidi Bobbidi Boutique and declared it the best one yet, which made this momma's heart fill with happiness.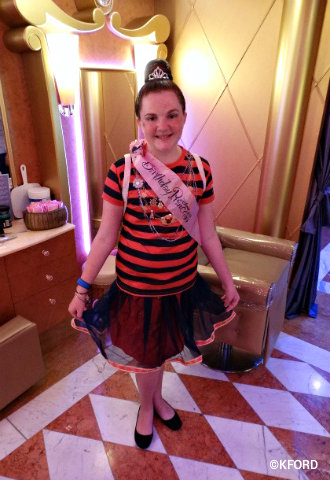 Although the premise of the Bibbidi Bobbidi Boutique is the same on ship and on shore, there are some nuances that make veterans like my daughter swoon with delight.
First, the outfit. When my daughter was younger, we brought fancy Disney Princess dresses with us, and she changed into them at the salon. At her last appointment at Walt Disney World and this one on the ship, she chose a more grown-up tutu and T-shirt combination that we purchased from the salon.
My daughter selected the Celebrations Package, which includes a nautical outfit, choice of hair style, makeup and face gem, nail polish, Princess tote and Princess sash. She was really excited about the outfit, which is a ship exclusive. And, actually, the Dream offers several outfits that little girls can only get onboard. In addition to the one my daughter chose, there also is the Minnie Mouse sailor outfit and a mermaid-themed swimsuit and cover-up that comes with a colorful sunblock application, hair clip, necklace and nail polish. (The sailor outfit and mermaid swim suit and wrap can be purchased separately in one of the gift shops. We did this with the mermaid set on a cruise four years ago, and my daughter really enjoyed wearing it when we got home.)
We scheduled my daughter's appointment for late afternoon after the Sail Away Party to maximize her makeover, knowing that she would not be swimming that night and that we had reserved times for the Princess Gathering and the Frozen Meet-and-Greet the next morning. When we arrived at the Bibbidi Bobbidi Boutique, the fairy godmothers-in-training all gathered to sing "Happy Birthday to You." It was my daughter's actual birthday that day, so this was a welcome gesture. Next, we were led to the royal dressing room, which seemed even more luxurious than the ones at Walt Disney World, especially with the porthole!
Once my daughter was changed into her new Celebrations outfit, we met my daughter's fairy godmother-in-training, Louise from Ireland. Of all the cast members we've encountered in this role, Louise was by far our favorite. She struck just the right balance between treating my daughter like she was more grown up and yet still keeping the fantasy alive. She managed to make the experience stand out with special touches, such as granting my daughter two wishes at the end — one for being a princess and one for her birthday — and giving her a Disney Cruise Line birthday sash instead of just a regular Bibbidi Bobbidi Boutique sash.
As my daughter was being pampered, we all got a surprise: Pluto came into the salon for a few minutes and paused to greet and interact with each girl. My daughter was just so tickled by his visit. Characters do not make appearances the Walt Disney World locations of the Bibbidi Bobbidi Boutique, so it was unexpected fun. I have no idea if that is a regular occurrence on the cruise ships.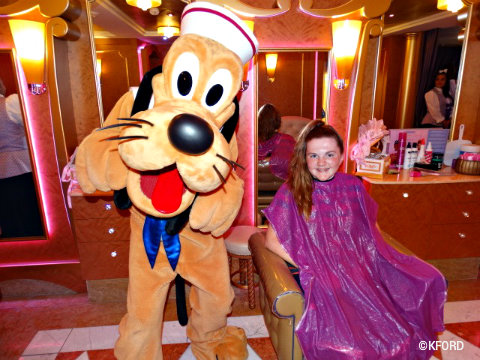 My daughter noticed a few other differences between the ship and shore Bibbidi Bobbidi Boutique: the nail polish is a gold glitter (Tinker Bell's pixie dust) onboard, while it is a choice of baby blue or pale pink at the resort; the face gems are a different style; and the tiaras are a solid silver color. All of these subtle changes helped make a familiar process just a little more special.
We were both a little reluctant to leave when it came time to say goodbye to Louise, so my daughter vowed to come back the next day to show off her Halloween costume. When we did, the Bibbidi Bobbidi Boutique had been transformed into The Pirate's League and Louise's "twin sister" was working. She admired by daughter's Tower of Terror bellhop costume and promised to tell Louise all about it. (You can read more about The Pirate's League in Deb Koma's blog from when it opened on the Disney Fantasy.)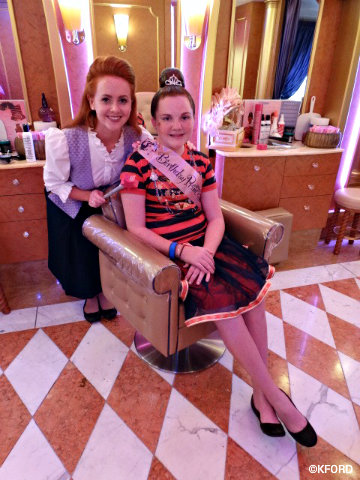 Louise had one last bit of pixie dust to sprinkle, however. On our last night, she left a Magical Moments certificate commemorating my daughter's experience and a special hair clip outside our stateroom door. After that, there was no doubt in our minds that Louise is ready to graduate to a full-fledged fairy godmother.