My family and I just returned from a frightfully good time on the Disney Dream's Halloween on the High Seas three-night cruise. And although we are not new to Disney cruising, this was our first time celebrating Halloween onboard one of the ships. And we found it to be full of treats.
Decorations
Halloween on the High Seas began four years ago on the Disney Dream and has since expanded to all four ships in the Disney Cruise Line fleet. (The Wonder is in dry dock so it cannot participate this season.) Halloween on the High Seas takes place in September and October and is family friendly.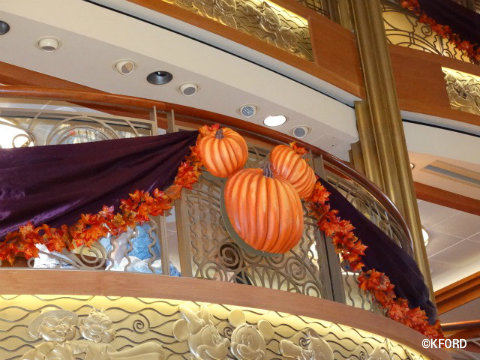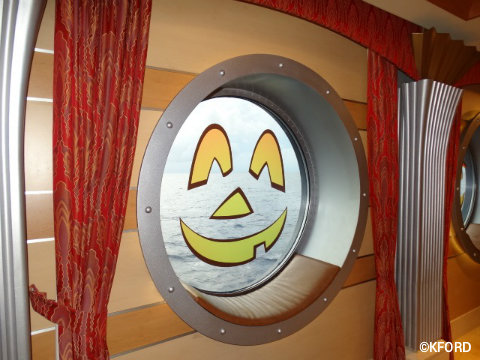 As we boarded the Dream, my family and I immediately felt immersed in the celebration when we saw traditional fall decorations of pumpkins and leaf garlands adorning the three-story, open atrium. The large portholes in public spaces on the several decks have fun designs, too, such as jack o'lantern faces and spider webs.
The Pumpkin Tree
The centerpiece of Halloween on the High Seas is a giant Pumpkin Tree in the atrium. This multi-day experience begins with a Caretaker character explaining about the barren tree and other Halloween customs. Passengers are invited to write their names on pumpkin seed cards and to return to check on the tree the next day. When they do come back to the atrium, passengers find that the seeds supposedly have grown into the 60 pumpkins that bring the dead tree back to life. The pumpkins light up during the reveal and "dance" along to music.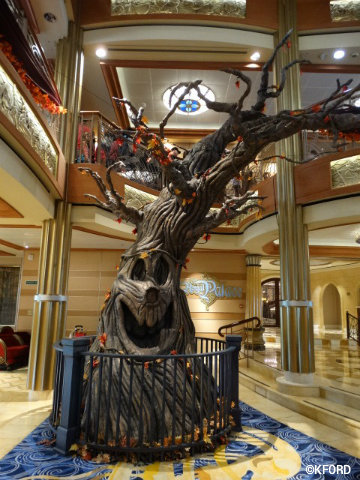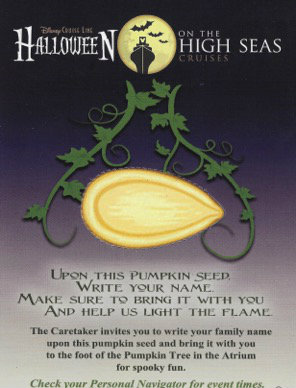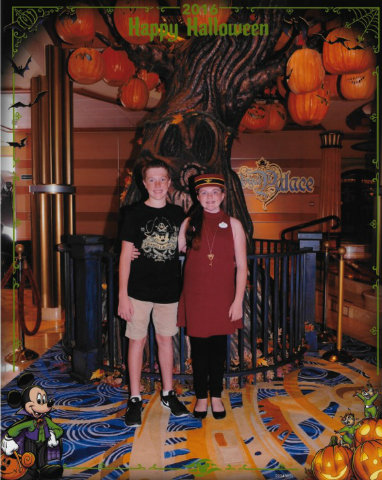 Following along with the Pumpkin Tree's transformation doesn't take much time. Each daily segment lasts about 15 minutes and takes place between the two dinner seatings. As a parent, I appreciated that Disney reserved the space close to the stage for children. My 12-year-old daughter was able to sit with the other kids and have a clear view of the presentation. Adults must stand behind them, so I recommend arriving about 20 minutes early if you want a great view. Otherwise, it can be difficult to see from the back of the atrium.
Trick-or-treating
Families are encouraged to pack costumes for Halloween on the High Seas voyages. I can see this being a fun activity on longer cruises, but on our three-night sailing, the Halloween party falls on the same night as the Pirates IN the Caribbean celebration. That means many families will have their pirate costumes double as their Halloween costumes — and there's nothing wrong with that.
But my daughter wanted to wear her Halloween costume in addition to a pirate costume, so we rushed to make that happen. Mickey's Mouse-querade Party takes place twice in the atrium: typically at 3:15 p.m. and 4:45 p.m. We chose to go to the second party, but there's no reason you couldn't go to both parties if you wanted to. The parties only last 45 minutes so you'll want to be on time in order to fully participate.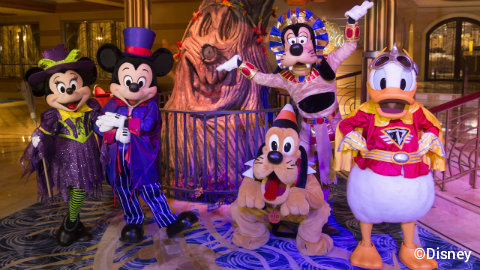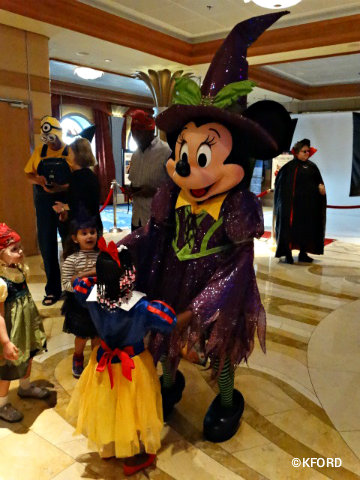 At each Mickey's Mouse-querade Party, the Fab Five — Mickey Mouse, Minnie Mouse, Pluto, Goofy and Donald Duck — come dressed in their Halloween costumes and lead guests in a dance party. They do not stop to pose for photos, but you can get some fun shots of them interacting with the kids if you're quick. There are simple Halloween-themed games set up in the atrium, as well, and we saw some of the characters join in.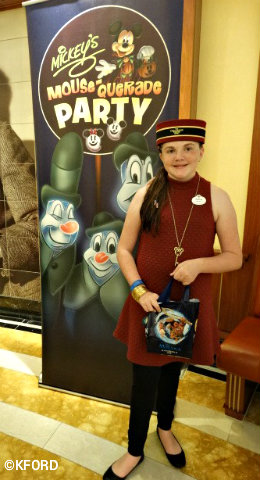 Perhaps the activity that everyone at the party is most looking forward to is trick-or-treating. There are two treat stations each on Decks 3, 4 and 5 overlooking the atrium, and guests of all ages can begin at any location. Each station has complimentary treat bags, and cast members generously dole out handfuls of candy. Don't have a costume? Don't worry! You can still trick-or-treat. We saw plenty of guests wearing Halloween T-shirts, like my 14-year-old son, and just regular clothes.
More Halloween activities
In addition to the signature events of the Pumpkin Tree and Mickey's Mouse-querade Party, there are daily Halloween activities for families and in the kids clubs and adult lounges.
On Embarkation Day, there was a special late-night presentation of "Nightmare Before Christmas" that was shown in 3D and as a "Sing and Scream Along." My husband and my daughter caught the tail end of the show, which they have seen many times, in the Walt Disney Theatre. At the end, Jack Skellington and his love, Sally, appeared on stage and then led passengers out to the lobby where they posed for photos. This was the only time the pair made an appearance during the cruise. In fact, they are rarely seen at Disney Parks as well, only coming out for Mickey's Not-So-Scary Halloween Party and Mickey's Very Merry Christmas Party.
In keeping with the theme, on the second night the Broadway-style production is "Villains Tonight!" hosted by Hades and his sidekicks Pain and Panic. "It all begins when Hades finds out he might lose his position as Underworld top dog after seeing that his Evil-O-Meter has hit an all-time low. So he enlists the help of Disney's most awesomely loathsome villains in an attempt to raise the Underworld's evil factor," according to the official description.
On the third night, Haunted Stories of the Sea takes place up on the pool deck and is broadcast on the large FunnelVision screen. This didn't seen as crowded as other events on our cruise, but that may very well have been because it was the last night and passengers were busy with other activities.
In between, the Oceaneer Club and Lab, Edge tween club and Vibe teen club had plenty of Halloween crafts, which my daughter loved, and their own Halloween parties. Plus, one of the adult lounges hosted a costume contest for those 18 and older.
Halloween on the High Seas dates
Halloween on the High Seas continues this year through sailings that include Oct. 31. Dates for 2017 have been announced, too. Sailings with these start dates will participate in the Halloween festivities:
Disney Magic: Sept. 27 — Oct. 28
Disney Wonder: Sept. 15 — Oct. 27
Disney Dream: Sept. 4 — Oct. 30
Disney Fantasy: Sept. 2 — Oct. 28