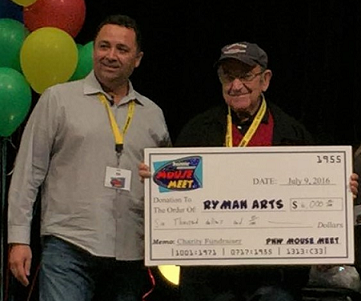 Marty Sklar accepts a donation, bound for Ryman Arts, from Pacific Northwest Mouse Meet founder Don Morin, left, and Beci Mahnken, president of Mouse Fan Travel. [Courtesy of Don Morin]

If Marty Sklar knew how hectic retirement was going to be, there's a chance – albeit a slim chance – he might have eschewed jetting around the world and willingly signed up with the checkers and rocking chair crowd.
Marty retired in 2009 after more than 50 years with the Walt Disney Company, serving as the Vice Chairman of Walt Disney Imagineering over the last years of his storied career. In addition to being the only person to have been in attendance at the opening of all 12 Disney theme parks worldwide, Marty played significant roles in Disney's participation at the 1964-1965 New York World's Fair, the development of Walt Disney World in the 1970s and the conceptualization of Epcot in the 1980s.
Since retiring, life seems to have become more hectic over the past few years for Marty. Prior to hanging up his nametag and earning a well-deserved window on Main Street at Disneyland, Marty was approached by then-Disney Parks and Resort chairman Jay Rasulo about becoming "a Disney Imagineering ambassador." The job description: Keep spreading the pixie dust … and in doing so, help to enlist more gifted and talented people to join Disney's creative wing.
Marty gladly accepted, in large part because he knows all too well that he is THE main conduit to Walt Disney, having worked side-by-wide with him for more than a decade as his go-to wordsmith. Marty wrote many of Walt's messages, publicity and marketing materials, as well as Walt's annual report. He also got an intimate look at Walt Disney, the man … what drove him, what inspired him and what his hopes and dreams were for the entertainment giant he founded way back in the 1920s.
Marty Sklar talks to guests at a D23 event. To his right is Disney legend Bob Gurr, while to his left is fellow Legend X. Atencio. [Deb Wills]

Walt Disney is arguably the single most important person in Marty's life, outside of the family he cherishes. So when Marty talks about Walt during his jam-packed presentations around the country, it's from a place that few people have ever been privy to. It's obvious as people listen to Marty speak, they are hanging on every word, eager to soak in all that he has to ell them.
After settling in as Disney Imagineering Ambassador, Marty took his prolific writing skills to a new level: He wrote his well-received memoir, Dream It! Do It! The success of the book and the subsequent – and often strenuous – book signing tour that resulted spawned a follow-up tome, One Little Spark!, which took a deep dive into what it takes to become a member of Walt Disney Imagineering.
On Nov. 1 at Disney's Grand Californian Resort & Spa, Marty Sklar will be the recipient of the Diane Disney Miller Achievement Award at the Walt Disney Family Museum's second-annual fund-raising gala, putting an exclamation point on a stellar career of making magic. Anyone who is anyone in Disney's vast world will be on hand to show their appreciation to a man who so embodies the spirit, the drive and the inspiration of Walt Disney.
"I'm very honored, and, of course, could not say 'no' when Ron Miller called me," Marty said. Songwriting legend Richard Sherman was the first recipient of the prestigious award last year, named for the Walt's oldest daughter, who passed away in 2013.
Like a passenger on a classic Disney roller coaster, Marty Sklar's retirement years have been much like a high-speed thrill ride. Even though he turns 83 in February, he's taken Jay Rasulo's comment about his appointment – "You are the hardest working ambassador in the world!" – to heart and has flown with it. Literally.
His appearances following the release of One Little Spark! last year are a case in point. "The book tour for One Little Spark! has been going crazy," he said earlier this summer. "I'm just back from the Museum of Science & Industry in Chicago — there was an audience of 700 for our presentation. I signed 500 books in five hours!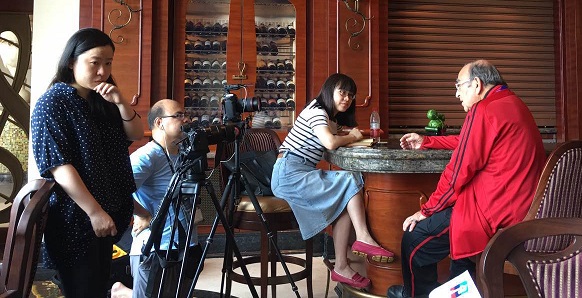 During his visit to Shanghai Disneyland in July, Marty was interviewed by the Chinese media following the re-release of his book "Dream It! Do It!" in Mandarin. [Cheers Publishing Company]

"Before that, there were 400 people at Fort Worth Museum of Science & History in Texas; 200 at Skirball Cultural Center in Los Angeles, and 300 for a UCLA event at the Chuck Jones Cultural Center in Orange County, California."
If you get the idea that Marty Sklar is a bit of a rock star in the Disney firmament, you wouldn't be far from the truth. His presentations and book signings draw enthusiastic audiences of the young and the young at heart, all seeking words of Disney wisdom from a master story teller. His talks are fact-based without getting bogged down in too much detail, and they often are sprinkled with Marty's dry sense of humor.
Although the book signing tour earlier this year might seem hectic to most, it was actually a prelude to a series of mid-summer jaunts that probably would have exhausted an Olympic athlete.
It started in mid-July when Marty flew from Los Angeles to Shanghai, China, for the opening of Shanghai Disneyland. Marty had some misgivings about going since, as he put it, "On the other 11 parks, I was actively involved. On 10 of them [except for Disneyland Day One], I had an active part in creating them. Shanghai is different; I've had nothing to do with it."
Bob Weis, Walt Disney Imagineering's current creative leader, thought otherwise. "On my watch, he won't miss any openings. He's far too modest. His imprint is on Shanghai, as it is on all the other [parks]." So Marty was on hand for the grand opening, and even spent some time promoting his two books for the Chinese media. Dream It! Do It!, in fact, was re-released in Mandarin to coincide with the park's opening.
He returned to Los Angeles, only to turn around and fly up to Seattle a few days later for the annual Pacific Northwest Mouse Meet, "It's the best-run Disney fan event around," he said. "Don Morin [PNWMM's founder] does a great job and the fans come from all over the country. Saturday's program and sale of Disney stuff was a huge hit. There were 500 in attendance, which included 450 fans [the max] and another 50 sponsors.
The late Diane Disney Miller with songwriter Richard Sherman, the first recipient of the Diane Disney Miller Achievement Award. [The Walt Disney Family Museum]

"On Sunday, Bob Gurr and I did a session together – our usual attempt to be clever and funny and also to convey information about working with Walt."
Marty then flew from Seattle across the world to England to join his family for a special occasion: Grandson Gabriel's graduation from the University of Kent in Canterbury. In doing so, Marty had to pass up on an appearance at a Ryman Arts fund-raiser. Ryman Arts is a cause near and dear to Marty and his wife Leah, both of whom were co-founders of the free arts education program named in honor of legendary Disney artist Herb Ryman.
"The graduation took place in Canterbury Cathedral, which was built in 1100, and was the site of much early conflict between church and state, including the murder of Thomas Becket," Marty said.
During an email exchange after his arrival, Marty noted that the time stamp on the missive "really is 5:45 a.m. I'm getting on a fast train at 8 for Canturbury and Gabriel's graduation."
Following the graduation and spending time with his son Howard and his family, there was another long flight back to Los Angeles and home.
When it was suggested that all of his globe-trotting had earned enough frequent flier miles to qualify for a real-life Mission to Mars, Marty was quick with a quip.
"Actually, I think of my Los Angeles-to-Shanghai, then Los Angeles-to-Seattle-to-London-to Los Angeles madness as Mission to Sklars. That's more than enough for one summer!"
Marty won't have to travel too far from home to receive his award on Nov. 1. And it's only fitting that the ceremonies will be held within the confines of Disneyland, a place that's been a second home to him since 1955.