Farewell to Cap'n Jack's
By Jim Korkis
Cap'n Jack's Restaurant was an informal, New England-ish, nautically-themed restaurant at the Downtown Disney Marketplace on the east side. The restaurant had been a staple on the waterfront since The Lake Buena Vista Shopping Village opened in 1975. In fact, both opened on the very same day and for years afterward Cap'n Jack's was considered the place to visit on WDW property in the evenings.
Originally, it was called Cap'n Jack's Oyster Bar and was a location where adults could grab cocktails and appetizers in the early days of Walt Disney World. Obviously, it specialized in seafood and was one of the very few locations on or near WDW property that was open until the wee hours.
When it became an official "restaurant" around 2000 the menu expanded and featured seafood, steak, pasta dishes, and kid friendly items like chicken strips and hamburgers. In fact, from an adult lounge, it had transformed into a family friendly location but was unable to compete with newer additions like the Rainforest Café.
Not only was it the longest surviving original business in the Downtown area, it was the last remaining Disney operated restaurant in that area as well. It was born along with now forgotten locations such as the Gourmet Pantry, the Village Spirits and so many others.
The entire area was not just a way to satisfy guests staying on Walt Disney property so that they didn't have to find transportation to downtown Orlando. It was meant to be a hub from which a housing community composed of town houses, condominiums and more would grow.
As part of the Phase Two plans for Walt Disney World property, the monorail was to be extended to stop at the shopping and dining area and some stanchion foundations were put in place and county clearances had been obtained.
Pricey shops selling elegant goods from clothes to wine were included to attract the local population as well as the tourists who could purchase items that they would be unable to find anywhere else in Orlando.
Cap'n Jack's unique hexagonal-shape offered wonderful views of the lake and Downtown Disney's marina where guests could rent watercraft to leisurely cruise the nearby waterways. In the earliest days, there was not much else to see from the windows except cypress trees and water until the Empress Lilly debuted in 1977.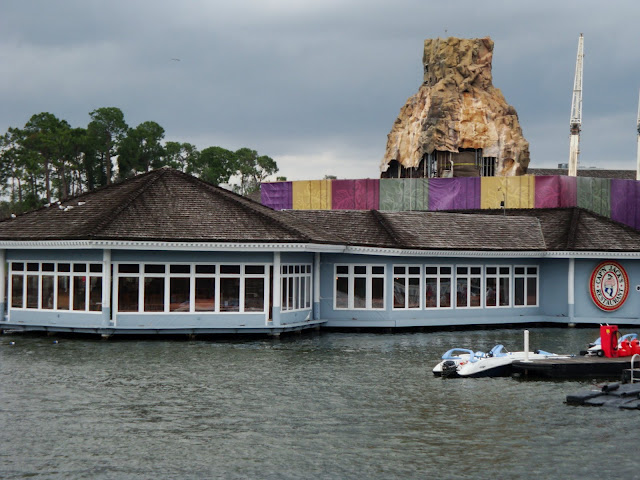 Cap'n Jack's was built out into the lagoon and was described as a "floating" restaurant. The outside porch for Cap'n Jack's was intended for live female models to walk and display the newest in swimsuits from the nearby shop, the Windjammer Dock Shop (that had a red-headed mermaid as its logo).
The restaurant was not named for Captain Jack Sparrow, who would not be born for several decades. It was named after Disney Legend Jack Olsen who had a fondness for sailing and fishing. Olsen retired from the Disney Company in 1977 but was instrumental in shaping the Disney theme park merchandise mentality since the opening of Disneyland in 1955.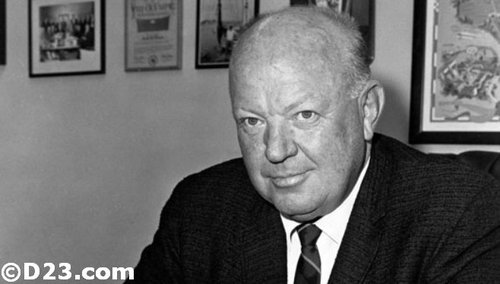 It was Olsen who jumped into dumpsters to rescue Disney animation cels, trim them into a cardboard matte and then sell them for a dollar or so to early park guests. He was the one who insisted that Disney park merchandise be distinctly different than what guests could get anywhere else.
Like many of Disney's top executives, he relocated from California to Florida to open Walt Disney World where he was the Vice President in charge of Disney Merchandise.
Cap'n Jack's last day of operation was in mid-August. Its closure was part of the conversion plan for the new Disney Springs.
However, the name lives on at the Cap'n Jack's Margarita Bar dockside and as the name of the marina.
The famous drink at the original Cap'n Jack's Oyster Bar was the Strawberry Margarita. Actually, it was the first East Coast appearance of this drink but was quite popular with the California WDW cast members who had relocated to Florida and that spurred its introduction.
That tradition lives on in Cap'n Jack's Margarita Bar so a little of the spirit (in every sense of the word) of the original shopping village still lives on as well.
RELATED INFORMATION AND LINKS
Disney Historian Jim Korkis goes up into his imaginary attic to rummage around his archives and often stumbles across an unusual story about Walt Disney World. Those who have met me know that I take real joy in talking about Walt Disney.
====================
Check out Jim's other "From the Attic" Blogs
Full features from the Walt Disney World Chronicles series by Jim Korkis can be found in the AllEars® Archives: /ae/archives.htm
ABOUT THE AUTHOR:
Jim Korkis is an internationally respected Disney Historian who has written hundreds of articles about all things Disney for more than three decades. As a former Walt Disney World cast member, his skills and historical knowledge were utilized by Disney Entertainment, Imagineering, Disney Design Group, Yellow Shoes Marketing, Disney Cruise Line, Disney Feature Animation Florida, Disney Institute, WDW Travel Company, Disney Vacation Club and many other departments.
He is the author of three new books, available in both paperback and Kindle versions on Amazon.com:
The Book of Mouse: A Celebration of Walt Disney's Mickey Mouse
Who's Afraid of the Song of the South
"The REVISED Vault of Walt":