To all who come to this photo trivia game, Welcome! Along the way, the photos can make us relive memories and see details Walt's Imagineers put into everything we love in Walt Disney World!
I'm writing this on the first official day of Summer!


Who wants to join me in my convertible and head for the beach?
Thank you to everyone for all the lovely birthday wishes!
Chloe Mayhew has the post-Disney vacation blues. What would you like, Chloe? Hug
or Disney comfort bear
?
Rapunzel, good luck with your Disney trip sweepstakes! You're taking me along if you win, right?
We had two challenges last week.! Here's the Extra Tough Challenge:

And here's the answer: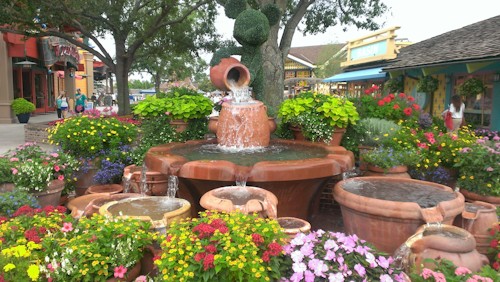 Copyright © Erin Blackwell
A Mickey topiary fountain garden in the Disney Marketplace, Downtown Disney. I asked my husband if we could get one, but he said they had sold out. Sigh. How awesome would that have looked?
Craig and Jeff Blank came the closest. Craig said a flower bed and Jeff said a few plants in in 44 sq miles of plants. Way to go, guys!
Duskin Henard, again with the potty mouth, saying bumfoozled! You are a rebel!
Here's Challenge #284: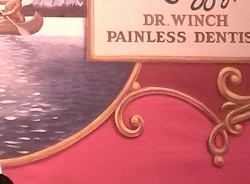 And here's the answer:


Copyright © Erin Blackwell
Just about everyone got this: the backdrop at Country Bear Jamboree in the Magic Kingdom.
Everybody, sing!
The bear band bears will play now in the good ol' key of G
Zeek and Zeb and Ted and Fred and a bear named Tennessee
Zeck's a-tangin' on the banjo and a-tappin' with his feet
While bangin' on a dishpan with a real ol' country beat
Zeb's a-sawin' on the fiddle with a crooked hickory bow
When the spirit moves that bruin, he can make that fiddle go
Brother Ted is on the corn jug now I mean that bear can blow
He also plays the washboard with a handle of a hoe
And big Fred's playin' mouth harp, he plays it kinda sad
He never took a lesson, he just picked it up from Dad
And lil ol' Tennessee Bear is a featured on the thang
Sounds just like a guitar but it's only got one string
So clap your hands and stomp your feet and try to keep right with 'em
One sure thing the Bear Band's got is real ol' country rhythm
Yeah. clap your hands and stomp your feet and try to keep right with 'em
One sure thing the Bear Band's got is real ol' country rhythm – AH Ha!
(teddy bear squeak)
Jeremy Hardy, let me know how that Dr. Winch sign goes over at your dental clinic! 😉
Paul Dickson was the first to send in the correct answer! Congratulations to Paul and all our winners this week! Candice Grimes, Denise Cayz, K Beasley, Mark Burden, Karen, Tinkerbell Wells, Belicia Cullen, Scott Cullen, Mary Beth Tarbet, Janet Thorn, Donald Leblanc, Chris Nichols, Kenny, Ellen Sullivan, Dave Wang, Anne Marie Cronin, Tracy Ludwig, James Dezern, Bruce Hinterleitner, Christina, Steve And Ruby Jordan, Team Hill, Melissa Such, Vera Williams, Deb Ragno, Johansen Family, Amy Schweizer, Kristi Strembicki, Tricia Petty, Joe Calomeni, Dee Dee Kenney, Robert Avnet, Deb Falvo, Colette Stanton, Daniel Record, Duskin Henard, Lee Anastasi, Maggie Klotz, Gabriella, Terry And Matthieu, Pat Schwier, Herb Miller, Sharon Powell, Anne Beebe, Maureen Handy, Dawn Bach, Stuart Savage, Kat Georgiou, Scott Greenbaum, Tom Koval, Craig, Brian Miller, Jeremy Hardy, Patty Carty, Sandie Albrecht, Betsy Dross, Pam Vanaustin, Jennifer Rupert , Jim Thompson, Morgan M., Bill Mckim, Chuck Sands, Julie Wickware, Les Stewart, Michael Mclucas And Jackie Mclucasi, Mike Rotkiske, Jonathan Thomas, Ladonna Tisdale, The Parker Family, Susie Howard, Kerry Mccaffrey, Andrew Swiatowicz , Judy Simonsen, Billie Jean Albolino, The Kertes Family, Vicki And Elizabeth Edwards, Kristyn Scibienski, Claire Gregory, Brenda Strohmeyer, Carolyn Como, Jenn Crosby, Randi Balch, Erin Lamb, Danielle Ciotti Harsley, Agnes Ciotti, Lindsay Coram, Jeff Blank, Kevin Miller, James Steele , Nigel Mcquire, The Foley Family, Linda College, Heather Sabatino, Jeremy Reichelt, Barclay Bakkum, Chloe Mayhew, Karrie Duffey, Rebecca Keenan, Anastasia Macneil, Nathaniel Clements, Michelle Boykin, Nathaniel Clements, Josh Weiss, Jim Finley, The Patterson Family, Davida, Karen Bellamy, Team Meeker, Brian Richmond, Jen Cox, Ron Harper, Kat Curtis, Carla Leger, Dave Freemyer, Ed Suscreba, Matt Holley, Betsy Silvestri, Emily Hudson, Team Bonnie Sue, Sharon Pierce, John Pasqueralli, Hoekzema Family, Chris And Sarah, Jason Skow, Mandy Kromer, Ed Elder, Doug Olson Family, Linda Ranatza, Carol Ney, Kerry A., Dan And Elizabeth Johnston, Brian Gallant, Brooke Whitlatch, Caroline Burmester, Evald Olson, Dave Kanigowski, Sandy Kanigowski, Stacy Lee, Rapunzel, Kristen Mccoy, Larry Sprenkle, Robert Wescovich, Leigh Mertz, Terry Fleming, George Mundy Jr, Patti Mccaffrey, Virginia Pierce, Josh Carney, Karen Smith, and Peter Boguszewski. Each of you are entered in this month's winners' drawing.
_____________________________________________________ _____________________
Challenge #285 Where in the world is this?
Once more into the parks! Look at me, I'm quoting Skakespeare…. kind of.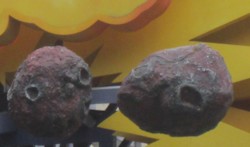 Do you know? Do you have a guess? Please send in your answer, before the end of the day on Thursday, June 27th, by clicking on the blue box below. Please do not post answers using the Feedback Form link at the bottom of this post.
See you next week, Players!


_______________________________________________________________________
Everyone who sends in a correct answer to a Where in the World Challenge this month will be entered in a drawing at the end of the month for some special AllEars® goodies!