Yesterday I discussed the humble beginnings of both Dinoland and Restaurantosaurus and how the discovery of dinosaur bones forever changed Diggs County. Today I'll continue that story.
After a long day in the hot sun, the students needed a way to unwind in the evening. To that end, one section of the lodge was transformed into a recreation room to be called "The Hip Joint."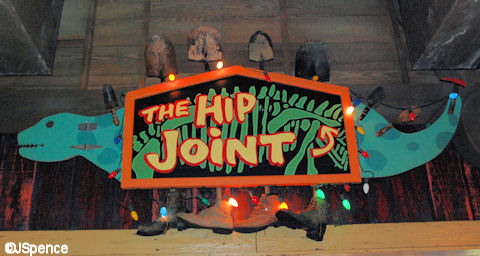 The room abounds with games such as a badminton net, a carrom board, a basketball hoop, croquet set, a Frisbee, and an assortment of other sports equipment and board games.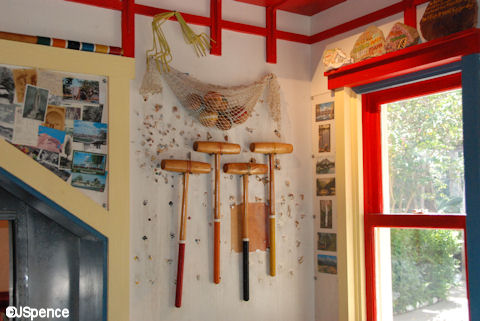 This room is also home to a number of traditions that began in the early years. One of these asks each student to bring a rock from their home town. At the conclusion of their internship, they are to paint a message on the stone and it is displayed with honor.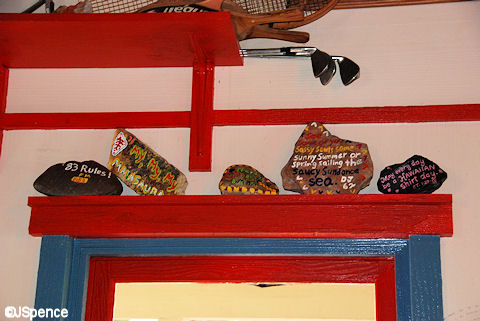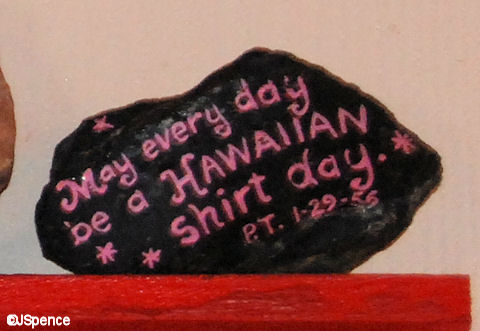 There are also a number of tributes that are bestowed on the students. One of these is the Zip Award. This dubious honor is received by the individual who works the hardest all summer and finds nothing – zip – for the entire season.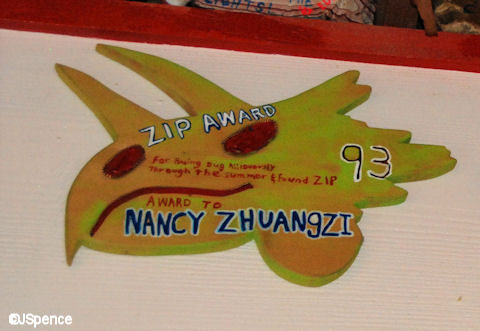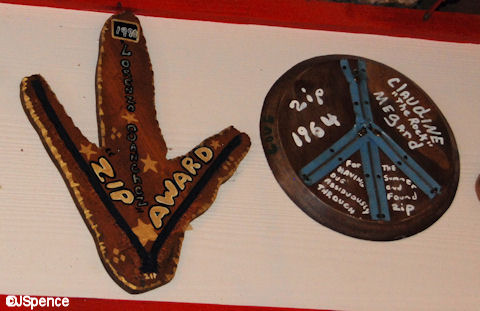 On the other end of the scale, the Golden Trowel Award is given to the student that achieves the greatest number of discoveries during the year.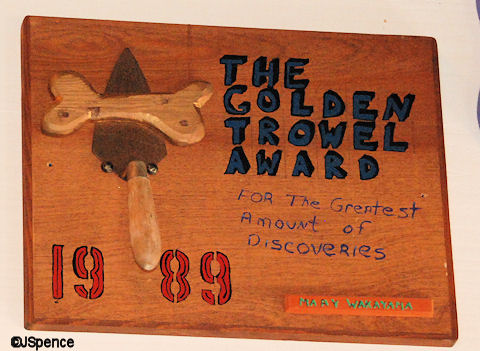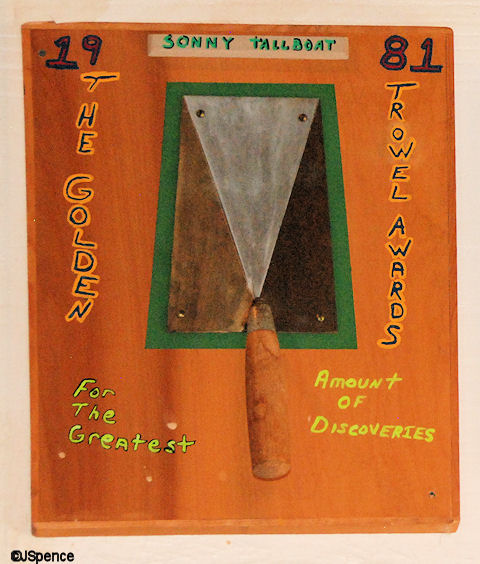 The Golden Boot Award is given to the student who has walked the most miles in search of dinosaur bones. Of course, this tired soul must give up one of their boots in order to be immortalized.
An Airstream trailer used by one of the early paleontologist has been incorporated into The Hip Joint. In it are two booths and a jukebox. When visiting, be sure to read some of the musical selections the students have to choose from. Here are just a few:
End of the World by Skeeter Davis
Great Balls of Fire by Jerry Lee Lewis
All Dug Up by Elvis Presley
I am a Rock by Simon & Garfunkel
I Still Haven't Found What I'm Looking For by U2
All Those Years Ago by George Harrison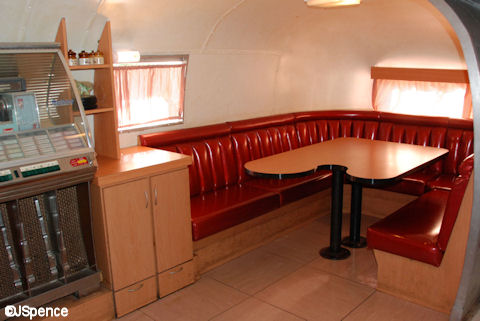 On the outside of the Airstream, one prankish student has left his mark.
The professors and students also have a large selection of reading material to choose from for research and pleasure. Shelves in almost every room are crammed full of books and National Geographic magazines. Here are a few of the titles:
Skeleton Crew by Stephen King
Touch the Earth by David Luban
Stone Deep by Davie Wiltse
The Last One Left by John MacDonald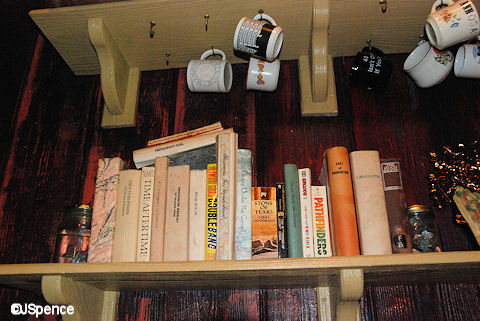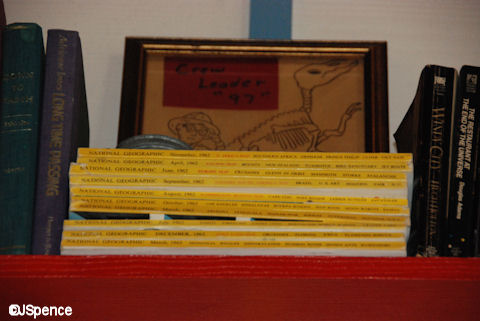 Of course, the student's entertainment isn't confined to The Hip Joint. Fun can also be had outdoors with a little imagination.
On the backside of the water tower is a crudely painted target.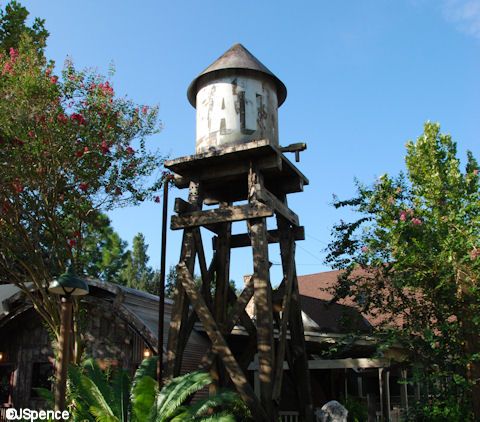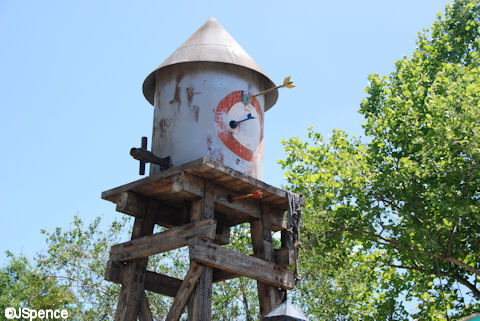 Across the way, on the porch roof, we find two lawn chairs, a cooler, and other paraphernalia. Attached to the wall is a rack full of plunger-type arrows and a couple of bows. Also, connected to the eves is a pulley and rope.
If you follow the rope, it stretches all the way to the water tower and has a bucket full of arrows attached to it.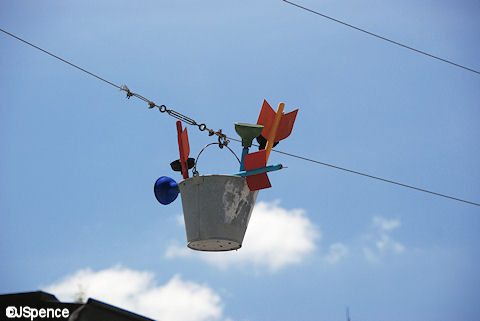 It appears our ingenious students have devised a unique game to play in their off hours and have come up with an interesting way to retrieve their arrows.
Also seen in a porch window sill is a bucket of golf balls and a club. I feel sorry for the people driving by on U.S. Highway 498.
Nearby on Pterodactyl Pterrace, a basketball hoop has been set up for a little one-on-one play.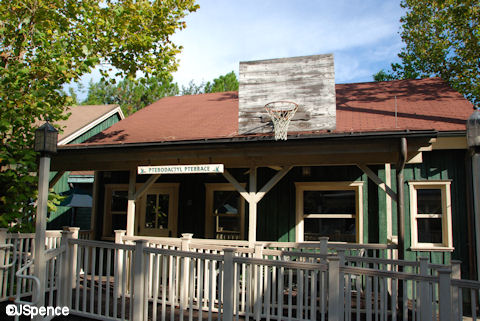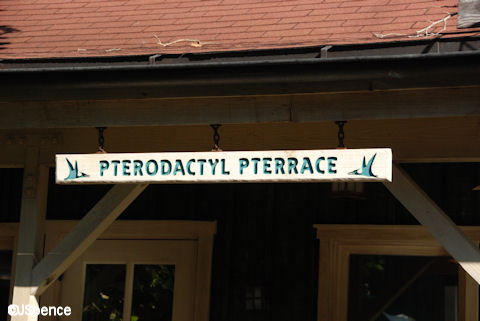 Back inside the lodge, more touches of the student's sense of humor can be found. For example, this French poster for the Japanese movie Godzilla is displayed proudly. Although not a real dinosaur, Godzilla does have the characteristics of several prehistoric creatures. He has the head and lower body of a Tyrannosaurus Rex, the neck and forearms of Iguanodon, a triple row of dorsal plates reminiscent of a Stegosaurus, and the tail and skin texture of an alligator. Godzilla's monstrous size and destructive powers were similar in scope to other films of the day that featured dinosaurs terrorizing the hero and his helpless heroine.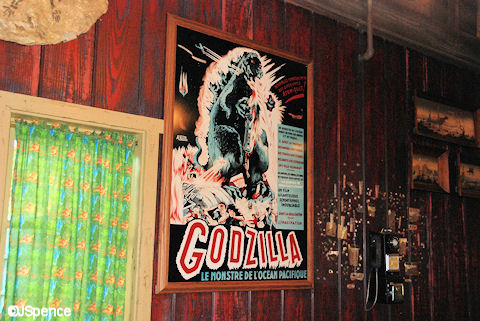 How about this message that one dimwitted student left for Animal? Poor Jenny.
We've all heard that if you dig a hole deep enough, you'll end up in China. Well one student has marked a map with instructions. On a Post-it note placed over the Central United States he has written, "Start digging here." On another Post-it note over China he states, "End up here."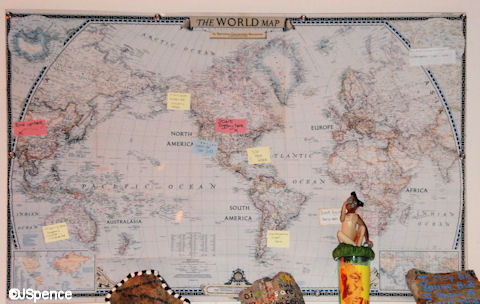 Here are few more signs found around the lodge.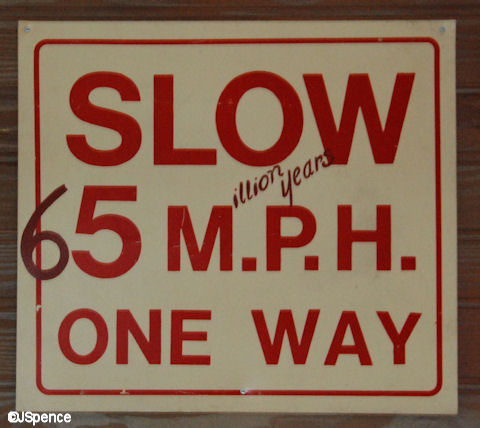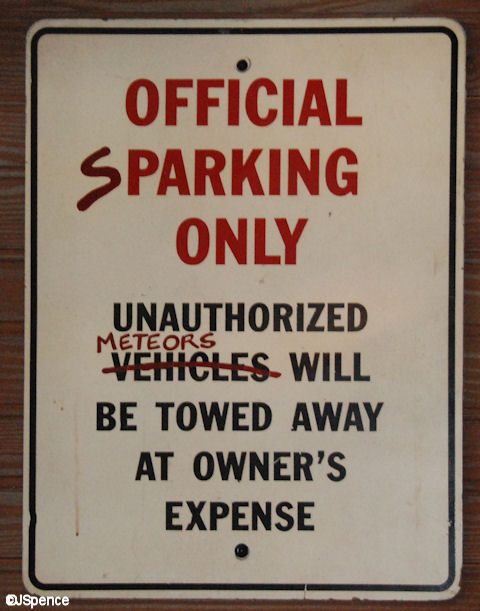 Apparently, Hawaiian Shirt Day is a big event at the lodge. You can even see a few shirts drying above the porch roof.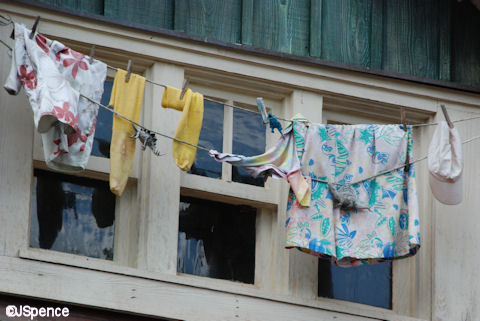 I especially like this pterodactyl with a sign around his neck which reads, "I (heart) Flying."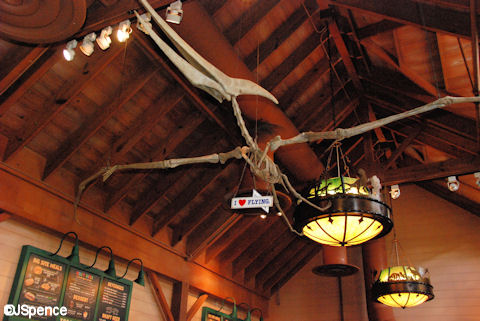 The students are masters at pranks, but the professors try to pull a few tricks of their own – enough so that a scoreboard was created to keep track of who was getting the better of whom. Here are the latest standings.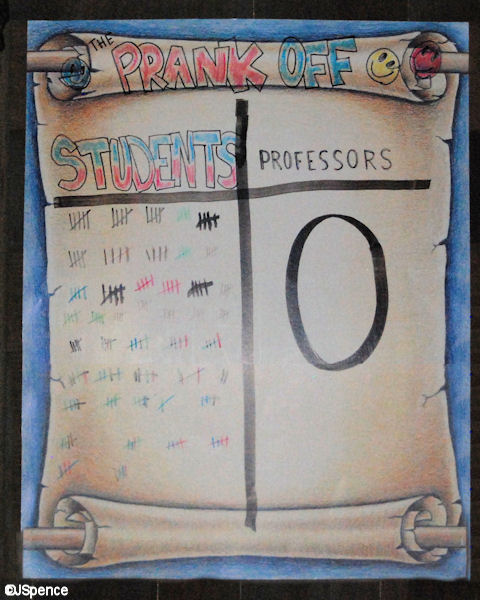 Pay phones were a fact of life in the early days of the Institute. When a call was received and the recipient was absent, a message was taken and thumbtacked to the wall. When The Hip Joint was created years later, a second, more modern pay phone was installed in this room.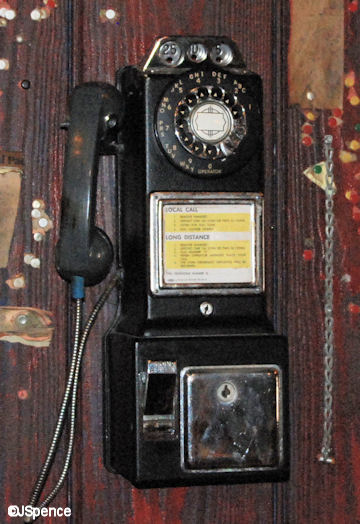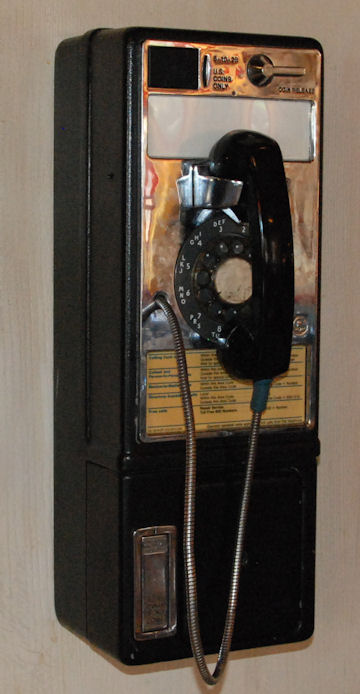 Dr. Bernard Dunn is the Chairman of the Dino Institute Internship Program and oversees the selection process of new candidates. He is also the senior paleontologist and his name can be found on several bulletin boards in and out of the lodge. His caricature can also be seen in The Hip Joint in a drawing titled "Over Dunn."
In the early years, the commissary supply room was continually being broken into by hungry students. Try as they might to secure the doors to this storage facility, the locks were repeatedly damaged. Finally, management gave up and made snacks and soft drinks available throughout the day in a cooler to be located on the porch. The mangled padlocks can be seen hanging against the signs and the broken latches can be seen lining the supply room door jam.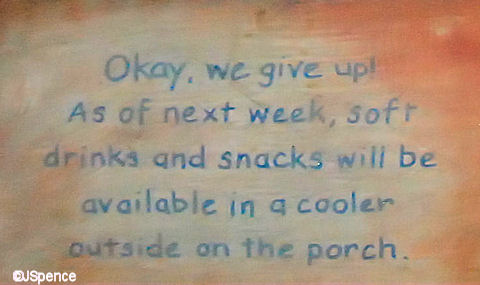 By the way, if you go looking for the cooler, it can be found on the porch roof with the plunger/arrow players.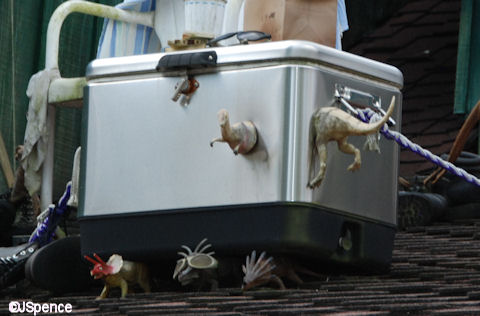 For a number of years, McDonalds was a major sponsor of the Dino Institute and helped run the cafeteria. But like so many other philanthropic organizations, they pulled their funding in search of other charitable causes. While present here, a McDonald's French fries carton could be seen in one of the dinosaur's mouth.
During the McDonalds years, two interesting signs could be seen around Dinoland. The first was located along the exit route from the attraction "Countdown to Extinction," later "Dinosaur." Playing with their slogan of the time, "Have you had your break today?" a sign was erected that said, "Have you had a Crocodilian today?"
Another sign was mocked up to look like a monster-movie poster with a number of clever catch phrases that captured the horror of a beast attacking with the catchphrases of McDonalds.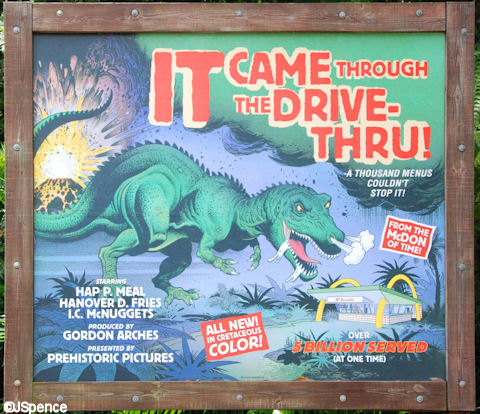 Tourists visiting Restaurantosaurus today no longer select food from a cafeteria line but rather an overhead menu. Selections include hamburgers, hotdogs, fries, nuggets, a salad, and a few other offerings.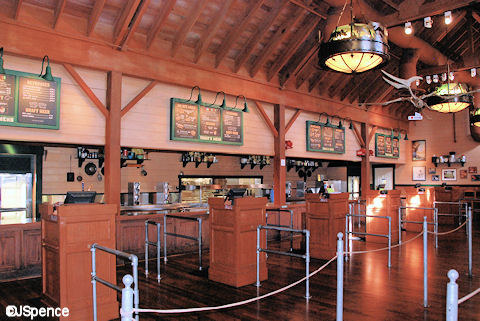 Dining rooms are located on both sides of the ordering area. Condiment and fill-your-own drink stations are found in both areas. In addition, fixin's stations allow guests to complete their burgers with a variety of toppings.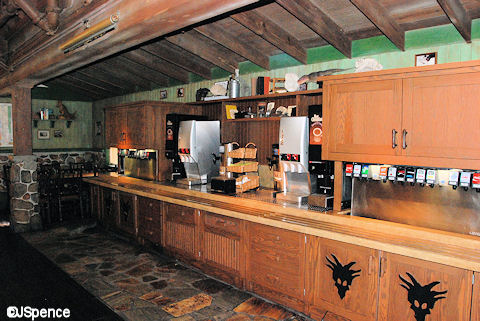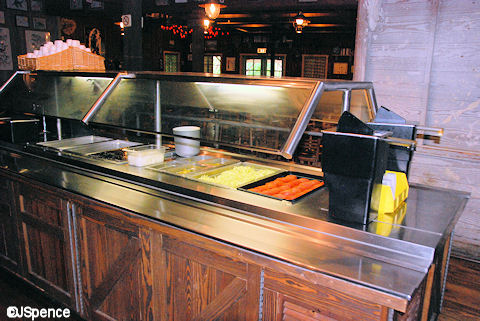 The seating at Restaurantosaurus is spread out among seven rooms. This helps alleviate the noise level somewhat and provides a slightly more intimate atmosphere. Note, some of the dining rooms are dark. Take this into account when selecting a place to eat. Also available are outside tables. These can be found on the porch out front and beyond the tent rooms.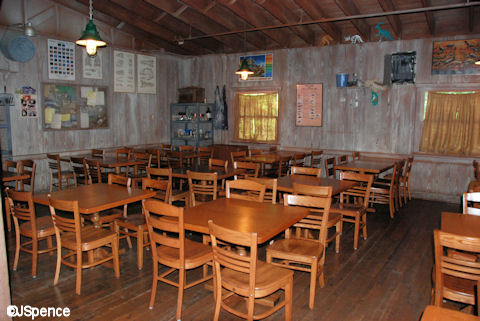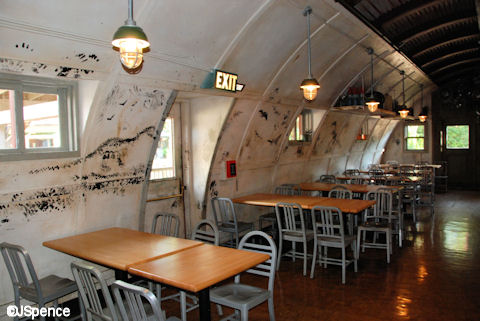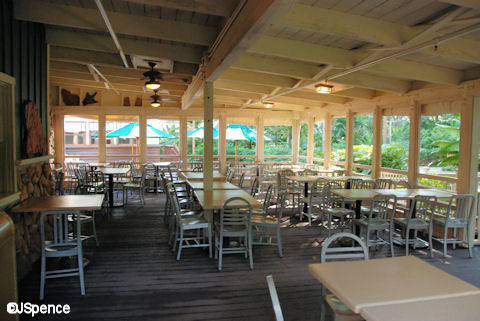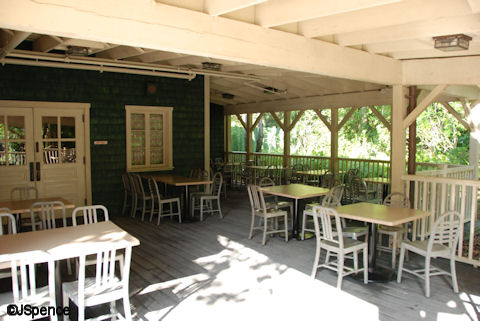 Restaurantosaurus is a busy establishment as it is the only counter service location in the Animal Kingdom that sells hamburgers. The restaurant opens daily at 11am and lines begin to form before this time. Closing time is determined by park closing. To see the complete menu, click here.
Here is a picture of a hamburger, chicken nuggets, a chocolate mousse, and cheese cake a friend and I enjoyed while researching this article.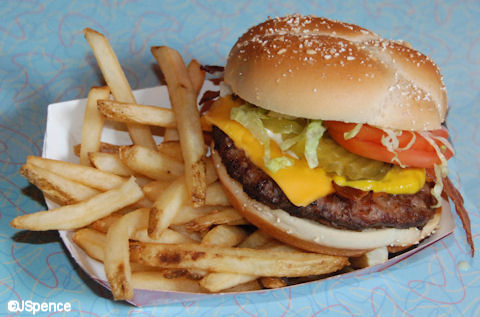 To be honest, I don't eat here often. The main reason, I prefer the selections at Flame Tree BBQ and Pizzafari. But that doesn't mean that I don't like Restaurantosaurus. The food they offer is good if you're in the mood for "standard" theme park fare.
I also love the theming at Restaurantosaurus. A person could spend hours examining all the details and reading the materials posted on the walls. The Imagineers outdid themselves when designing this establishment. I've only offered you a small smattering of the stories available here. I highly recommend giving this place a try if for no other reason, it will give you an excuse to be immersed in a fantastic world.
Now I'd like to break the fourth wall and provide you with an interesting detail about Dinoland U.S.A. But before I do, I must travel back in time to Disneyland, 1955. (I'll borrow a Time Rover from the Dino Institute for the trip.)
As we all know, the financing for Disneyland was an uphill battle. Because of this, Walt and his team were constantly looking for ways to cut costs. One decision to save money dictated the use of less expensive asphalt instead of concrete for many of the streets and thoroughfares. This would generate a significant savings. Unfortunately, asphalt becomes soft on hot days. When Disneyland opened, Southern California was undergoing a heat wave. Many women's high heeled shoes sank into the soft surfaces and they literally walked out of their shoes.
In order to be as authentic as possible, the Imagineers wanted Dinoland U.S.A. to be covered in asphalt. After all, this was how the roadways of the 1940's were manufactured. However, they didn't want to make the same mistake as their predecessors at Disneyland. So they used concrete and artistically made it appear as asphalt. This was achieved by pouring a carefully prepared mixture of colored concrete over chicken wire. Then, at just the right moment, the chicken wire was removed, leaving a rough surface that resembled an old highway. Additional cracks and potholes where then carved into the surface.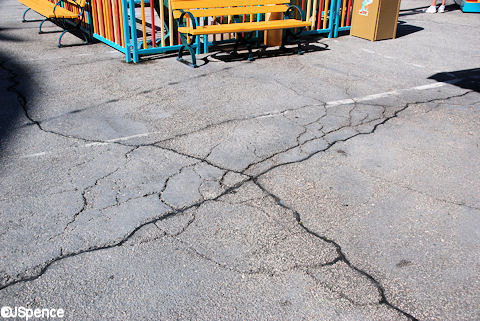 Three years ago, I wrote an article about Chester & Hester's Dino-Rama. Although some of the information is a repeat of what you've read here, there is additional material about the mini-amusement park they created. To read this blog, click here.
When planning a land or attraction, the Imagineers come up with a complete backstory first. Then they design the attraction using this backstory and staying within its given parameters. When the attraction (or land) is debuted, this story is usually reported in press releases. After that, it's rarely mentioned again. But the backstory is there if you take the time to look for it. The Imagineers aren't trying to hide it from you. In fact, if the story were too obvious, the ambiance would seem fake. If you want to know the backstory of almost any attraction, it is there if you take the time to look. I gathered the vast majority of the information I provided you with today by taking the time to explore this facility and being observant.
In real life, no one tells you the backstory when visiting an area unless you're touring a historical monument. When you stop at a mom and pop roadside stand in Florida to buy a bag of oranges, no one tells you the history of the citrus crops or how these people came to operate this humble stand. If you're really curious, you need to investigate and ask questions.
Well that's it for Dinoland and Restaurantosaurus. I hope you've enjoy this journey through time and I've inspired you to check out this eatery on some future visit. Now that I've forced you to slow down and smell the roses and provided you with the backstory, I hope you'll find this restaurant as intriguing as I do.
I'd like to end this article with a small clipping I found on one of the Restaurantosaurus bulletin boards.