The entertainment company that gives guests a variety of ways to experience the past is offering them yet another relic. Walt Disney World and Disneyland guests can ride on steam locomotives, walk down an old-fashioned Main Street, U.S.A and step back into Tom Sawyer's era. Now, they also can get information from a 1920s- or 1930s-style newspaper.
As a former newspaper editor and writer, I find it ironic that The Walt Disney Company would choose to launch a newspaper of its own in this day and age. The industry has been struggling to reinvent itself in an era of instantaneous news and constant real-time updates so that it can remain relevant and profitable.
With consumers expecting — and even preferring — to get their news electronically, why would the Mouse think its busy guests would use such a product? It would seem more logical that they would be excited about the rollout of free Wi-Fi at Walt Disney World. (Read more about Wi-Fi here.) After all, they could stay abreast of the latest theme-park news via Twitter, Facebook and the like that way.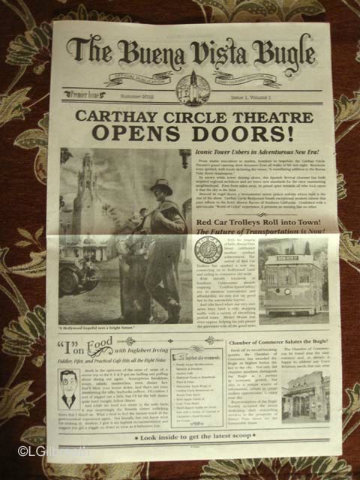 Yet, The Buena Vista Bugle debuted this summer at Disney California Adventure as a short-term vehicle to explain the park's changes, and because of its popularity, the newspaper has published three editions. The Orange County Register reports that between 12 and 15 percent of surveyed guests used the newspaper for information.
So, what's Disney's secret? The four-page newspaper is designed in the print styles of the 1920s and 1930s. The Register describes the content this way: "The copy comes from an in-house writer but in the voice of the characters of Buena Vista Street. A snarky, fictional food critic, Inglebert Irving, gives recommendations on drinks and appetizers. A celebrity-sighting column shows where characters can be spotted. The back page is designed in the style of a want-ad section, but has listings of shows, entertainment and stores."
Frankly, that description reminds me more of a Disney Cruise Line navigator than a newspaper. And who doesn't use a navigator when you're on a cruise? It's packed full of useful information to help guests plan their day — not lengthy narratives.
Unlike today's newspapers, this one is free and handed to interested guests by cast members. Mimicking a traditional form of distribution, the newspaper also is available in metal racks throughout the park.
The Register notes that Halloween and holiday editions of The Buena Vista Bugle are planned.