In my last entry I talked about the various dining options available at Disney's Aulani resort in Ko Olina, Hawaii. Of all the restaurants at the resort, however, there is one that stands above the rest. If you were to only dine at one restaurant at Aulani, Ama Ama would be the one not to miss. The restaurant is to Aulani what California Grill is to the Contemporary or Yachtsman Steakhouse is to the Yacht Club resort, a fine dining experience that offers unparalleled service, atmosphere, and cuisine. At Aulani, Ama Ama provides a dining experience unlike any other and one that is truly unforgettable.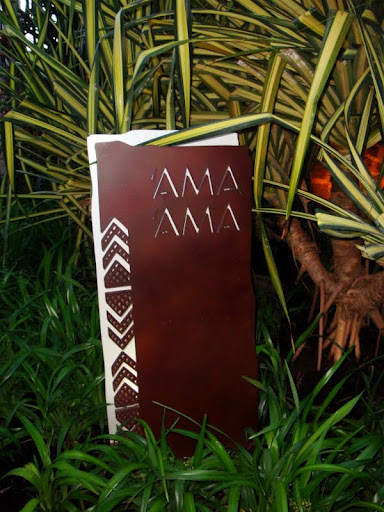 Overview:
One of the greatest attributes of Aulani is its breathtaking location. Sitting right on the beach and overlooking the Pacific Ocean, the resort highlights the natural beauty of its surroundings.
Aulani is also a resort meant to celebrate Hawaiian culture, history, and traditions. Ama Ama does both of these, showcasing the island's natural beauty and its unique culture. While Hawaiian heritage plays an important role in the restaurant's theming, it does so in more subtle ways. This starts with the restaurant's name as the ʻamaʻama is a tasty local fish immortalized in popular Hawaiian songs. Ama Ama celebrates not only the fish, but also the fishing settlements along the coast dating back to the 12th century. A very distinctive cuisine also plays an important role in Hawaiian culture and at Ama Ama the gourmet chefs use fresh local ingredients and island flavors to create dishes that combine both traditional and contemporary elements. What truly makes this restaurant special, however, is its location which helps make it a once-in-a-lifetime dining experience.
Atmosphere:
Location, location, location. At Ama Ama this is what takes precedence above all else. Situated right on the beach, the restaurant is designed to highlight the beautiful view.
What makes the dining room so unique is that it is open-air, which maximizes the views of the nearby ocean and allows you to enjoy the practically perfect Hawaiian weather.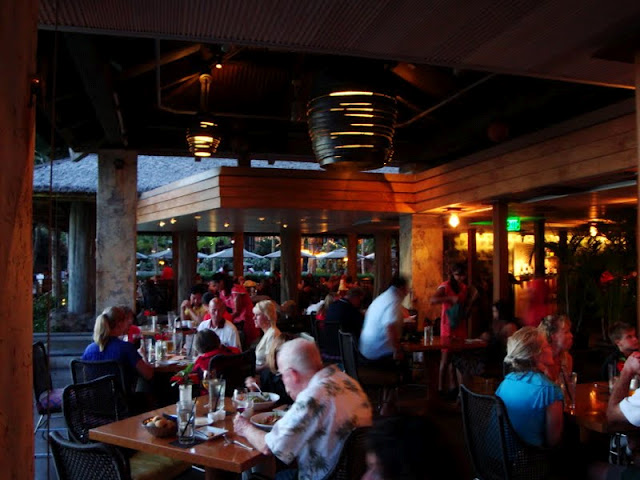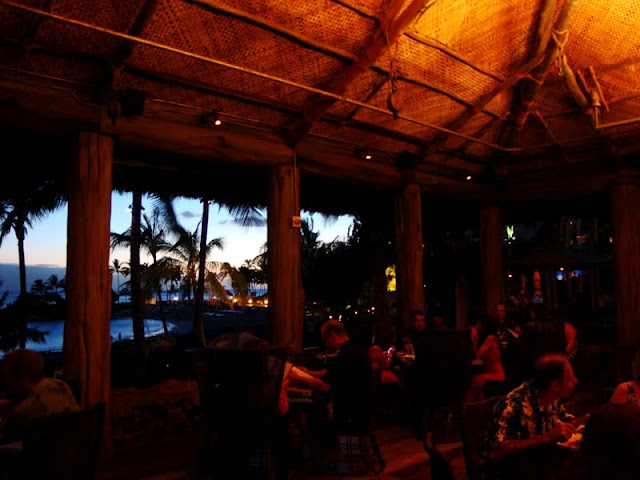 Every table in the restaurant is positioned in a way to offer diners an optimal view. It is said a picture is worth a thousand words, and these pictures of Ama Ama do not even do it justice.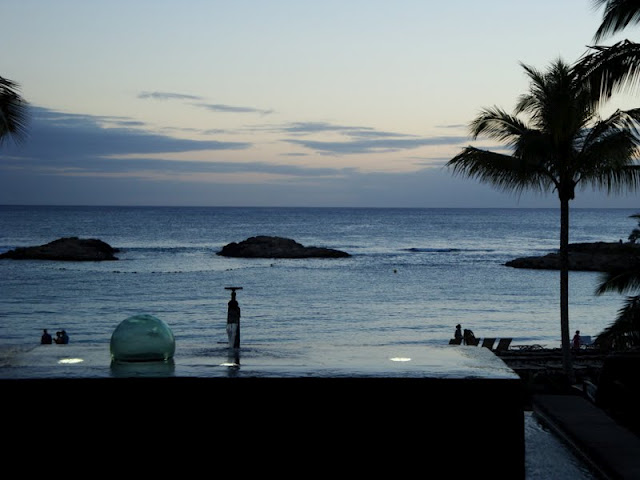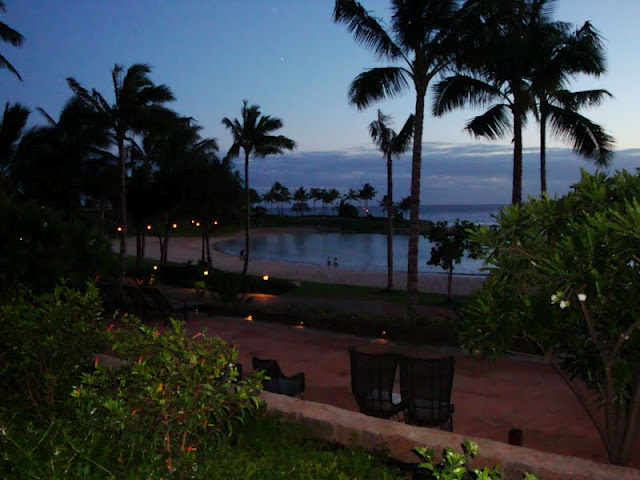 With an atmosphere that relies primarily on its tremendous views and location, there are few decorative elements and details inside. However, although very minimalist in style, the restaurant is not without a backstory. According to legend Auntie and Uncle (who are the fictional family incorporated in much of Aulani's lore) have a beach house with roots which go back to the 1800s. The original house was part of a fishing village and was added to over time as the family grew. Thus, each room represents a different generation and has a slightly different feel, going from the traditional to the more modern.
Throughout the restaurant there is subtle theming that pays homage to Hawaii's fishing heritage. For example, in one part of the dining room you can notice fishing nets draped from the ceiling rafters.
The restaurant also has a degree of refinement. In fact, just like when dining at a Signature restaurant in Disney World, there is a dress code. Men are asked to wear khakis, slacks, dress shorts, and collared shirts; for ladies capri pants, skirts, dresses, and dress shorts are acceptable. Those clothing items not permitted in the restaurant include tank tops, swimwear, men's hats, cut-off pants, and torn clothing.
This more refined feel is set as soon as you set foot inside Ama Ama. Diners enter the restaurant through a glass-enclosed entryway with a modern-looking light fixture.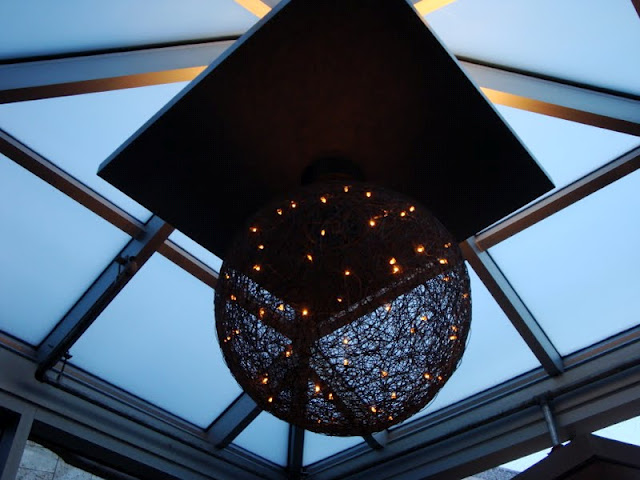 The first element of the dining room that greets you is a beautiful fountain and reflecting pool.
There is even live entertainment for guests to enjoy during the course of their meal.
The dining room's overall upscale feel makes it geared more toward adults rather than families with small children. The restaurant's low lighting makes for a more romantic dining experience. Still, I found the overall atmosphere to be very calm and relaxing. Whether enjoying a beautiful Hawaiian sunset or dining under the stars, Ama Ama's atmosphere is absolutely awe inspiring; simply put, it is paradise.
The Menu:
Matching the restaurant's refined and upscale atmosphere is a gourmet menu that highlights traditional Hawaiian flavors and ingredients with a contemporary flare. While the menu rotates to highlight seasonal ingredients, the dinner menu focuses primarily on sustainable seafood as well as steak and pasta dishes.
For starters there is a Big Eye Tuna and Sea Asparagus Poke Martini ($18.00) that is finished tableside. Other appetizers offerings include the Hamakua Mushroom Tart ($16.00), the Ama Ama Seafood Platter ($26.00) featuring sustainable catch ceviche, crab legs, jumbo shrimp, and Goose Point oysters, the Ama Ama Chopped Salad ($18.00) with crispy wanton strips, bacon, avocado, and a house-made ranch dressing, Island Field Greens ($12.00) with a paypaya vinaigrette, Kahuku Corn Chowder ($12.00), and Maui Onion Soup Au Gratin ($12.00).
For entrees the menu is very diverse. For those in the mood for seafood there is the Hawaiian Sustainable Catch (market price) prepared either pan seared or grilled, topped with your choice of lemon-caper brown butter or tomato-ogo, and served with island vegetables and potato puree. There is also a Seafood Paella ($37.00).
For steaks the menu features a Grilled New York Strip Loin ($41.00) topped with a shallot-red wine sauce and served with potato puree and farmer's market vegetables and a Grilled Angus Filet of Beef ($49.00) creamed swiss chard and soufflé potatoes.
There is also a Cider-Maple Roasted Chicken Breast ($33.00) accompanied by gnocchi, maitake mushrooms, broccoli florrets, and baby carrots, Rack of Lamb ($46.00) served with roasted root vegetables, potato gratin and topped with a garlic-lemon thyme jus, and for vegetarians a Local Spring Vegetable Pasta ($27.00) with a basil pesto and toasted garlic bread crumbs.
If you want additional side items there are also a variety of options including Asparagus Gratin ($8.00), Hamakua Mushrooms ($9.00), Sauteed Broccoli ($7.00), Souffle Potatoes ($8.00), Potato Puree ($8.00), and Brown Rice ($4.00).
You might also want to save room for dessert as there are some delectable choices such as the Coconut Panna Cotta with chilled passion fruit broth, Liliko`i Meringue Mousse with caramelized bananas, Hawaiian Chocolate Cake with Ka'u coffee cream and caramel, Floating Island with guava, strawberry, and lychee sorbet, and Pineapple Tarte Tatin with caramel cream. All desserts are $10.00.
When we sat at our table we were first brought some fresh multi-grain rolls. This was a great way to start the meal as the rolls were served warm, crusty on the outside, and soft on the inside. Along with the bread was brought butter and two different types of Hawaiian salt to help add a little extra flavor.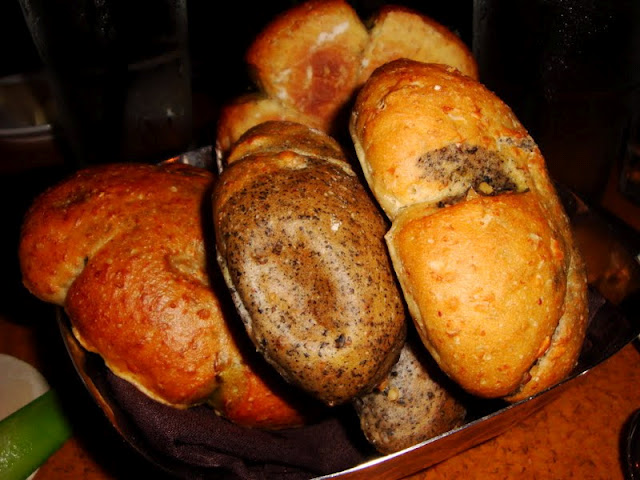 For an appetizer our sever strongly recommended the Maui Onion Soup Au Gratin ($12.00). I was a little hesitant about spending that much for soup, but decided to give it a try. The size of the soup itself made it worth the price as it was more than enough to split with another member of my party. In taste, the soup was very similar to a standard French Onion Soup. One thing that I did notice about the soup, and it might have to do with using Maui onions, was that it had a slightly sweeter flavor than a regular French Onion soup. The soup also came topped with a generous amount of cheese and I would not hesitate to say that this was one of the best onion soups I have had anywhere.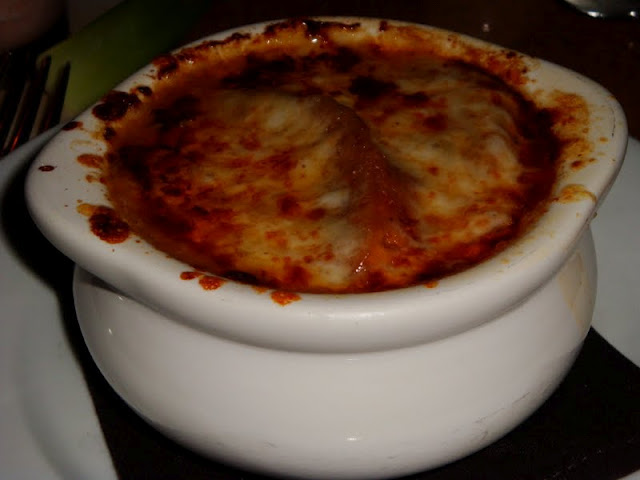 For an entrée I decided on the Rack of Lamb ($46.00) served with roasted root vegetables, potato gratin and topped with a garlic-lemon thyme jus. The lamb itself was so tender with just a little bit of fat that added a little extra flavor. It was grilled perfectly so that it was slightly charred on the outside but once you cut into it, it was still juicy and moist. The garlic-lemon thyme jus that topped the lamb really complimented it very well. I actually found the sauce to be fairly mild and light in flavor so as to enhance the taste of the lamb without being too overpowering .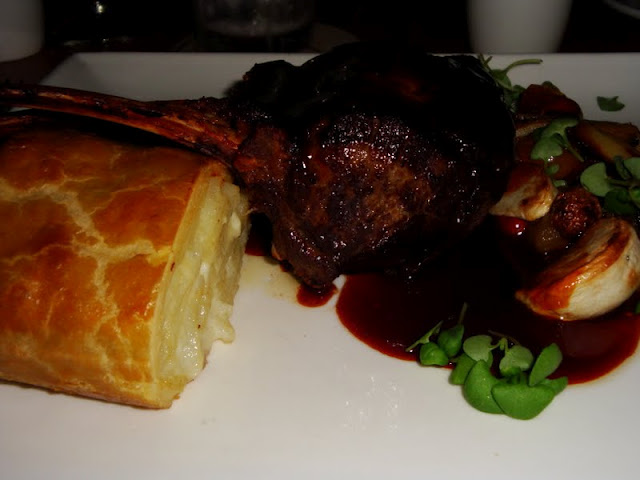 I was a little disappointed with the root vegetables. To start, they were not cooked very well so they were on the crisp side. Also, some of the vegetables also had very strong, distinctive flavors. I was not exactly sure what types of vegetables they were, I definitely noticed some onion and squash, but in appearance it looked kind of like a ratatouille. The real star of the meal was the potato gratin. Not only were the potatoes cheesy and creamy in flavor, but they came wrapped in a flaky pastry crust.
Overall, this was a very high-quality meal. The dishes featured a great combination of a variety of flavors and utilized fresh, native ingredients. In addition, the presentation was exquisite. In sum, the meal was everything you would expect from a Signature Disney restaurant.
Service:
One thing that was very impressive about Ama Ama was the number of servers the restaurant had. The sever-to-guest ratio was such that each server only had a couple of tables to wait on at a time. This meant that the servers could be very attentive to their guests. Indeed, throughout the course of the meal my server was continually checking in on our table to make sure we were enjoying everything; he was able to take his time with us rather than having to rush around from table to table.
Not only was my server was also extremely helpful and informative when it came to the menu, but he was also a great source of knowledge about the resort and the surrounding area. With dishes using so many local Hawaiian ingredients, he took time to explain the various dishes and offer recommendations. He also asked us about our plans and what we were going to see and do on the island, giving us some local insider tips and advice. Overall, the meal progressed at a very relaxed pace that really allowed you to fully enjoy your food as well as the beautiful setting in which you were dining.
Dining on a Budget:
Ama Ama is not the type of restaurant that you can really dine on a budget, but if you are staying at Aulani it is definitely worth the splurge. How many times are you going to have the opportunity to dine in a restaurant like this? One possible way to save a little money is the Ama Ama Menu for Two. For $115 this includes an Appetizer Sampler, a Bone-In Rib Eye Steak For Two served with potato puree, hamakua mushrooms, and broccoli with you choice of shallot-red wine or béarnaise sauce, and Hawaiian Chocolate Cake for dessert.
Ama Ama is also open for breakfast and lunch, which allows you to experience the same beautiful atmosphere and breathtaking views as dinner but with a menu that is slightly less expensive.
The Overall Experience:
I really do not think that my words can truly do justice to Ama Ama. Like the rest of Aulani, this restaurant takes advantage of the natural beauty of the resort's location. Aulani has everything you would want from a Hawaiian vacation; it is quiet, relaxing, visually stunning, and completely immerses you into the culture, history, and traditions of the Hawaiian Islands. Ama Ama does all of these things as well. While its location is the true highlight of the dining experience, the subtle details of the restaurant's décor and its locally-inspired menu of both traditional and contemporary Hawaiian cuisine should not be overlooked. Dining here is an experience unlike any other I have had at any restaurant Disney or otherwise. To sum it all up, at Ama Ama you truly feel as though you are dining in paradise.
See past reviews by Guest Blogger Andrew Rossi.