Disney recently released several "signature" images of the Fantasyland expansion and a new sneak peek video of Maurice's Cottage.
The first image offers a view of New Fantasyland in detail from the very top turret of Cinderella's Castle. The landscape stretches from Maurice's Cottage on the left, all the way to the colorful Storybook Circus on the right.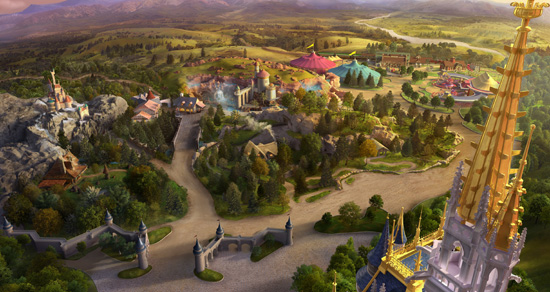 Belle is enjoying a book right outside Maurice's Cottage, with Beast's Castle high up on the mountains in the background.
And finally, Ariel gazes at Prince Eric's Castle while the tide rushes in.
Now Imagineers Chris Beatty, Chris Kelly and Ted Robledo show you a glimpse inside Belle's Cottage and her magic mirror!
The grand opening of New Fantasyland will take place on December 6, 2012. Attractions included in this opening are Under the Sea ~ Journey of The Little Mermaid, Be Our Guest Restaurant, Enchanted Tales with Belle, Ariels Grotto, Gaston Tavern and Bonjour! Village Gifts. Previews of these attractions will begin November 19.
The New Fantasyland expansion will continue with the opening of Princess Fairytale Hall in 2013 and the debut of a new Disney mountain in the form of the Seven Dwarfs Mine Train in 2014.