This is the cover of the map available at the entrance turnstiles today. Even though Disney California Adventure was closed to the public there were still a lot of people in the park – not only media, but lots of contest winners and their families and other invited guests.
For us today was mostly about Buena Vista Street, the new entrance to Disney California Adventure. As most Disney fans know, Main Street USA was inspired by Walt Disney's boyhood home of Marceline, Missouri. Buena Vista Street is inspired by Los Angeles in the 1920s and 1930s, where Walt Disney came as a young man full of dreams and ambition.
There were two new shows that premiered on Buena Vista Street today, and both of them are also about pursuing your dreams. The first is Five & Dime, a jazz group featuring five musicians and Dime, their singer, who have been traveling along Route 66 to L.A. They performed classics like "On the Sunny Side of the Street" and "Ain't We Got Fun."
Zoot suit Goofy performed one number with them.
Here's the video:
The next group was the Red Car Trolley News Boys who sang and danced.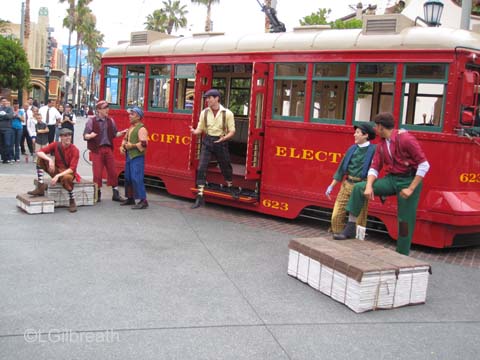 They were joined partway through by a young Mickey Mouse, seeking his fortune with "a suitcase and a dream." It was a great show – both the new shows are terrific additions.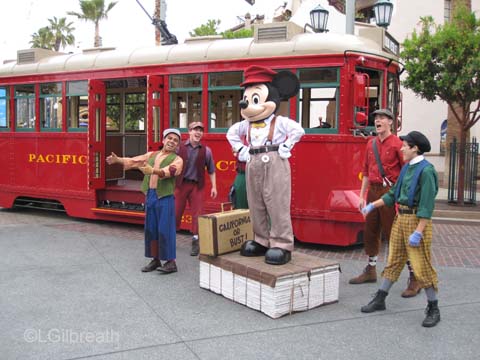 Video:
In addition to the shows Buena Vista has other new entertainment offerings – Disney characters in period costumes and the new "Citizens of Buena Vista Street".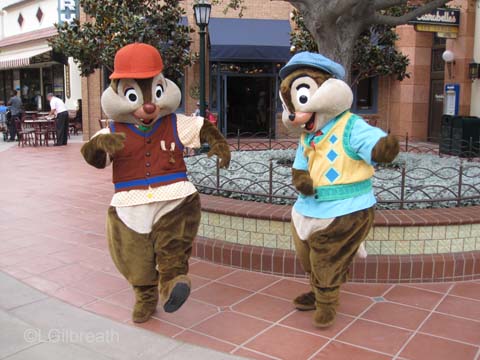 Fifer, Fiddler and Practical Cafe is the new counter service location, offering hot and cold sandwiches, soups and bakery items. It's got a very large indoor seating area. It's the Starbucks location and serves up the usual selection of familiar Starbucks beverages.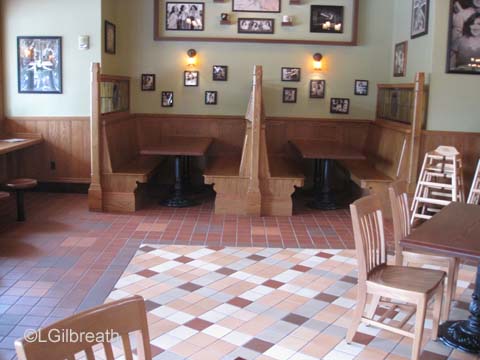 Trolley Treats is the candy store, with quite a selection of "homemade" candies like real pulled taffy, specialty candy apples and gourmet marshmallows. They have a show kitchen where you can watch the candy makers at work.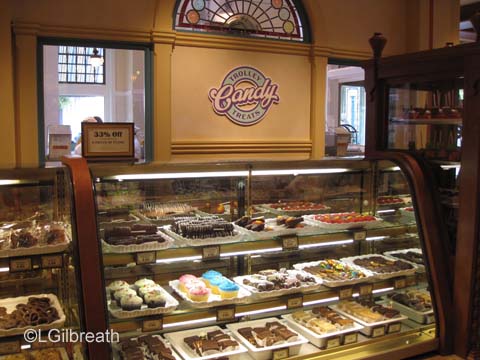 Here Lee samples their gourmet banana split marshmallow – banana marshmallow drizzled with caramel and chocolate, topped with chopped peanuts and a cherry.
Across the street is the big department store, Elias & Co. I never expected to be blown away by a shop, but this one blew me away. Each "department" has its own lighting and decor – and it's really beautiful.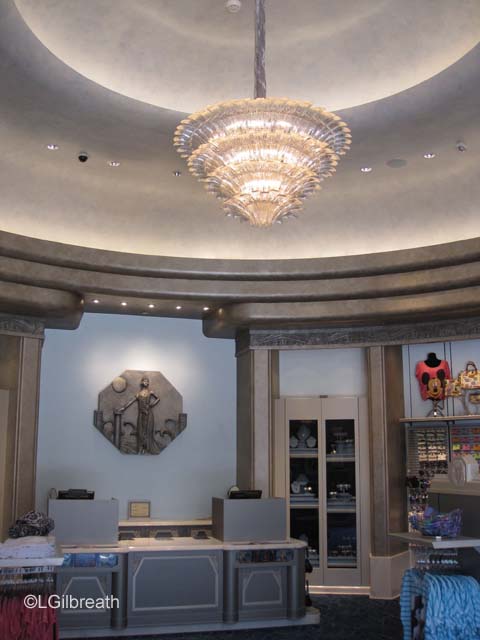 Here is the men's department (I loved the mannequins above!).
And the Girl's department – you can see how the color is very different.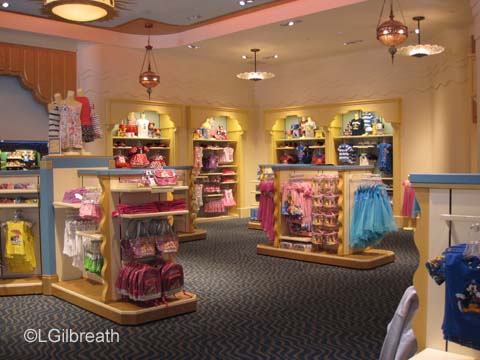 We went back over to Cars Land for lunch at Flo's V8 Cafe. The food was pretty good – more on that later.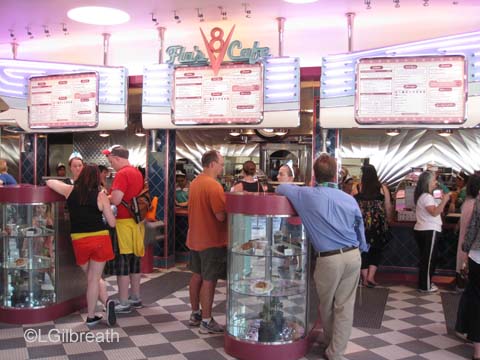 The "jukebox" on the counter has hits by the Motorama Girls.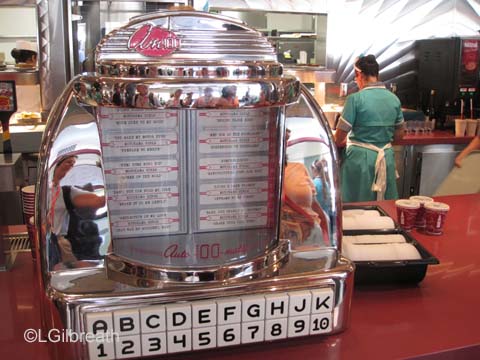 We also went through the stores – this is a sample of items in Ramone's. It has merchandise from all three Cars Land attractions.
This evening we went to the new Mad T Party in the Hollywood Land area. In addition to a live band (featuring the Mad Hatter and Alice), a DJ (the White Rabbit) and dancers, the "Who Are You" creature, a rainbow-colored human slinky, comes out and performs several times a night.
Cars Land was closed and most of the production equipment had been removed, so there was a great view down Route 66.
This evening we experienced a special World of Color show. As we walked back to Paradise Bay we were all given special Mickey ear hats with colored light-up ears. These "Glow with the Show" ears actually interact with the World of Color show and turn off and on and blink and flash different colors during the show.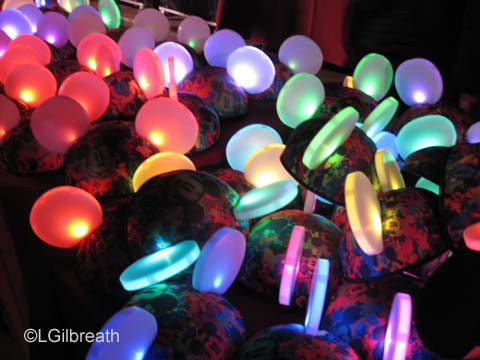 It's hard to explain but the effect was just stunning. I didn't know how they could make World of Color any better – but they did. It's hard to see in this picture, but the lights at the bottom are all ear hats. We also saw the new Brave sequence that's been added to World of Color.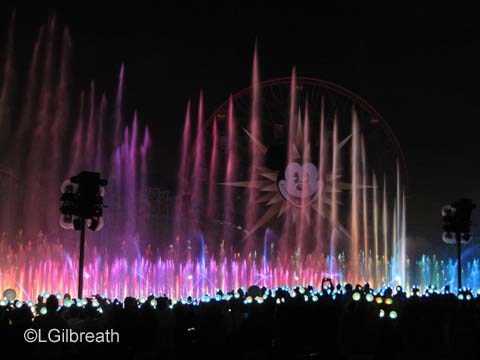 It's been another amazing day. No one puts on a show like Disney!