Disney's Hollywood Studios may be the smallest of all the theme parks, but it is home to two of the best-themed restaurants in all of Walt Disney World. One of the best parts about dining in Disney World is that you can eat at places that you cannot experience anywhere else. This holds especially true for the Sci-Fi Dine-In and the 50's Prime Time Café, restaurants that are uniquely Disney and offer dining experiences unlike anything you may have had before. These two restaurants are really great examples of Disney storytelling at its best, featuring themes that are embellished with the most minute of details to create an atmosphere and experience which is truly immersive. While both restaurants will take you back in time, they transport you to totally different worlds, worlds in which theming and detail are just as important as the food when it comes to your dining experience.
Overview:
The 50's Prime Time Café is a nostalgic tour back to the 1950s, a time of classic television sitcoms such as "I Love Lucy," "Leave It To Beaver," and "Father Knows Best." In fact, a meal at 50's Prime Time makes you feel as though you have stepped right into one of these television shows. This is a restaurant where everyone is treated like family. While Mom is back in the kitchen preparing your lunch or dinner, you are waited on by an "Aunt" or "Uncle" and are introduced to the rest of your "Cousins" (your fellow diners) who are sitting at the tables next to you.
While you are invited to be comfortable and make yourself at home, there are also some rules that everyone is expected to follow, such as not putting your elbows on the table or making sure to eat all your vegetables. Your Aunt or Uncle will make sure that you follow these rules and there is a good amount of fun and gentle-ribbing that goes on during the course of your meal. Depending on how strict they are, you may also be forced to set the table before you get your food. For this reason, the 50's Prime Time Café is more than your typical restaurant, but rather an experience that makes you an active participant.
Atmosphere:
Attention to detail is something that Disney is known for and it is clearly evident throughout the 50's Prime Time Café. From the minute you step in the main entrance you feel as though you have set foot in a typical 1950's home. The waiting area and bar have the look of a large living room, complete with wood-paneled walls, bookshelves cluttered with various knick knacks, brightly-colored sofas and love seats, and of course numerous retro-looking black and white televisions playing scenes from classic 1950's sitcoms.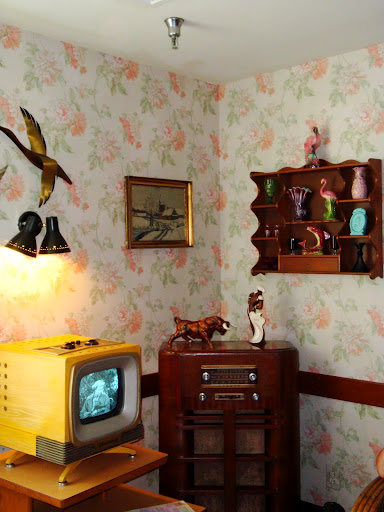 Entering the main dining area, you move from the living room to the kitchen and once again are treated to a completely immersive and authentic 1950's atmosphere. The restaurant's décor features an astonishing amount of little details, with everything from kitchen appliances such as toasters, blenders, pots, and pans to various vintage clocks, storage canisters and containers, tea pots, colorful glassware, and many decorative items featuring roosters or advertising Coca Cola.
One of my favorite parts of the décor were the numerous cookie jars coming in all shapes, sizes, and designs, including one that looked like a dog house.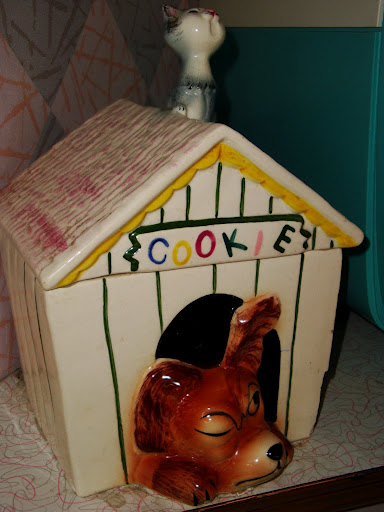 Just as in the waiting area, the dining rooms feature black and white televisions broadcasting scenes from classic shows such as "Father Knows Best," "Leave It To Beaver," and the original "Mickey Mouse Club." All these details really make you feel as though you are eating in a 1950's kitchen, and it is really fun for people who grew up in the fifties to spot different items that they had in their own home.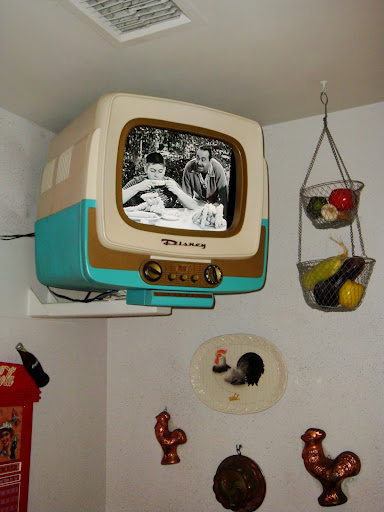 This at-home feel gives the 50's Prime Time a very fun, casual, and laid back atmosphere. It is definitely a great restaurant for the entire family (with little kids especially liking the fact that they can watch television throughout their entire meal). Adding to this atmosphere is the tremendous amount of bright and vibrant colors found throughout the restaurant. The main dining area is divided into a series of smaller rooms, with each of these rooms having a different feel in terms of color and decoration. As you move from room to room you encounter various changes in wall paper, curtains, counter tops, and light fixtures, all of which make you feel as though you are moving through different rooms of a house (except in this case all the rooms happen to be kitchens).
Overall the atmosphere of the restaurant can be appreciated on different levels by different guests. For kids it is fun to see how things were in the past and how different they are from today while for adults the atmosphere helps to brings back memories of their own childhoods.
The Menu:
While the 50's Prime Time Café may not feature a menu of gourmet delicacies, it can give you a good, old-fashioned, home-cooked meal that is "just like Mom used to make."
One of the fun aspects of the menu is that different items are named for different members of the family. For example, among the appetizer offerings there is Aunt Annie's Seafood Salad ($9.99) featuring lump blue crab, bay scallops, and shrimp tossed in citrus vinaigrette and served on seasonal greens as well as Cousin Amy's Iceberg Lettuce Wedge ($5.49) with blue cheese dressing, bacon, and chives. Other appetizers include the Chicken Noodle Soup ($6.49) which includes a hearty mixture of chicken, vegetables, and egg noodles, the Blue Claw Crab Cake ($9.49) served with succotash, chili sauce, and crispy onions, and Beer Battered Onion Rings for Two ($8.49).
The entrée items are all very familiar, with nothing really flashy or exotic, but all the dishes are in keeping with the restaurant's theme. The entrée selections remain the same for both lunch and dinner and include a Grilled Boneless Pork Loin ($20.99) glazed with peppered mushroom gravy with mashed potatoes and green beans, Cousin Barry's Olive Oil Poached Salmon ($19.99) served with sweet peas, brown rice pilaf, and a dill cream sauce, Caesar Salad served with your choice of chicken ($13.49) or salmon ($15.49), Aunt Liz's Golden Fried Chicken ($16.99) served with mashed potatoes, chicken gravy and southern greens, Spaghetti and "Meatballs" ($15.99) featuring multigrain spaghetti and vegetarian meatballs with Dad's marinara sauce, Dad's Traditional Meatloaf ($14.99) with a blend of beef and pork and topped with tomato glaze, served with mashed potatoes, and green beans, Mom's Old Fashioned Pot Roast ($17.99) served with mashed potatoes, carrots, celery and onions, and Grandma's Chicken Pot Pie ($17.99) featuring a creamy cheese mixture of chicken, mushrooms, carrots, celery, onions, and peas topped with a flaky pastry. For those guests having a little difficulty deciding there is the Sampling of Mom's Favorite Recipes ($19.99) that includes the Fried Chicken, Pot Roast, and Traditional Meatloaf with all the fixings.
Be sure to eat all your vegetables because there are some delectable desserts available such as Dad's Brownie Sundae ($5.99) topped with hot fudge and caramel sauce, No Sugar Added Cheesecake ($5.49) topped with fresh whipped cream and strawberry sauce, a Seasonal Cobbler ($5.49) that can also be served ala mode ($7.49), 50's Boston Cream Parfait ($5.49) with layers of chocolate fudge, vanilla cream, and pound cake topped with whipped cream, and S'mores ($4.79).
For an appetizer I decided on the Beer Battered Onion Rings, which in my opinion were some of the best I have had anywhere in Disney World. The onion rings were fried perfectly with a nice golden brown color and were not overly crispy. There was a slight beer flavor to the batter, but it was just enough to add a little extra taste rather than being overpowering. What really adds to the onion rings is the horseradish sauce that accompanies it, providing an extra little kick. The flavor of the horseradish complimented the onion and beer batter extremely well and it was not so strong that it dominated everything. This may be a simple and common appetizer found at many other restaurants or even prepared in your own home, but it is executed perfectly in taste, texture, and flavor and comes in a huge portion that can easily be shared by three or four people.
Whenever dining at the 50's Prime Time, my mainstay entrée has always been Dad's Traditional Meatloaf, but this time I decided to try something different and opted for Grandma's Chicken Pot Pie. Again, while the menu features many traditional, home-style meals that may not jump out at you as being anything special, you are still getting the same type of quality food that you get from any other Disney restaurant.
The chicken pot pie was very rich and creamy with big pieces of chicken and vegetables. There was also a slight hint of cheese that really added extra flavor to the dish and helped give a little bit of a new twist to a traditional dish. I liked the fact that there were large pieces of chicken breast rather than having the chicken cut up into small, bite-sized pieces. The vegetables, which included mushrooms, carrots, celery, peas, and onions, were cooked just right so that they were not too hard and not too soft. I would have liked the vegetables more, however, if there had been more carrots and onions and less celery. That being said, I am not usually a celery fan, but I did feel as though the celery added a little extra flavor and texture to the dish. The pie crust was very light and flaky, also featuring a hint of cheese for added flavor, and really helped make the meal stand out as something more than your typical chicken pot pie.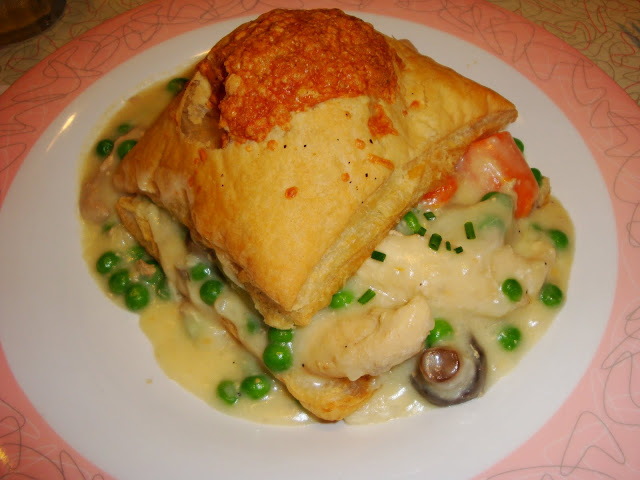 For dessert I decided to try the S'mores, which presents a new spin on a campfire favorite. The marshmallows are toasted to a nice golden brown and not burnt at all. The dessert is very chocolaty, featuring a layer of chocolate between the marshmallows and the graham crackers in addition to being drizzled over the top. The graham crackers were a little softer than what I expected and I would have really liked it if there had been a layer on top as well like traditional s'mores. Nevertheless, this was still a simple, but tasty, dessert and a fun way to end the meal.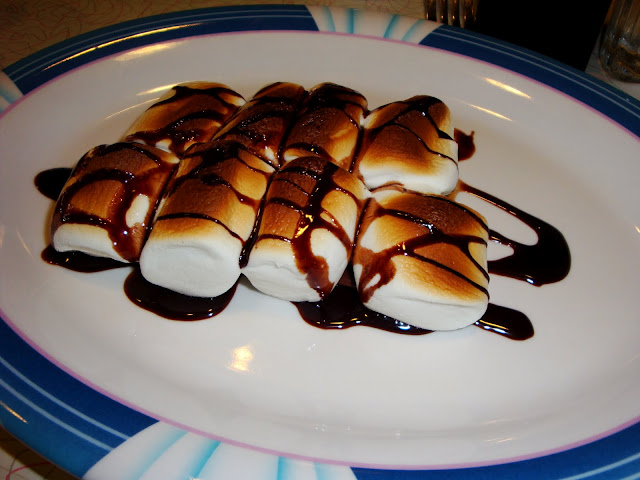 Service:
I would argue that more so than any other restaurant in Disney World, the service at 50's Prime Time Café can truly make or break your dining experience. This is really a restaurant where the service is just as important as the food. Even if the food is great, if you have a lackluster server it takes away from the overall impact of the restaurant and you leave feeling a little disappointed. On the whole, I have mostly had great experiences at 50's Prime Time. There are some servers who are really over-the-top and truly go above-and-beyond with the theming. I have seen servers not only yelling at guests to take their elbows off the table and embarrassing them in front of the other guests but also putting children (and sometimes adults) in time-out and having them stand in the corner of the room facing the wall. I have been force-fed vegetables by one of my servers when I didn't finish them and another time a server brought me a very "special" dessert because I had not finished my string beans.
At the other end of the spectrum there are some servers who are more laid back and low-key and, although it seems funny to say, they are just too nice. While these servers still provide good service, they do not help create the same sense of immersion that you get when you have a server who is going all-out. Overall, it is the service, especially the really enthusiastic and passionate cast members, that makes this restaurant truly special.
Dining on a Budget:
The 50's Prime Time Café is actually fairly affordable by Disney standards. Entrée selections such as Aunt Liz's Golden Fried Chicken for $16.99, Dad's Traditional Meatloaf for $14.99, and Mom's Old Fashioned Pot Roast for $17.99 are all very reasonable for the large portion size you receive. The best value on the menu is probably the Sampling of Mom's Favorite Recipes for $19.99 that features all three and is absolutely huge. What you have to also factor into the prices is that you are getting so much more in terms of the overall dining experience (the service and atmosphere of the restaurant). Dining at 50's Prime Time is about more than just the food.
If you are looking for an even cheaper option, the restaurant also features a bar at which you can sit and order off the regular menu. One possibility for a quick and fairly cheap meal for two people would be to sit at the bar and order a couple of appetizers. The Beer Battered Onion Rings could easily serve two for $7.99 and the menu features several other affordable appetizer options as well. If you are still hungry, consider splitting a dessert, such as Dad's Brownie Sundae, which is absolutely huge and also a good value at $5.99.
The 50's Prime Time Café is on the Disney Dining Plan and is worth one table service credit for both lunch and dinner. The restaurant does participate in Tables in Wonderland with members receiving its 20% discount. However, neither Annual Passholders nor Disney Vacation Club members receive discounts here.
The Overall Experience:
When it comes to theming and creating an overall sense of immersion, the 50's Prime Time Café is one of my favorite restaurants in all of Disney World. It is a dining experience unlike any other. While the food may be a far cry from gourmet, it is still of a very high quality. But, this is a restaurant where the food may not even be the most important aspect. An extremely dedicated and passionate group of cast members who deliver service that is both fun and entertaining, great attention to the smallest of details in the decor, and a unique back-story all combine to make dining at 50's Prime Time truly unforgettable. I highly recommend this restaurant for everyone, but especially families traveling with children because not only do you get a good, old-fashion, home-cooked meal at an affordable price but in doing so you will also have a lot of fun.
See past reviews by Guest Blogger Andrew Rossi.
Check out Reader Reviews of 50's Prime Time Cafe and post your own too!