Walt Disney World has taken its focus on multi-generational travel a step farther with the addition of more family suites to its hotel inventory. On May 31, Disney's Art of Animation, the newest resort in the value category, officially opened its first wing with 320 family suites.
And there are more to come. By mid-August, Art of Animation will have two more wings open for a total of 1,120 suites. Although the theming for each wing will be based on a different animated movie — "Finding Nemo," "Cars" or "The Lion King" — the suites will offer the same amenities.
Each family suite can sleep up to six people, and the functional and innovative furnishings ensure everyone has adequate space. The suites are essentially two single rooms put together and divided into three living areas.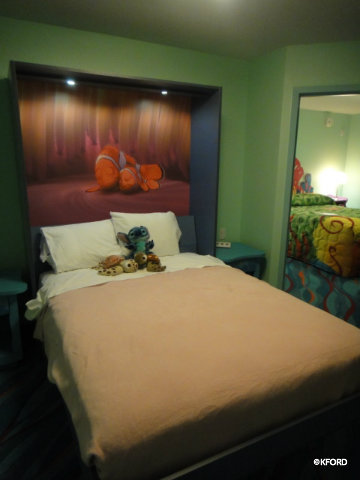 When you enter the suite, you'll first see a dining table with four chairs — perfect for eating a meal that was prepared in the kitchenette or for use as a workspace. (Outlets are located above the side tables.) No need to balance a plate or computer on your lap! At night, the chairs — which are quite sturdy despite being plastic — are easy to stack and tuck in a corner when the Inova Table Bed is opened. This invention is similar to a Murphy bed, and it comes down easily as the table collapses underneath it. The Inova Table Bed fascinated my kids when we stayed in one of the Nemo suites recently and they couldn't wait to sleep in it.
The second area of the suite houses a kitchenette with a refrigerator, microwave, sink and coffee-maker. For families, having the equipment to easily prepare breakfast and even some other meals in the room can greatly enhance their Disney World vacation. Not only does eating in save money, but it also may save time when family members don't have to get cleaned up and travel to other locations for reservations. Also, Pop Art Pizza delivers the Italian pies and other popular entrees, along with sodas, beer and wine, to guest rooms, and the kitchenette is useful for saving leftovers and reheating them.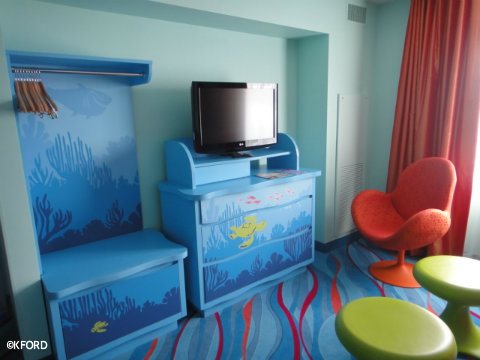 Next to the kitchenette in the family room is a sleeper sofa, a lamp table, two small coffee tables, an upholstered chair that spins, a television, chest of drawers and an area to hang clothes. This space is a comfortable place to hang out that converts into a second sleeping area at night. One cool feature here (and in the master bedroom) is that guests can plug in their videocameras and watch what they've recorded so far on the television. If that special experience wasn't taped properly, you'll know and have time to try again. Jacks for gaming devices and other electronics are also available.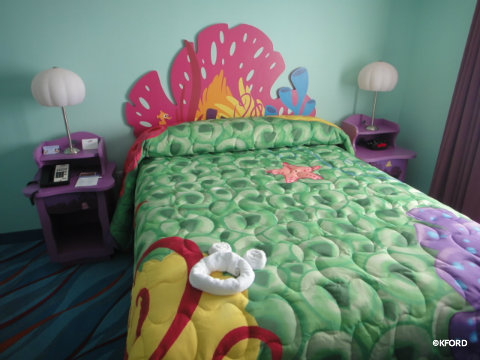 The third area of the suite is the master bedroom, which has a queen bed, two nightstands, a chest of drawers with a television and DVD player, and a place to hang clothes. There are no closets in the family suites, but the master bedroom has several places to stash your suitcases. I usually am a heavy packer, and even with all my bags and suitcases, we had ample room to move around the suite.
In the Nemo suites, the decor of the rooms is coordinated with bright colors and an under-the-sea motif that kids and parents both are sure to love. Everywhere they look, they will find new details — from the lamps shaped like sea urchins to the coral design in the backs of the plastic chairs to the wavy pattern in the carpet.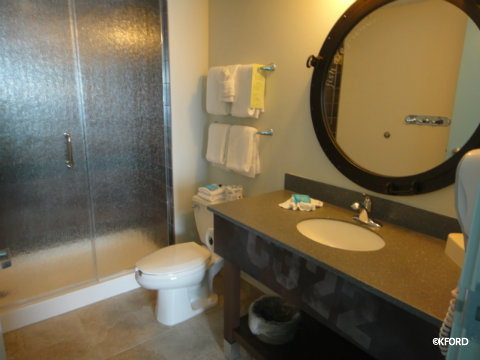 Guests also have two full bathrooms at their disposal, and they are designed to make you feel as though you are in the movie's submarine. The master bath incorporates the brown tones and offers a more upscale feel with a large, glassed-in rain shower and a vanity that looks like a piece of furniture. The second bathroom has a tub with a Bruce the shark shower curtain and toilet that are separate from the sink. On mirrors in both is etched the saying, "Fish are friends."
The family suites at Art of Animation are priced from $248 to $415, depending on the view and season. Guests soon can choose to stay in the "Cars" wing, which opens June 18, and "The Lion King" wing, which opens Aug. 10. The Little Mermaid wing — the only part of the hotel with single rooms — opens Sept. 15. Those rooms start at $95 per night.
Disclosure: I was a guest of Walt Disney World Resort during my stay at Art of Animation. This did not influence my story, and my opinions are my own.