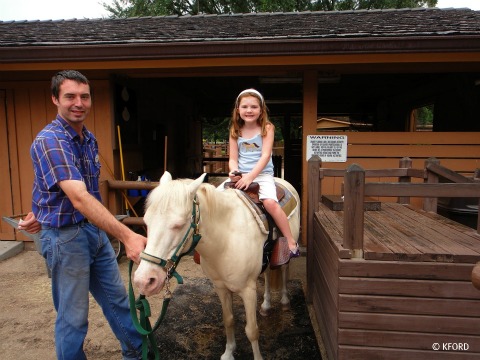 Perhaps one of the best-kept secrets at Walt Disney World is Fort Wilderness Resort & Campground. This is especially true for horse lovers. My family has stayed at the campground several times and enjoyed many of the outdoors activities, but there are some great equestrian experiences that you can take advantage of without staying there.
Younger children can enjoy a short pony ride at the Tri-Circle-D Farm for $5. No reservations are necessary; just show up between the hours of 10 a.m. and 5 p.m., and you can participate. (Hours are subject to seasonal changes.) This is a great before-dinner activity if you've booked a meal at the campground — the ranch is located close to the restaurants, kids don't really get dirty, and it's not time-consuming.
A cast member will lead a pony to a small platform, where the child waits. Then, the animal stands patiently as a parent helps the child climb into the saddle. After guests take photos, it's time to go. Parents are asked to lead the ponies on a short, self-guided trail around the stables.
To participate, kids cannot weigh more than 80 pounds or be taller than 48 inches. My daughter is too tall for this activity now, but when she did ride, she was thrilled to be paired with a white pony "like Hannah Montana's."
The Tri-Circle-D Farm also is home to the Percheron and Belgian draft horses that pull the trolleys down Main Street U.S.A. at the Magic Kingdom. Plus, there is a blacksmith shop on the premises and "Smithy," who maintains the horseshoe needs of the Fort Wilderness trail-ride horses and streetcar teams. Guests are invited to walk through the working barn and talk with cast members who may be caring for the horses and ponies.
Guided trail rides
Older riders can join a 45-minute guided trail ride, which leaves from the Trail Blaze Corral near the parking lot at the front of the campground. This is a pretty tame experience, with horses trained to stay single file, for the most part. Riders must be at least 48 inches tall and 9 years old and can weigh no more than 250 pounds. The price is $46 per person and current times are 8:30 a.m., 10 a.m., 11:30 a.m., 1 p.m. and 2:30 p.m. Reservations can be made up to 180 days in advance by calling 407-939-7529.
Horse-drawn carriages
Horse-drawn carriage rides depart from Crockett's Tavern near Pioneer Hall each night from 6 p.m. to 9:30 p.m. Each carriage holds four adults or two adults and three small children for the 25-minute rides throughout the property. Cost is $45 for the carriage, which can be reserved up to 180 days in advance at 407-WDW-PLAY.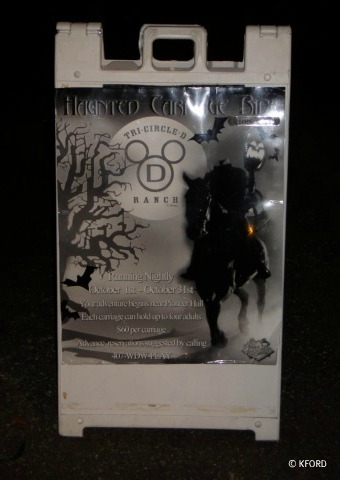 For Halloween and Christmas, there are holiday-themed carriage rides. Last year, we tried the Haunted Carriage Ride for the first time. It was scary enough to give my kids at ages 7 and 9 a thrill, but not intense enough to spook them.
The driver started the telling of "The Legend of Sleepy Hollow" before a recorded narrator picked up the tale, as the carriages traveled through the trees and along the shore of Bay Lake, stopping at key places mentioned in the story. For my children, there was only nervous anticipation leading up to the appearance of the headless horseman. However, the woods can be dark, depending on what time your ride occurs, and that can certainly affect small children.
The horse-drawn carriages are magically converted to sleighs for holiday rides through the grounds of the Wilderness Lodge and Fort Wilderness Campground. Listen to Christmas music, see the holiday lights and get cozy under a blanket — if it's cold enough in Florida — during your ride.
Seasonal carriage rides have an increased price of $60 per carriage, and ride hours are usually a little different. Reservations can be made 90 days in advance.
Fort Wilderness also offers two nightly group wagon rides, which are $8 per adult and $5 for children ages 3 to 9. The rides usually depart at 7 p.m. and 9:30 p.m. from Pioneer Hall and no reservations are needed. Groups of 30 can rent their own wagon ride for $300 an hour.
To read more about the carriage rides, see the AllEars.net page /btp/carriage.htm#fw3 For details about Fort Wilderness Resort & Campground, check out this AllEars.net page /acc/faq_fw.htm