Imagine you are at the Happiest Place on Earth with a pocketful of cash!
What could be better? How about being at the Happiest Place on Earth and that pocketful of cash has pictures of your favorite Disney characters!
You have a pocketful of Disney Dollars. How cool is that? It's almost like a pocketful of Pixie Dust!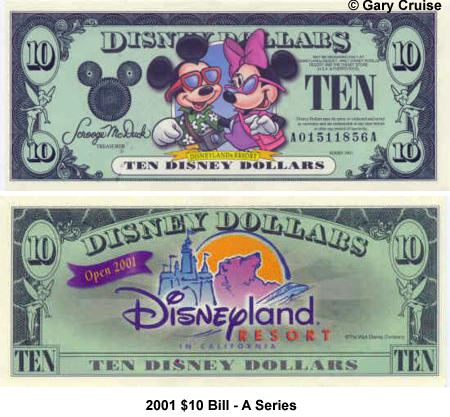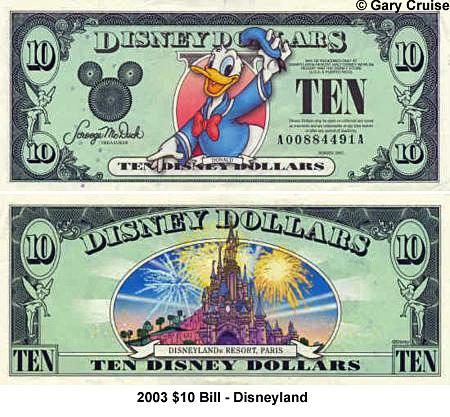 Carol likes to keep Disney Dollars on hand to use for special gifts . . . when friends or family are heading on a Disney vacation their birthday or anniversary gift from us will often include a small envelope stuffed with a few Disney Dollars. Occasionally when Carol settles up with a friend who has picked up a pin or Vinylmation for her they will find a few Disney Dollars in their little pay packet! Everyone is always delighted with a gift of Disney Dollars.
Where can I buy Disney Dollars?
According to the official Disney web site Disney Dollars can be purchased at Guest Relations at all theme parks and water parks, Resort/hotel front desks and Resort/hotel concierge areas. We have sometimes been unable to find them at the resorts so we normally pick them up at Guest Relations.
Where can I spend Disney Dollars?
Disney Dollars are accepted at Ticketing locations, Food & Beverage venues, Merchandise locations, Recreation areas, Resort/hotel concierge desks, Resort/hotel front desks and Guest Relations at all theme parks and water parks.
Disney Dollars were first released to the public on May 5, 1987. The bills came in $1 and $5 denominations from 1987 to 1989 but in 1990 they added the $10 bill to the list. Naturally they are collected by Disney memorabilia fans. Of course Carol is an avid Disney collector so she has set aside a variety of these highly desirable items in her permanent collection. You can take a closer look at her collection here: http://www.carol-anne.ca/Disney Dollars.htm
Over the years some of the series have featured specific themes such as park anniversaries or pirates and princesses. The Disney artists who design the notes never miss a trick as they strive for the "cuteness factor".
Disney Dollars are printed on high quality bank note paper and incorporate anti-counterfeiting features such as microprinting, and hard to scan/copy reflective ink and imprinting on the front and back of the bill. In addition the bills are printed with serial numbers and letters which are unique to each bill. Disney Dollars created for Disneyland in Anaheim bear a serial number beginning with A and those created for Walt Disney World in Florida and The Disney Stores begin with D and T respectively.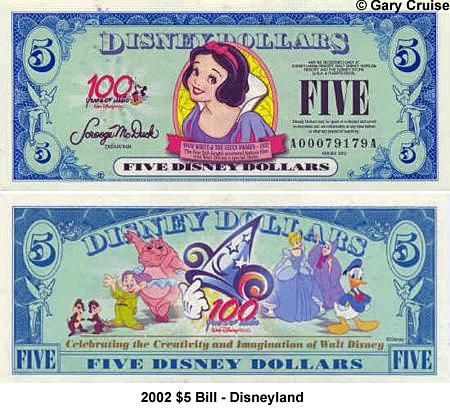 In 2005 only, Disneyland (A) and Walt Disney World (D) released $50 bills that were designed by Disney artist Charles Boyer for Disneyland's 50th Anniversary Celebration. Mr. Boyer personally signed a number of these bills and a signed copy is a very valuable collectible!
New Disney dollars have been produced every year since 1987 except 1992, 2004, 2006 and 2010. In 2011 the only bill produced was the $1 denomination and there has been no announcement yet whether a new 2012 version will be made.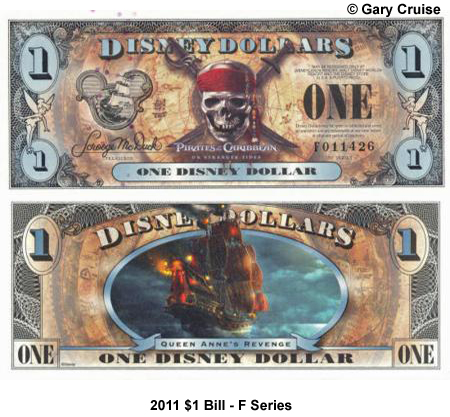 Disney Dollars have even been portrayed in cloisonné pin form for Disney Pin Collectors . . . and yes, Carol has a full set of these too!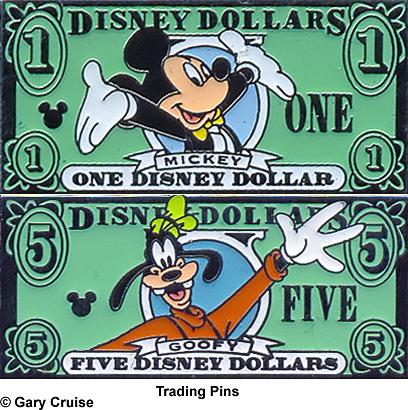 Many folks are afraid that Disney Dollars, a truly unique form of currency/collectible, will be permanently replaced by dull plastic gift cards. Ugh! Where's the fun in that?
So if you want to liven up your gifts with a little Disney magic you might want to stock up on Disney Dollars during your next trip. I hope I'm wrong but I suspect that they may not be available too much longer!
Have you found a fun and creative way to use Disney Dollars? We'd all like to hear about it . . . so post a comment below and share your idea!