Let's face it. Disney World is hot, and you need to stay cool!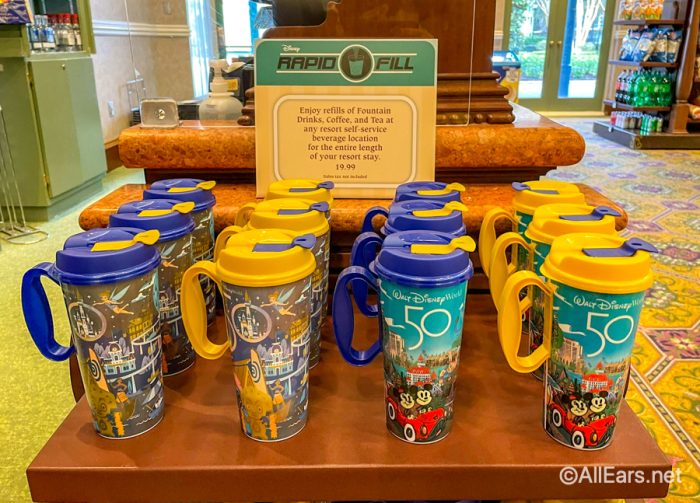 You've got a lot of options when it comes to hydration like buying a bottle of water at a snack cart or maybe your favorite refresher from either Starbucks or Joffrey's in the parks. But we wanted to go over another option for you that might just be the bee's knees. We're talking about refillable mugs!
You can get a refillable mug at any of the resorts at Disney World, and you can even find them in the water parks, too, but let's go over the rules on how to use them, and then you can decide if a refillable mug will be your end-all-be-all.
Let's talk about what a refillable mug is.
Not to state the obvious, but it's a mug that you can refill (with certain rules). These mugs are actually insulated and themed collectibles.
They're also called a Rapid-Fill Mug, which is a 16oz insulated coffee mug that can be purchased for $21.99. Guests can use it at their resort (or at any other participating Disney resort) for the length of their stay, up to 14 days.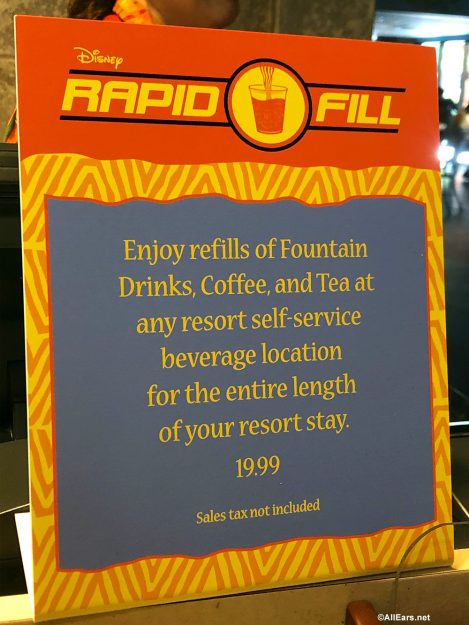 These are kind of "smart" mugs that are powered by an RFID bar code, which deactivates the mug once your stay is complete, so no getting free drinks on Day 15. What you'll do to make it work is place your cup under the stand below the drink dispenser at one of the Disney World resorts, the RFID bar code will be read, and then it'll begin filling it. You've got your standard options like soft drinks, coffee, and tea.
Now let's go over a couple of important things to keep in mind when considering purchasing a Rapid Fill refillable mug.
You've Only Got 14 Days. Let's repeat that.  Only 14 Days.
Just know that on that 15th day, the barcode in the mug deactivates, and will no longer be refillable. The beverage machine simply will not work for it.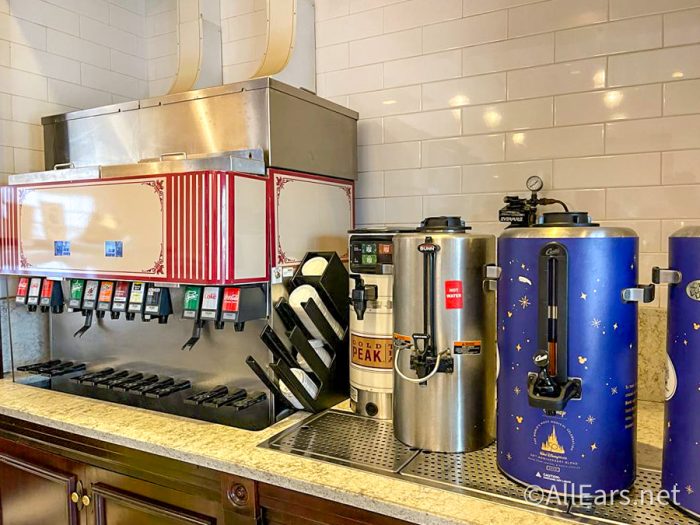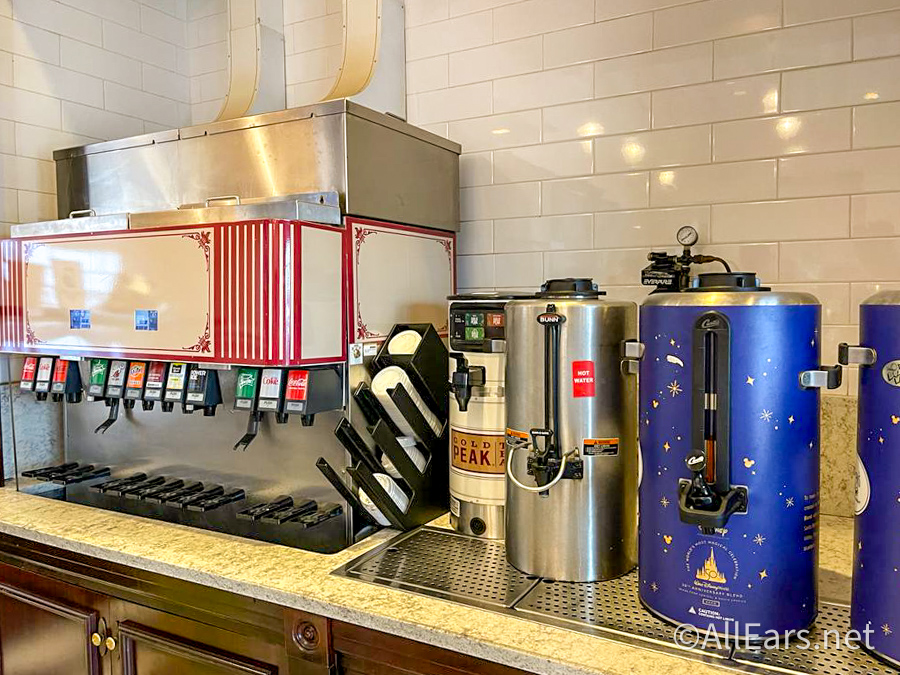 You can't bring your same mug back year after year and re-use. You MIGHT (KEYWORD: MIGHT) be able to bring the same mug back and reactivate its chip, but we've heard a lot of mixed responses on this — so we highly advise that you just plan to buy a new one for your next trip.
There is a Time Delay.
How many times have you paused when filling up your mug to let the drink settle? Well, that will mess you up here.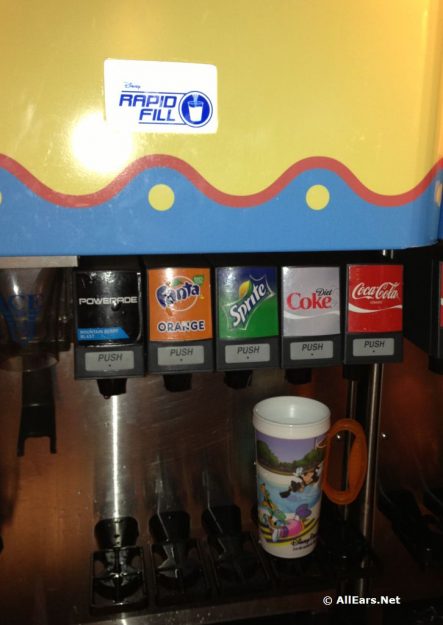 You have to fill the drink up entirely in one go. If you stop, you'll have to wait 2 minutes before the machine will allow you to fill again.
They Can't Be Refilled In The Parks.
Heads up because this is IMPORTANT in making your decision about whether a refillable mug is worth it: You cannot refill these in the Disney World Parks. You can take them to the parks, but you won't be able to fill them with any soft drinks (just your own water).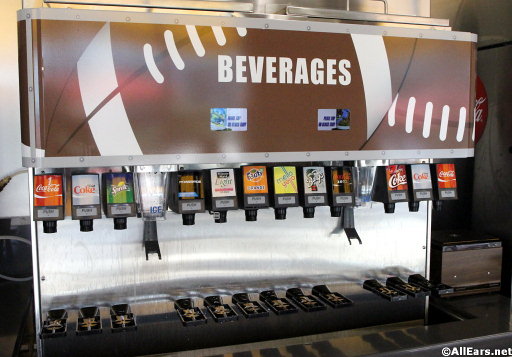 The pro tip is to refill them before you head out from the resort and remember, you can fill them at any of the Disney World resorts.
After the 14 days, They're Perfect for the Parks.
That brings us to our last point. After the 14-day time frame is up, they're still perfectly good mugs, so bring them to the parks!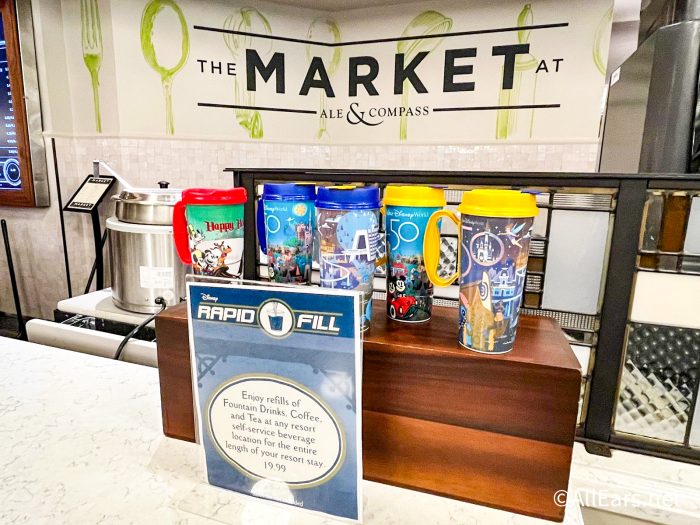 As we said earlier, they have unique designs and make great souvenirs. Oh, and don't forget that you can get free water at the parks. Pretty handy, right?!
Well, what do you think? Will you be getting a refillable mug on your next trip? Let us know in the comments below and keep following along for all the latest Disney tips and tricks.
Join the AllEars.net Newsletter to stay on top of ALL the breaking Disney News! You'll also get access to AllEars tips, reviews, trivia, and MORE! Click here to Subscribe!

Will you be getting a Refillable Resort Mug on your next trip to Disney World? Let us know in the comments below!