Rapid-Fill Refillable Mugs at Walt Disney World Resort Hotels
Walt Disney World's refillable mug offering — now officially called the Rapid-Fill Refillable Mug program — has been around for years, and though the program has changed some over the years — from price increases to RFID chips — they're still a beloved (and functional) souvenir for many guests.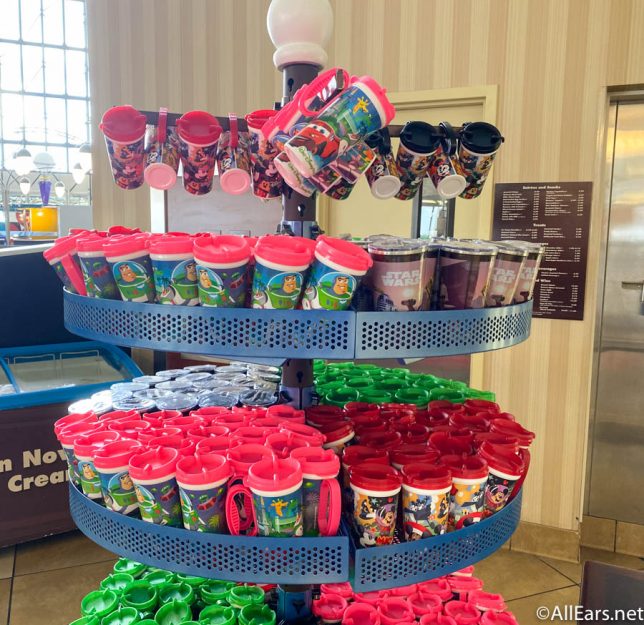 We're taking a look at the logistics of acquiring and using a refillable mug at Walt Disney World's Resorts.
What is a Refillable Mug?
A Rapid Fill Mug (or Refillable Mug — the terms are used interchangeably in Disney vernacular) is an insulated plastic coffee mug with a lid. The mugs typically have a handle, though Disney has offered handle-free versions over the years.
In 2019, guests began spotting metal insulated Refillable Mugs as well. These cost $10 more than a standard Refillable Mug.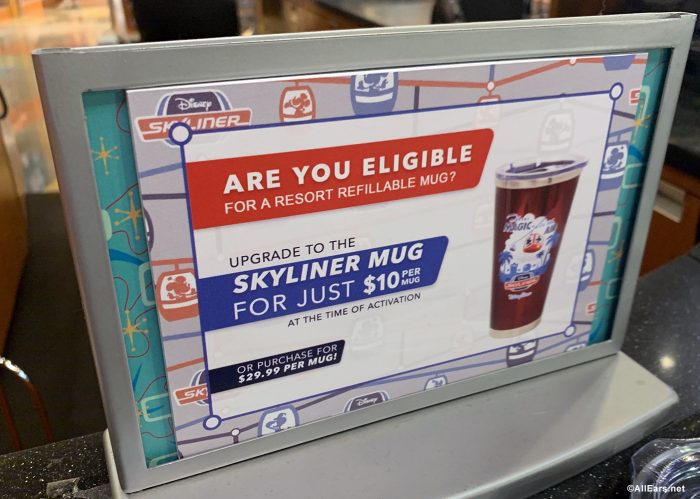 Where do I find a Refillable Mug?
Refillable Mugs are found at the Resorts of Walt Disney World, typically in Quick Service restaurants or food courts.
How do I acquire a Refillable Mug?
Guests who have purchased a Disney Dining Plan for their vacation receive one mug per person (ages three and up) as part of DDP. If you opt for a metal Refillable Mug and you're on DDP, you will pay the $10 difference.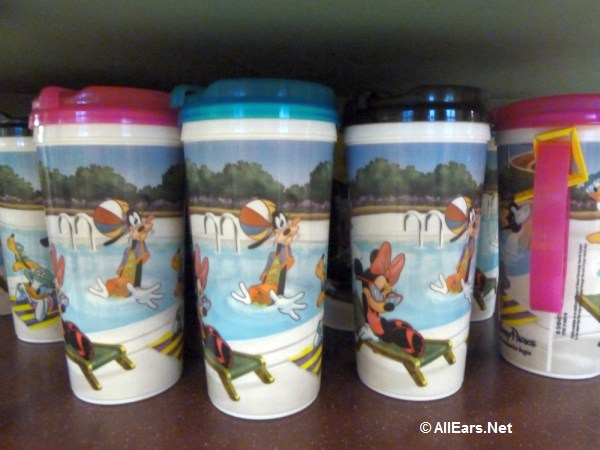 If you are not on the Disney Dining Plan, you can purchase a plastic mug for $19.99 or a metal mug for $29.99 for your length of stay.
Note: While DDP is suspended in 2020, guests wanting a Refillable Mug must purchase one.
How do I use the Rapid-Fill Refillable Mug?
In 2013, Disney began using the "Rapid-Fill" program for their Refillable Mugs. This system uses an RFID tag embedded in the base of the mug that communicates with the fountain drink station. This allows the user to fill the mug every two minutes.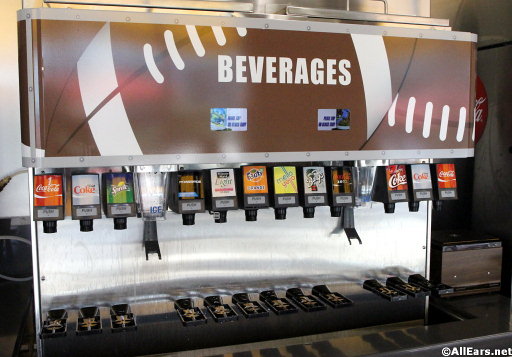 Place your mug on the tray beneath the beverage you want. If the mug is not positioned properly, a message will display on the Rapid-Fill screen. The beverage will stop flowing once the mug is full.
You are not able to get an immediate refill; you must wait at least two minutes before getting your next beverage. The small Rapid Fill screen will let you know how long until your next refill.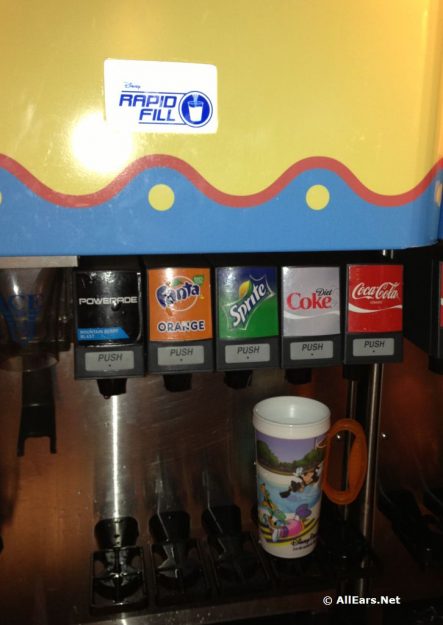 Note: During the initial reopening phase of Walt Disney World in 2020, soda fountains are off-limits to guests. At the Resorts, a cast member is available to scan your mug (confirming your Refillable Mugs participation). Then he or she will fill a paper cup with your beverage of choice. You can then pour it into your mug or drink from the paper cup. 
Do paper drink cups have the same technology?
Regular Paper Cups are still available and these are also "programmed" by a chip that's embedded. You are currently allowed three refills within an hour with a paper cup. Once you have either three refills or one hour has passed, your paper cup is no longer eligible for fountain beverages.
What can I put in my Refillable Mug?
Mugs can be filled with fountain beverages, coffee, tea, and hot chocolate. Milk and real juices like orange and apple are not included. However, most Coke-branded fountains will include fruity drinks like Powerade, Minute Maid, and Hi-C if you prefer those to carbonated sodas. You can always fill your mug with ice and tap water as well.
Where can I use a Refillable Mug?
The Rapid-Fill Refillable Mugs are eligible to be refilled only at Disney-owned and -operated Resorts at Walt Disney World. That means you can refill your mug at your Resort or at any of Disney World's other Disney Resorts.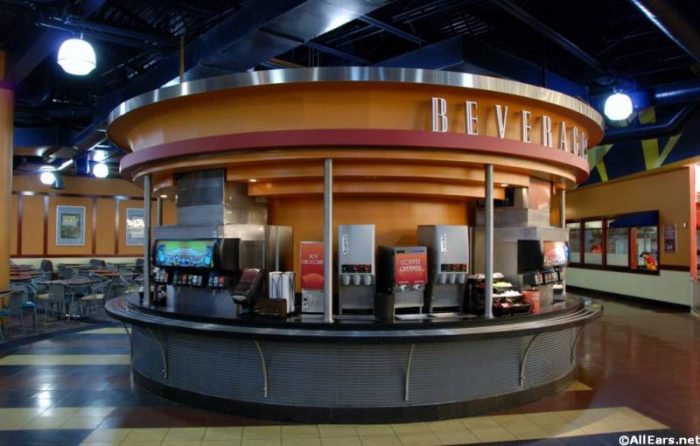 The theme parks of Walt Disney World are not included in Refillable Mugs. At present, theme parks do not offer a Refillable Mug option at all. The water parks, however, have their own Refillable Mug program. Resort Refillable Mugs are not usable for fountain beverages at the water parks.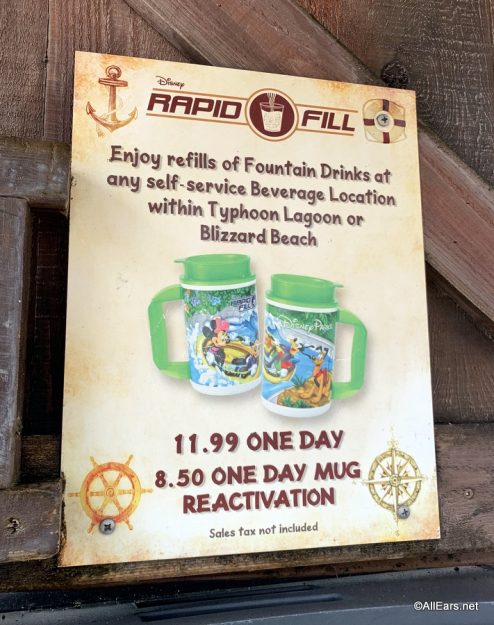 Can I reuse an old Refillable Mug?
The Resort Refillable Mugs can not be reactivated, so they are not reusable in the future. Disney could change that policy, and if they do, we will update here.
Water park Refillable Mugs are eligible to be reactivated just at the water parks. So if you tend to visit Typhoon Lagoon or Blizzard Beach on your vacations, it may be worth the cost to pay for reactivation time after time.
Are Refillable Mugs worth the cost?
If you are paying out-of-pocket for a Refillable Mug and want to know if it is worth the price for you, consider these questions:
How often will you be refilling your mug?
What kind of beverages will you drink, and how much are those beverages?
Will you be at your Resort enough to get a lot of use out of the mug?
Will you get more use from the mug once you return home?
Your answers to these questions (and any associated math!) will help you decide if a Refillable Mug is right for you.