Disclaimer: As an invited media guest, AllEars.Net's tickets to Mickey's Very Merry Christmas Party were provided by the Walt Disney Company.
We were able to attend Mickey's Very Merry Christmas Party (MVMCP) on November 11, 2011 (click the link for dates and ticket prices). The event is an annual "hard-ticket" event (a separate ticket must be purchased to attend the event) at the Magic Kingdom.
A few things before we begin:
*You MUST have a ticket and a wristband to enjoy any of the party events. The park closes at 7 PM to day guests.
*You may enter the park beginning at 4 PM with your party ticket. If you are at Magic Kingdom before 4 PM, keep an eye out for wristband stations. They will scan your ticket and give you your wristband.
*Magic Kingdom's Christmas tree was not up on November 11. I wasn't able to find out when it would be going up.
*Here's the Christmas Party Guide Map, showing which attractions are open and where various special treats are located:
— Christmas Party Map Side 1 (large .jpg 436K)
— Christmas Party Map Side 2 (large .jpg 390K)
On to the fun…
When you approach security at Magic Kingdom, there are signs out for the party.
Banners are hung across the tunnels leading to Main Street.
Main Street looked gorgeous at dusk. (Keep an eye out for a new "What's New, What's Next" blog that will have more pictures of the holiday decorations around the parks.)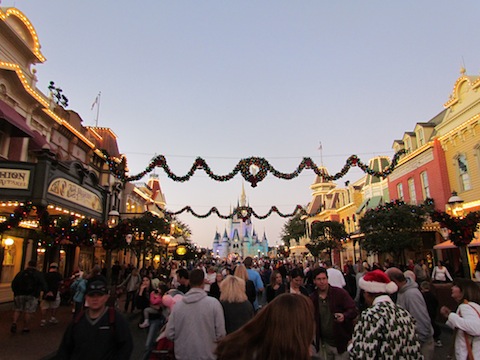 The logo was visible in Tomorrowland.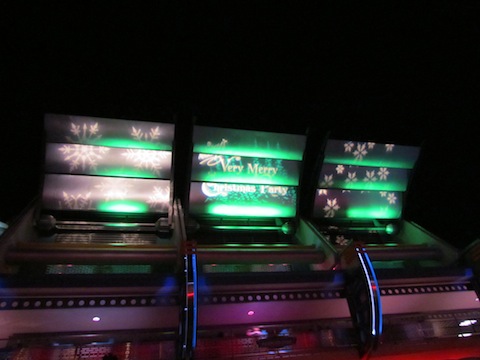 The stage was decorated for a Totally Tomorrowland Christmas.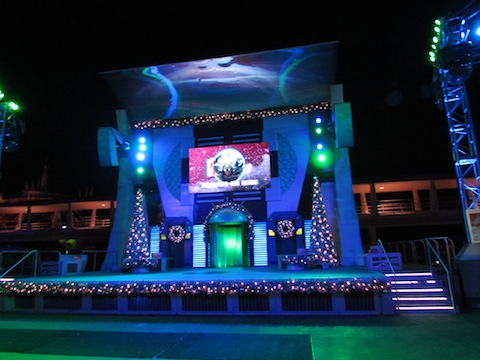 Space Mountain was decked out for the event.
Phineas and Ferb greeted guests in Tomorrowland. They are where Buzz Lightyear is during the day (between Buzz Lightyear's Space Ranger Spin and Carousel of Progress).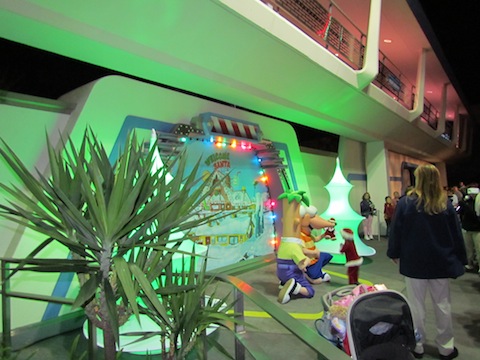 Snowflakes were projected onto the pavement in Tomorrowland.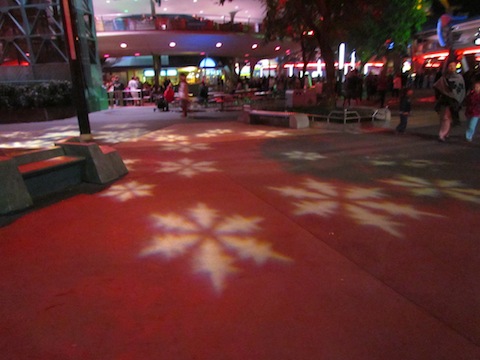 Stations were set up for complimentary hot chocolate and cookies.
In Fantasyland, Cinderella, Prince Charming, Lady Tremaine, Anastasia and Drizella greeted guests.
Main Street looked beautiful.
The soldiers are around the flagpole.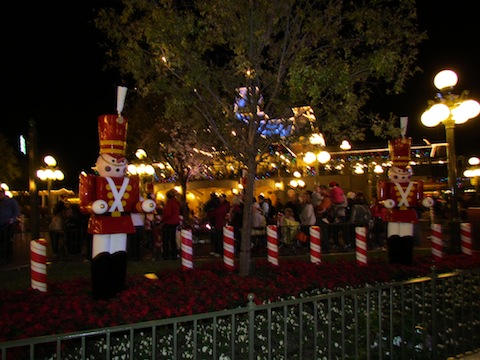 Santa is greeting guests at the flagpole this year. Duffy the Disney Bear was supposed to be at his old location near City Hall, but I never saw Duffy greeting guests.
These trees were near Santa.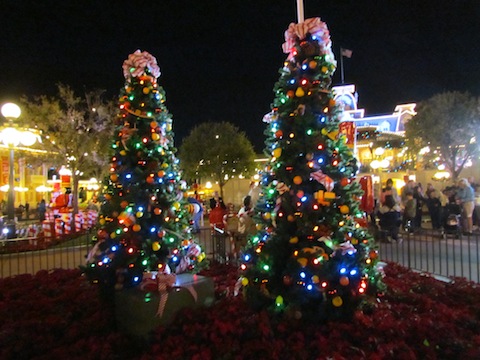 The parade begins in Frontierland and makes its way to Main Street.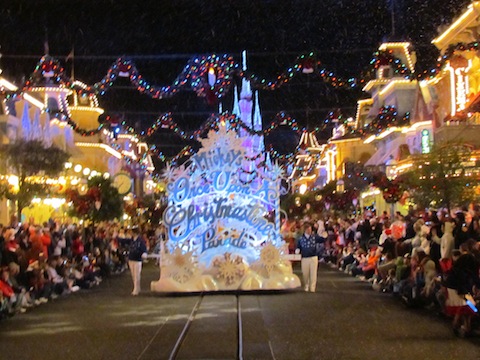 Duffy joined Mickey and Minnie in the parade.
The skiers were also new this year.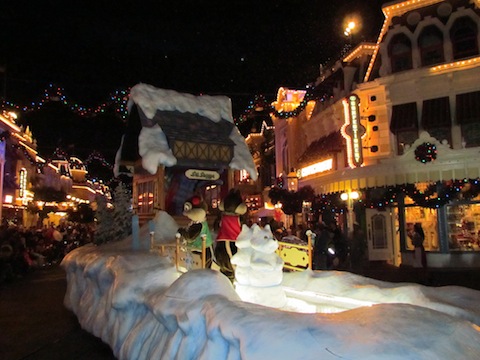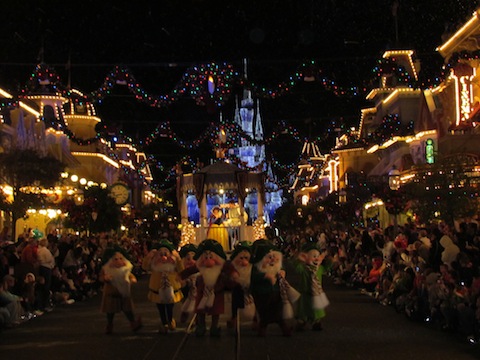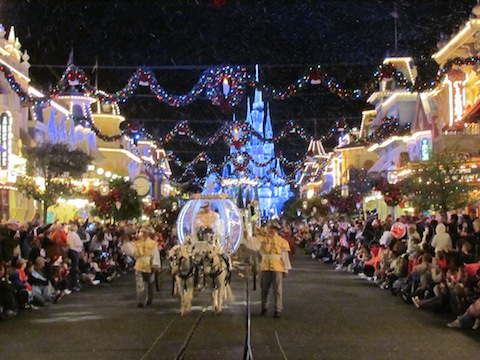 New to the parade (or new to me, at least, since it's been a couple of years since I've been) are Princess Jasmine and Aladdin.
Here's a quick video of the Toy Soldiers marching down Main Street.
Santa's reindeer have slightly different costumes this year. Apologies if this picture is too dark — my attempts to lighten it weren't very successful.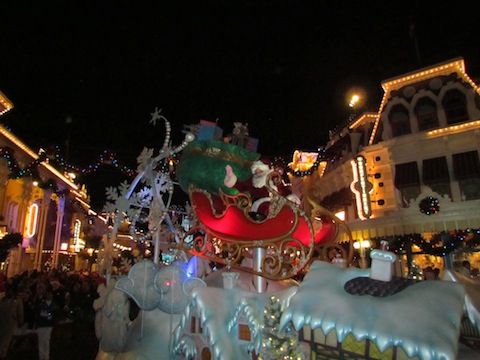 Just before the fireworks, The Magic, the Memories and You is shown. It has a special holiday segment. The castle turns into a gingerbread castle briefly (and I mean BRIEFLY — have your cameras ready! I missed getting a picture of the candy cane overlay) and a present and… well, you'll have to see it, but I think you'll like the segment.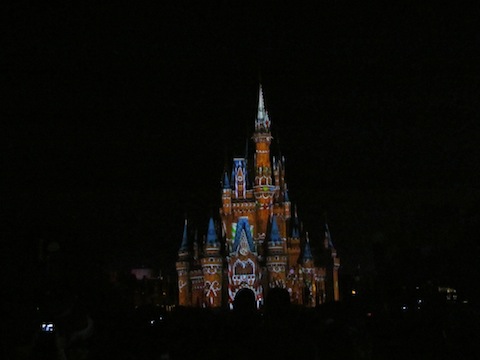 Holiday Wishes was incredible, as always. There's one segment that always makes me tear up.
Here's a brief video of the fireworks: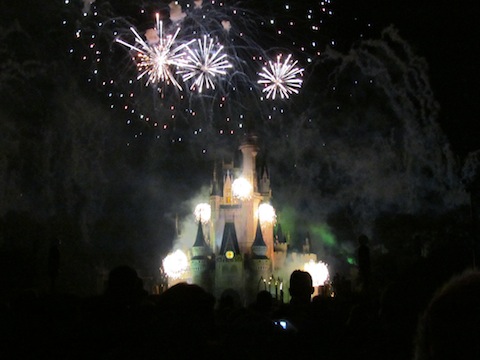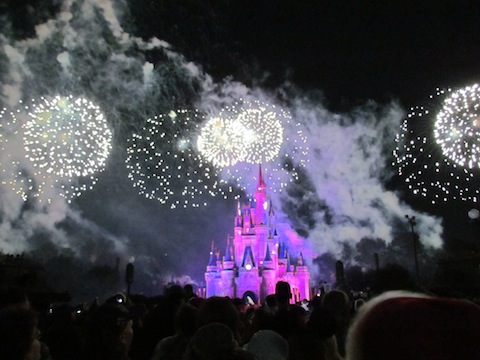 Unfortunately, the cold and crowd drove us out after the fireworks. We had a great time.
A few more notes:
*The princesses and the princes as well as Mickey and Minnie were greeting in the Town Square Theater.
*Donald and Pooh and friends were greeting guests in Fantasyland. The pictures were too dark and I couldn't lighten them up at all.
*Tinker Bell and her friends were greeting in Adventureland.
*The character meets were very, very busy, especially the indoor locations.
*The party we attended was sold out.