During my stay in Walt Disney World earlier this month, I was able to visit many restaurants and experienced many delights… and the occasional low-light. These bits and bites are based mainly based on this trip only, your experience or even mine in the future may be different.
To try and sum it up for you, here are my Dining Bits and Bites!
BEST NEW ITEMS
Kouzzina Breakfast Skillet! Savory eggs on top of sweet potato hash and topped with arugula salad – Super Yummy. The funny thing was I had been to Kouzzina early in my trip and breakfast was the menu I had grown to know and love. When I went back several days later, I couldn't figure ou what had happened to the menu! Finally asked the server and she explained it was brand new. While I will miss the breakfast flatbread and open faced omelet, the new breakfast skillet is a winner! I will be back next trip.
Whispering Canyon Caf̩ РCheddar Cheese Soup $6.99 Рwith candied bacon and popcorn Рwow!!!! We got to sample a small portion of the soup while dining at Artist Point and all 4 of us LOVED it!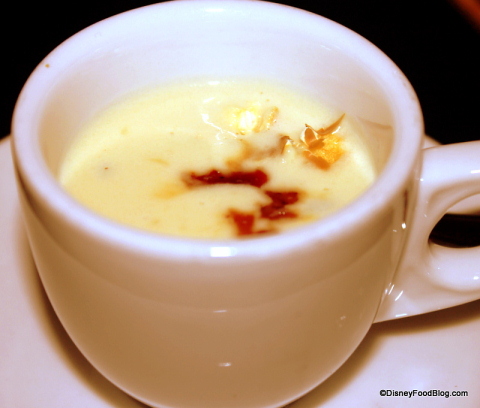 PLEASANTLY SURPRISED
Looking for a last-minute dinner can be very difficult, even for two. But in the Epcot resort area, we knew someplace had to have a table open.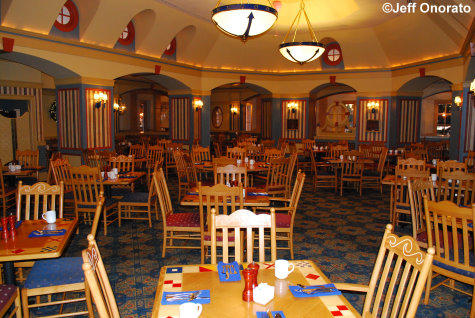 I have often gone to the Captain's Grille at the Yacht Club for lunch, but finally tried out dinner. We had a great meal. Linda had the Grilled Rib-eye which she said was tender and flavorful. I had the Pan-Seared Chicken with white beans and smoked bacon – it was yummy! The only odd thing was that both of our knives seemed incredibly dull. We talked to the manager and he assured us the knives are sharpened on a regular basis. We suggested he take a look at the two we were using. The server was great and overall we were pleased! We will return!

BIGGEST SURPRISES
Biggest Surprise #1 – Dinner at Boatwrights Port Orleans Riverside.
While we got off to a slow start with our server, eventually everything picked up and we had a wonderful dinner. We enjoyed the Grilled Pork Chop ($21.99), Tenderloin Medallions ($27.40), and the Prime Rib ($27.99).
I suggest making an evening of it – dine here then go see the YeeHawBob's show!
Biggest Surprise #2 – Artist Point in the Wilderness Lodge has a flight of SAKE and it's $15! Believe it or not, a place in Oregon makes SAKE!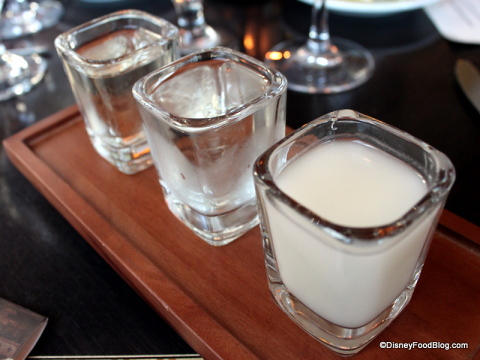 LOVING MORE AND MORE
Il Mulino (Swan) – best Italian food on Disney property! The Carpaccio Di Tonno – Thinly Shaved, Center-Cut Tuna served with Arugula, Extra Virgin Olive Oil and Fresh Lemon Juice $14 – melts in your mouth! Really enjoyed the well aged Parmigiano Reggiano (listed as an appetizer), or as I like to say dessert, for $8.00. If you are looking for a great red Italian wine, try: Antinori guardo al tasso – Brusciato with cabernet, merlot and syrah 2008 for $79.

BEST OF THE BEST
Flying Fish (Boardwalk) continues to provide an outstanding dining experience in terms of service and food. Fresh Breakfast (Dolphin) wonderful, Artist Point (Wilderness Lodge), Jiko – awaiting a new chef (Animal Kingdom Lodge) !

DISAPPOINTMENT
Coral Reef – I so wanted to have a great experience here. The reviews we get are always mixed. Our food was good, however the server was far below average and made a couple huge mistakes that put a damper on the whole experience. The good news – there was a sea turtle was swimming by and hanging out through most of our dinner. You can't beat the atmosphere.
SAME OL'

Big River Grille on the Boardwalk – Nothing fancy or special here. Consistent average pub food. The highlight is the microbrews and the option to dine outside and watch everyone strolling the boardwalk.

BEST KEPT SECRET
Best Kept Secret: Garden Grove (Swan) for non-character breakfasts and lunch. Food was consistently above average as was the service.
The breakfast buffet including Strawberries and Blueberries – my favs! Also, eggs made to order plus yummy bran muffins with raisins. Of course, all the usual breakfast foods are here as well.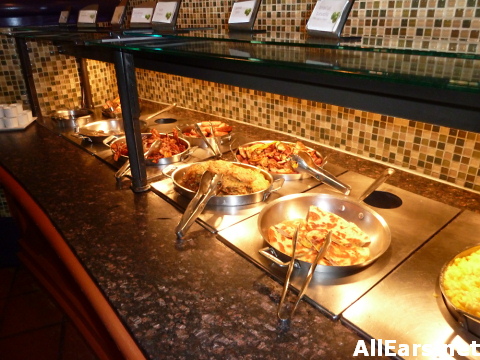 For lunch, try the French Dip OR Mahi Fish Tacos.
FUTURE DINING
I'm in search of an excellent theme park dining experience that combines food, theming, and service on a consistent basis. What do you recommend and why??!! Leave your comment below.
Photos from the DisneyFoodBlog.com are here with permission.