David W, you're first!! YAY!!
Okay, you weren't first to get the right answer, but I mentioned you first in the blog. Does that count for something? 🙂
Susie Howard, thank you for your note! Wait until you see this week's list of names!
This was Challenge #196:
And here's the answer: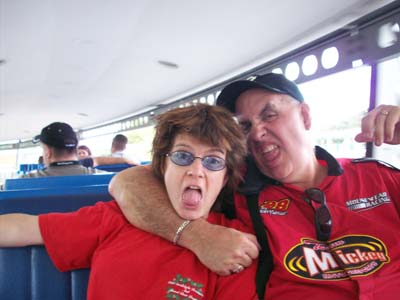 Copyright © 2007 Erin Blackwell Kodak Easyshare M753 Zoom Digital Camera, 6mm, 1/40s shutter, f/2.8, ISO 160
Yes, it's the Tomorrowland Transit Authority PeopleMover in the Magic Kingdom! Last Sunday was my husband's birthday, so I posted a picture of his favorite attraction in all of Walt Disney World. We ride it multiple times each trip, at least once in the day and once at night (the views are so different with night time lighting and then in the daylight that we do both.) My sister Cathi took this photo of, as she called it, "Let's see the happily married couple!". As you can see, Carolyn Como, we are keeping all forward facing tentacles inside the vehicle.
Which reminds me: Paging Mr. Morrow, Mr. Tom Morrow! If you find a hat on this attraction, please give Matt and Danielle Murgia a ring. It belongs to his sister-in-law.
Of course I took all of the attraction's names: WEDWay PeopleMover (For Walter Elias Disney Way – thank you for everything, Walt. Am I right or am I right, Becky Norman and Mackenzie D.?), The Tomorrow Transit Authority, The TTA, The TTA Blue Line, The Tomorrow Transit Authority's PeopleMover, the "Mover People" as Amy's kids tell us, the "blue ride" in the words of Robin Fitts' tweens, and what one site lovingly calls "the couch with a breeze". 😉
Mary Jo Gallion, Mary Greger and Vincent Maltese even commented on my shirt. You guys rock! Seriously, Vincent, you made me wish I had worn something awesome for the picture! Actually, the back of the shirt is pretty cool: it's the logo for the 2007 Epcot's Holidays around the World. (And I got it at the American Pavilion's kiosk since you wondered. LOL!)
If you would like to hear the PeopleMover original spiel with the references I made above, please see our own Jack Spence's blog! And if you like to see more ride vehicle pictures, Claire Gregory reminds us about the page here on AllEars. (We have that? I mean, we have that!)
I thought this was going to be a tough, but thankfully, people like Clint Curfman knew it immediately because the PeopleMover has a lot of fans just like us! (Even if Patti Mccaffrey's 5 year old niece Maddie thinks it needs to be faster. LOL) In fact, we had FOUR HUNDRED AND FORTY-TWO winners! As Ron Stoppable of Disney's Kim Possible says: Booyah!
Are you ready to see who they are? Because I bet this is a record breaker!
Kris Nixon was the first to send in the correct answer for the challenge! Congratulations to Kris and to all the readers who got the answer right: Kris Nixon, Mark Swayze, Lee Anastasi, The Kahle Family , Tommy Montgomery, Chris Masse, Amy Schweizer, Louise Barton, Frances Phebus, Laurie Walker, Michelle Wilinski, Caryn Schill, Mary Beth Tarbet, Katie Bray, Ed Elder, Jennifer Harmon, Scott Otis, Ethan Johansen, Laurie Nicholson, Larissa Huda, Erica Binder, Maureen Handy, Betsy Silvestri, Ken Maikowski, Julie Wickware (and David), Rob Blundin, Dawn Bach, Elizabeth Benvenuto, Steve And Kala Bieniek, Kye Layton, Steve , Leigh Mertz, Evan Rapone, Michelle Raimist, Bryan Timko, Tiffany Gibb, Mike Haeberle, Bridgette Gallagher, Scott Greenbaum, Caroline Burmester, Theresa Rucando, Stephen Hafke, Paula Massarelli, Kristen Mccoy, Donnie W, Ken Jackson, Jimi Mac, Kellie Harpel, Mary Jo Gallion, Leslie Schmauder, Judy Koslowski, Linda Scrivano, Robin Fitts, Brian Yesutis, Wendy T Faler, Monica Hatch, Lorine Landon, Colin Buchanan, Karen Adamakis, Patty Carty, Erin Dagney, Christine Dagney, Angie Young, Dave Wang, Dana Selph, David, Derek Carty, Marie Seilus, Christine Holzman, Debbie Desimone, Kim Steiner, Sharon Lee, Evelyn Wilson, The Perras Famil, Madison Reynolds, Kenny, Erin Hammer, Mary Virginia Clause, Beth Mcmeekin, Hannah Couture, Stephen Whitlock, Deb Ragno, Steve Cummings, Double Family, Robert Anderson, Carla Nale, Gene Gorter, Krystal Pound, Karen Ramirez, Penny Urell, Nicole Amidon, Jessica Gruhlke, Doug Buchheit, Victor Gonzalez, Matt Holley, Jeff Schoeling , Matthew Herman, Daniel Record, K. Beasley, Kirsty Butler, Jennifer Horst, Mike Hill, Ellie Argaluza, Dale Knight , Craig, Eric Streebel, Amy Martel, Kerry A., Sharon Dale, Vicki Edwards, Barbara Ajak, Frank Damico, Evanna Huda, Jennifer Townsend, Elizabeth Howarth, Emily Dagney, Jim Finley, Mackenzie D., Mike Malampy, Lisa O'meara, Tom Armstrong, Jill Hauth, Luis Rodriguez, Jen Cerce, Melina Anne Hillis, Pollyanna Buff, Diane Curfman, Megan Krainski, V Anessa Gordon, Paul Zaloga, Irene Kleintop, Jennifer Mccurry, Mike M., Will Gates, Mike Haven, Kathryn Perkins, Brian Miller, Mario Grasso, Jamie K, David & Melissa Lizewski, Kelly Mager, Diana Fitzgerald, Tracey Mayfield, Danielle Ciotti, Diane C., Elyssa, Cameron Lange, Evan Gentile, Suzanne Denham, Jennifer Bourg, Susan Higginbotham, Curtis Bille, Linda Johnson, Christopher Barnes, Heather Pedulla, Patti Mccaffrey, Claire Gregory, Allison Burgess, Kelly, Bill Mckim, Stephanie Hardhouse, Jason And Melinda Lenz, Matt And Danielle Murgia, Karen Schlumpf, Dan Owens, Millie Tenreiro, Emma Poprock, Lisa Holmes, Jonah Rigby, Vicki Aponte, Amy Filliben, Nancy Skooglund, Melody O'donnell, Heather Hynes, Jennifer Rupert, Melissa Ruggieri, Linda Mac, Elizabeth Macgregor, Kelsi B., Vicki Vaught, Anna Keene, Rick Shea, Paul Dickson, John Hout, Brian Haas, Paul Knott, Tina Mezquita, Terence Bostic, Kevinn Miller, Hailey Gill, Danielle Aston, Audra Miller, Samuel Shotick, Sandy Miller, Maryann Eckenrode, Eva Mayhew, Melea Broekers, Chris Kelly, Daniel Schweizer, Tracy Henkel, Amanda Hammock, Steven Bowling, The Moore Family, Troy Parker, Kerri Coggins, Anastasia Macneil, Bill Gallagher, Diane Furtado, Jonathan Thomas, Michael Gainey, Jonathan Ward, Dan Johnston, Kameo Crea, Sarah Smee, Hayden Pronto-hussey, Lorie Ann Moore, Carrie Henderson, Jodi Cook, Becky Hosinger, Cara Richards, Ron Renz, Matt Martel, Linda College, James Greene, Stephanie Newell, Ken Fischler, Melesia Love, Dallas Hamilton, Dominic P., Sam Fritz, Chris Forner, Alan Mize, Dawn Burns, Melissa Dye, Paul Ignudo Jr, Alan P, Kelly Smith, Kevin Malone, Elizabeth Scarborough, Jennifer Toto, Stacey Hutchinson, Rebecca Keenan, Steve Jordan, Carolyn Como, Kristin Dormuth, Carla C, George Mundy Jr, Scott Lau, Hillary Waldroop, Antoinette Leblanc, Andrea Kruszewski, Jodi Johnson, Jessica, Mark Franklin, Greg Papa, Lauren Sullivan, Kelly Taylor, Carol Bolger, J Brizzle, Tricia Petty, Wade A. Williams, David W, Elaine Tomko-deluca, Jim Riley, Vincent Maltese, Danielle Fitzgeralg, Angie Messer, Leslie Stewart, Amber Slifer, Dennis Blackburn, Mary Greger, Teri Michalski, Carri Marotto, Doug Dipiero, Troy Vandeschraaf, Kevin Weidenweber, Katherine Fallon, Lori Rienhardt, Dwayne Fontenot, Mark Cullison, Donna Wnchester, James Berry, Christopher Hall, Kathy Berry, Katie Bowling, Melanie Dunlap, Wendy Ip, Carolyn Conway, Al Desimone, Lynn Smith, Matthew Jadro, Jared Orth, Sarah Holodick, Herb Miller, Karen Korcheski, Ed Ustanik, Nathalie Periard, Freya Schmidt, Michael Nanney, Mary Dannahey, Regina Allen, Scott Sangston, Becky Norman, Matt Cofone, Jennifer Weeden, Erika Loboda, Ken Rhinehart, Karen Smith, Brent Lollar, Jennifer Tremley, Andrew Pettit, Mike Gillardi, Sammi Jo, Ed Hogan, Brian Kolis, Zachary Falcone, Stephanie Davis, Ashley Hill, Tom Buck, Ryan Mcglashen, Richie Michael, Les Whitten, Steven R. Long, Cathy Skiba, Deb Gallo, Debra Kuklinski, Jennifer Hoffman, Dave Fullerton, Brendan Abel, Susie Howard, Tammy Kennedy, Heidi Goodhue, Lauren Thomas, Jen. P, Matt Degrandis, Tracy Discher, Kim Meyer, Angela Fennell, Nick Bentz, Karen Kenney, Tina Cole, Mary Tackett, Susan Doucette, Susan Doucette, Kerrie Hogan, Ruth Woodhouse, Sandra Shaw, Wendy Kemp, Alison Rosenberger, Timothy Hutchinson, Jennifer Arnett, Christina Cella-bonica, Jullie Pudem, Maja K., Anne-marie Crabtree, Lori Hutchinson, Patty Newton, Karen Robertson, Amy, Melissa Gvist, Matt Carrera, Kelly Scola, Marc Fumo, John Pasqueralli, Mickey Eckert, Scott Junkin, Katie Murphy, Kristen Carde, Donna Brandt, Jamie Poynton, Connie Covatta, Jeannine Reid, Hunter Armstrong, Kristina Schneider, Liz Moreau, Kirk Hardy, Cecilia Bruce, Ronnie Schreyer, Kerry Fox, Margot Garofalo, Laney, Elaine Kleinhenz, Page Stout, Ruth Cookson, Kathy Goodwin , Fernando Miranda, Debbie Poole, Joseph M Zafia, Lisa Jones, Carinne Kight, Roxanne Kliebert, Chip Vermette, Richard Palmer, Kerry Sweeney, Shelly Borella, Kate, Cheri Palmisano, The Hicks Family, Amy Ferguson, Josh Weiss, John Snider, Jennifer Mercier, Michele Delorenzo, Jennifer Cravener, Jon Solomonson, Jim Thompson, Tina Santillo, Duskin Henard, Teresa Cole, Jo Ann Bailey, Kendra S., Christopher Bourassa, Jeremy Mccaffrey, Roye Ann Morris, Tom & Susan Linder, Jen & Ansley, Dee Dee Kenney, Bill Daniel, Kelli Reedy, Walter N. Clark, Nicole Lopresti, Jenn Steele, Jennifer Mills, Julie Wilmot, Mike Venere, Bill Monahan, Kayla , Brittany & Jesse Siminitz, Wendy Mowery, Gary Bracknell, Sherri Pell, Eric , Bart Patterson, Agnes Ciotti, Laura Pranaitis, Jennifer Schwing, Chris Stockton, Kerry Mccaffrey, Sorcerer Jim Ludwig, Clarissa K, Wayne Chadourne, and Melissa Demonbreun. Each of you are entered in this month's winners' drawing.
Which is a great segue (the kind leading to a related item, not the segway you ride in Epcot World Showcase, Backstage Epcot, or Fort Wilderness) to announce:
It's time for our monthly drawing. This month's big winner is Dave Wang! Congratulations, Dave, you are the lucky recipient of some really cool AllEars® swag from Deb Wills!
__________________________________________________________________________
Challenge #197: Where in the world is this?
We are going OUTSIDE the parks to start out October. (Can you believe it's October?!)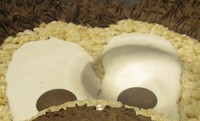 Do you know? Do you have a guess? Please send in your answer, before the end of the day on Thursday, October 6th, by clicking on the blue box below. Please do not post answers using the Feedback Form link at the bottom of this post. Remember to be specific with your answer – just naming a park will not get you into the drawing.
See you next week, Worlders!


_______________________________________________________________________
Everyone who sends in a correct answer to a Where in the World Challenge this month will be entered in a drawing at the end of the month for some special AllEars® goodies!