Guest Blogger Andrew Rossi returns with a review of Whispering Canyon Cafe at Disney's Wilderness Lodge.
One thing that Disney restaurants excel at is creating memorable dining experiences, but they are able to do so in so many different ways. For some, it is their highly detailed, themed, and immersive atmosphere, such as 50's Prime Time Café or Sci-Fi Dine-In. With others it is all about their breathtaking location, like the California Grill or Narcoossee's. Other restaurants offer whimsical character interactions, including Chef Mickey's or Crystal Palace. And with others it is their ability to transport you to exotic locations through their cuisine and atmosphere, as seen with restaurants like Sanaa or Restaurant Marrakesh.
Just as with all of these other restaurants, Whispering Canyon Café at Disney's Wilderness Lodge is a truly unforgettable dining experience, but in a way that is completely different. It is not necessarily the restaurant's atmosphere, or its location, or even its cuisine that makes it memorable. Rather, it is the service provided by an extremely dedicated and passionate group of Cast Members and the overall family-friendly nature of the restaurant that make Whispering Canyon Café truly unique among Disney restaurants.
Overview:
Overlooking the grandiose lobby of the Wilderness Lodge, Whispering Canyon Café has a very unassuming appearance from the outside. In fact, if you weren't specifically looking for the restaurant, you might even miss it as you walk through the lobby. However, don't be fooled by appearances because Whispering Canyon Café is actually one of the more fun, care-free, rowdy dining experiences that you will find in all of Disney World.
Serving breakfast, lunch, and dinner, Whispering Canyon Cafe is a restaurant that is great for the entire family and both little kids and adults alike will all have a good time. This type of restaurant is really what Disney is all about, a dining experience that goes beyond just the food. Just as with all Disney restaurant, you know that everything is going to be of the highest quality. Where Whispering Canyon Café is most successful, however, is with a wait staff that truly goes above and beyond to create a unique and unforgettable experience for guests of all ages.
Atmosphere:
The rustic feel that is evident as soon as you enter Wilderness Lodge, and carried throughout the rest of the resort, is continued inside Whispering Canyon Café. However, in contrast to the grandeur and majesty of the resort's lobby, the restaurant has a more casual and laid-back feel. The theming here is a little more subtle and subdued, but that does not mean there is a lack of detail.
The restaurant features a frontier/wilderness décor comprised of both Native American and old western, cowboy influences. The restaurant's log cabin feel is similar to that of the main lobby, if only on a smaller scale, featuring everything from wooden floor boards to log columns and support beams.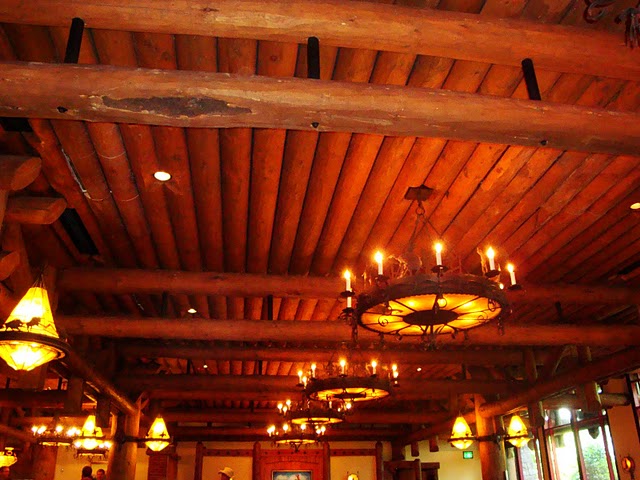 Adding to the rustic feel, there is one entire wall of huge windows looking out into the dense forest that really helps bring the outdoors inside and lends a sense of authenticity to the restaurant. You really feel as though you are dining in a secluded log cabin out in the wilderness. The restaurant, and the resort as a whole, gives you the sense that you are in the middle of nowhere rather than at Disney World just minutes from the Magic Kingdom.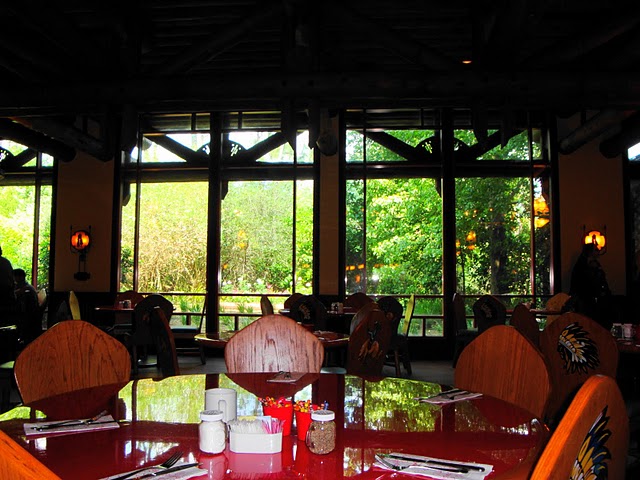 The artwork adorning the walls is absolutely beautiful with various hand-painted scenes of Native American villages, natural western landscapes, and lively rodeos.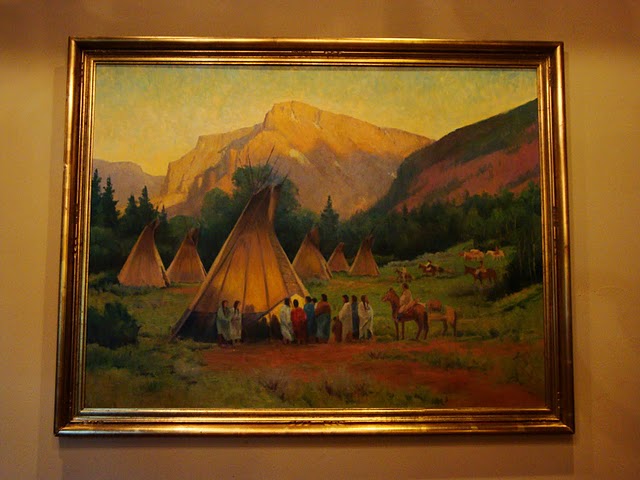 My favorite part of the décor was the light fixtures. First, there were smaller lights in the shape of teepees with buffalos scampering around the outside. These were so finely detailed that they had the appearance of being made out of animal hide that had been stitched together and had the look of being hand painted with different Native American symbols.
On the ceiling were large iron chandeliers with faux candles. These had more of an old western, frontier influence and featured small cowboy figures riding or lassoing buffalo.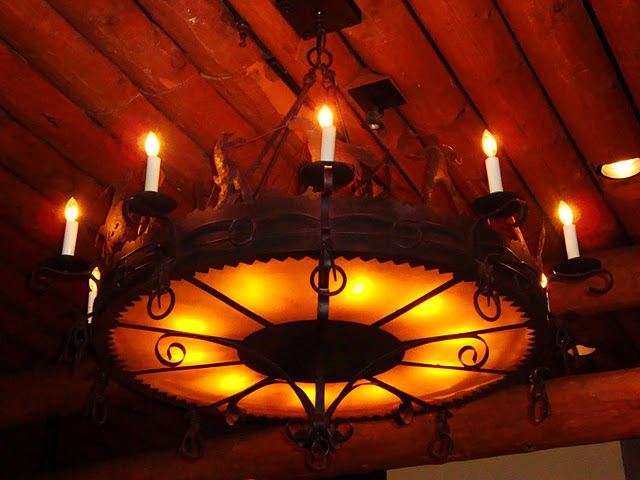 Overall, the restaurant has a very open, spacious feel with high ceilings, large windows, and one side of the restaurant open to overlook the lobby. It is a restaurant that has a very welcoming and comfortable feel that makes it a good place to take the entire family.
The Menu:
Breakfast at Whispering Canyon Café features a menu of classic favorites with a little western flair. Among the choices are Raisin Bread French Toast ($9.99), Belgian Waffles ($10.99) with a strawberry topping, Pancakes ($9.99) accompanied by bacon or sausage, a Western Omelet with ham, cheddar, bell peppers, and onion ($11.49), and Barbeque Eggs Benedict ($10.99) featuring poaches eggs on an English muffin with beef brisket and barbeque hollandaise sauce.
The lunch menu may not be as extensive as at other restaurants, but it features some interesting choices. For appetizers there are Barbeque Pork Spring Rolls ($9.99), Smoked Trout Lettuce Raps ($9.99), Chicken and White Bean Soup ($6.99), Venison Chili ($7.99), and a Mixed Greens Salad ($6.99) topped with an apple vinaigrette.
Entrée selections are predominantly sandwiches, including a Turkey Sandwich ($13.49) with dried cranberry-arugula mayonnaise on blue cheese griddled multigrain bread, a Chicken Sandwich ($12.99) which features a fried chicken breast topped with pineapple slaw, and a Slow-Smoked Pulled Pork Sandwich ($12.49). There is also an Angus Chuck Bacon Cheeseburger ($13.99) as well as a Whiskey Maple-Glazed Trout ($17.99) served on a bed of arugula-frisee salad.
For dinner the appetizer selections remain the same but the entrees feature heartier dishes in place of sandwiches. Included on the dinner menu is a Chicken Vegetable Penne Pasta($18.99) tossed in olive oil, garlic, and parmesan, Pot Roast ($19.99), Meatloaf ($18.99) accompanied by mashed potatoes and topped with mushroom gravy, Marinated Grilled Pork Tenderloin ($22.99) with chorizo-tillamook grits, and a Grilled New York Strip ($31.99) accompanied by oven-roasted sweet potato fries.
The dessert offerings for both lunch and dinner are the same and include a Kahlua-flavored Chocolate Cake ($7.99) with chocolate mousse filling and fudge icing, Smores Cheesecake ($6.99) with a graham cracker crust topped with chocolate ganash and marshmallows, Chocolate Caramel Bread Pudding ($6.99) with a fig and cherry sauce, and an Apple Caramel Pie ($7.99).
What Whispering Canyon Café is best known for, however, is its all-you-care-to-enjoy Canyon Skillets which they feature at breakfast, lunch, and dinner. The Breakfast Skillet ($15.99 per person) features scrambled eggs, red bliss potatoes, bacon, sausage, waffles, buttermilk biscuits, and sausage gravy. The Lunch Skillet ($18.99 per person) includes smoked pork ribs, oven-roasted chicken, pork sausage, cowboy beans, corn on the cob, coleslaw, mashed potatoes, and freshly made cornbread. The Dinner Skillet ($28.49 per person) likewise has the smoked pork ribs, oven-roasted chicken, cowboy beans, corn on the cob, coleslaw, mashed potatoes, and cornbread, but also includes pulled pork, beef brisket, and a mixed greens salad with apple vinaigrette.
I went to Whispering Canyon Café for lunch and there was no hesitation with what I wanted to get. I did not even have to look at the menu and immediately ordered the Canyon Skillet. The amount of food that you get is absolutely staggering. It would be worth the $18.99 even if it was not all-you-care-to-enjoy.
I want to start with the ribs because I first thought that I was going to be immensely disappointed with them but they turned out to be my favorite part of the meal. The ribs that arrived with the skillet were very tough, dry, and had hardly any meat on the bones. When I brought this to my server's attention he apologized and brought me out a new helping. These new ribs were amazing, very tender and moist with very little fat. I actually did not find the ribs to have too smoky of a flavor, but just enough to enhance the overall taste of the meat. The barbeque sauce that topped the ribs was also very tasty and, unlike other ribs that I have had at other restaurants, I found the barbeque sauce to be more of a compliment to the flavor of the ribs rather than the predominant flavor.
The chicken was also extremely flavorful. If you are not a fan of black pepper, however, then this chicken might not be for you because it was certainly heavily seasoned. The chicken was also perfectly tender and moist. I enjoyed the peppery taste of the chicken so much that I did not even bother to add any barbeque sauce onto it and just ate it as is.
The pork sausage really wasn't anything special, especially when compared with the ribs and the chicken, although it was a nice addition to the lunch. I actually found the sausage to have more of a smoky flavor than the ribs.
These meats came accompanied by corn on the cob (which was a little overcooked for my taste), as well as cowboy beans, mashed potatoes, and coleslaw. The beans were fairly standard, but they paired perfectly with the chicken and ribs. I really enjoyed the mashed potatoes, which were very light and fluffy, and the coleslaw also provided a nice, light and refreshing contrast to the other aspects of the skillet.
The skillet also came with a generous portion of cornbread, which was served warm and was absolutely delicious. The slight sweetness of the cornbread was the perfect accompaniment to the rest of the meal, its flavor a definite contrast but one that complimented the other elements of the dish. With so much food, there was no way that I was going to have room for dessert. Instead, it was the cornbread that served that purpose.
Service:
While Whispering Canyon Café's atmosphere provides a rustic charm and the food certainly does not disappoint, it is the restaurant's service that really sets it apart. When you dine at Whispering Canyon Café you need to go with a similar mindset to that of when you dine at 50's Prime Time Café. This means that the waiters and waitresses are going to say and do things that you would not typically expect when dining at a nice restaurant, but they do so all in good fun.
The severs here may tease or poke fun at you, play little tricks at your expense, and be overly sarcastic, but that is really what makes the restaurant so much fun. For example, you might want to watch out if you ask for ketchup, and the same holds true when asking for napkins or straws. As with the 50's Prime Time Café, the severs won't shy away from making comments if you finish all of your meal or leave a lot of food behind on your plate. However, as is also the case at 50's Prime Time, some severs are far more over the top than others.
Not only do the severs have tremendous interaction with their guests, but they also play off one another. While I was there, I witnessed two severs going at each other throughout the course of my meal complaining how the other was always putting trays of food in their way or how one was able to clear tables of dishes so much faster than the other. It was really quite funny and entertaining.
The severs' role here goes far beyond that of just bringing out food and drinks; they are really the entertainment for the meal and they greatly encourage participation from their guests, especially children. The waiters and waitresses lead the dining room in songs, having all members of the family clapping their hands, stomping their feet, and twirling their napkins. Kids are invited to get up and do the hokey pokey and even participate in a hobby-horse race around the perimeter of the restaurant.
All in all, this tremendous service provided by a dedicated group of Cast Members creates a very rowdy, boisterous, and loud atmosphere. If you are looking for a quiet, romantic meal this is not necessarily the place for you (although I did notice lunch to be a little more calm and peaceful because the restaurant was far less crowded). But, if you are looking to have a good time with the entire family, the servers at Whispering Canyon Café ensure that all members of the family are involved in the fun.
Dining on a Budget:
When it comes to dining on a budget, Whispering Canyon Café's all-you-care-to-enjoy breakfast, lunch, and dinner Canyon Skillets are a tremendous value. The breakfast skillet is $15.99 and features a wide selection of traditional breakfast favorites. It is like being at a buffet with the food being brought right to you rather than you having to go get it for yourself. While this skillet does not offer as vast an array as a breakfast buffet, it is definitely comparable and far cheaper. Breakfast at the Crystal Palace will cost you $23, the buffet at Boma is $24, and Chef Mickey's is $26. I am not saying that the breakfast skillet at Whispering Canyon Café is at the same level as these breakfast buffets, but if an all-you-care-to-enjoy meal is what you are looking for then it is a viable alternative at a far cheaper price.
The lunch skillet for $18.99 and dinner skillet for $28.49 are likewise also very good values for your menu when you consider all the food that you get. Of the two, however, I would say that lunch is the better option. At lunch you still get the ribs and chicken that you get at dinner in addition to the cowboy beans, corn on the cob, coleslaw, and cornbread. The only difference is that dinner also includes pulled pork (as opposed the lunch's pork sausage), beef brisket, and a mixed greens salad. Unless the pulled pork and beef brisket is something you don't want to miss and would be the make-or-break point of the meal, I would suggest going for lunch because the $10 difference between lunch and dinner is pretty significant and really adds up if you have a lot of people in your party.
Even if you decide not to get the Canyon Skillet, the lunch menu offers many affordable options with a good variety of sandwiches ranging from $12 to $13. Another great value on the menu is the bottomless milkshake for $6.39. The shakes come in your choice of chocolate, vanilla, or strawberry and are constantly refilled throughout the course of your meal.
The Overall Experience:
Whispering Canyon Café is one of those restaurants that is really what Disney is all about. It is a dining location that is fun and entertaining for the entire family, kids and adults alike. Dining here is about so much more than just the food (although the food will certainly not disappoint). Singing, dancing, clapping, racing, and napkin twirling are all part of the experience at this restaurant, all driven by a group of extremely dedicated and passionate Cast Members, and that is what makes it so unique. Dining at Whispering Canyon Café is an experience you will not soon forget. This is the type of restaurant that you go to not only to just have a good meal, but to have a good time, laugh, and enjoy the time spent with family and friends.
Check out Reader Reviews of Whispering Canyon Cafe and post your own too!