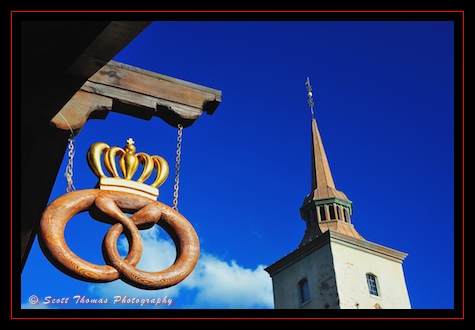 A Polarizer filter was used to deepen the blue in the sky above Epcot's Norway pavillion.
Nikon D700/28-300VR, 1/60s, f/13, ISO 200, EV +0.3, 56mm Focal Length, polarizer filter.
A circular polarizer filter is a favorite of mine. It does two things very well. Removes the haze of a blue sky and create a deep blue color and cuts through reflections in glass and water. No need to adjust later in software either.
It was a the polarizer filter which created the beautiful, deep blue of the sky above the Norway pavillion featured here between the sign for Kringla Bakeri og Kafe and the spire of Restaurant Akershus as my Disney Pic of the Week on Filters.