It wouldn't be a cruise without a food blog, right??? 🙂 Since the cruise was so short, I'm also going to include a couple of meals we had before/after the cruise.
After I arrived Monday night, Deb Wills and I had dinner at Narcoossee's – I'd never been there before. She asked for a window table, which was awesome, because at the end of our dinner we were able to see Wishes from there! Though it was foggy that evening (it had rained heavily earlier in the day) and that obscured the fireworks. Interesting effect, though.
Back to dinner…I started off the the Butternut Squash and Tomato Bisque. It was really good – creamy and nicely flavored. Though if the name hadn't had "tomato" in it I wouldn't have known there were tomatoes in it – I couldn't taste them. Which was fine – it was still a yummy soup.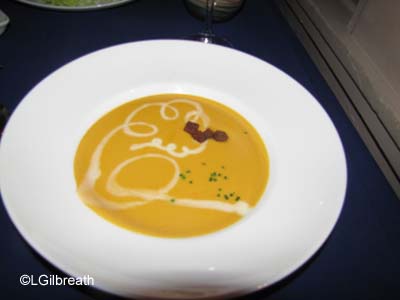 Deb had the Caesar Salad – it was a Caesar salad. 🙂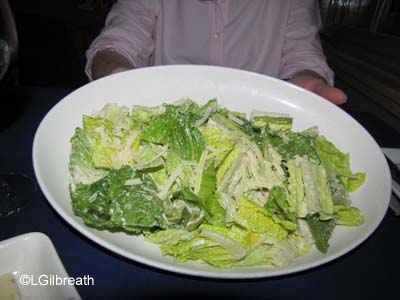 I ordered the Crispy Whole Snapper. Our server Debbie warned us that it was the WHOLE fish – head, tail, fins, bones and all, but I was game to try it anyway. I loved the way it was presented – it looked like it was swimming among some underwater grasses! I had to ask Debbie how to eat it, though – she said to go through the "pockets" that were on the sides. It was a bit of a challenge. It came with a soy-lime vinaigrette, which Debbie said was a little spicy so I asked for it on the side. And I'm glad I did, because it was also full of fresh ginger, which I don't like very much. It was served on a bed of basmati rice and charred green beans with some julienned peppers. The fish was good – nice and moist, but it wasn't great, and it seemed like too much work for too little reward. I wouldn't get it again.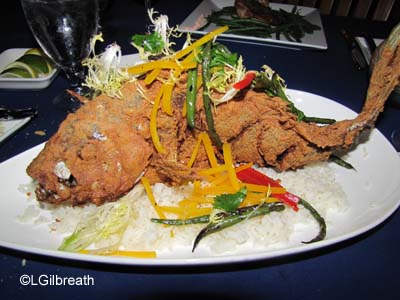 Deb had the Tanglewood Farms Chicken Breast with green beans, and she enjoyed that.
Our "dessert" was watching Wishes from our table – that was a sweet treat all by itself!
The next morning Deb and I met Mike Newell (of Mouse World Radio and the WDW Today podcast) for breakfast at The Wave – another restaurant that was new to me! They have been doing a trial run of offering a breakfast buffet (it's currently scheduled through the end of January, but may be extended if guest feedback warrants it) and we all decided to try that. It's $18.49 for adults which includes coffee and juice, so considering the prices on the regular menu, you don't pay much more for the buffet than you would for a regular breakfast. (Kids are $10.99.) It also offers just about everything that is on the breakfast menu anyway, so we could try a lot of different things. One of the things I enjoyed was the sweet potato pancakes. And the cheese grits were also very good. We had a very helpful server and the food was good – I'd definitely do that again.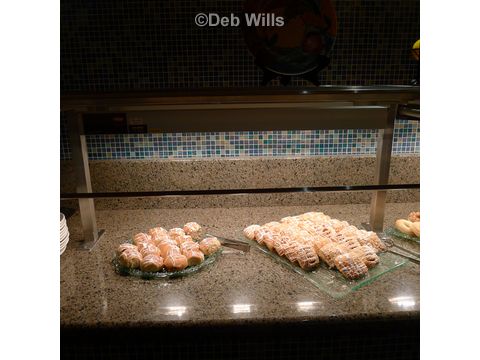 Ok, so *finally* I'm getting to the food on the Disney Dream! 🙂
After we boarded we went to Enchanted Garden for lunch. This restaurant is inspired by the gardens of Versailles, and makes it seem like you are attending a (very large) garden party – eating under vine-covered trellises, surrounded by fountains and greenery. The lighting in the ceiling overhead changes from day to night, but since we were only there for lunch we didn't see that. The tables seemed very crowded and close together.
Lunch was a buffet, with peel-and-eat shrimp and crab legs, salads, fruit, sandwiches, and various hot entrees like chicken, fish, and carved prime rib. Of course we could just help ourselves to the buffet, but we had a hard time getting beverage service – Deb had to flag people down several times (by which point we'd ALL been through the buffet) before someone took our orders. That was disappointing, and VERY atypical.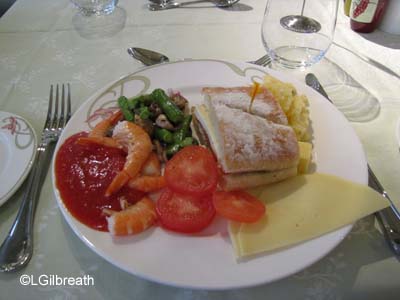 Dinner that night was in the Royal Palace restaurant. This was just beautiful – I loved this inlaid marble floor at the entrance.
It's very elegant with marble columns, crystal chandeliers, and wooden chairs with brocade upholstery. I'd love for this to be my restaurant on a formal night! (Though do they have formal nights on the shorter 3-5 night cruises that the Dream will be making?)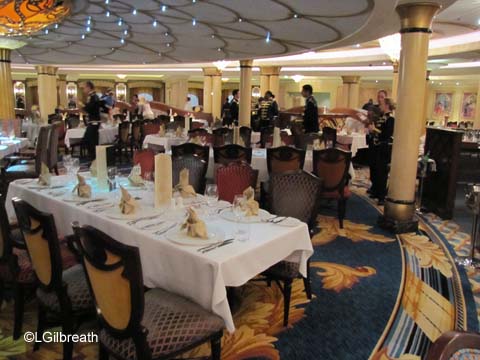 There were three other lively ladies seated with us – Beryl, Carol, and Dawn, and between us we tried just about everything on the menu. The menu is HERE, if you want to follow along.
I remember what I had, but am not really too sure about anyone else, but I'll offer whatever comments I remember that others made about their dishes.
My appetizer was the Double Baked Spinach Souffle – coated with a three cheese cream. This was pretty rich, but very tasty, and I enjoyed it.
For the soup/salad course I ordered Belle's French Onion Soup with gruyere cheese crouton. It was hot and cheesy and a good serving size – not too big and not too small.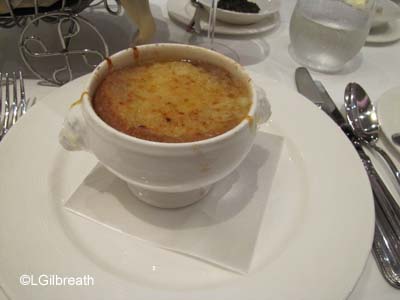 DebK and Beryl ordered the Avocado-Citrus Salad with Iceberg and Radicchio leaves and an orange vinaigrette, but were very disappointed in it. Too much iceberg lettuce and very little flavor in the avocado and vinaigrette.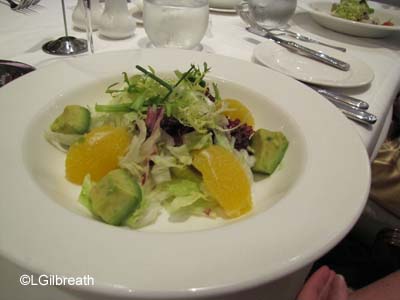 And the Royal Market Green Salad – cherry tomato, cucumbers, peppered goat cheese, and a raspberry vinaigrette was a nice salad. It seemed as though they should have used this lettuce mix with the Avocado-Citrus salad.
My entree was the Double Cut Rack of Lamb with a Dijon Crust with fine green beans, gratin potatoes and rosemary jus. I enjoyed this, though the lamb was just a tad tough. The serving size was fine for me, but a bigger eater would've wanted something more.
DebK tried the Roasted Wild Boar Tenderloin – sweet carrot and onion potato cake with a red currant reduction. Wild boar is something she's had elsewhere, and she said this was good. (It apparently tastes like beef and not chicken. 🙂 )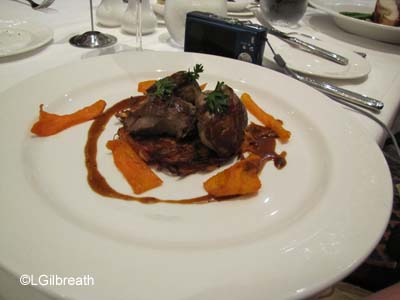 Beryl had one of the signature dishes, Oven-Baked Salmon Royale – Crowned with King Smoked Salmon and horseradish crust accompanied by sauteed swiss chard, truffle-infused cauliflower puree and white wine beurre blanc.
DebW had the Baked Farm-Raised Organic Chicken Breast filled with escarole, raisins, and pine nuts on wild rice with a red wine reduction.
For dessert, DebW and I both had one of the no sugar added desserts, Chocolate Ganache served with Breton Sable and mango coulis. I was very impressed with the no sugar added desserts I had on the Disney Magic last year and often chose them over the regular desserts (for some reason the chocolate dessert was often the no sugar added one). This one did not disappoint – it was chocolatey and rich and really good. I'm getting hungry just thinking about it!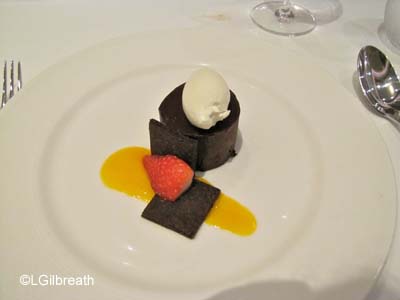 DebK is a creme brulee fan, and really enjoyed her Tahitian vanilla creme brulee. The pink meringue cookie thing really didn't work with it, though.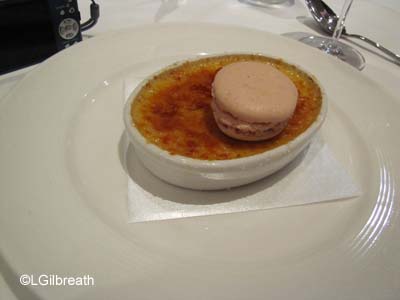 Thursday night was dinner at Animator's Palate. Animator's Palate received a major technological upgrade on the Disney Dream, and is much different than it is on the Magic and Wonder.
I don't really want to spoil the experience for those of you who would like to be surprised, but I think you've probably already heard enough that if I say it's "Disney Dining Meets Turtle Talk with Crush" that won't give away too much. It's definitely a much more interactive experience than ever before. It was a little bit distracting, though – some people might not like that, but I enjoyed it. If you're not at a table along the sides of the room I don't think you'll feel quite as involved, though – so for a change the tables along the perimeter of the room are the desirable ones! I think I like this new version of the restaurant better, but I have to say that I missed seeing the servers become more colorful as the evening went on.
DebK was dining at Palo, and DebW was hob-nobbing with Bob Iger and Tom Staggs (I'm not kidding, she really was!!!), so they missed dinner. Dawn had a business dinner, so it was just Beryl, Carol and me. So we didn't have quite as many items off the menu as we did the previous night.
The menu is almost exactly the menu I had at Animator's Palate aboard the Disney Magic last year with the exception of dessert. When I looked back at my food blog from that cruise, I see I ordered the same appetizers and entree this time! LOL! Well, I'm consistent. 🙂
My appetizer was one of the best things I've ever had on any of my cruises – the Sesame-flavored Rock Shrimp and Caramelized Onion Cheesecake – with Asian barbecue sauce and topped with micro greens. When they bring it out it looks like dessert! It's a very generous serving. I didn't taste the "sesame" flavor in the rock shrimp, but the "cheesecake" is light and flavored with herbs. I enjoyed every bite!
Beryl tried the Smoked Salmon Tartare – capers, onions, and micro greens topped with American black caviar, seasoned with Celtic salt.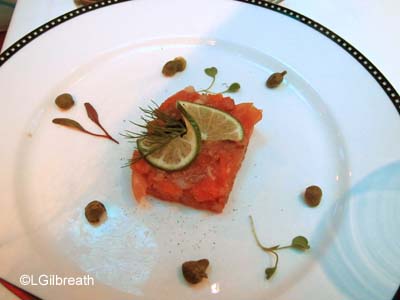 There were two soups that looked good, and since I hadn't had much for lunch and was hungry I ordered both of them. 🙂 The Baked Potato and Cheddar Cheese Soup with bacon bits and chives was very good – not as rich and "heavy" as that kind of soup can be. I really enjoyed it.
But I was disappointed in the Creamy Butternut Squash Soup garnished with chives and drizzled with sour cream. I'd had it on the Magic and liked it, but this was pretty thin and it tasted like squash. (Butternut squash soup NEVER tastes like squash!!!) There were no seasonings that I could taste. I only had a couple of spoonfuls of it.
Beryl ordered the Curly Endive, Arugula and Watercress Salad – sliced peaches, toasted almonds and tossed with a sherry vinaigrette. She enjoyed this much more than the salad she'd had the night before since it wasn't full of iceberg. She did request more dressing, though.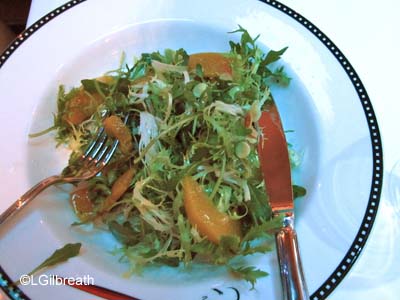 My entree was the Black Bean Chipotle Cakes over corn kernels and brown rice topped with tomato-cilantro salsa. It was really good, though not as spicy as I expected with the word "chipotle" in the name. It was also quite filling.
Carol ordered the Animator's Trio of Veal – Grilled tenderloin, pulled shank and tortellacci pasta with a sun-dried tomato and sage reduction and garnished with a potato crisp. She enjoyed it – she said the pulled veal was especially interesting.
Beryl tried the Marinated Angus Beef Tenderloin carved to order on wasabi mashed potatoes with bok choy and a tamarind-barbecue reduction. She said the beef was very good.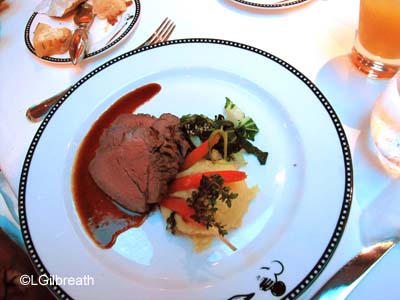 The dessert menu was different than on my Med cruise – I think this one had some more appealing selections. I had the Crunchy Walnut Cake – dark chocolate mousse and raspberry coulis. With a name like that I wasn't expecting it to be a chocolate dessert, but it was, and it was quite good.
Beryl had the Sweet Temptations – trio of Crunchy Walnut Cake, Pineapple Financier and Lemon Mousse.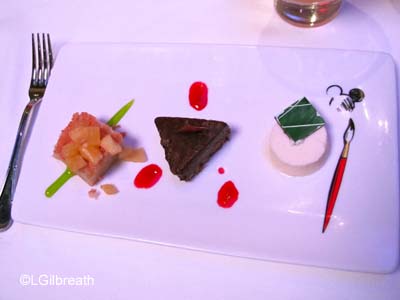 Carol had the Chocolate Brownie Cheesecake – with whipped cream and raspberry coulis.
Our final meal on-board was breakfast back at Animator's Palate on Friday morning. We were the early seating, so breakfast was at 6:45. Yikes. There weren't very many people in the dining room at that hour – none of our table companions were there. I was very disappointed in the restaurant decor – all of the displays were dark when we arrived – not even the "end-of-the-evening" sketches we'd had the night before! Eventually they turned on just the generic "Animator's Palate" logo, though.
The menu for debarkation day is the same in all of the restaurants – it's a pretty typical breakfast menu. Though one thing I always forget on Disney cruise ships is how they serve the hashed browns – instead of fried potatoes they are deep-fried potato patties.
I wasn't really up for a big breakfast, so I ordered fruit, yogurt, wheat toast, and hot tea. (Which is more than I eat for breakfast at home.) Our server said: "That's all?", so I ordered a side of bacon, too. 🙂 I should have said a half side – it was a lot of bacon, and I really only wanted a couple of pieces. I had a couple of pastries, too – a chocolate croissant and a yummy twist with some chocolate chips in it.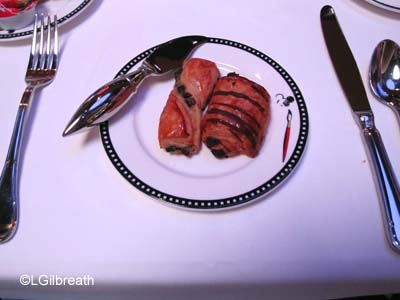 I think Deb and Deb both had the Route 66 – scrambled eggs and hash browns with bacon, grilled sausage, or grilled ham.
Friday afternoon after we'd checked in at our resort we went to Downtown Disney for lunch, to the building that houses Pollo Campero, Fresh A-Peel, and, most importantly, DTD BabyCakes NYC.
I went to Pollo Campero and had their 1/4 Citrus Grilled Chicken Meal. There is a choice of sides (with unusual selections like yucca fries and sweet plantains) and I chose the black beans and white rice. It was really good – the chicken was moist and flavorful. It also came with two warm corn tortillas. The price was quite reasonable, too – $6.99.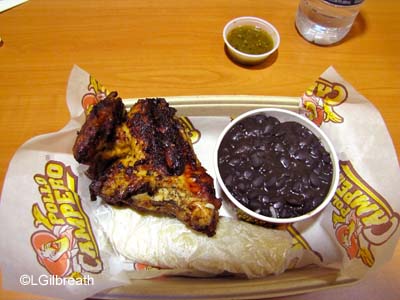 DebK and DebW had lunch from Fresh A-Peel instead. DebK had the Savory Chicken Salad Wrap – citrus grilled chicken, with sweet onion, celery hearts, fresh basil, lemon juice, and black pepper for $5.99. It was very good-sized and she enjoyed it.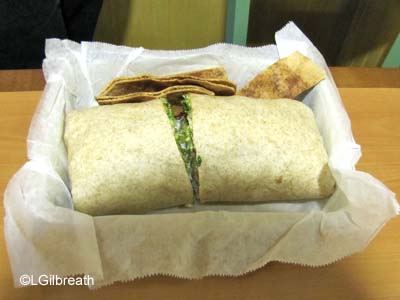 DebW had the Citrus-Grilled Chicken Chop Salad – Mixed greens, roasted corn, red peppers, and black beans with pineapple vinaigrette for $6.99. She'd had this before and likes it.
For dessert we went to the BabyCakes counter (all three are in the same interior space – Pollo Campero and Fresh A-Peel share a checkout area, but you pay at BabyCakes' counter). This is a vegan bakery, so all of their items are dairy free and egg free, but most of them are also gluten free and soy free! You might think they are also taste free but that is completely wrong. Had I not known that everything I tried was "free" of all those things I never would have known. Everything was delicious. They use agave nectar or unrefined sugar as their sweetener. I asked Emily, the manager, what she would recommend for a chocoholic like me, and she suggested the brownie cupcake with vanilla frosting and the chocolate crunch doughnut. They were both terrific, but I think the doughnut was my favorite – it was really more like eating cake. I'd really like to know how they make a yummy frosting without dairy or powdered sugar!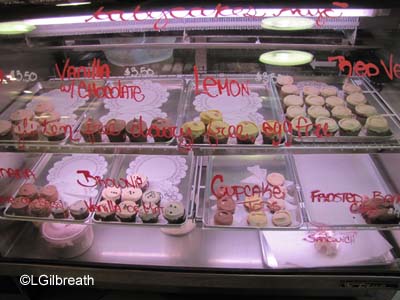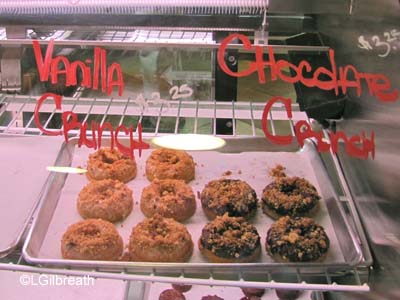 That night we had dinner at the Turf Club at Saratoga Springs. This was kind of a mixed experience – we didn't have very good service, and while I really enjoyed my dinner, Deb and Deb weren't quite as happy with theirs.
I started with the Tomato Bisque – served with Herbed Goat Cheese. It was very good.
My entree was the Sustainable Fish, which was snapper, with whole grain rice pilaf, spinach, and Cherry Tomato Buerre Blanc. It was much better than the snapper I had at Narcoossee's earlier in the week and I really enjoyed it.
Deb and Deb had the Pork Chop – with Three Cheese Casserole and Red Onion Jam. They said the pork was good, but did not care for the casserole, which was pasta shells and cheese.
Since we still had some BabyCakes goodies back at the room we didn't have dessert.
So there you have it – since it was a short cruise we didn't get the opportunity to have dinner in the Enchanted Garden, but I enjoyed the two restaurants that I did experience. And I was happy to have the opportunity to try several restaurants at WDW that were new to me. The best surprise was BabyCakes – we'll definitely be visiting there again.
AllEars was invited media and guests of the Disney Cruise Line on the Christening Cruise.