Wednesday, December 10th.
Instead of today being a relaxing sea day, we were at Castaway Cay (to make up for not being able to dock yesterday).
Here's a view of the Flying Dutchman from our cabin.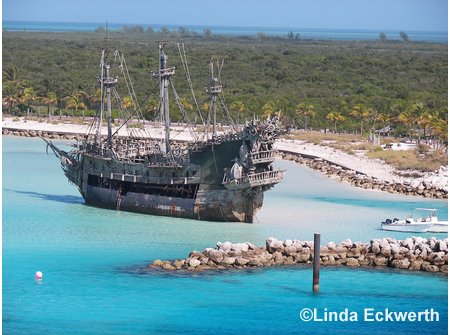 The day started early with the 3rd Annual Walk, Stroll, Roll the Deck to Fight Breast Cancer. Each year, MouseFanTravel.com provides a portion of the proceeds of their October (Breast Cancer Awareness Month) sales to my Avon Walk for Breast Cancer. In addition, $5 per person (max 30) who join us for the Annual Stroll is also donated!
For some unknown reason, it seems that Deb can't quite get up in time to make the walk. She sends her dear friend Ms. Dee Vah in her place. A number of folks who strolled this year were new, so Ms. Vah introduced herself.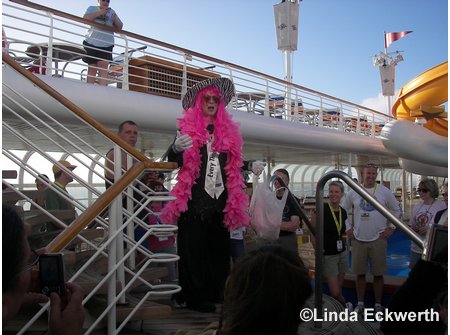 Beci Mahnken, President of MouseFanTravel, then presented Ms. Vah with a check for $1,600 to be donated to Deb's Avon Walk for Breast Cancer Fundraiser!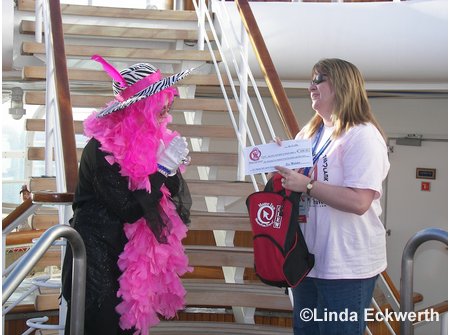 After the presentation, a group photo was taken.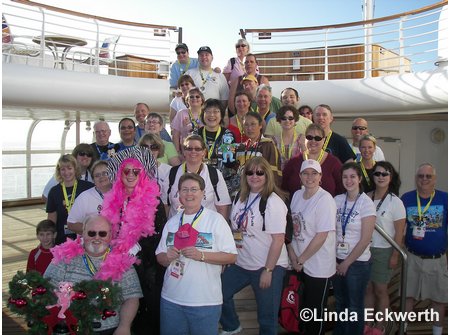 The group then strolled around Deck 10!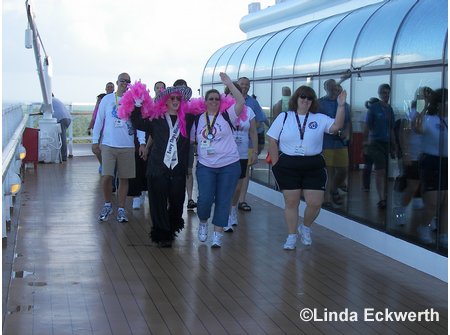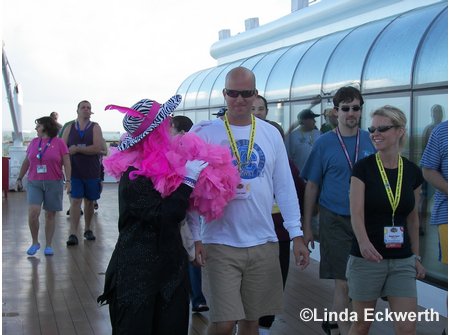 Ms. Vah was available for individual photos after the stroll.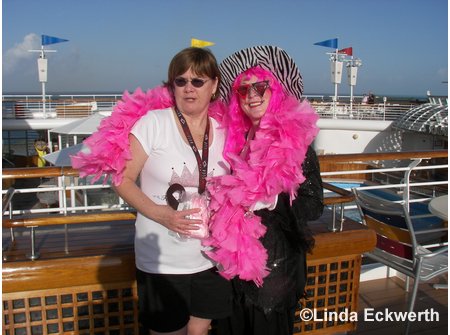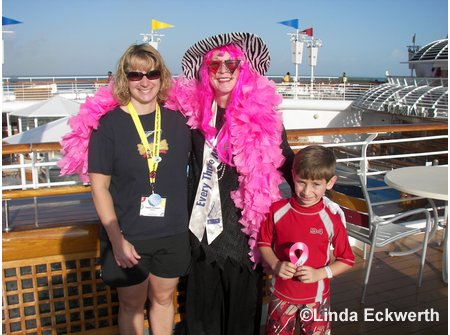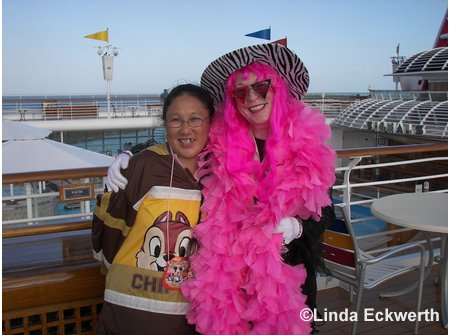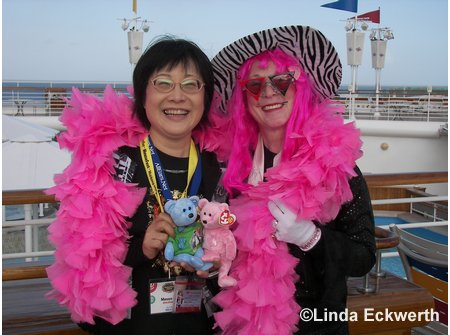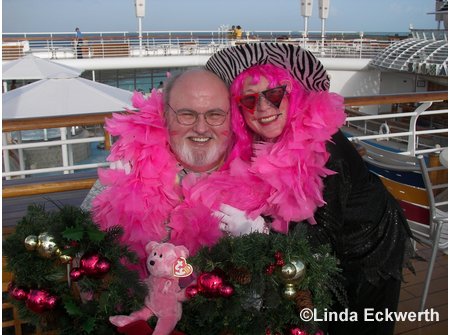 After the walk, folks returned to their cabins to prepare for a day on Castaway Cay.
As usual, it was decorated for the holidays. This year, instead of a snow family greeting everyone, there was a sand family.
Here's LindaLou posing with Minnie in front of the Castaway Cay Post Office.
The Annual MouseFest Parasailing Meet was 10am. We met at Marge's Barges excited about our adventure.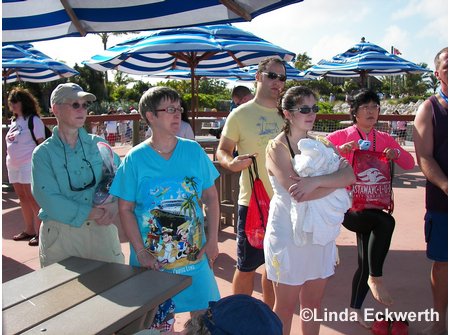 Safety instructions are given: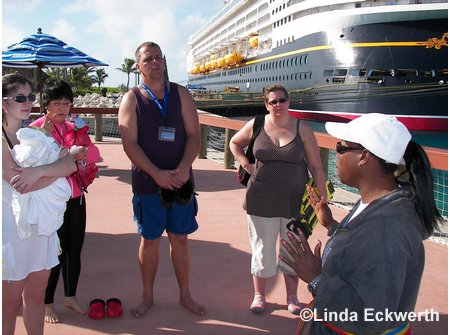 14 of us boarded the boat!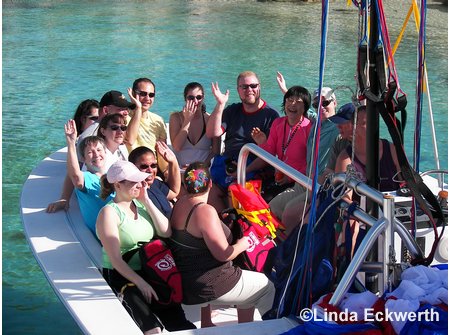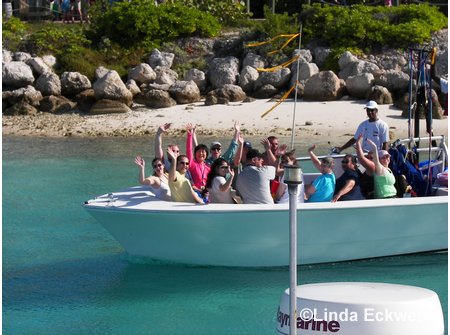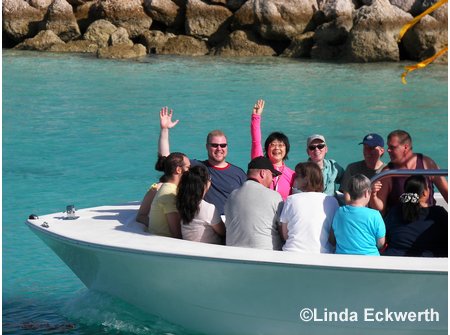 I had forgotten my camera so I have no photos of us parasailing. Hopefully others will be sharing.
The boat captain told us we would all have to parasail tandem (with someone else) because of the winds. So, without much delay, we all paired up. Due to the winds the boat pretty much stayed in one place except when a group was taking off. The winds and high seas caused a few folks to well, not feel so good.
Still, we all floated in the sky for a parasail experience and had a great time. The ride back to the ship was much like a Banana Boat Ride. We hit lots of waves and were totally soaked by the time we got to land. We all hooped and hollered and enjoyed the experience (what else were we to do?)
I quickly returned to the boat to dry off and shower!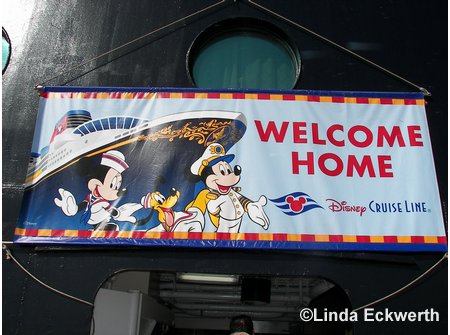 Tomorrow, Part 2 of the Final Day of MouseFest Cruising.