A couple of weeks ago I mentioned a technique called "Dragging the Shutter" when it came to photographing lighting displays at Walt Disney World. This technique is also very useful for indoor photography.
First, let me show you what a typical straight on flash photo looks like. The image below of a chef working his magic at Japan's Teppan Edo restaurant was taken with a Point & Shot type of camera with a flash directly over the lens. While the color is good on the subject, the stark shadows behind him and the very dark background are a bit distracting. What saves this photo is the chef's expression, catching the action while he works and the colors of the food on the cooking surface.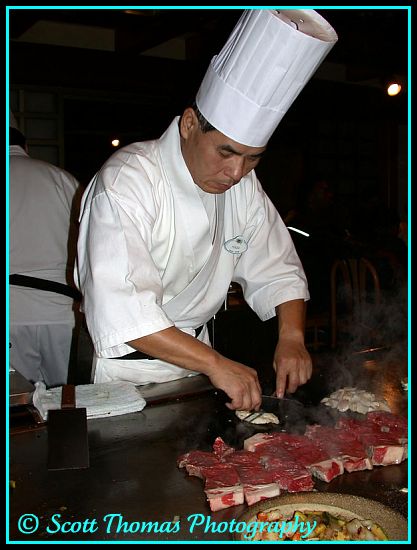 Chef in Teppan Edo restaurant in Epcot's Japan pavilion.
Nikon Coolpix 995, 1/60s, f/2.8, 100 ISO, EV 0
At the Flying Fish Café, I used a flash unit, often referred to as a speedlight, on my dSLR which allows me to move the flash head to bounce the flash off the ceiling. I, then, dragged the shutter by using a 1/40th of a second shutter speed to bring up the light of the background. Flash sync is normally 1/60th of a second. You can see the restaurant in the server's background instead of the very dark looking place seen in the photo from Teppan Edo. The only issue I have with this photo is the light does fall off a little towards the bottom where the plate of food is. A little more light could have been used by either using a slower shutter speed or upping the power on the flash.
Being served at the Flying Fish Café on Disney's Boardwalk.
Nikon D70/18-200VR, 1/40s, f/3.5, 200 ISO, EV +0.3, 18mm Focal length
As I mentioned before, dragging the shutter is used a lot in wedding photography and you can use it to create more natural looking indoor photographs. Remember, when shooting below 1/60th of a second, your subjects will have motion blur if they are not still.
This is a valuable tip at character meals which feature Mickey or Minnie Mouse so you don't loose their ears to the background darkness.
For more on using speedlight flashes, visit these previous blog entries:
Photographic Innoventions: Bounce Flash