Warning: This is going to be a rambling collection of various observations.
On Friday, September 26, the first official day of Disney's HalloweenTime, I made a day trip to DL with my friend Kristin(e). (Spelled Kristin, but pronounced Kristine – got that?)
Weather was beautiful and the crowds were minimal – the longest line we waited in all day was 20 minutes for Toy Story Mania. We practically walked onto Space Mountain at 11:30 that morning. And even Soarin' and Grizzly Rapids had less than 15 minute standby lines – we really didn't need Fastpasses, though we used them a few times. (Since it was Friday, I'm sure crowds at Disneyland picked up in the afternoon/evening, but we left at 6:00, so we missed that.)
Disneyland continues to have big problems with the Indiana Jones attraction – it was down when I was there last month, and it was down when we walked by it just after park opening. We went back later and it was up, and we got as far as getting into our jeep and belted in – and then it stopped. And after a few minutes the lights came on. And then they started sending Cast Members into the attraction to walk people out of it (which would have been really cool, but we weren't in the attraction at all!) They gave us a Fastpass to return later, which didn't end up happening, but Kristin gave it to a group of very nice young teenage boys who rode Grizzly Rapids with us. Anyway…seems like Indy is in major need of an extended rehab.
Haunted Mansion Holiday is back, and still a lot of fun, though I didn't notice any new additions to it this year. But I took a few movies inside (movie mode on my camera handles low light a lot better than still photography!) and noticed something I'd never noticed before: the gingerbread coffin on the table in the ballroom scene has a lid that opens and closes, with a gingerbread man corpse that sits up then lays back down! The scent of gingerbread in the air is a nice touch.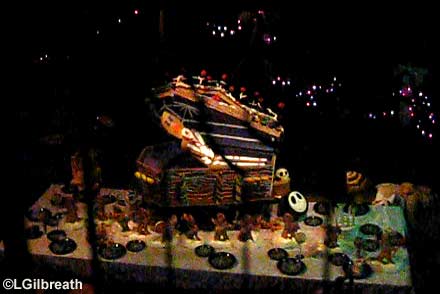 Other things that have returned in Disney's HalloweenTime:
The Halloween displays along the tram route.
The huge pumpkins over the Disneyland park entrance, and the large Mickey pumpkin in Town Square.
The Dapper Dans on Main Street in their orange and black striped vests
Woody's Halloween Roundup in the Big Thunder Ranch area, with live shows featuring Woody, Jessie, and Bullseye – and your host, Tex Tumbleweed (and sponsored by Cowboy Crunchies!)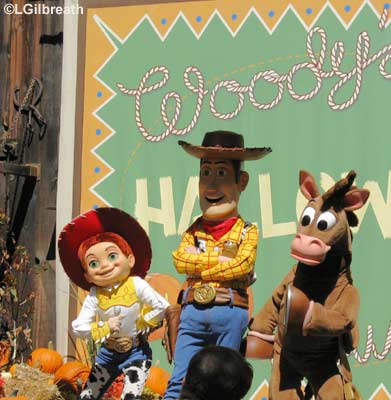 Free coloring crafts for kids at Woody's Roundup, or there are bat and pumpkin-shaped Halloween cookies available to purchase and decorate.
The pumpkin carver at the Roundup
Special menu and food items – especially sweets like Halloween-decorated apples and cookies.
Lots of Halloween merchandise – both quite a collection of Nightmare Before Christmas stuff and Disney Halloween plush, pins, Mickey ears, etc.
Goofy's Candy Corn Acres at DCA, which features character greetings and "corny" shows.
Over at DCA, one thing that is NOT back this year is the Halloween decorations around the Tower of Terror – the last couple of years there has been a glowing-eyed bat banner outside, and decayed Halloween party decorations inside, but those were missing this year. Golden Screams has also not returned.
I collected menus from some of the Disneyland and DCA restaurants, and there have been some significant changes in the Blue Bayou lunch, dinner, and kid menus. Price is up, of course. Cafe Orleans also has a few changes, though mostly in their dessert items and the kid's menu. I think the kid's menus were changed just about everywhere that I looked. More "healthy" options – like a turkey dog, or string cheese, fruit, and yogurt, or a turkey wrap. All kid's meals come with fruit (e.g. grapes or apples) though parents can request chips or fries. Prices have gone up slightly – most kid's meals start at $6.99 now – and the price of the Arroz con Pollo Toddler Meal has gone up from $2.99 to $3.99.
Ariel's Grotto had the most significant changes, though – they have completely redone their menu with more of an Italian theme. It actually looks a whole lot more interesting to me – I might actually consider eating there now. They've also changed their pricing – $29.99 if you eat outside, and $31.99 if you eat inside. (Sorry, I didn't get a kid's menu for Ariel's, but maybe someone has one they can photograph and send to me???)
Some of the updated menus:
Blue Bayou Lunch
Blue Bayou Dinner
Blue Bayou Kids
Cafe Orleans
Cafe Orleans Kids
Tomorrowland Terrace (updated kid's menu)
Ariel's Grotto
Wine Country Trattoria Kids
(You can always find all the menus on our Disneyland Menus page.)
We had a very nice lunch at the Wine Country Trattoria at DCA – that's one menu that had NOT changed at all. With the demise of the Vineyard Room, that's my favorite park table service restaurant now. Kristin had the Tuscan Salad and I had the Chicken Bruschetta Salad. They were both really good.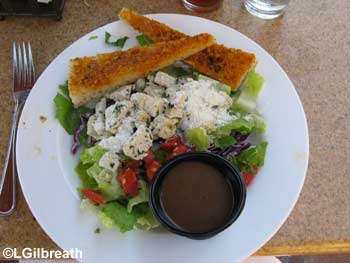 An unexpected surprise – I ran into my IRC friend JD in line at Soarin'. I knew he had an upcoming trip to Disneyland, but thought it was in October. After Soarin' we all went to Grizzly River Run – JD and I got drenched, but Kristin escaped most of the water. It was nice to see JD!
Toy Story Mania continues to be way fun – Kristin had never been on it before but she had a good time, and she scored very well – better than I did my first time!
(If anyone would like to help with All Ears menu updates for Disneyland, please let me know – it can be as simple as taking a picture of a menu and emailing it to me. You can contact me at laurag at allears dot net)
Have you visited the Disneyland Resort recently? Share your experiences in our Disneyland Rate and Review Area!