MouseFanTravel President Beci Mahnken was part of the first ever Adventures by Disney Backstage Magic Tour!
Day 5 – Behind the Orange Grove
It was a late night last night and the alarm came early again to ensure we made the 7 am meet time. But who could resist all the rides just begging to be queued up for? I mean, we can always sleep after vacation, right?
The day begins at a favorite character brunch spot, Goofy's Kitchen at the Disneyland Hotel. This is a buffet that features all of the normal breakfast fare, plus some items you may not want to try – ever. Brad was a brave soul and jumped feet first right into trying the peanut butter pizza. While others in the group started out on the right track with fruits, etc, but then realizing they had left their own kids at home, went right for the soft serve ice cream!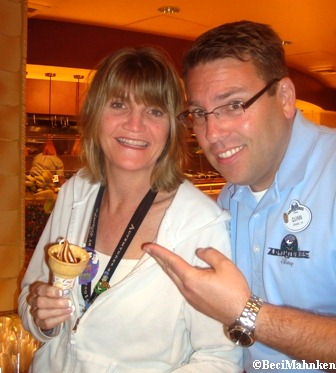 We enjoyed the company of lots of characters, besides our table mate of course. (as you can tell the group started acting like a big family of brothers and sisters having fun on mom & dad's credit card) Alice, among others, stopped by below to sign Brocks autograph book. We also saw Baloo and even Goofy made a special trip away from his chef duties to say hi too!
After breakfast it was off to the resort entrance to Disney's California Adventure. We arrived at the gate well before park opening and the guides led to our first stop on today's journey, Soarin Over California! Park closed – nice. This really is the ultimate Fastpass. We load in two bays for the ride then before the pre-show, one of the groups were told they are going on a different adventure – backstage! Our group gets on the ride and we enjoy one of my favorite attractions on property. Once our ride was over, the other group was loaded into their hang glider – slash – giant erector set – and we were escorted behind the scenes to watch our comrades from a very unique perspective – under the screen! It was truly remarkable and has to be seen in person to really appreciate it.
Once everyone had exited the building we were met by a Soarin cast member who gave us some background on the attraction and showed us the source of those wonderful pine and orange scents we experience as we fly over the state. They poured a few of the yummy-smelling little beads in a cup and passed it around. We were given the ok to touch them which had the consistency of a hard gel like substance but they were really quick to ensure they got all of them back before we left.
We said goodbye to our new friends at Soarin and made our way across the empty park to the Hollywood Pictures Backlot area. As we crossed the plaza we saw the main gates in the distance with a line of people waiting to get in. It's great to be in an empty park!!!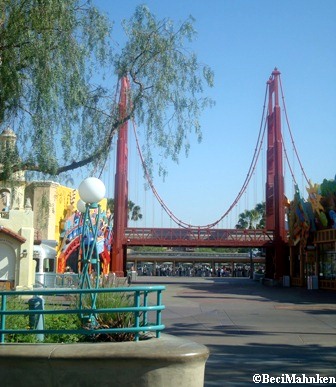 Our next stop – Disney Animation. We paused to view a special welcome message and take a group shot.
Once inside we were treated to a special visit with everyone's favorite Turtle, Crush, as well as a lesson in how to draw Mickey at the Animation Academy. Personally I can barely draw anything beyond a stick figure so I tapped Jim to put his wonderful work of art on display for the picture below. They had tubes waiting for us to collect our works of art so we could take them home and proudly display them above the fireplace. Jim, yes. Me, no way? Mine was neatly folded and stashed in my backpack to be disposed of later in the closest recycle bin. Art just wasn't my calling – a lesson I learned early in life while playing with those art tests in the back of the TV guide.
And Disney being, well, Disney, they will find any excuse to celebrate something and make a guest feel special. This time they had ears for the folks celebrating a birthday in April and May. Here are three of the people who are getting old this month!
The rest of our afternoon was scheduled on our own, so I was able to talk a few brave souls into coming along with me to my other favorite ride – The Tower of Terror. It was Haydee's first ride (check out the faces on these victims – errr – lucky guests) and we made sure she was in the front row so no amount of eye closing was going to take any of the fun away.
Michelle on the other hand… is this really the same Michelle who played mountain goat on the rim of the Grand Canyon on our Southwest Adventure and giggled at the rest of us for having heart failure watching her? REALLY? Because the way she was holding onto my arm on this ride, you'd' swear she was actually scared of falling or something.
I am happy to report that according to the ride pic, Haydee was brave enough to let go at least once, with at least one arm. And Michelle didn't leave a bruise on my arm, much to my surprise.
We had the rest of the afternoon to relax and enjoy the parks, the resort, the pool, nurse our feet, nap, write blogs, or in my case, run around like a mad woman looking for boxes to ship my loot from the Mickey's of Glendale safely home. Quinn had anticipated my challenge and went out of his way to have some boxes available at the business center that would do the trick. I spent some time packing and taping boxes to fedex back home and they should arrive by Thursday. It will be like Christmas, or more accurately, a game show of how many shirts and collectables can you grab in 30 minutes all over again!
Later that evening, we met one last time at the sorcerer hat at Disneyland Hotel to walk as a group to our Farewell Dinner. This is always a bitter-sweet event because it means the adventure is almost over. The venue was Sleeping Beauty's Pavilion above Goofy's Kitchen with floor to ceiling windows overlooking the hotel pool area. The tables were decorated with old movie reel centerpieces and the festivities began just as the sun began to set. Dinner was a buffet style with plenty of choices – including pasta, meats, salads and of course dessert – along with wine, beer and soda to wash it all down.
The group was very excited to learn that we had a special guest in attendance for the evening. Disney Historian, Stacia Martin would be taking requests to draw the favorite characters of the Adventures by Disney guests. wow! We got in line and put our names on the list while each of us really had trouble trying to decide on just one! Mine was Sorcerer Mickey. He reminds me of my Daddy who loved Fantasia – so that would be an easy one for me.
When I hear my name, we are asked to come forward and be introduced to Stacia. She invited each person to watch and talk with her as she created her original art just for you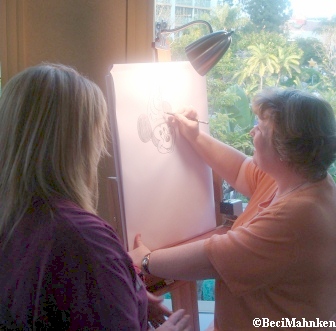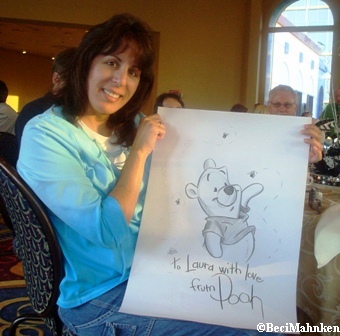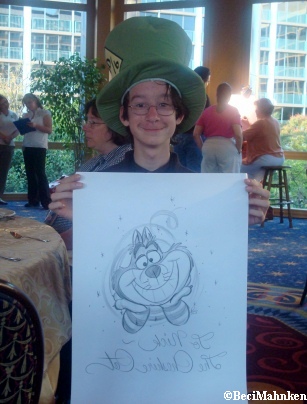 As the dinner winds down its time to go around the room and tell everyone what their favorite moment has been from the trip. It's amazing how many people change their answer from day 1 when they ask – what are you looking forward to most.
Quinn and Diana have a special 'goodnight kiss' for us too. They have prepared a video of memories from the past few days. It's amazing that it seems like weeks ago that we were in Hollywood and now it's just about over – after a couple more pictures of course!
Mickey and Minnie stopped in to say goodbye to the group and take photos for another keepsake to remember the adventure.
But wait! It's not over yet! We still have a fireworks show see!
Someone grabs the sign – which is now a requirement for someone to have anytime we go anywhere in a group – and off we go to a VIP viewing spot in Disneyland. They has a roped off area at the Plaza Pavilion which offered an ok view of the action including Tinkerbell's many flights over the crowd and around the castle. It did have some obstruction issues but it was a fair trade for not having to fight the crowds for a spot.
After the show, we all went out exploring on our own. Some headed back for the hotel while others took our stack of FastPasses to see how many more rides we could fit in before we have to say goodbye in the morning.
Who's up for Haunted Mansion? Then Big Thunder, and of course we have to go on Space Mountain again right? hmmm. It is late, maybe Fantasyland will be light on crowds! We finished the night with the classics – Mr. Toad's Wild Ride, the Storybook adventure and Dumbo was our nightcap.
It's been a great day!
Tomorrow, its time to say Goodbye.
Read Beci's Entire Backstage Magic Blog!
Beci Mahnken is the President/CEO of MEI & MouseFanTravel.com . To date she is a veteran of 3 Adventures By Disney trips, more then 40 cruises including 16 with Disney and countless Walt Disney World and Disneyland adventures. Read her blog on the London and Paris Adventure by Disney.