MouseFanTravel President Beci Mahnken was part of the first ever Adventures by Disney Backstage Magic Tour!
Day 6 – It's Time to Say Goodbye
Once again the day begins with the 5:30 am wake up call. I decide to snooze for awhile until I remember I have to pack and get ready for the luggage pick up and I do not want to be too late to breakfast. This will be my last chance to hang out with all these people who have become good friends just over a matter of days.
Today we are invited to the Chip & Dale Critter breakfast at Storyteller Caf̩. Since we do not have a schedule to keep except to meet our transportation to the airport, we can show up at our leisure anytime between 7 am Р9 am. I manage to get my act together and join in on the fun around 8 am.
Unfortunately some of the adventurers had early flights so I missed saying goodbye – err I mean – till we do another adventure. (I am just not a fan of goodbyes). So we enjoyed a wonderful buffet breakfast and did the ritual exchange of email addresses saying we all hope to keep in touch. There were lots of hugs around the room with the occasional interruption by Chip and/or Dale to bring a bit more fun into the mix.
Some of the travelers had autograph books they asked others to sign and the guides also had a memory book that we could record some thoughts on our adventure. Sadly it was coming to a close. I hugged Michelle and off she went to catch her transportation to the airport. Others went to catch their rides too but some had time to kill and went to the parks. I had to go pack.
When I was ready to leave, I sent a text to the park goers who were now back at the hotel. They came down to the lobby to say goodbye one more time. Quinn and Diana met me outside as well and had my bag ready to go. The town car was a little late so it gave us all a chance to chat some more. A few minutes later, we were back to goodbye – err – see ya soon hugs, and I was off to the airport to catch my flight.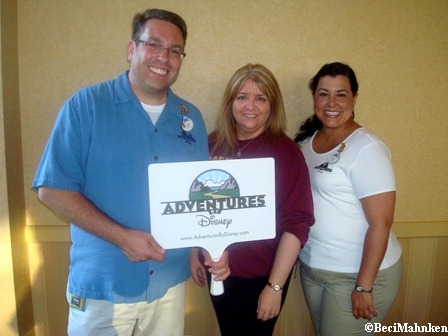 On the flight back to home I got to thinking about the times I have been in the company of die hard Disney fans. When the topic of those true 'behind the velvet rope' experiences come up – like being immersed in the creativity of Imagineering, or the history of Walt's Apartment, etc – Many people would say they would do about anything for those experiences. Well, now here is your chance.
One of the objections I hear when talking with clients about taking an Adventure By Disney is that its so expensive. But when you consider what you get – hotel, most of your meals, transportation, sure. But it's the special, unique experiences that you can't really put a price on – it is worth every penny and then some.
Behind the scenes tours like Jimmy Kimmel Live, The El Capitan Theater, and the rare opportunity to be inside the gates and visit Jim Henson Studios and the Creature Shop.
To visit the birthplace of the ideas and witness the creative process from inside the walls of Imagineering, as well as inside the barn where Imagineering took its first baby steps. To walk through the halls of the animation building where so many of the classics were born at the Walt Disney Studios.
To visit the apartment and see the view from Walt's perspective as he perfected the art of creating magic. All of these experiences allow the individual to truly walk in Walt's footsteps and see his world from his eyes. wow.
And if that wasn't enough value, there is shopping at Mickey's of Glendale!!
ok, I couldn't help myself there.
What I meant is …
The value of new friends and those little moments that just happen
– Sing-alongs on a bus with a bunch of people who you didn't even know 2 days ago – not to mention the standing ovation onboard.
– Sharing our favorite Disney books with a group over breakfast – (thanks Brent & Nick)
– Realizing you are simply a group of lemmings because not only will you follow a paddle sign, you will also follow the tallest guy in the group if he holds his hat in the air.
– Watching everyone turn into happy squealing 6 year olds at 'pin time'. (yes another little bit of Disney magic!)
– Talking my new friends onto the Tower of Terror not once – but twice even though a couple of them where not so sure they would live through the experience. The good news is Tracey and I have a date in December to go again when we are both in WDW later this year.
– Having a new appreciation for "daisy's eggs". (thanks scott, I think)
– Being able to baby sit Stitch for an hour or so. (thanks brad)
– Being reminded that not everyone has been to Disneyland and getting the opportunity to see a family and a few others experience the original park for the first time. That is an experience in itself.
– Realizing that you and your new friends are living proof that you are never too old, or too young, to be fascinated by a muppet, or to appreciate the magic.
I could go on and on and so can the group. Since I returned the email bin has been buzzing with everyone sharing their pics and favorite memories. All of this was not only worth the cost, but in the end, it was priceless.
I would like to end by saying thanks to all the guests who shared the experience with me and made it memorable, the guides for making it extra magical and to follow along my usual tradition of waving to Walt as I leave the park – to say thanks for setting such a high bar and making magic that just keeps getting better everyday.
Till Next time.
Read Beci's Entire Backstage Magic Blog!
Beci Mahnken is the President/CEO of MEI & MouseFanTravel.com . To date she is a vetran of 3 Adventures By Disney trips, more then 40 cruises including 16 with Disney and countless Walt Disney World and Disneyland adventures. Read her blog on the London and Paris Adventure by Disney.