Swashbuckling Pirates Magic Kingdom Archives
Through Saturday, September 27, 2003, a comedic-musical trio of Swashbuckling Pirates is performing in the Magic Kingdom's Caribbean Plaza (near the Pirates of the Caribbean ride).
All Ears® reporter CeeBee happened upon the new act on Saturday August 15th.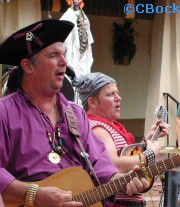 Aarrrrgh, Mateys! While wandering through Adventureland, I happened upon the Swashbuckling Pirates. The trio entertained the crowd with pirate-related jokes and riddles and songs of the sea. They ended their show with a rousing rendition of "Captain Jack Sparrow's favorite song." Those of us who knew the words, sang along…"yo ho, yo ho, a pirate's life for me!"
The show was lively and the audience was quite enthusiastic. The pirates did hang around for a few minutes after their performance for photo opportunities. You can catch the Swashbuckling Pirates outside the entrance to the Pirates of the Caribbean. Stop by and welcome them to Adventureland!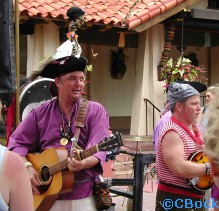 The swashbucklers sing sea shanties and tell tales six times daily, Fridays through Tuesdays, at the following (tentative) times:
11:30-11:50 a.m.
12:30-12:50 p.m.
1:30-1:50 p.m.
2:30-2:50 p.m.
3:30-3:50 p.m.
4:20-4:40 p.m.