The Bakery Tour Hosted by Boudin Bakery® Pacific Wharf Disney's California Adventure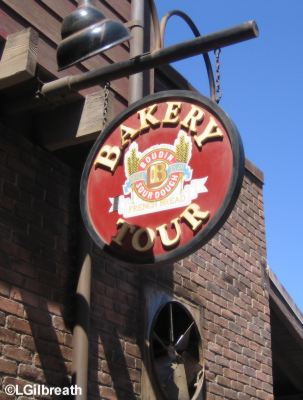 Introduction | Attraction | Touring Tips | Dining | Shopping | Interesting Facts
INTRODUCTION
Learn how San Francisco's famous Boudin sourdough bread is made in this narrated walk-through bakery tour.
ATTRACTION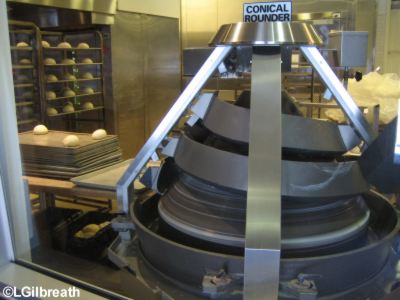 Upon entering the building there's a pictorial display of Isidore Boudin and the original bakery. The tour's hosts, Rosie O'Donnell and Colin Mochrie, appear on a video screen to present a brief introduction before the doors open to a series of glass-walled rooms looking into the bakery itself. Rosie O'Donnell and Colin Mochrie continue to provide amusing commentary as the tour passes by the rooms where the dough is mixed, proofed, formed into loaves and eventually baked.
TOURING TIPS
A Cast Member passes out bread samples either just outside the building or right inside the entrance.
There's no line for this attraction, but there may be a short wait outside until the previous group enters the bakery area. Once inside the bakery either wait at each video screen while listening to Rosie and Colin, or simply stroll through at your own pace.
The tour is completely accessible for wheelchairs and ECVs.
Assistive listening devices may be used. Captioning is available – contact a Cast Member for assistance.
DINING
Pacific Wharf Cafe, which is just behind the bakery, uses loaves of bread baked in the bakery for their sandwiches and their soup and salad bread bowls.
Restaurants At A Glance
Menus from the Disneyland Resort
SHOPPING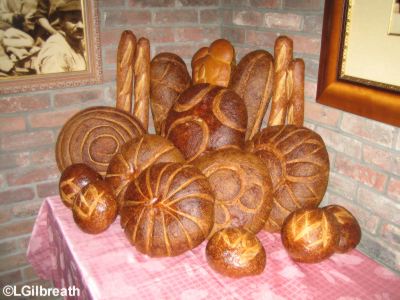 Boudin sourdough bread baked at Disney's California Adventure may be purchased at the Pacific Wharf Cafe and at the Fruit Stand near the bakery. In addition to the round loaves, loaves shaped like Mickey's head are also available.
INTERESTING FACTS
The Boudin Bakery in San Francisco has produced sourdough bread for over 150 years. The "mother dough" was developed by French baker Isidore Boudin in 1849. The bacteria found in the mother dough is unique to San Francisco and has the scientific designation lactobacillus sanfrancisco.
The bread's only ingredients are: unbleached flour, water, salt, and a portion of the mother dough.
If you have comments or tips to share with others about touring Disney's California Adventure, please email us. Thank you.