A Cruiser's Dilemma: Eastern Caribbean Vs. Western Caribbean, Part II
by Mike Dion
AllEars® Guest Columnist
Feature Article
This article appeared in the August 24, 2010 Issue #570 of ALL EARS® (ISSN: 1533-0753)
====================
EASTERN CARIBBEAN PORTS
====================
The Eastern Caribbean is made up of mountainous, rain-forest covered islands that offer fantastic hiking, snorkeling, beach-going, and, of course, duty-free shopping. Eastern Caribbean cruises offer a more relaxed pace with 3 unique ports as well as three days at sea. Since there is more time at sea, DCL will often bring aboard speakers (such as a Walt Disney Imagineer or Disney artist Don "Ducky" Williams) or offer special presentations on various Disney topics. I really enjoy the Eastern Caribbean itinerary and the amount of time onboard it gives. Usually on vacation (Disney) you spend so much time running around you forget to kick back and relax. The Eastern Caribbean gives you plenty of time to get to know the crew and the ship, and have a lot of fun onboard. And of course, you get plenty of time ashore to explore three beautiful islands.
St. Maarten, NA: St. Maarten offers the opportunity to explore two distinct cultures on one island, as half the island belongs to France, and half belongs to the Netherlands. The Dutch side of the island, where the Disney Magic docks, is known for jewelry, nightlife and snorkeling; whereas the French side is known for upscale shopping, natural wonders, and beautiful beaches. Whichever side you decide to explore, St. Maarten is a beautiful island with great experiences around every bend.
Sample DCL Port Adventures:
Under Two Flags Island Tour: On this three hour guided tour, learn the history of the island while exploring both the French and Dutch side. This tour provides time to shop on both sides of the island. This is a good tour for those wishing to get an overview of the island, while still having time to explore.
Mountain Top Downhill Rainforest Trek: On this excursion, board a safari truck to ascend St. Maarten's highest point, Pic Paradis. Once at the top, hike through St. Maarten's rainforest, stopping to check out the local flora and fauna, as well as get some beautiful photos of the island. This excursion is great for anyone looking for a little adventure during his or her cruise.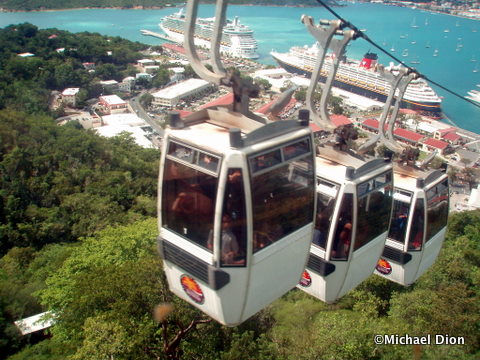 St. Thomas, USVI: As one of the most popular cruise ports in the world, finding something to do won't be a problem — choosing what to do will be. This colorful tropical island has a lot to explore, while also providing an opportunity to check out the neighboring island of St. John. Take a cable car ride to the top of Paradise Point for a breathtaking view of the island, snorkel the colorful reefs of St. John, or peruse some of the best duty-free shopping in the Caribbean. With secluded beaches hiding among coves, lush rainforests, and crystal clear water, St. Thomas offers incredible opportunities to explore and discover, kick back and relax.
On my recent visit to St. Thomas, we bought tickets to Paradise Point through DCL (it's surprisingly cheaper through DCL than at the tram station) and rode the tram to the top of the mountain. Pictures and words cannot do this view justice. After walking up to the observation point, we spent a few hours at the restaurant on Paradise Point, enjoying the incredible view and watching some other ships navigate their way in. From there we spent some time shopping and then headed back to the ship.
Sample DCL Port Adventures:
St. John Mini Boat Adventure: Travel to the island of St. John, 2/3 of which is a US National Park, where you will have the opportunity to pilot your own two-person miniboat. You will be able to explore the northern coast of St. John, and spend some time exploring the undersea world at two unique snorkeling locations teeming with marine life. This excursion is perfect for those looking for some adventure.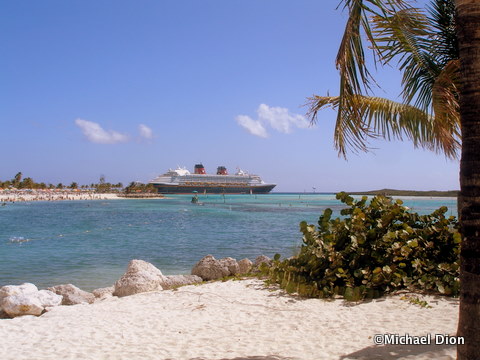 Magens Bay Beach Break: An open-air safari vehicle will pick you up from the ship and take you by several island sites before arriving at Magens Bay. You will have several hours to enjoy the picture perfect, half-mile beach and relax under the Caribbean sun. This excursion is perfect for families and anyone wanting to enjoy a perfect Caribbean day.
Castaway Cay: Every DCL Caribbean cruise ends with the ultimate finale, a visit to Disney's private island paradise: Castaway Cay. This is the Bahamas as only Disney can do it. Relax on the white sand beaches, spend some time snorkeling, get a massage by the beach, or take a ride down Pelican's Plunge slide. Enjoy a barbecue lunch (included with your cruise), and then go for a bike ride to explore the island. There is even a separate beach just for adults. Castaway Cay has so much to do, you will never want to leave.
=========================
FINAL THOUGHTS
=========================
Both itineraries offer an incredible vacation opportunity with a perfect blend of relaxation and adventure. Whether you go east or west, there is something for everyone. My personal favorite is the Eastern Caribbean. I really enjoy cruising for the sake of cruising when I am in the Caribbean. DCL has fantastic entertainment offerings onboard, and I love spending time getting to know the crew and meeting fellow passengers. The extra time at sea and the incredible islands make the Eastern Caribbean my favorite itinerary. Consider what works best for your family as well as the following thoughts. Happy sailing!
For those prone to motion sickness, the Eastern Caribbean tends to be a bit choppier since the ship crosses open ocean.
The Eastern Caribbean itinerary tends to be more relaxed than the Western Caribbean itinerary since it has an extra day at sea.
The Western Caribbean offers more time in port, while the Eastern Caribbean offers more time onboard.
If you are interested in history, the Western Caribbean may be a better fit.
For nature lovers, the more rugged terrain of the Eastern Caribbean offers a few more options.
If you like shopping, you can't go wrong with either itinerary.
For seniors, I would recommend the Eastern Caribbean itinerary as it has a more laid back pace, and a wider variety of tame shore excursions.
For college students, head to the Western Caribbean. This is definitely the Spring Break party zone.
For families, either side of the Caribbean offers great options. If your kids plan on spending a ton of time in the onboard kids clubs, take the Eastern Caribbean for the extra sea days. If your kids want to spend more time exploring, take the Western Caribbean for its significant port time.
=-=-=-=-=-=-=-=-=-=-=
RELATED LINKS:
Mike Dion has written other articles about Disney Cruise Line for AllEars.Net:
The Suite Life:
http://land.allears.net/blogs/guestblog/2010/02/the_suite_life_staying_in_styl_1.html
Castaway Cay Enhancements:
http://land.allears.net/blogs/guestblog/2009/12/castaway_cay_enhancements_prep_1.html
Disney Cruise Line for the College-Age Crowd:
http://allears.net/cruise/issue547.htm
Rate and Review your Disney Cruise Line Experiences or read about others':
http://land.allears.net/reviewpost/showcat.php?cat=73
=-=-=-=-=-=-=-=-=-=-=
About the Author:
Mike Dion is a junior at the University of Florida (UF) pursuing a bachelor's degree in Finance. Born in Grand Rapids, Michigan, he fell in love with Walt Disney World on his family's many trips to Orlando. In 2002, he and his family moved to Orlando and have been WDW annual passholders ever since. Mike took his first cruise on the Disney Wonder in 2006 and has since taken 14 cruises, 10 on Disney Cruise Line. During the school year Mike performs improv comedy at UF.