Disney World hotel pools can be an incredible break from the parks to soak in the sun, lie down and relax a little, and spend time with those that matter most to you (or escape them, we're not here to judge).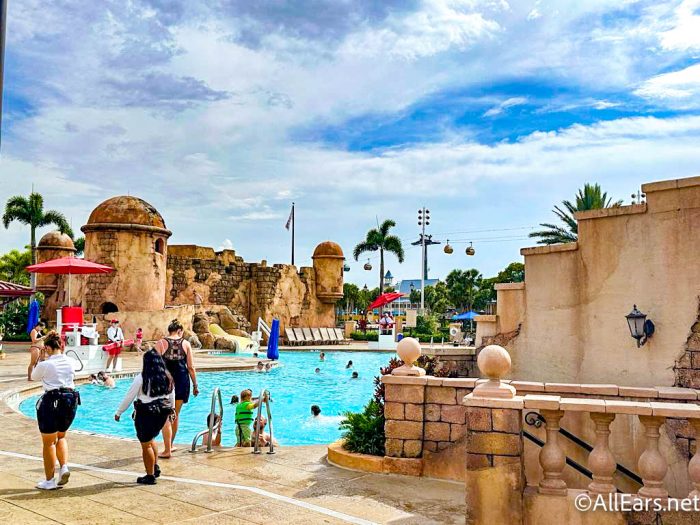 When choosing your Disney World hotel it can also be a major factor in your decision on where you choose to stay. However, if you choose to spend some of your next vacation anywhere near the hotel pool, there are a few things we'd like for you to keep in mind!
Nothing says "relaxing" quite like being able to make your own plans for your vacation, but what if we told you that sometimes there are rules to follow for even the simplest forms of entertainment, like spending a few hours out at the pool?
If you're looking for a travel agent to help with your vacation, we recommend our friends at Mouse Fan Travel. They're experts in the field with over 20 years of vacation planning experience, and they can help take a bunch of the stress out of the entire booking process for you!


Now, we're here to remind you of 7 important things you really need to be aware of if you're visiting your hotel's pool on your next Disney World trip.
Don't Leave Your Kids Unattended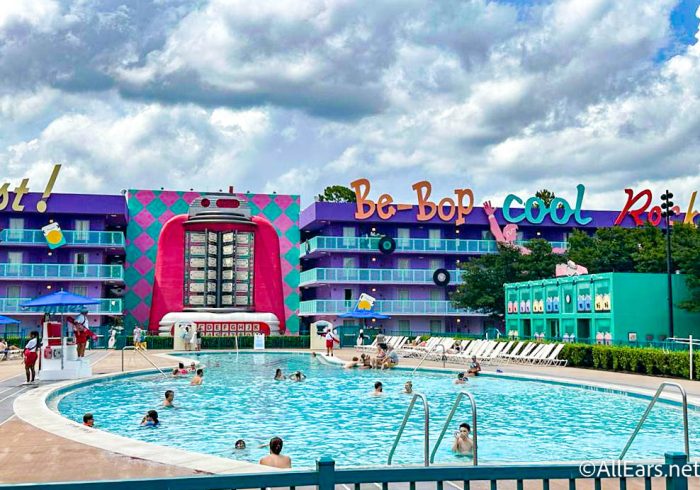 This one (should) be fairly common sense but when you're in Disney sometimes we just feel so safe that caution can go out the window. Make sure you're keeping close tabs on your kids in and by the pool. Not only do you still need to be very aware of strangers, but even a slip and fall on the pool deck could land you in the urgent care or emergency room and end up detouring the rest of your vacation plans.
Also, if you have kids in the pool, remember to talk to them about safe water play, constantly look for distress, and have them check in with you before leaving your line of sight like going up the slide or around to the splash water features. If you've got younger kids, it's also important to keep in mind that life vests are complimentary and there are plenty of them around the pools. Even if you consider your kids a strong swimmer, sometimes the more crowded the pool is it can be a bit overwhelming or they could already be tired from spending time out in the parks during your trip and not realize it.
Don't Be a Nuisance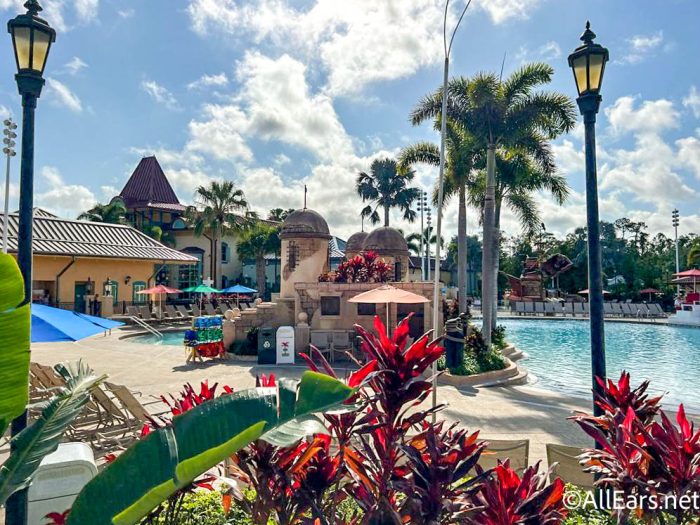 While you're out having fun on YOUR vacation, it's easy to forget that other people are also out on THEIR vacation at the same time. And while you might be living your best life in your "vacation era" around the pool and blasting the latest tunes on your waterproof Bluetooth speaker, the person beside you that you just sat your stuff next to might have gone out to the pool to relax and read soaking in the rays from the sun.
It's also pretty tempting to want to see who can make the biggest cannonball in the water and test if it can reach your things on the pool deck, but try to hold off on that one. Chances are if you're doing this around people that aren't in the pool getting wet already, they probably want to stay dry.
Then there's the excitement of being the first or last ones out at the pool… we've totally been there. Just be courteous that you're not making a ruckus too early in the morning and too late at night for other people who are enjoying the hotel — and quite possibly catching some sleep–  before heading out to the parks preparing for a full day.
Don't Forget The Bathroom Is OUTSIDE Of The Pool Water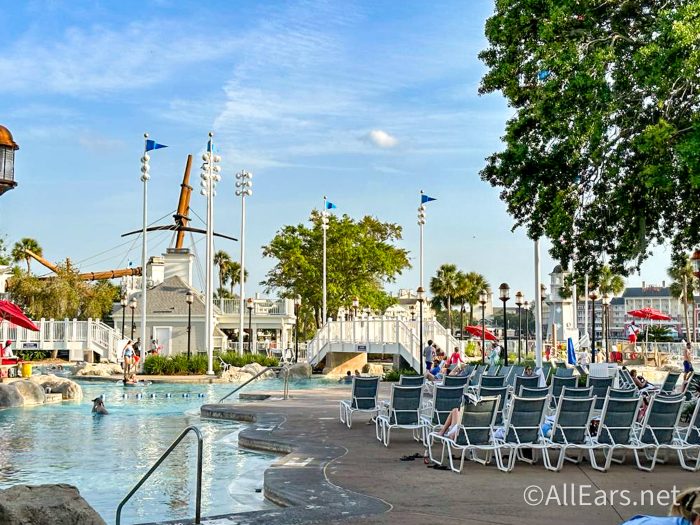 This seems like a given but hear us out! Bathrooms are typically located VERY close to the main pool, so you won't have to travel far. We know accidents happen from time to time however, if you're reminding kids — yes, even bigger ones — to use the bathroom BEFORE getting into the pool, you could lessen the chances of having to rush out of the water to keep an accident from occurring… or worse.
When these accidents occur it means that no one is having fun — including the Cast Members that are tasked with clean up– when everyone is made to exit the pool for maintenance. Then there's the waiting period to make sure the pool is in order again and… well, you get the drift; let's try to avoid this at all costs.
Don't Be A Hog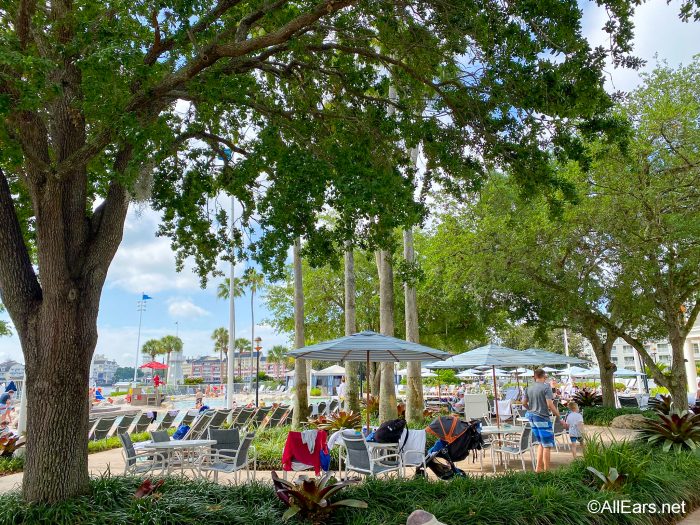 No, no… we don't mean like a pig, but in space. Sometimes these Disney hotel pools can be CROWDED, especially when it's a really hot day or on weekends when most of the time people spend their day at the resort rather than at the parks. If you're not actively using the multiple chairs you've got your stuff strewn across to save them, consider downsizing to where more people can come in and enjoy the pool too.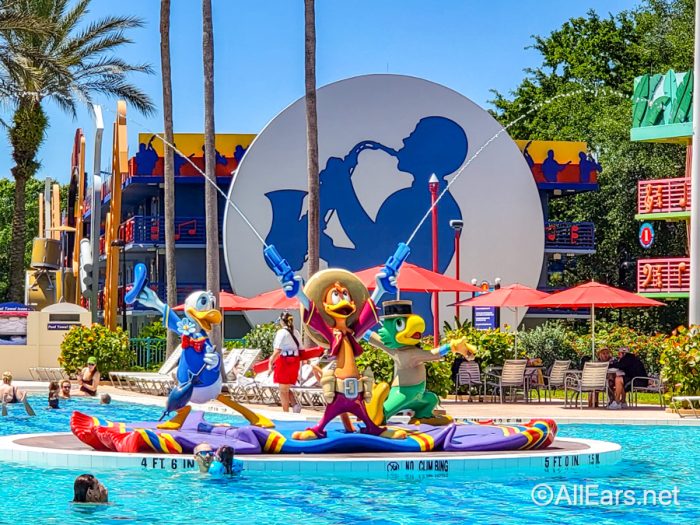 On the flip side of that, it's NEVER okay to move someone's belongings from a spot where you want to set your stuff down, even if it's a table. There's nothing wrong with asking around who may already have their stuff there and coming to a compromise that can suit both groups.
Don't Forget Your Sunscreen
Harkening back to being in the "Disney bubble" many people think that Disney can magically control the weather and that just simply isn't the case. You'll still need to apply your sunscreen as you normally would AND as often as recommended by the manufacturer of your sunblock just like you would any other day or vacation destination. Your skin will thank you for being kind to it!
Don't Pool Hop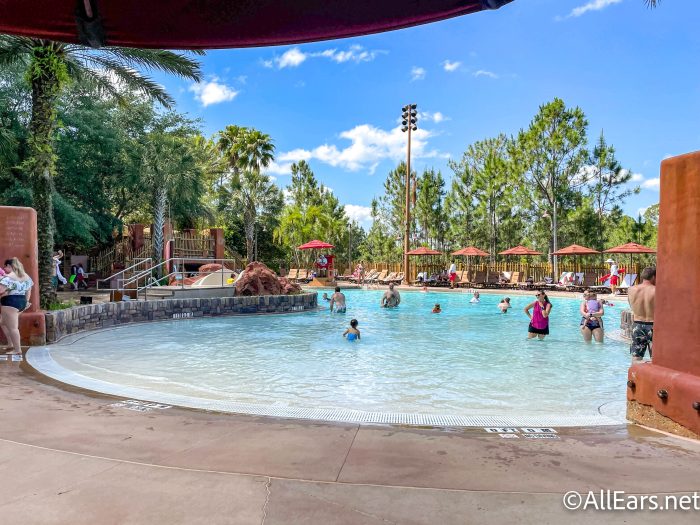 This one is well… divisive. On one hand, you've got folks that are familiar with this tactic at other destinations nearby — like is the case for hotels at Universal Studios — and on the other hand, you've got folks that really haven't even considered this possibility before because it's so farfetched to them.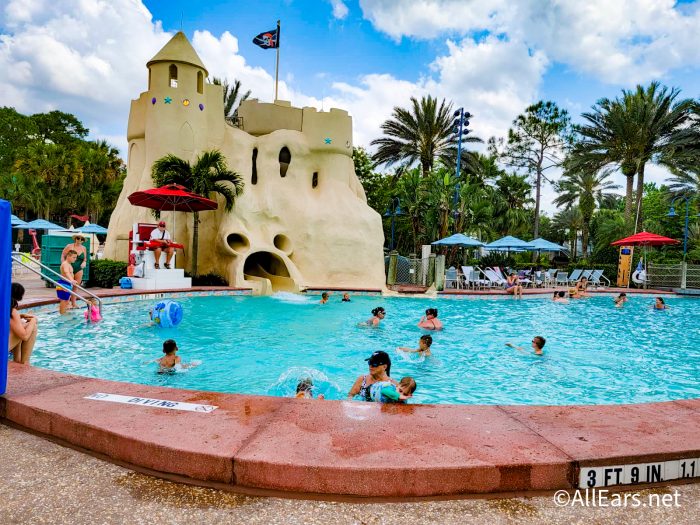 Pool hopping is when folks decide to stay in one hotel and then want to go and enjoy the pool at a hotel they're not currently booked to stay. Not only is this a bit tricky in multiple ways like the logistics of transportation, cumbersome to change out of your wet clothes when you're done at the pool, etc. but it's technically still against Disney hotel rules.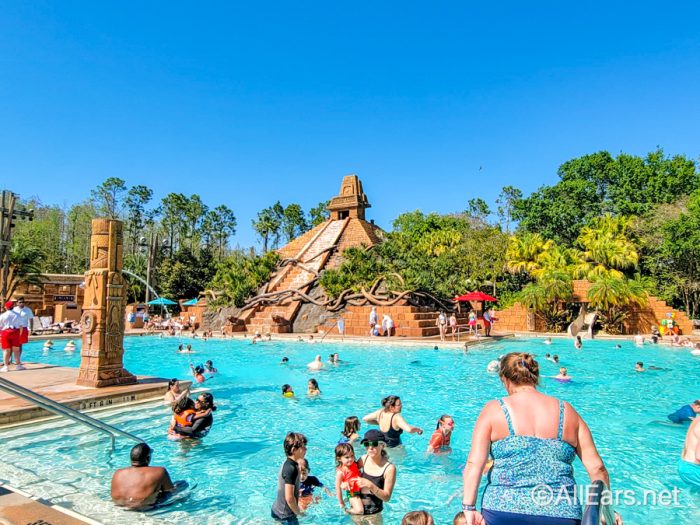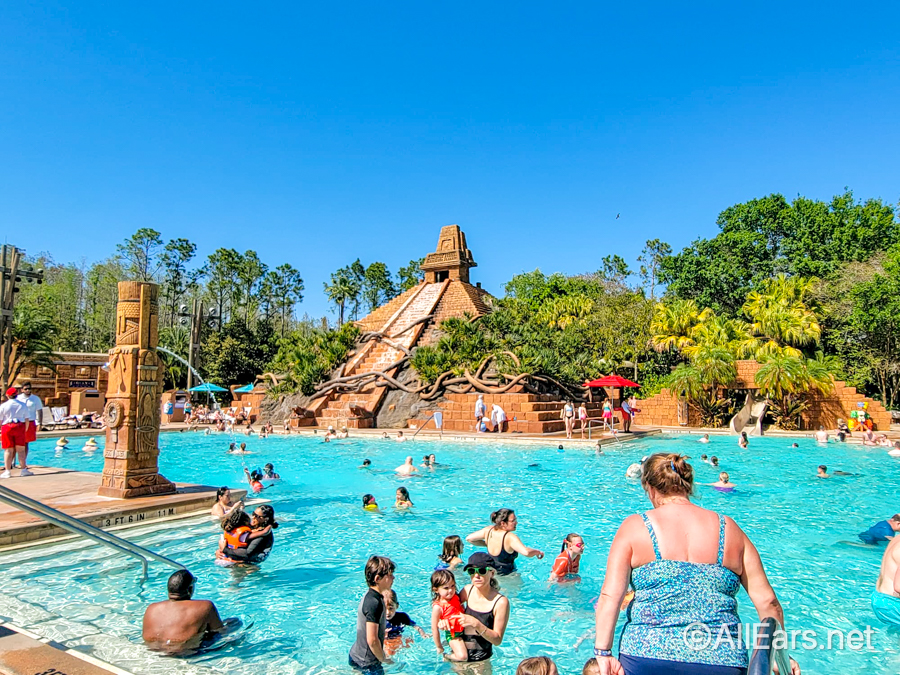 Pool hopping used to be a perk offered to Disney Vacation Club members pre-pandemic at some of the Disney World hotels, however, that perk to members — and regular hotel guests– has not returned. When you decide on which Disney World hotel to stay in for your trip, you agree to Disney's terms and conditions, and if you're caught utilizing this tactic to test out other pools, you could be in violation of your agreement.
Also, consider how unfair it is that someone would opt to stay at a value resort to want to use a pool like Stormalong Bay at Disney's Yacht & Beach Club Resort that can and does reach capacity limits frequently. When this happens, it takes space from those who are choosing to pay for the amenities at their home resort and could potentially keep hotel guests from enjoying everything their resort has to offer. Ongoing practices like this that haven't been Disney-sanctioned have been the cause of Disney cracking down on pool usage and implementing methods to ensure those who are using the pool at the hotel are also staying at the same hotel.
Don't Be Polite… It's For A Good Reason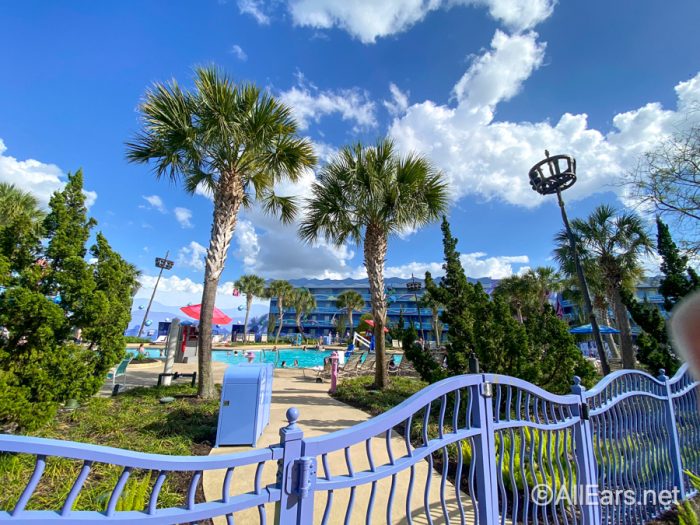 Yeah, okay… this one is going to take some explaining. You've probably seen it time and time again where someone's walking to the pool only to have someone hold the door open for them as they are walking out or in… ringing a bell, now? Or how about when someone's fumbling at the pool gate trying to get in and you run over to help get the door for them and welcome them in? Well, it's ok to not be so polite.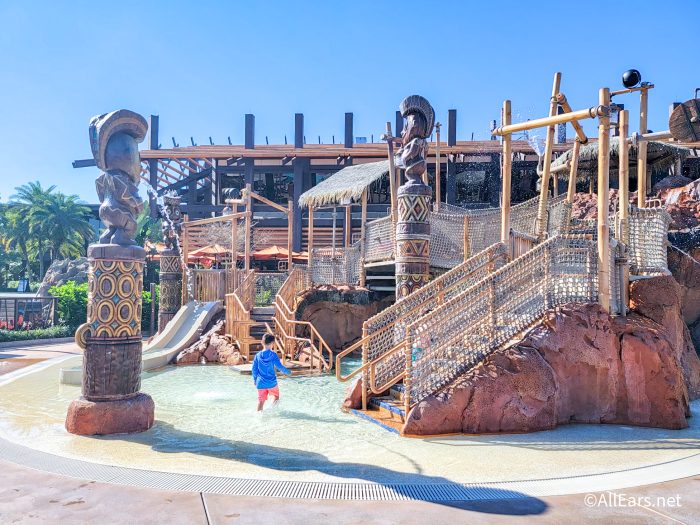 Remember earlier when we said Disney has already taken steps to ensure that those who are paying guests of that specific hotel are the only ones using the amenities, well, this is one of those measures. Although your Disney-loving heart is in the right place, it's okay to not hold the door or open it for people trying to get in. There are lots of hotels now that have you scan your magicband or room card to enter the pool area and that's for good reason; because you've paid to stay there and enjoy what YOU'VE paid for. So the next time you're quick to help out, consider allowing the person to prove that they are also hotel guests and let them gain entrance themselves.
All of these pool "don'ts" to consider are all things we advise to help you have the best experience possible doing what you want to do with your vacation. Be sure to check back in with us at AllEars for more Disney news and tips soon!
Need a vacation from planning your vacation?
Feeling overwhelmed planning your dream Disney vacation? Our friends at MouseFanTravel.com have got you covered! They'll wait on hold for HOURS to get discounts you haven't even read about yet. Plus, they'll help you create an itinerary that's absolutely perfect for you, because they're agents are Disney pros and know ALL the inside tips. I mean they are friends with us after-all.
The best part? They take all the stress off your shoulders, so you can kick back and truly enjoy your vacation. Their services are 100% free, so what are you waiting for? Get a quote from their amazing team today!
Join the AllEars.net Newsletter to stay on top of ALL the breaking Disney News! You'll also get access to AllEars tips, reviews, trivia, and MORE! Click here to Subscribe!