Did you know that there's a cheese crawl at EPCOT's Food and Wine Festival?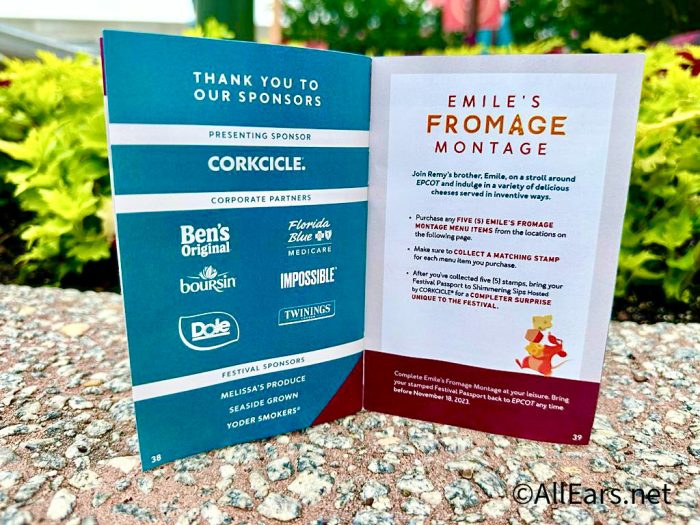 There's so much to do at this EPCOT festival — food to eat, merchandise to buy, and yes, a literal cheese crawl. The official name of this addition is called Emile's Fromage Montage, and if it's of interest to you, here's how you can "play!"
Emile's Fromage Montage is an EPCOT challenge that's only available during the Food and Wine Festival. To get the prize, you'll buy any 5 of the featured dishes in the "crawl," collect the 5 corresponding stamps, and head to a specified location to pick up your special prize.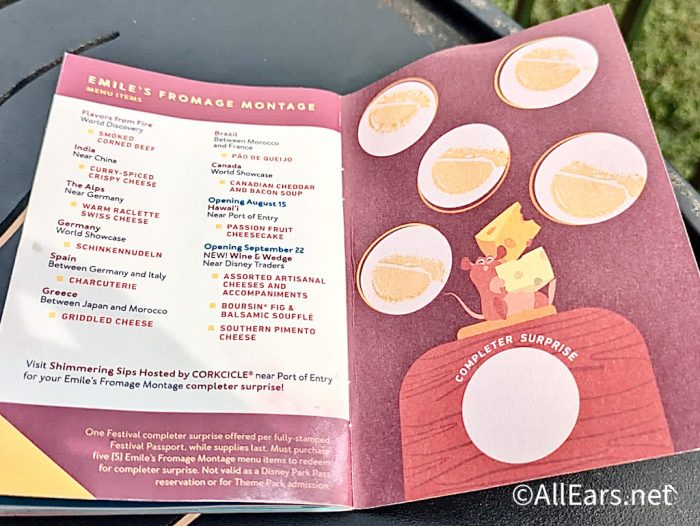 There are tons of different items to choose from on the crawl to appease many different palettes, but you only need stamps from 5 to get the special prize. To start the crawl, pick up a free Festival Passport at either of the EPCOT entrances and start picking out what you'd like to grab.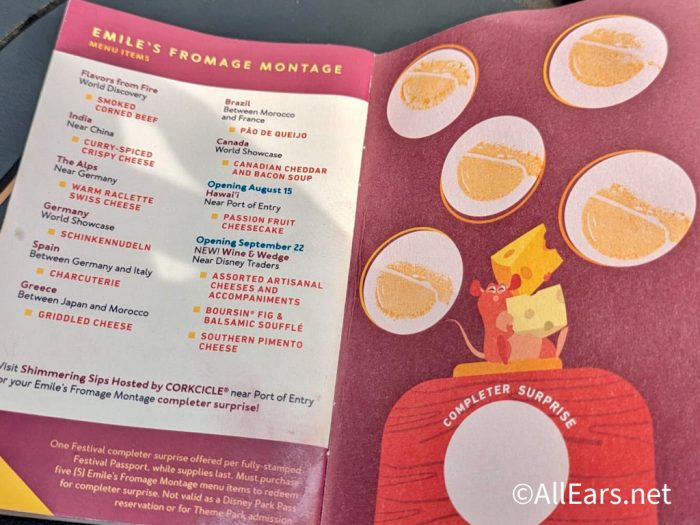 Each time you get something off the crawl, ask the Cast Member at the food booth to stamp your passport. Once you've got all 5, head over to Shimmering Sips Marketplace hosted by Corkcicle for your prize!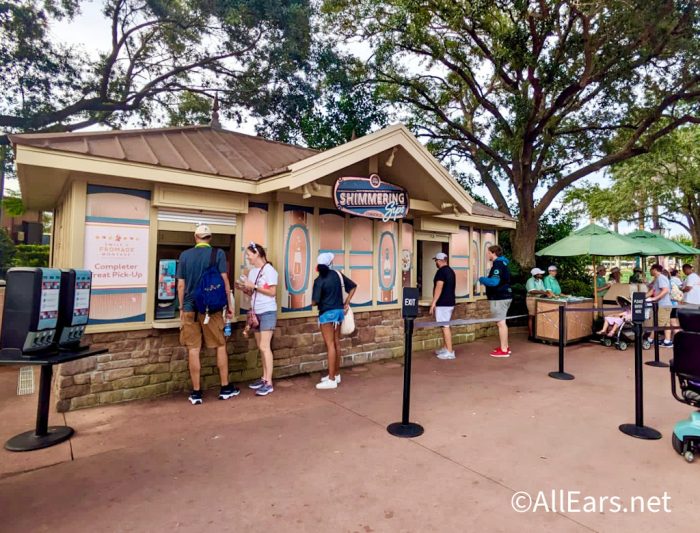 Want a head start on what items are part of the cheese crawl? Check them out below!
India — Curry-Spiced Crispy Cheese with Mango-Curry Ketchup
Germany — Schinkennudeln: Pasta Gratin with Ham, Onions and Cheese
Greece — Griddled Cheese with Pistachios and Honey
Brazil — Pão de Queijo: Brazilian Cheese Bread
Canada — Canadian Cheddar and Bacon Soup served with a Pretzel Roll
Flavors from Fire — Smoked Corned Beef with House-Made Potato Chips, Cheese Curds, Pickled Onions and Beer-Cheese Fondue
Hawai'i (Opening August 15th) — Passion Fruit Cheesecake with Toasted Macadamia Nuts
The Alps — Warm Raclette Swiss Cheese with Alpine Ham, Baby Potatoes, Cornichons and Baguette; Warm Raclette Swiss Cheese with Baby Potatoes, Cornichons and Baguette
Spain — Charcuterie with a selection of imported Spanish Meats, Cheeses, Olives and an Herb Vinaigrette
Wine & Wedge (Opening later this fall) — Assorted Artisanal Cheeses and Accoutrements; Fig and Balsamic Boursin® Soufflé with Fig Tapenade; Southern Pimento Cheese with Bread-and-Butter Pickled Vegetables and Grilled Bread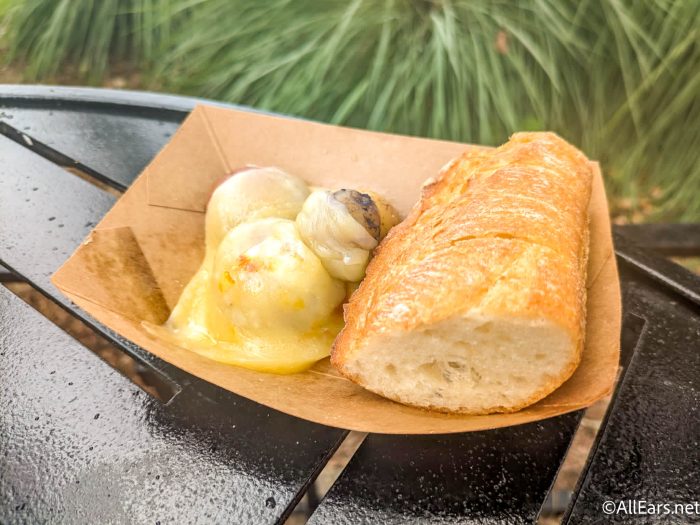 Now what did we get for completing the cheese crawl? Well…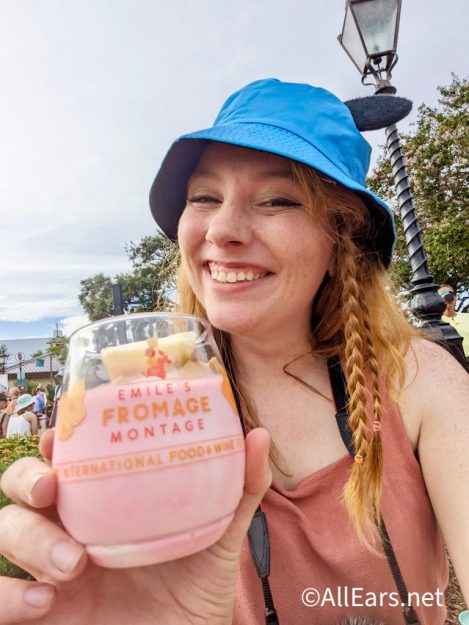 It's a strawberry cheesecake soft-serve ice cream topped with a mini cheesecake and graham cracker crumbs in a specialty vessel. Yum!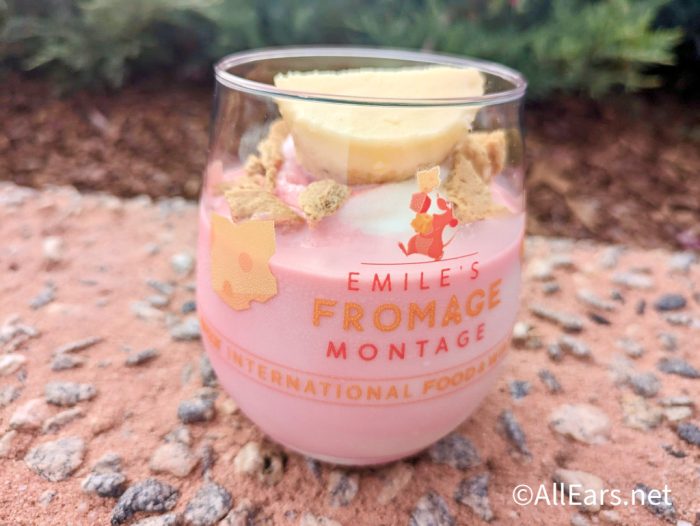 You'll notice that some of the items are at booths that won't open until later in the festival, so keep that in mind as you start to plan! Keep up with AllEars and we'll share all the latest Food and Wine Festival news with you so you're prepared.
Are you planning to do this cheese crawl? What will you get? Tell us in the comments!