If you go to an EPCOT Festival unprepared, you could be making a HUGE mistake.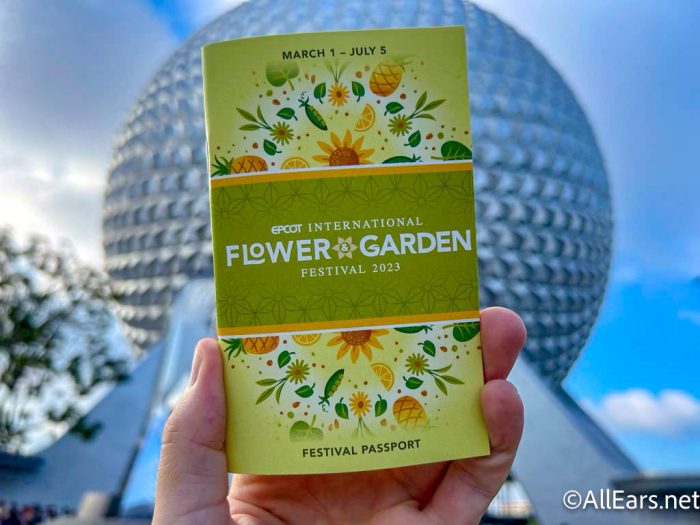 The EPCOT Flower & Garden Festival has officially begun and will last through July 5th, 2023. Throughout the Festival, you'll be able to grab all kinds of eats and drinks (including tons of new items), catch popular bands in concert, complete a food challenge, pick up some awesome merchandise, and MORE. But with DOZENS of food and drink items to pick from, how will you know which ones are worth getting? Don't worry — we can help!
We have made our way around the Flower & Garden Festival eating tons of new and returning dishes, and now we have a list of the very BEST items for you to try! Here's our complete list of the best eats, best drinks, and other unique items you'll want to check out.
Best Eats
Chicken & Waffles (NEW)
Let's start things out at a classic Flower & Garden booth — Honey Bee-Stro! This year, they've added Chicken and Waffles to the menu, and they're made with crispy honey-brined chicken and a honey sweet corn bread waffle topped with whipped honey butter and spicy honey.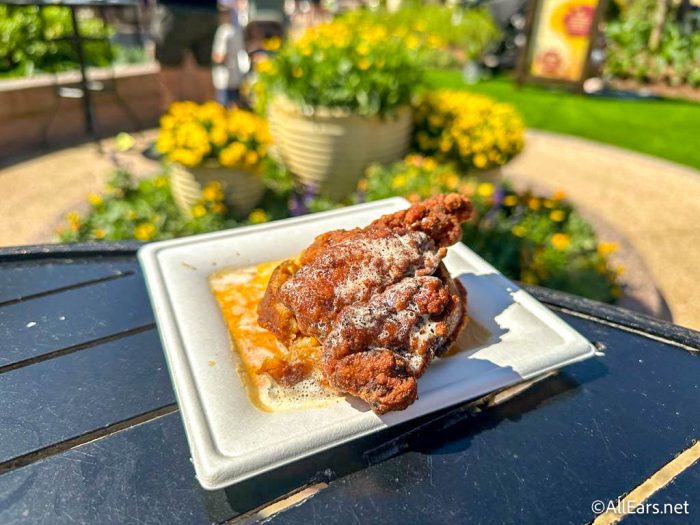 These were an instant hit with our team, and they're available for just $6.75. They're the perfect combination of sweet and spicy, and that chicken was nice and crispy on the outside. YUM.
Orange Sesame Tempura Shrimp (NEW)
The Citrus Blossom is back for yet another year, except this time, it's located inside the Odyssey Pavilion. There we found a NEW favorite eat of ours — the Orange Sesame Tempura Shrimp.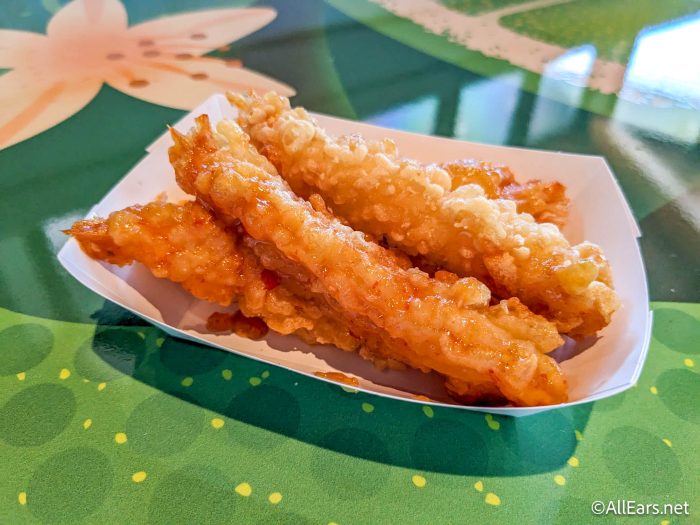 These pieces of shrimp are served with an orange chile sauce and you can get them for $7. They were lightly fried and had a complex array of flavors that really blended well together — spice, citrus, savory. Delicious!
Shrimp & Grits (Returning)
BRUNCHCOT is a new booth this year, but it's essentially the new name for the former Sunshine Griddle booth near Test Track. Many of the menu items are returning, and a few of them stepped up their game…like the Shrimp and Grits.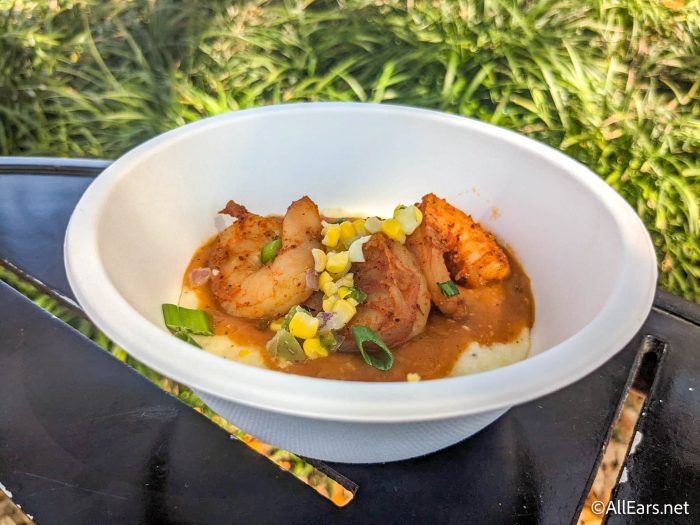 This classic breakfast food was a little bit spicy, but the grits had a great texture, the toppings added some amazing flavor, and it just all WORKED. This turned out to be Quincy's favorite item at the booth! Order it for $7.25.
Cinnamon Roll Bites (Returning)
And speaking of BRUNCHCOT, the Cinnamon Roll Bites are back again! This sweet breakfast dessert is a cinnamon-sugar-coated pastry filled with cream cheese frosting and let's be honest — it doesn't get much better than that.
They're $4.75 and you get three bites, so it's a pretty good deal. They're a genuine crowd-pleaser when they're hot and fresh!
Taco Vampiro (Returning)
Heading over to Mexico, we need to talk about the Taco Vampiro at Jardin de Fiestas. This is a returning item, but it got MUCH better this year and we have to sing its praises.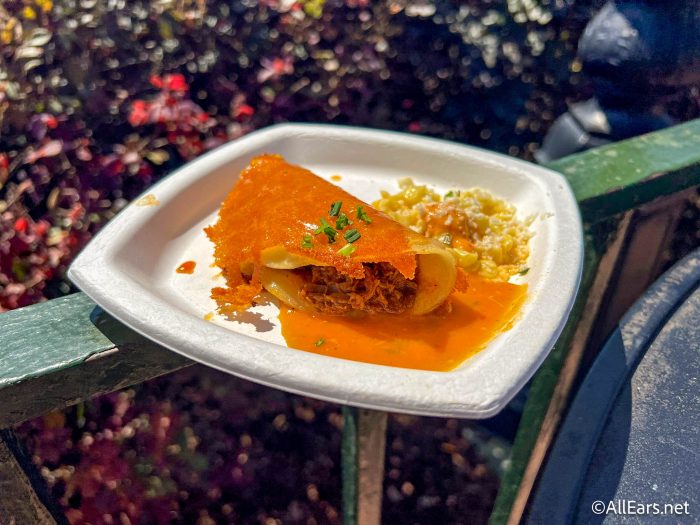 It's made with braised beef on a corn tortilla with crispy grilled Monterey Jack cheese on the outside. It was cheesy, the beef was thoroughly seasoned, and the salsa added a fun depth of flavor. We recommend this highly for $8.75.
Frushi (Returning)
Frushi has returned (once again) to the Hanami booth at the Japan pavilion and we couldn't be happier. It's a true Flower & Garden Festival staple and for good reason! The dish is made with strawberry, pineapple, and cantaloupe wrapped in sweet rice and pink soy wrap served with whipped cream, berry sauce, and toasted coconut and is $7.50.
Basically, it's a fruity version of sushi — combining flavors you know with perhaps some more adventurous elements. Refreshing, fun, and sweet, it's a great treat for kiddos and adults alike!
Boneless Impossible Korean Short Rib (Returning)
Another returning favorite is the Boneless Impossible Korean Short Rib at Trowel & Trellis. It's served with cilantro-lime rice, Danmuji slaw, and kimchee mayonnaise, is plant-based, and it's part of the Garden Graze food challenge — so, win, win, win!
Don't let the plant-based factor scare you off though — these truly are delicious with a fantastic combination of flavors that'll leave you wanting more! Try this returning dish for $6.75.
Croissant au Fromage de Chèvre, Herbes et Ail Rôtie (Returning)
If you love croissants, cheese, and garlic, you MUST make your way over to the Fleur de Lys booth in the France pavilion. There, you'll find the oh-so-delicious Croissant au Fromage de Chèvre, Herbes et Ail Rôtie. This is a tasty, flaky croissant, combined with goat cheese, herbs, and roasted garlic.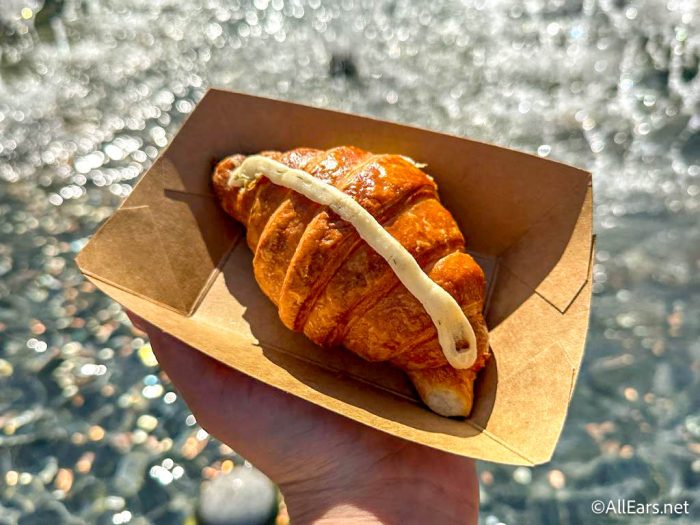 And yes, it's as amazing as it sounds and looks! Get this savory snack for $6.75.
Best Drinks
Froot Loops Shake (Returning)
We're heading BACK to the BRUNCHCOT booth to talk about one of our favorite drinks of the festival — the Froot Loops Shake! This is made with the cereal we all know and love, and it reminds us of drinking cereal milk, but with more flavor.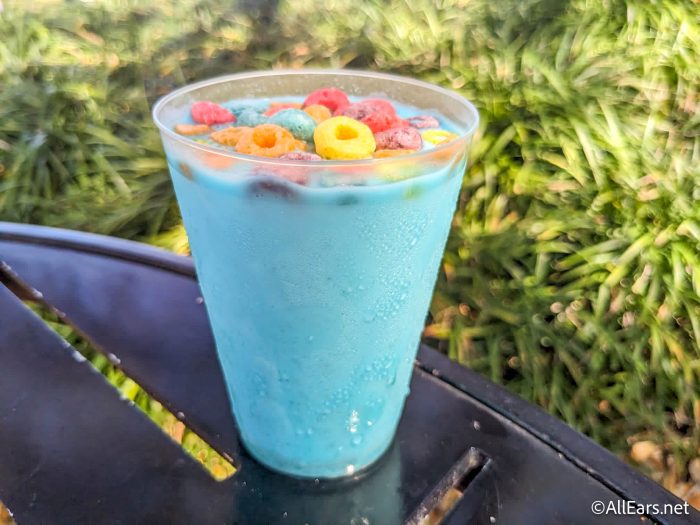 This would be a great item for the kiddos to enjoy at the festival! You can get it for $4.75.
Frozen Desert Violet Lemonade (Returning)
If you are looking for perhaps the most iconic drink of the Flower and Garden Festival, you'll need to visit Pineapple Promenade for the Frozen Desert Violet Lemonade! The non-alcoholic drink has made our list of favorites year after year, and that's because it simply is THAT good.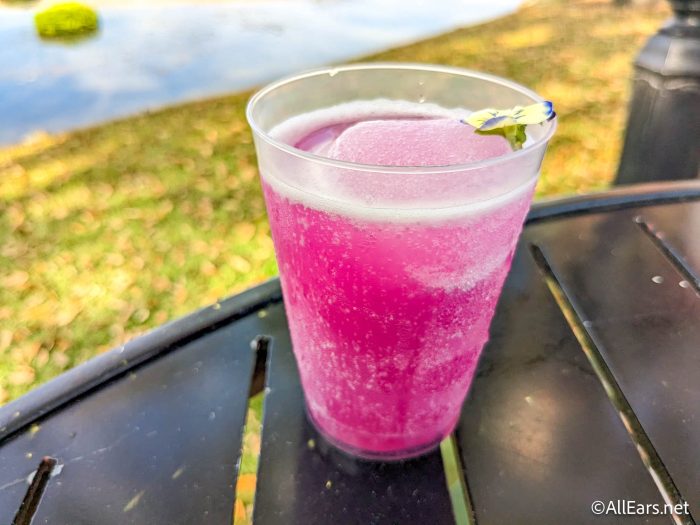 It's a wonderfully refreshing drink that'll keep you cool as you make your way to the rest of the booths! Grab it for $4.50.
Hibiscus Lemonade Cocktail (Returning)
If you're looking for a drink that'll really light up your Instagram, grab the Hibiscus Lemonade Cocktail from EPCOT Farmers Feast! The drink features Islamorada Brewery & Distillery Hibiscus Gin and is $11.50.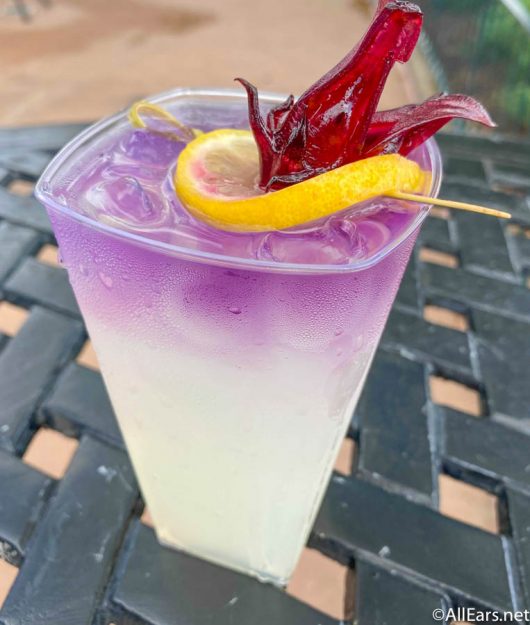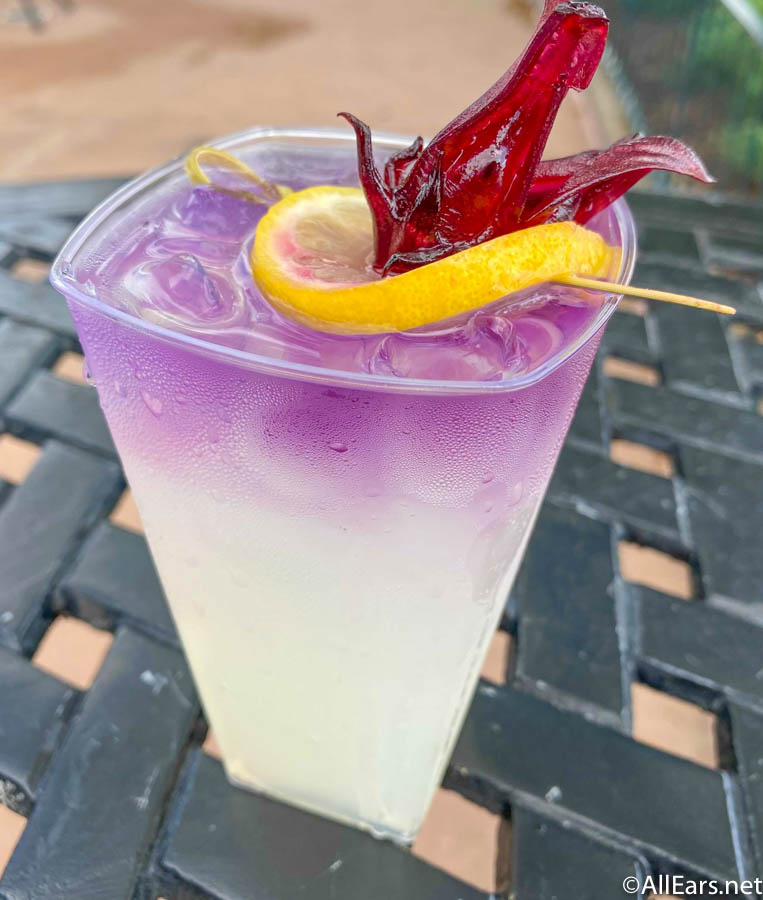 Though a bit on the pricier side, it's fruity, sweet, and totally photographable. But, be warned — it'll only be at the Festival for a limited time! Some of the menu at Farmers Feast changes throughout the Festival period. This drink in particular will only be there from March 1st through April 8th, so act fast to get it!
La Vie en Rose Frozen Slush (Returning)
Another returning drink that's considered a Festival classic is the La Vie en Rose Frozen Slush from the Fleur de Lys booth in France. The pink color instantly makes this a must-get photo for Instagram. But on top of that, the flavors of the drink (Vodka, Grey Goose L'Orange Vodka, St. Germain Elderflower Liqueur, and white and red cranberry juices) make this an incredibly tasty sip.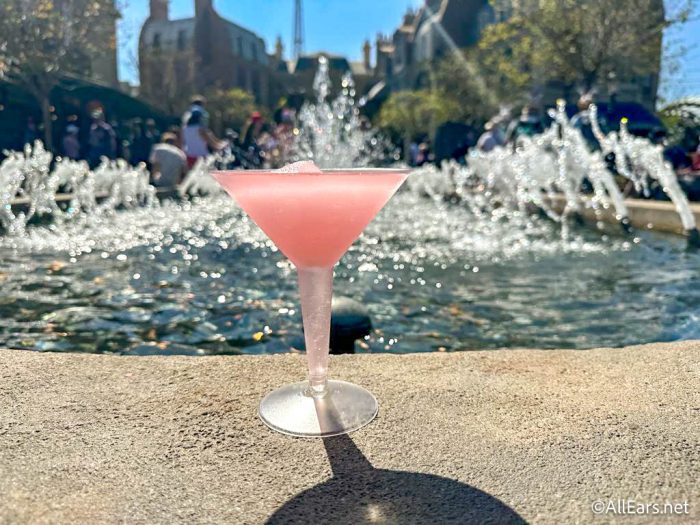 If you've ever tried and enjoyed the other alcoholic slushies at the France pavilion, we have a feeling you will NOT regret trying this one! Order it for $14.50.
Best of Garden Graze
Avocado Toast (Returning)
Okay, we know what you're thinking — "avocado toast is on this best eats list?! Isn't that a basic brunch snack I can get anywhere?" While you're partially right that avocado toast has become a millennial snack stape, THIS avocado toast is different and well worth a try!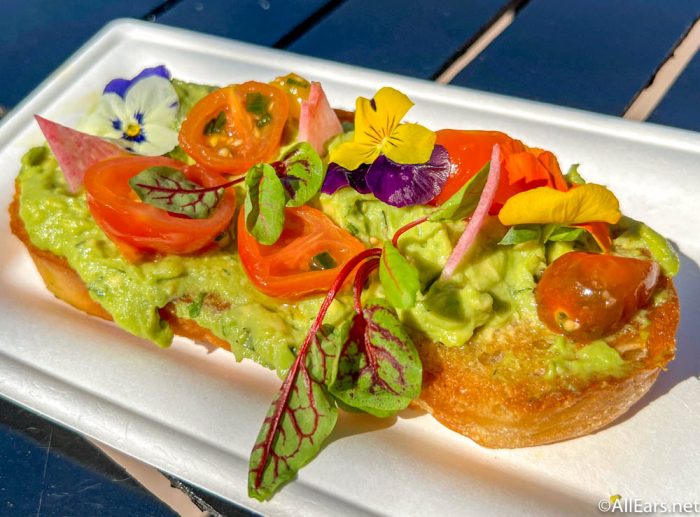 You'll find it at the "new" Brunchcot booth and it features marinated toybox tomatoes on toasted ciabatta. For starters, it has an EPIC design that is simply gorgeous (even the flowers are edible!). And for $6, we seriously cannot recommend this enough. Plus it's plant-based and is part of the Garden Graze food challenge so there's a lot to love about this one!
And there you have it, our complete guide to the BEST eats and drinks at EPCOT's Flower & Garden Festival! Remember that the Festival takes place through July 5th, so make your way over to EPCOT to enjoy it while you can.
For more Flower & Garden Festival news, see our posts below. And check back for all the latest details!
What do you think is the BEST food to eat at the Flower & Garden Festival? Tell us in the comments!