It's hurricane season right now, but you may have forgotten that info, since there really hasn't been a lot of activity.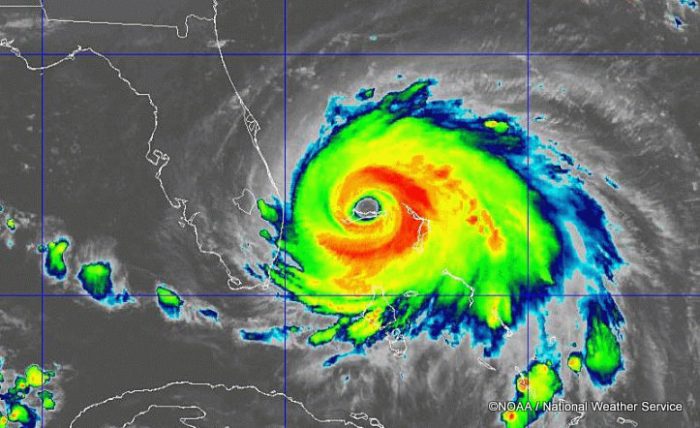 Hurricane season has been pretty quiet so far, but that doesn't mean it will stay that way. Hurricanes are a real threat to Disney World and are actually the most common reason the parks have had to shut down over the years. So, what does the rest of the 2022 hurricane season entail? Let's break it down.
What's Already Happened?
Peak hurricane season is mid-August to around mid-October, according to the National Oceanic and Atmospheric Administration. This is usually when the Atlantic becomes way more active with tropical weather, according to The Orlando Sentinel.
This hurricane season is running a bit behind — the fourth storm of the hurricane season emerges most commonly on August 15th. But, this year, the fourth storm didn't arrive until September 1st, and only 2 have formed into hurricanes.
Last year, there were already seven named storms by August 13th. And, in 2020 (which was the busiest hurricane season ever recorded), there were 12 named storms by August 14th. In fact, in the past 20 years, 11 of them had more than four named storms or tropical depressions before mid-August. And, 14 of those seasons had at least one hurricane before August 15th.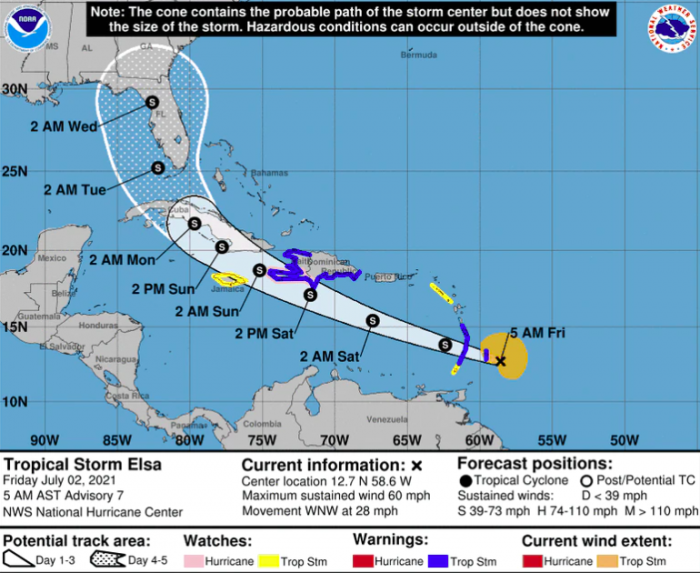 This year is the first time in 25 years that August didn't see a named storm, according to CNN.
However, using past years' data isn't an accurate way to predict what this season will be like, according to what the acting branch chief of the National Hurricane Center, Eric Blake, told The Orlando Sentinel.
He said "(This season has been) slower than recent years, yes, but that's pretty random if you look at the historical record. For example, 2004, one of the most active and destructive US seasons on record, had zero storms by [early August]. And then in 2005, it was exceptionally busy with seven by now, and it continued. The correlations of June-July storms to rest of the season is almost zero."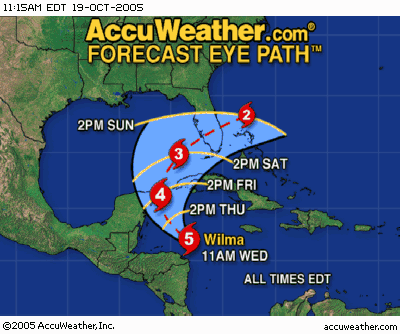 So basically, just because it hasn't been a very active hurricane season yet, doesn't mean it won't be in the near future.
What Could Happen in the Future (With CURRENT UPDATES on Storms)?
Even with the slower start, the NOAA still predicts it to be an above-average hurricane season. An average season has 14 named storms, and the NOAA is predicting between 14 to 20 named storms before November 30th, 2022. Of those, 6-10 storms could become hurricanes, including 3-5 major hurricanes.
A major hurricane is a storm that has sustained winds of 111 mph or higher, which would make it a Category 3, 4, or 5, according to the NOAA.
The reason there's a prediction for more storms this season is due to things like La Niña happening right now, which is when there are very warm sea surface temperatures in the Atlantic Ocean and Caribbean Sea. There are also weaker tropical Atlantic-made winds and an enhanced west African monsoon.
Here's a look at the names for this hurricane season:
Alex, Bonnie, Colin, and Danielle have already been used for the first 3 storms of the year. But again, those were not hurricanes.
UPDATE: As of early September, the NOAA's National Hurricane Center is tracking Hurricane Danielle and Hurricane Earl in the Atlantic.
Fox35Orlando had previously reported that Tropical Storm Danielle had formed in the Atlantic. It has now become Hurricane Danielle, the first hurricane of the 2022 season. A Fox meteorologist had previously indicated that "It's staying away from all land masses and will likely meet its demise over the distant northern Atlantic."
That still seems to be the case, with projections showing it turning away from the bigger land masses. According to CNN, the hurricane center has said that Hurricane Danielle "is expected to 'meander over the open Atlantic during the next couple of days,' before heading to the northeast early next week."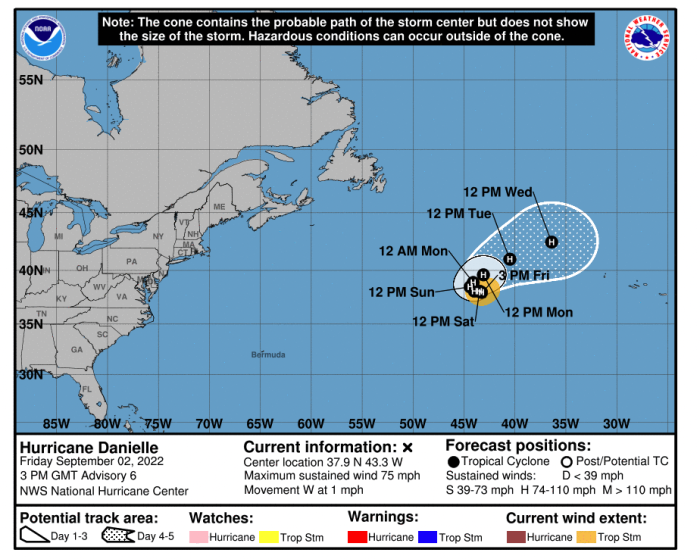 The NOAA is also tracking some other storms, including Hurricane Earl.
UPDATE: Tropical Storm Earl has become Hurricane Earl and is expected to become the first major hurricane of 2022. Spectrum News reported that the hurricane is not expected to affect Florida or any of the US mainland. The storm is mostly affecting the northern Leeward Islands, the Virgin Islands and Puerto Rico.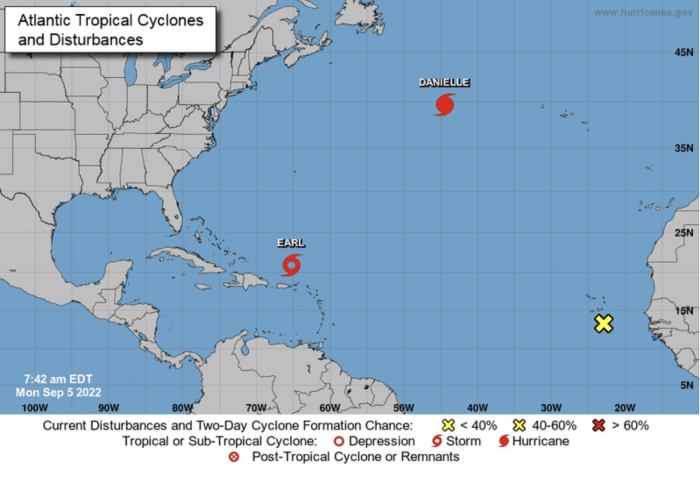 On September 17th, Tropical Storm Fiona was on the move and a hurricane warning was issued for Puerto Rico, according to CNBC. Now, the tropical storm has become Hurricane Fiona and has knocked out all of the power in Puerto Rico.
Bad situation unfolding on Puerto Rico today. Hurricane #Fiona passing just to the SW has knocked out power to 100% of the island. Looks like about 2/3 of the island under Flash Flood Warnings with plenty more rain to come. pic.twitter.com/GktYL1poQt

— Steve Caparotta, Ph.D. (@SteveWAFB) September 18, 2022
UPDATE: On September 23rd, 2022, Governor Ron DeSantis declared a state of emergency in 24 Florida counties (including Osceola County, where part of Disney World is located) due to the formation of Tropical Depression Nine, which is expected to become a hurricane and could impact Florida next week.
In their most recent forecast, the NOAA shared a projected cone that could approach Florida as a hurricane next week. We'll continue to keep you updated on the storm as we learn more.
How Can You Prepare?
Before you start planning your Disney World trip, take hurricane season into consideration. If you are flexible with when you want to take your trip, maybe book your vacation after hurricane season is over, or before it starts next year.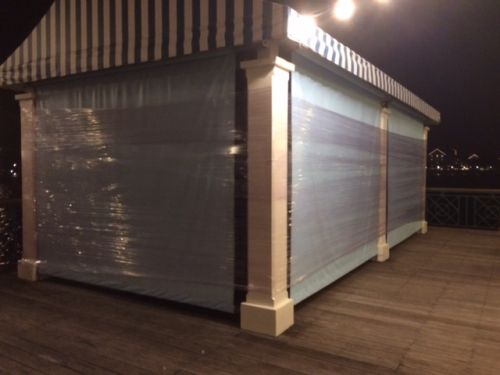 You also might want to consider the type of hotel you book during hurricane season. A lot of Disney World hotels have outdoor entrances to the rooms or sections where you have to walk outside to get to the main buildings. It could be a better idea to book a hotel with interior hallways and room entrances, that way you can move around the hotel even if the weather is bad.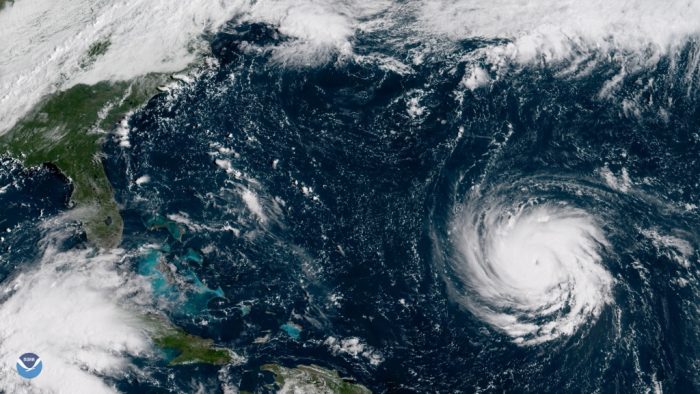 If you already have a trip planned for this fall, make sure you keep an eye on the weather before your trip. If there is a storm approaching, you need to consider whether the trip is still a good idea or not. If Disney World is just expected to get some rain, you will need to pack a bit differently. But, if a hurricane is predicted to hit near Orlando, you might want to reschedule your trip.
Disney World DOES have a hurricane cancellation policy, so you can work things out.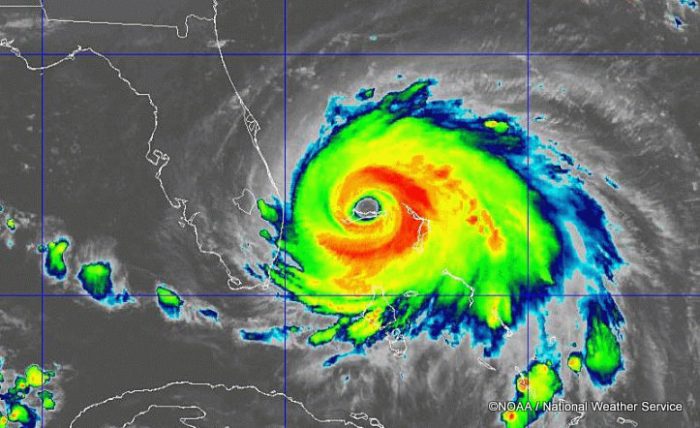 If you're already at Disney World when a hurricane hits, the good news is that Disney is pretty well equipped to handle storms. They have backup generators and supplies. Even if the parks do close, the hotels will usually remain open for guests to hunker down.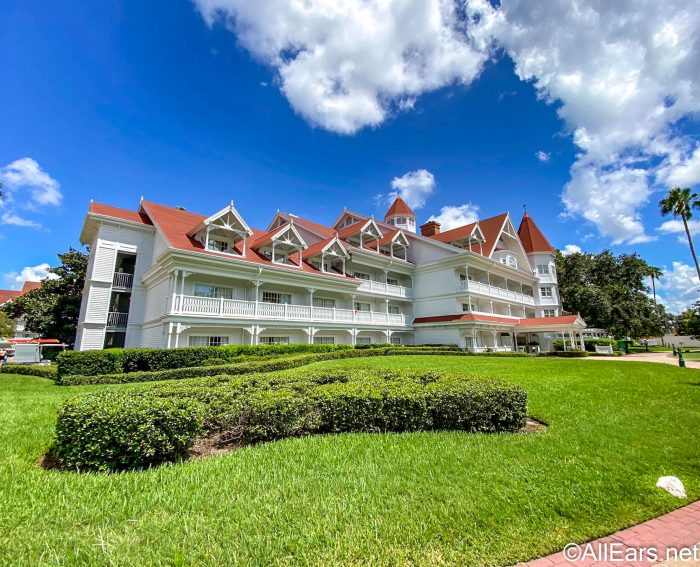 In 2021, Disney even offered special Hurricane Meal Kits for hotel guests so they could have food in their room if and when the storm hit. These came with things like bagels, yogurt, cereal, wraps, juices, and more.
Hotels will also usually offer special activities for guests during storms if the parks close down. Sometimes characters even show up!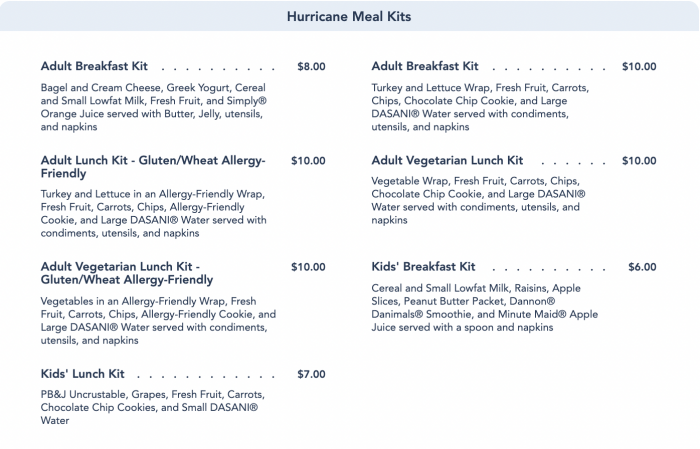 The most important thing to do if you're in Disney World when a hurricane hits is to list to the Cast Member instructions. There are set plans in place for these kinds of situations and following their directions is crucial so you can keep yourself and others safe.
So, that's everything we know about the 2022 hurricane season so far! We'll be keeping an eye on the weather and let you know about any storms that could potentially impact Disney World.
Stay tuned to All Ears for more news and updates.
Join the AllEars.net Newsletter to stay on top of ALL the breaking Disney News! You'll also get access to AllEars tips, reviews, trivia, and MORE! Click here to Subscribe!

Have you ever experienced a hurricane at Disney World? Tell us in the comments.