Disney has been using all kinds of technology to improve the park experience.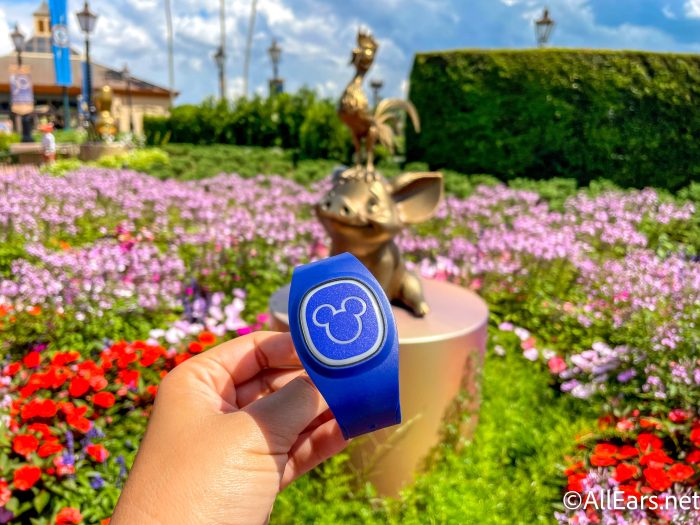 From the Play Disney Parks app to mobile order and mobile checkout, technology has been a big part of the guest experience that has changed lately. With MagicBand+ now LIVE in Disney World, guests have a NEW way to interact with things in the parks.
So what happens after you purchase a MagicBand+ in Disney World? Well, you'll need to set it up so you can use it to interact with various things in the parks, like fireworks shows, 50th Anniversary statues, and more.
Here's a step-by-step guide on how to do that and other answers to your MagicBand+ questions!
Setting Up the MagicBand+
1 — Power up the band by pressing the button on the back (only press it once).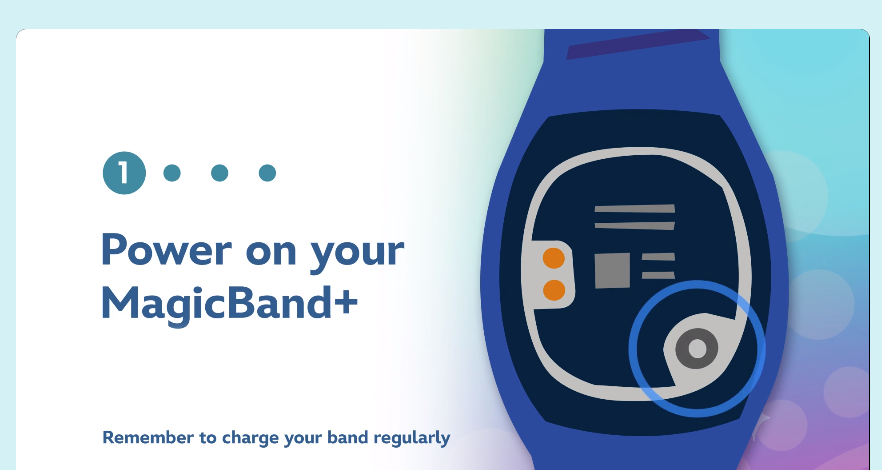 2 — Tap the band to your phone.
3 — You will be directed to download or open the My Disney Experience app.
4 — Follow the in-app instructions to link your MagicBand+ to your Disney account, assign it to a guest…
…and pair it to your mobile device.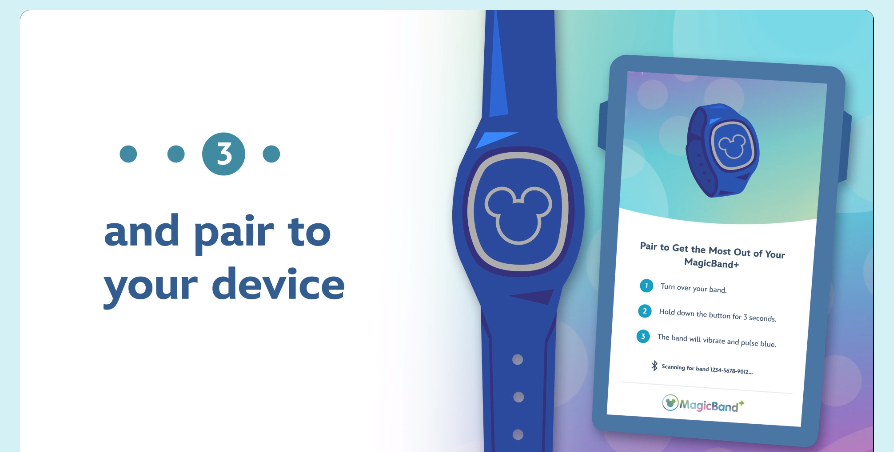 You will need to hold down the power button at one point during the pairing process, so be on the lookout for those instructions from the app and follow them carefully. When the band vibrates and pulses blue, you'll know that it has paired successfully.
5 — Use your app to make sure the band is charged and the software is the most updated version.
6 — Be sure to also link any tickets, reservations, and your other Disney World details.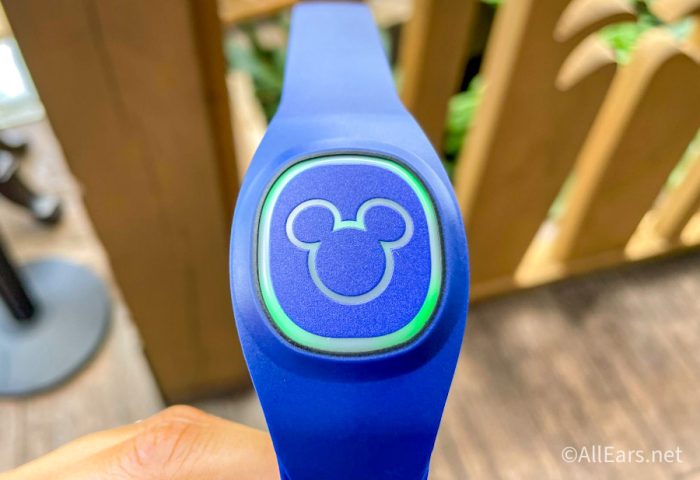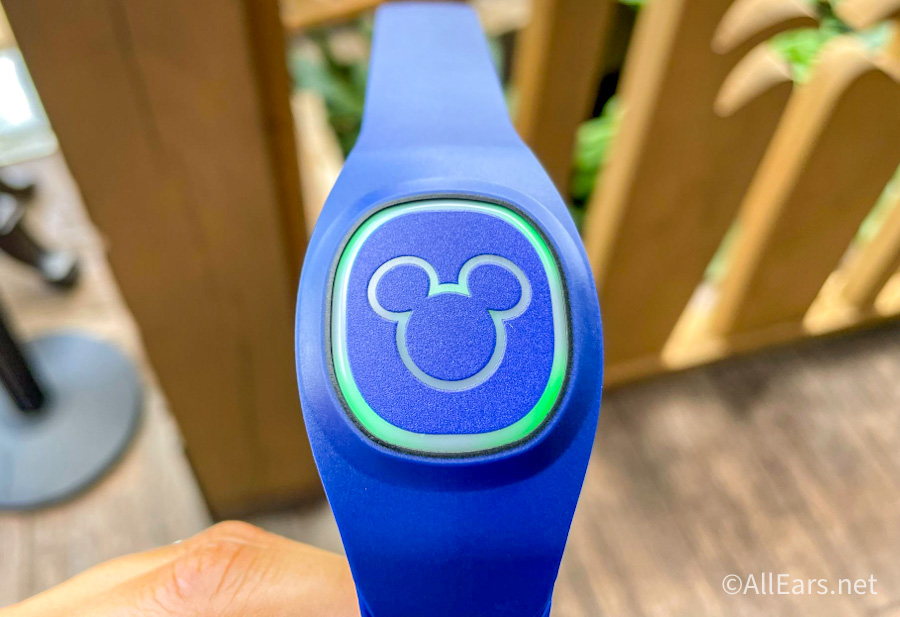 That's a basic guide to how to set up the MagicBand+. Now let's go over more details!
Multiple MagicBands
If you have multiple MagicBands, you'll head to "MagicBands and More" in the My Disney Experience app. You'll then view the guests that you can manage.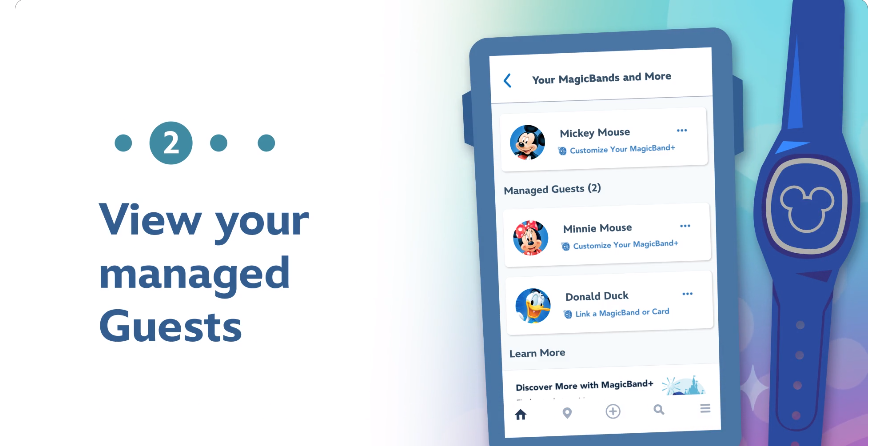 If someone's MagicBand+ isn't set up through the app, you can do that then.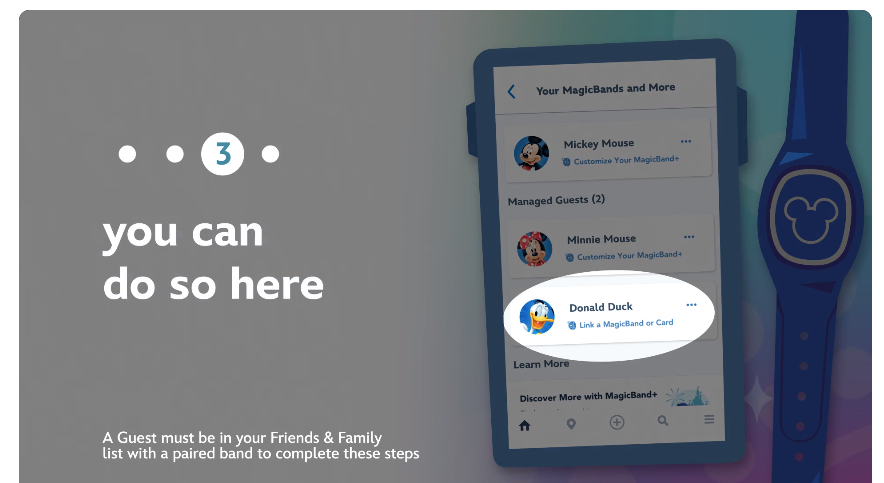 You can also adjust the MagicBand+ settings there…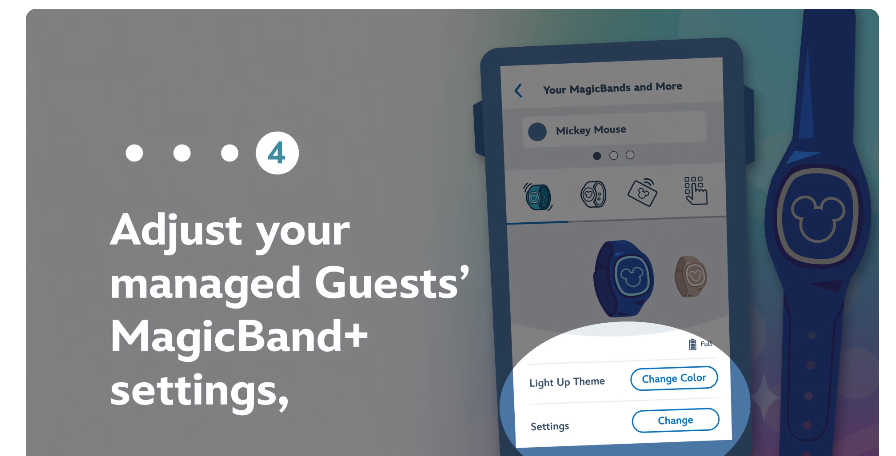 …check battery status, and more.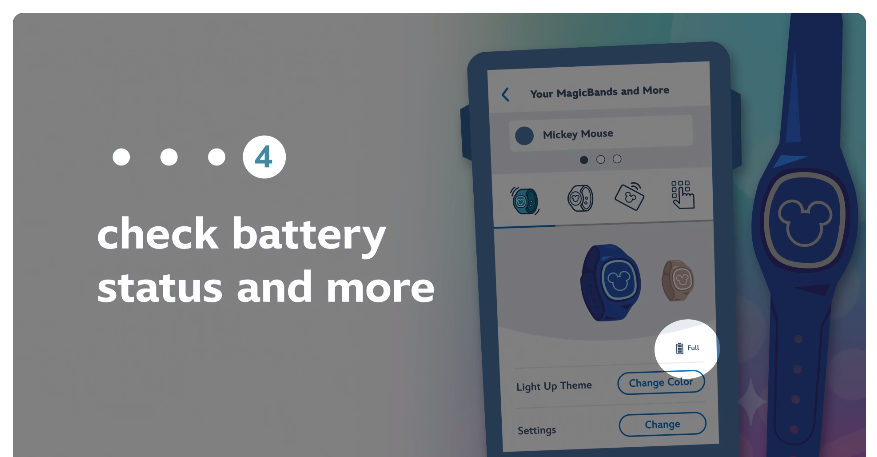 If your group will have multiple MagicBands, be sure to use the app to ensure that the right MagicBand+ is connected to the appropriate person in your group.
Customize Your MagicBand+
Want to customize your MagicBand+? You can do that in the app too! Head to the "MagicBands and More" section of the My Disney Experience app and select "Customize Your MagicBand+" under the person whose MagicBand you want to customize.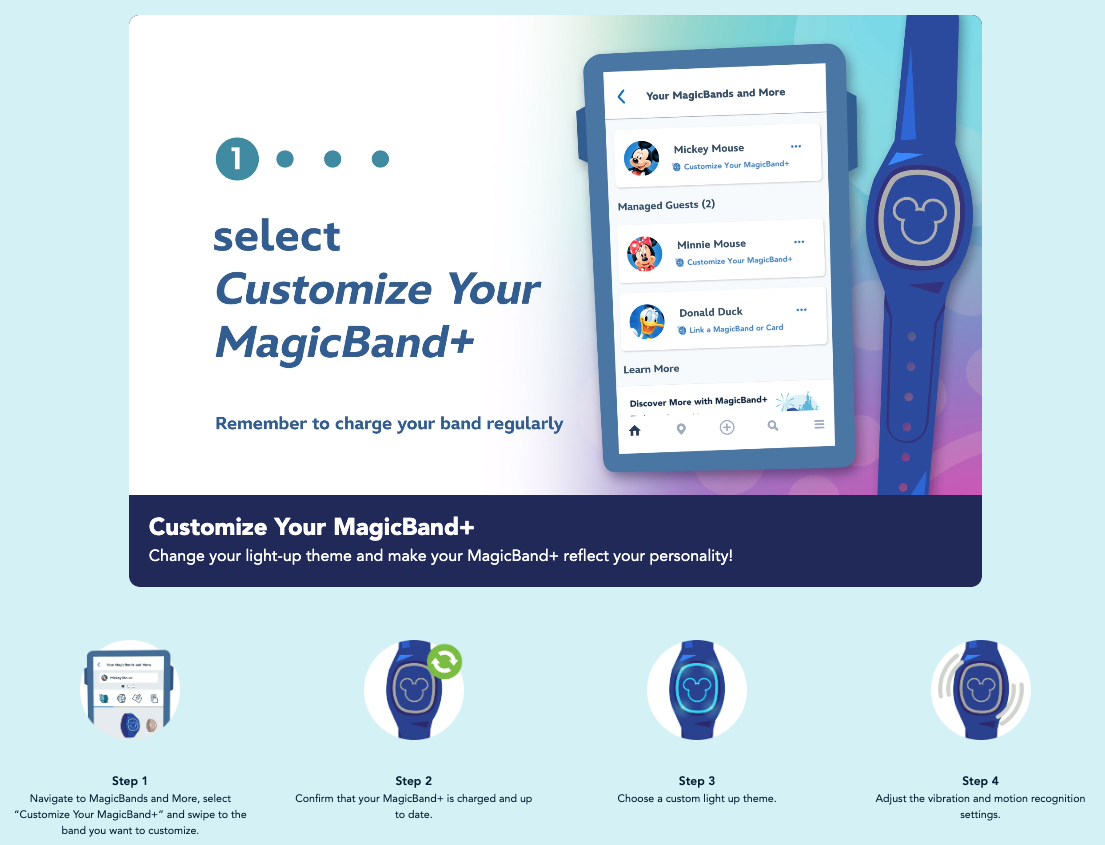 If one person has different MagicBands, you can swipe to get to the band that you want to customize.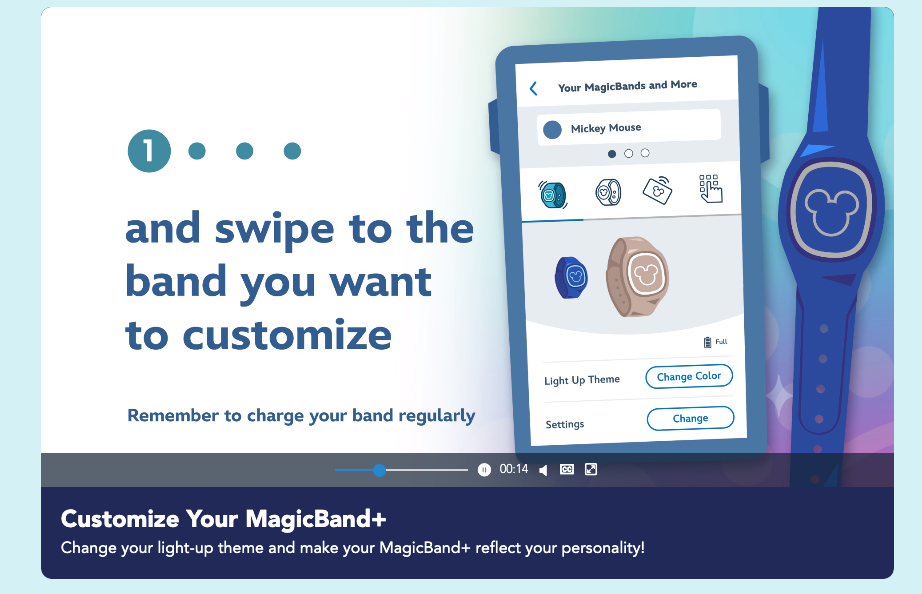 Then you can do things like choose a light-up theme…
…or adjust things like vibration, motion recognition, and band light!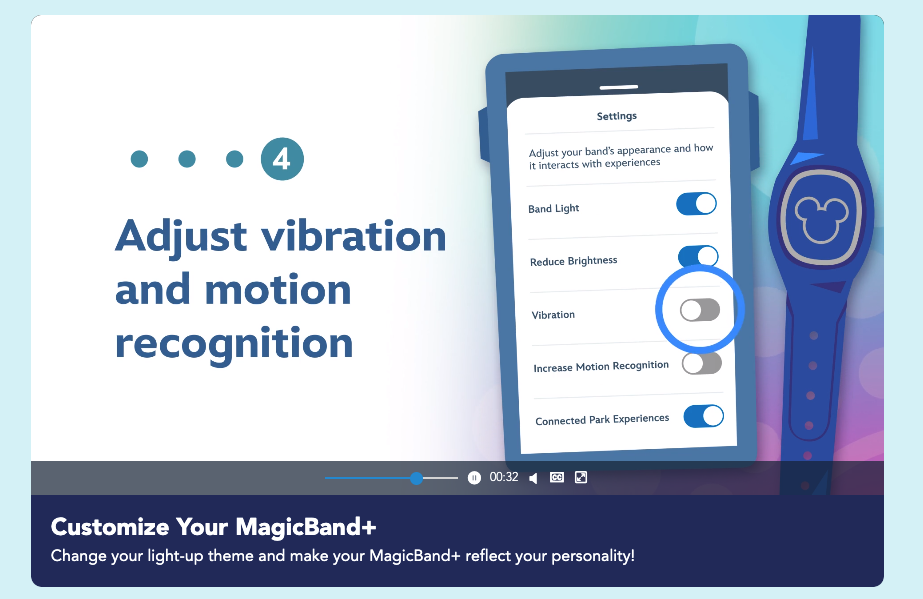 The key here is to make sure that your band is linked appropriately and the software is updated before you take these steps!
What Can MagicBand+ Do?
So what can you do with MagicBand+ once it's set up? Well, it will light up with its own special effects during certain nighttime shows in Disney World.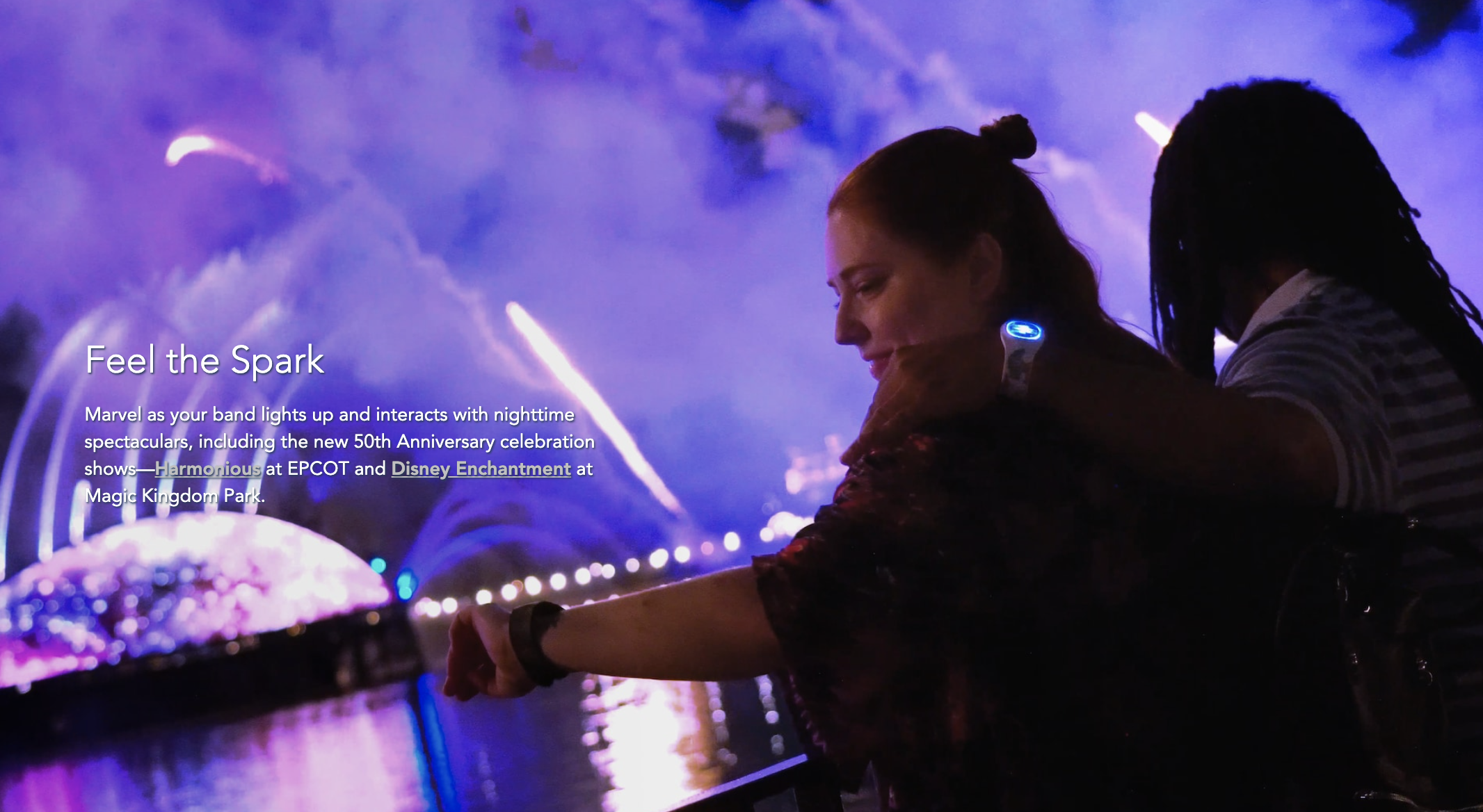 Plus you'll be able to interact with the Fab 50 golden character statues around the parks. You'll even be able to do a scavenger hunt to find the golden statues and track your achievements in the Play Disney Parks app.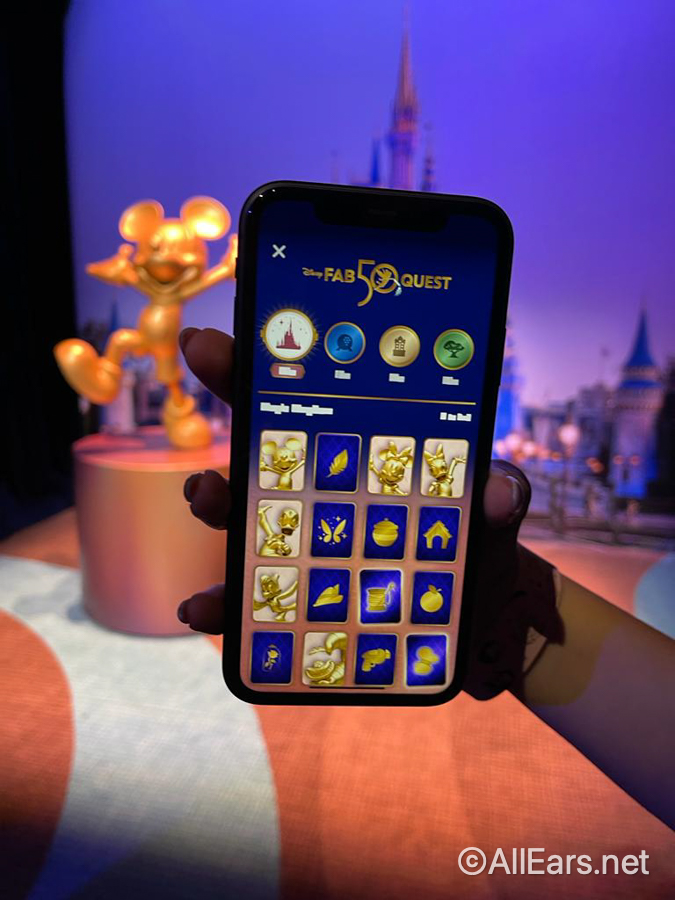 For those headed to Star Wars: Galaxy's Edge in Disney's Hollywood Studios, MagicBand+ brings a new experience called "Batuu Bounty Hunters."
This allows guests to join the Batuu Bounty Hunters Guild by using their MagicBand+ to find "virtual bounties hidden throughout Black Spire Outpost." Haptics and light patterns on the band will act as clues, with progress tracked in the Play Disney Parks app.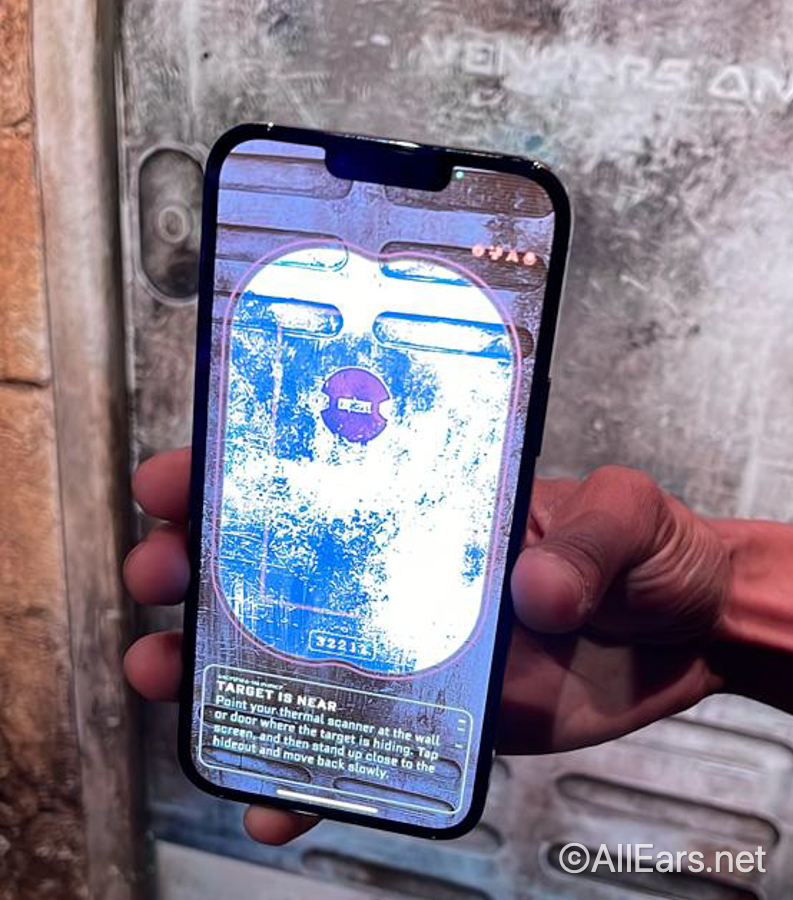 These are some of the things that make MagicBand+ unique:
Haptic vibrations
Customizable light patterns (you can customize some of this just by double tapping the center of the band)
Gesture recognition for interactivity at certain locations
A rechargeable battery
Experiences exclusive to MagicBand+ such as Star Wars: Batuu Bounty Hunters and more!
MagicBand+ will also interact with the "Hey Disney" Alexa service that is set to launch soon in Disney's hotels.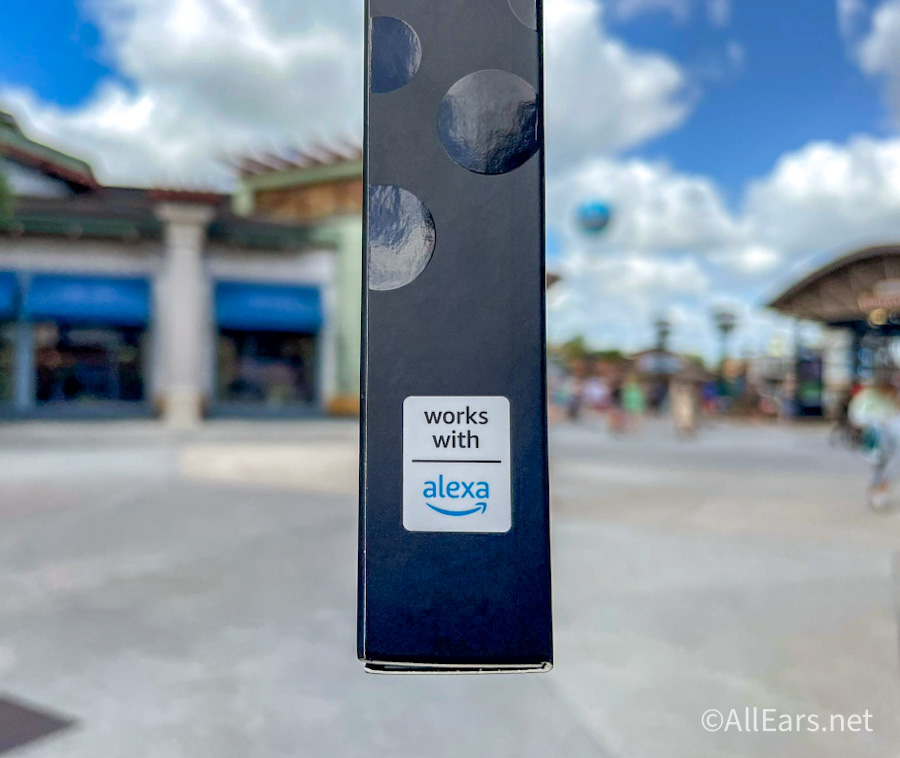 MagicBand+ Questions
Do you need to charge your MagicBand? What happens if the battery dies? You've got questions — we've got answers!
Yes, the MagicBand+ is rechargeable and it does need to be recharged. The MagicBand+ actually comes with a 6-inch USB charging cable that you'll use to charge it up. You'll also be able to buy a charging cable separately online or in the parks.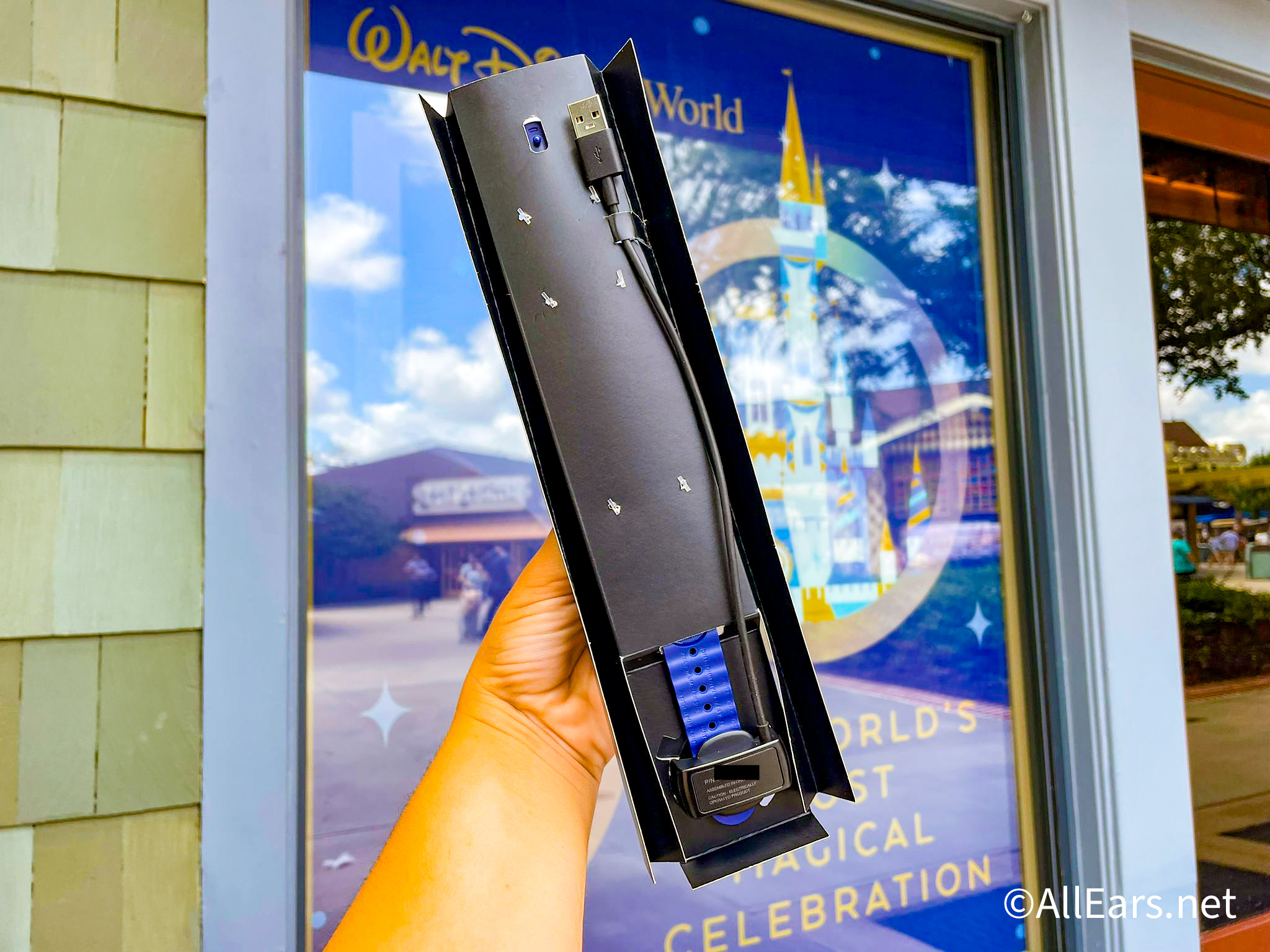 Depending on your use of the band, Disney says that the battery can last from 1-3 days. There are no charging stations inside the parks, so you'll want to make sure you charge your MagicBand+ fully before you visit and nightly during your trip.
What happens if the battery for your MagicBand+ is dead? Are you stuck not being able to use it? Good news! Even if your MagicBand+ battery is dead (0% after you used it up), you can still use it for some things including:
Park entry
Lightning Lane entry
Disney Resort room entry
Disney Resort folio charging
Disney PhotoPass photographer interactions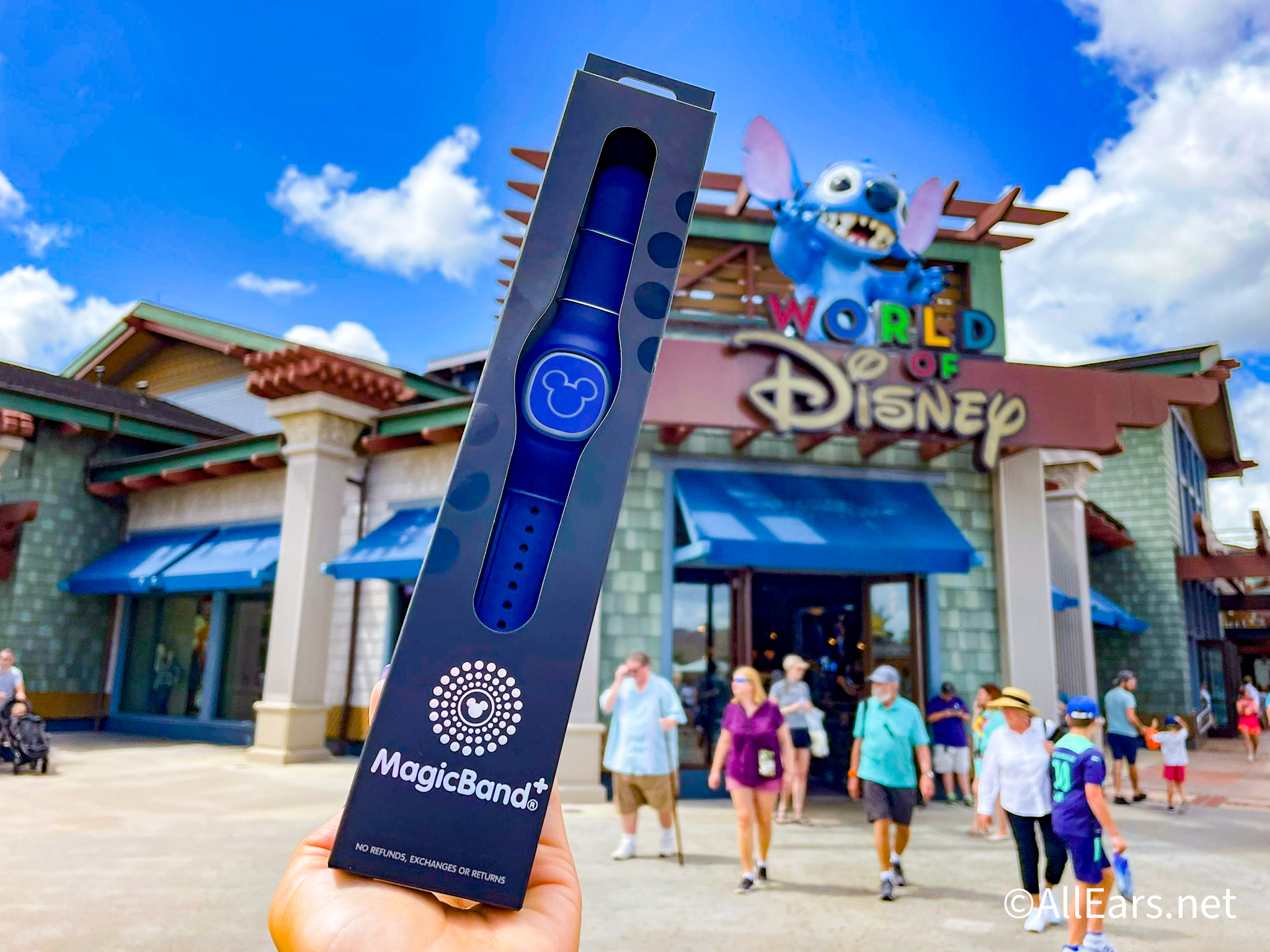 Essentially, it seems like your MagicBand+ can still do many basic MagicBand functions even after its battery has died. But Disney does note that "Certain MagicBand+ functionality and features, such as automatic association of Disney PhotoPass attraction photos to your linked Disney account, software updates, customization settings, and use with certain Park and Resort interactive experiences may be affected if the MagicBand+ battery is not adequately charged." So just keep that in mind!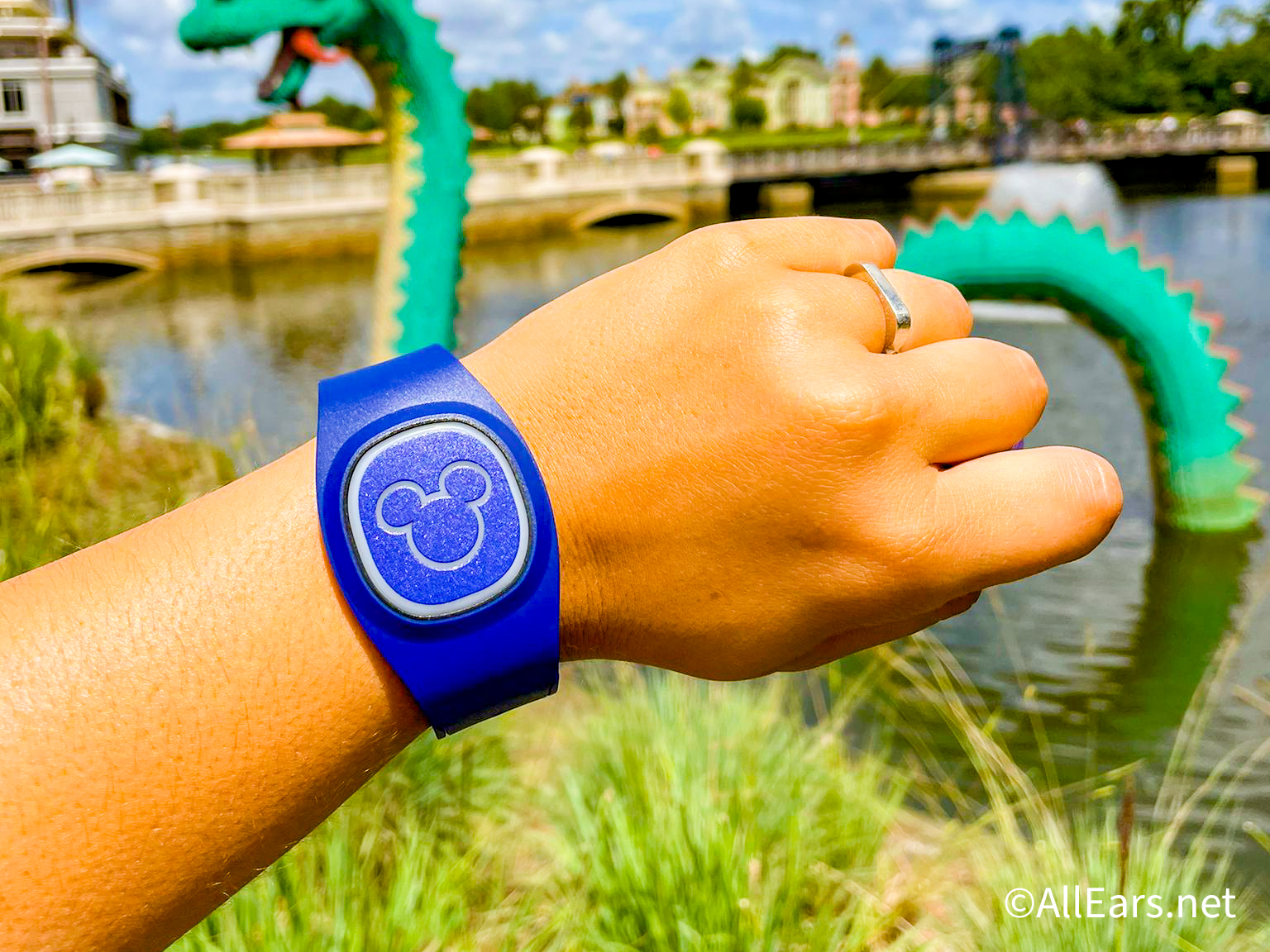 You can check your MagicBand+ battery status through the My Disney Experience app (as we noted above). But you can also press the button on the back of the MagicBand+ to see the band light up in a color that shows its battery status. Here's a breakdown of what the lights mean:
Having trouble with your MagicBand+? You can run through some troubleshooting to see if it can be fixed. Here's what Disney has to say on that: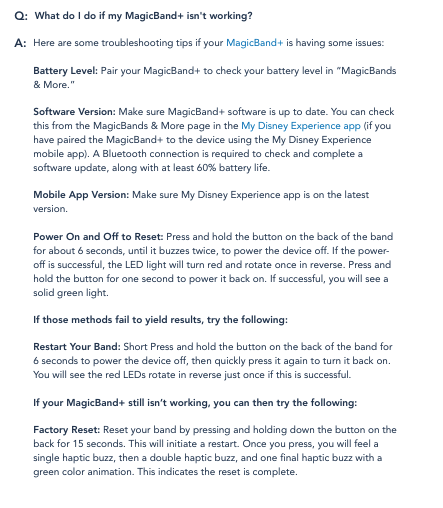 If you're looking to get your hands on MagicBand+, it has officially launched in Disney World, and it is set to launch later this year in Disneyland. We managed to get our hands on one early just to see what it looks like, but here's our full guide. Guests can purchase the bands starting at $34.99, though discounts are available for Annual Passholders, resort guests, and more.
For more MagicBand+ stories, click the links below:
Stay tuned to AllEars for more Disney news!
Join the AllEars.net Newsletter to stay on top of ALL the breaking Disney News! You'll also get access to AllEars tips, reviews, trivia, and MORE! Click here to Subscribe!

Will you be trying out MagicBand+? Let us know in the comments!