In case you haven't heard the exciting news — Mickey's Not-So-Scary Halloween Party is returning to Disney World for the first time since 2019!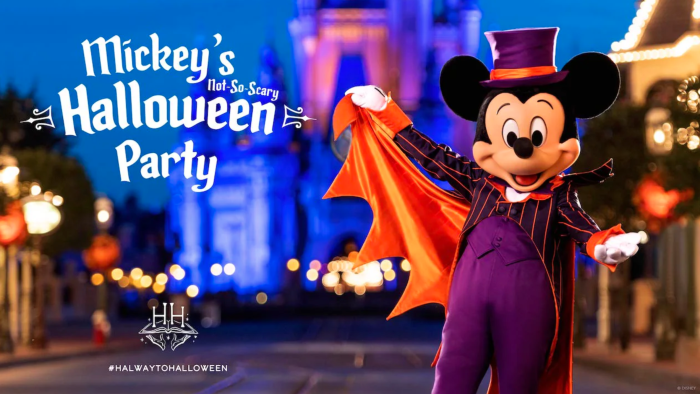 Last year, Disney hosted the Disney After Hours Boo Bash in its place, and while it was a good time, it wasn't the event that many fans know and love. But with the original party coming back this year, we're excited to share ALL the details you need to know…especially if you're planning on going!
Dates
Let's start with the dates for this year's event! The party will take place on 37 separate nights throughout August, September, and October. Here's the full list of dates:
August: 12th, 16th, 19th, 23rd, 26th, 30th
September: 2nd, 5th, 9th, 11th, 13th, 16th, 18th, 20th, 23rd, 25th, 27th, 29th, 30th
October: 2nd, 4th, 6th, 7th, 10th, 11th, 13th, 14th, 16th, 18th, 20th, 21th, 23rd, 25th, 27th, 28th, 30th, 31st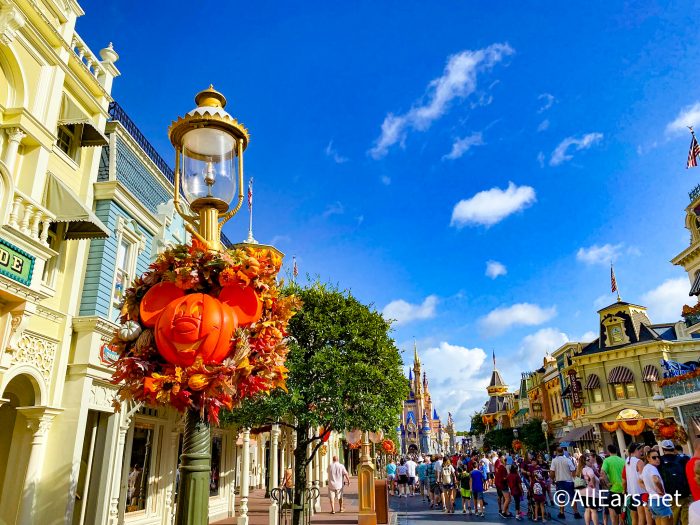 On each of these nights, you'll be able to party in Magic Kingdom from 7PM to midnight. Guests who have a ticket to MNSSHP will be able to enter the park early at 4PM to enjoy all that Magic Kingdom has to offer during the daytime. If it's like years past, the park will close at 6PM to usher out the day guests.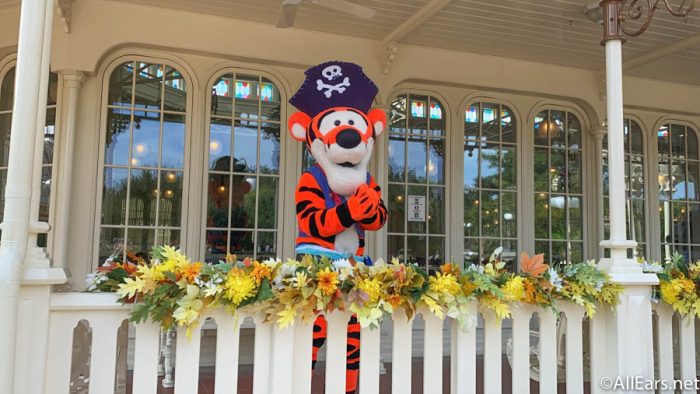 Tickets
Okay, so we've got the dates down, but what about tickets? Well, they go on sale to the general public on May 18th, but guests staying at select Disney World hotels on one of the party dates will have an early purchase opportunity starting on May 12th.
This early purchase window is available for those staying at Disney Resort hotels, Walt Disney World Swan and Dolphin Hotels, and Shades of Green. Annual Passholders and DVC members can save $10 per ticket on select nights of the event. Ticket prices will run between $109 and $199, depending on which night you visit.
The most expensive night to visit is Halloween, and the opening night (August 12th) is $139 for adults and $129 for children. The cheapest nights to visit are the dates between August 16th and September 5th.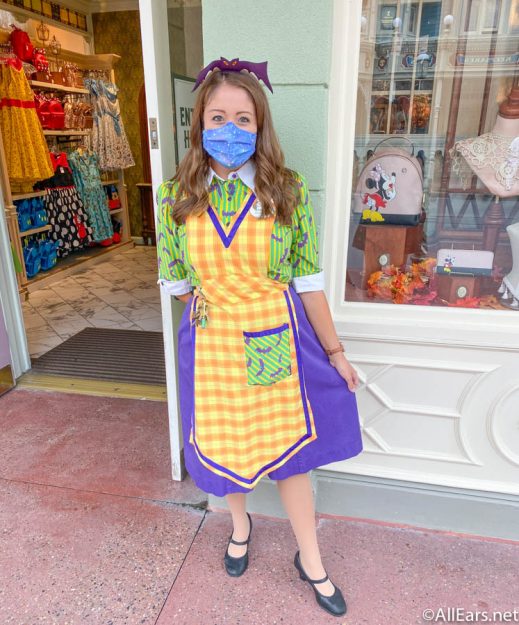 Entertainment
Now let's talk about the thing that guests may be MOST excited about — the entertainment! First of all, the Sanderson sisters will take the stage once again for the Hocus Pocus Villain Spelltacular. This castle stage show has been a fan favorite in the past.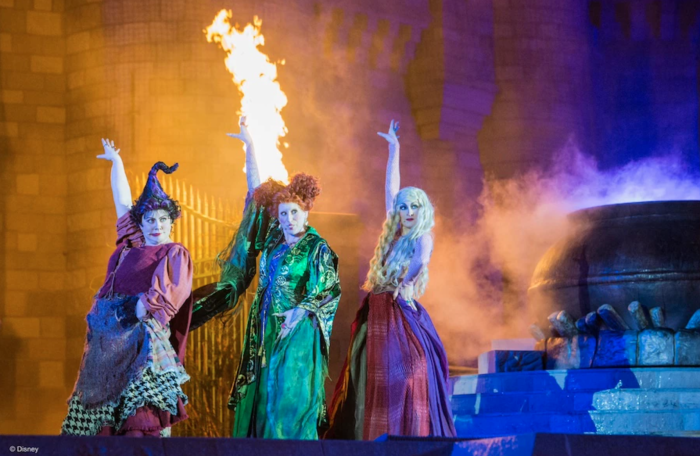 For fireworks, Disney's Not-So-Spooky Spectacular is back to light up the night sky. It will feature many beloved characters and is hosted by Jack Skellington from The Nightmare Before Christmas.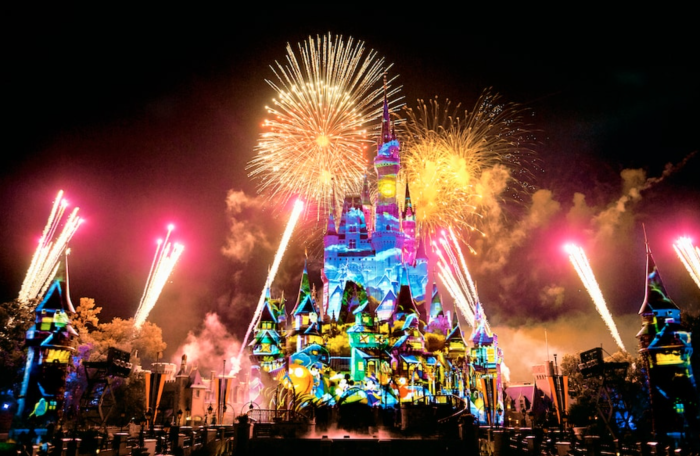 And of course, we have to mention Mickey's Boo-to-You Parade, which will be shown each night of the party! Check out Mickey and friends in their Halloween best, along with all sorts of awesome performers.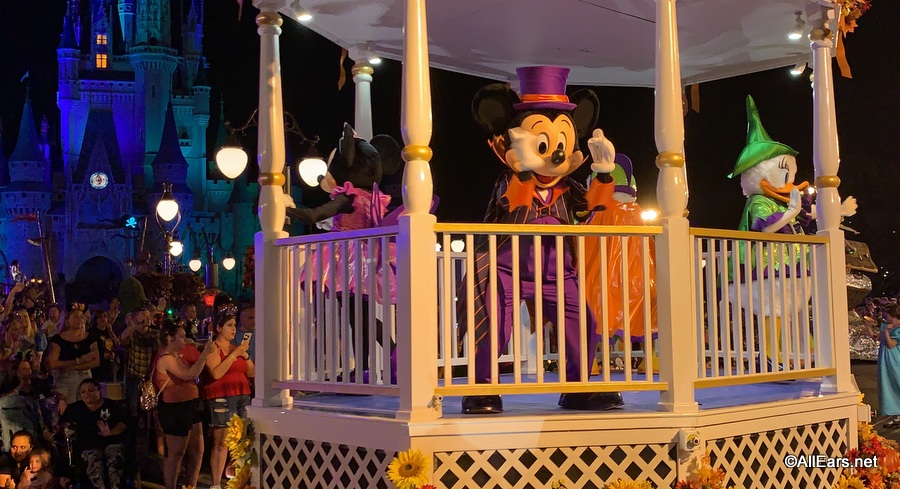 For your little ones, head on over to the Disney Junior Jam at Storybook Circus, where you'll find a dance party with pals from Disney Junior shows. It's sure to be a blast!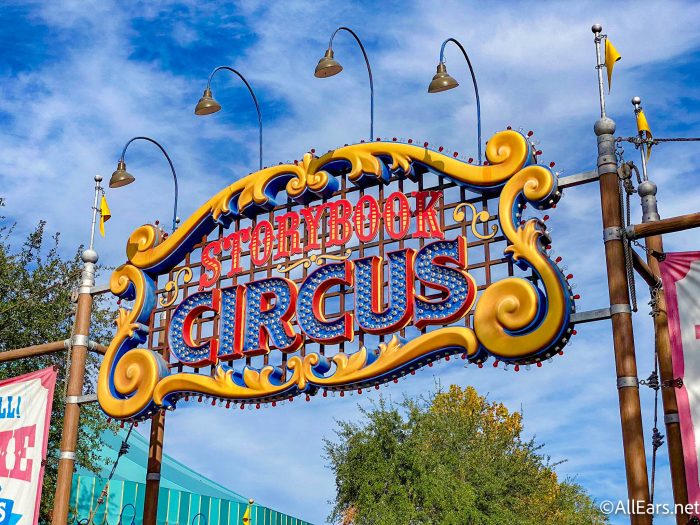 Activities
While you're wandering through the park at night, don't forget to stop and do some trick-or-treating. This year, the candy supply will include M&M'S, Skittles, Snickers, and "other Halloween favorites." And in honor of the 50th Anniversary, guests will receive a special reusable trick-or-treat bag with a 50th Anniversary/Disney Halloween design.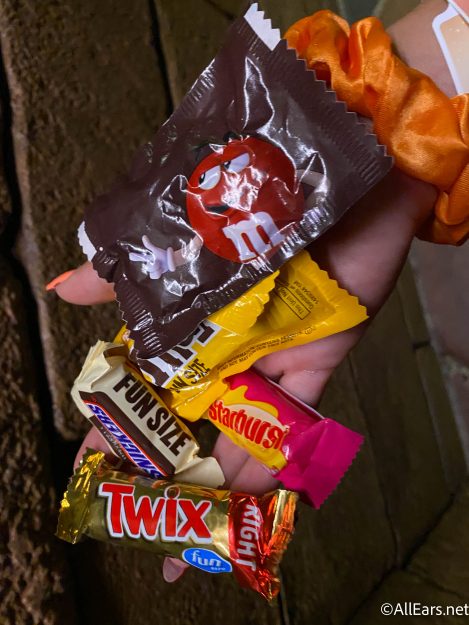 Did we mention there will be characters too?! A variety of characters will be available for meet-and-greets throughout the park, and if it's like years past, they'll be dressed in their Halloween best.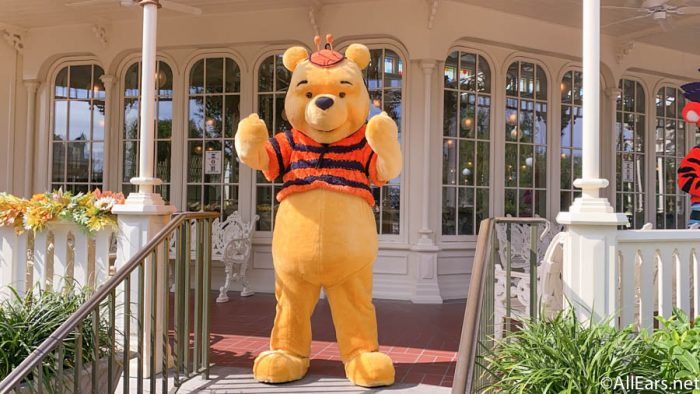 We also got confirmation that some Haunted Mansion characters will make an appearance. It's rare that we get to see these ladies, and we can't wait to see who else shows up!
Food
Of course, it's not a Disney event without food. Disney noted in the announcement for the party that guests can enjoy "sweet and savory menu items inspired by fall flavors and the Halloween season." There will be a mixture of both new and returning items this year including things like the Chilling Chamber Pop, a Jack-O-Lantern Float, and Binx Pastry Tail.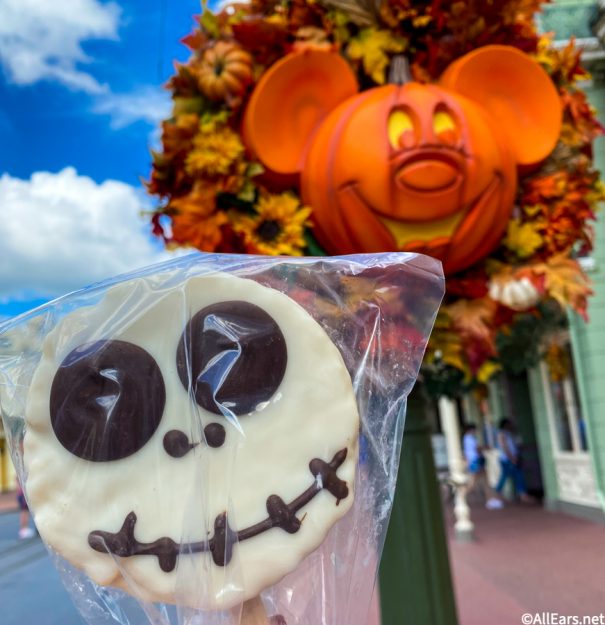 Some of these spooky items are exclusive to Mickey's Not-So-Scary Halloween Party, but some of them will be available to guests who are just in Magic Kingdom for the day.
Disney's Not-So-Spooky Spectacular Dessert Party
This is a dessert party that will take place during Mickey's Not-So-Scary Halloween Party over at The Tomorrowland Terrace. It will provide dedicated seating for the night's fireworks show as well as desserts and drinks.
The price for the dessert party is $115 per adult and $69 per child. Reservations for this experience open on August 9th.
Popcorn Buckets and Sippers
There are four popcorn buckets and sippers coming to Magic Kingdom this Halloween season. The Glow Mickey Mummy Premium Popcorn Bucket will be available during the day and at the party at popcorn stands around the park. The Donald Candy Corn Sipper will be available in early October at Cosmic Ray's Starlight Café, Pecos Bill Tall Tale Inn and Café, The Friar's Nook, Sleepy Hollow Refreshments.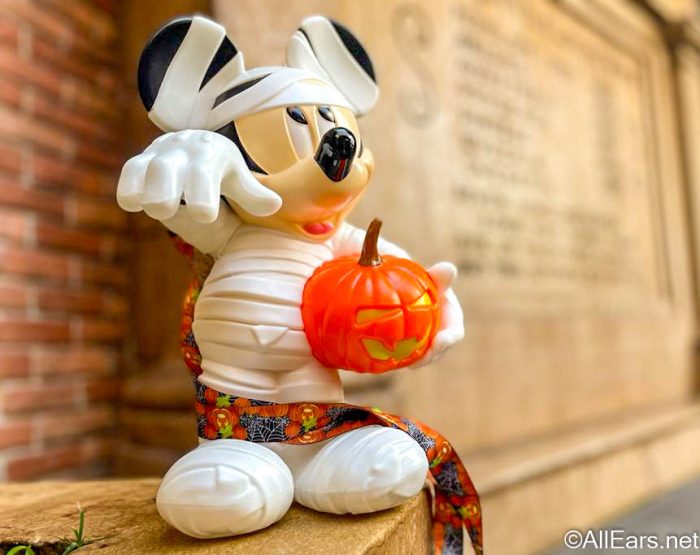 The next two are exclusive to the Halloween party. The Halloween Candy Glow Cube will be available at Sunshine Tree Terrace and the Zero Popcorn Bucket will be available at various popcorn carts all over the Magic Kingdom.
Attractions
One thing we're definitely excited about is that Halloween ride overlays are BACK! Some attractions, including Mad Tea Party, Monsters, Inc. Laugh Floor, and Space Mountain, will be getting special theming for the party. And a variety of other rides will be open throughout the night for guests to enjoy as well.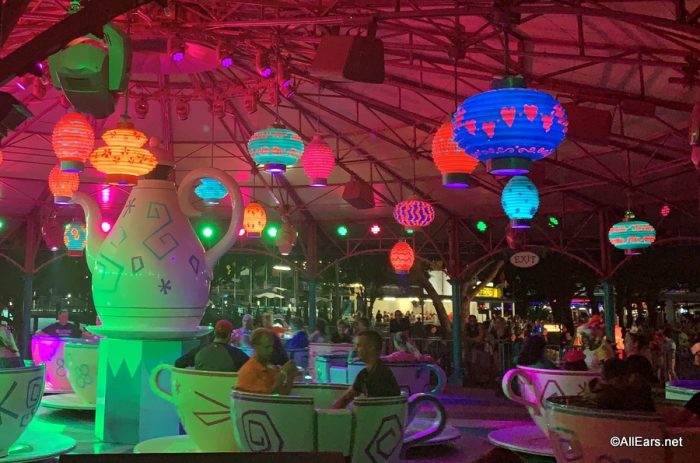 Photo Ops
Finally, you'll definitely want to snap some photos during this exciting night, and Disney has just the thing — special photo ops! For the 50th Anniversary, Disney is introducing "event-exclusive step-in photo opportunities" in addition to the typical magic shots and photo ops that you find at the party. Also, at the end of the night, you'll receive a Halloween-themed 50th Anniversary celebration commemorative print.
Wow, that sounds like a LOT to do at this year's party! We can't wait to check it out for ourselves and bring you all the details on August 12th. Stay tuned to AllEars for all the updates and news you need to know!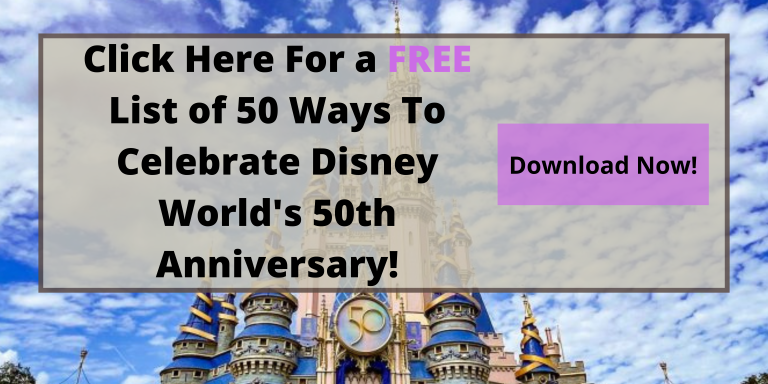 Are you visiting Disney World during the Halloween season this year? Tell us in the comments!