If you've ever stayed at a Disney Deluxe Hotel, you might've found yourself a little spoiled by great architecture, subtle theming, great views, and more space.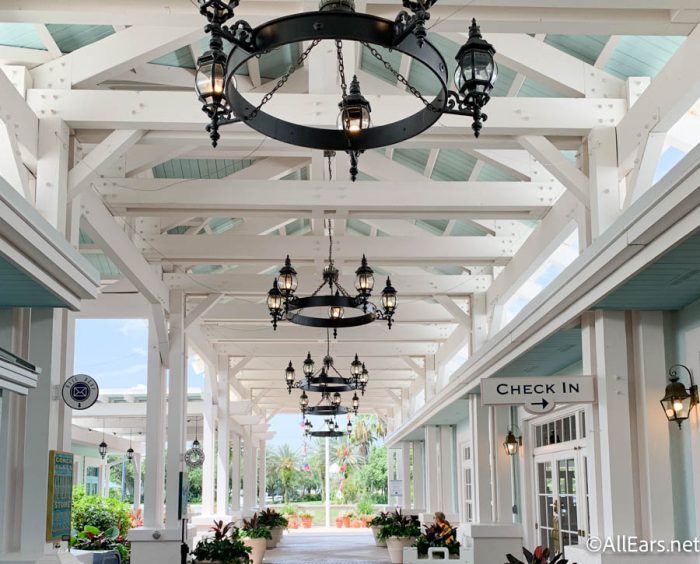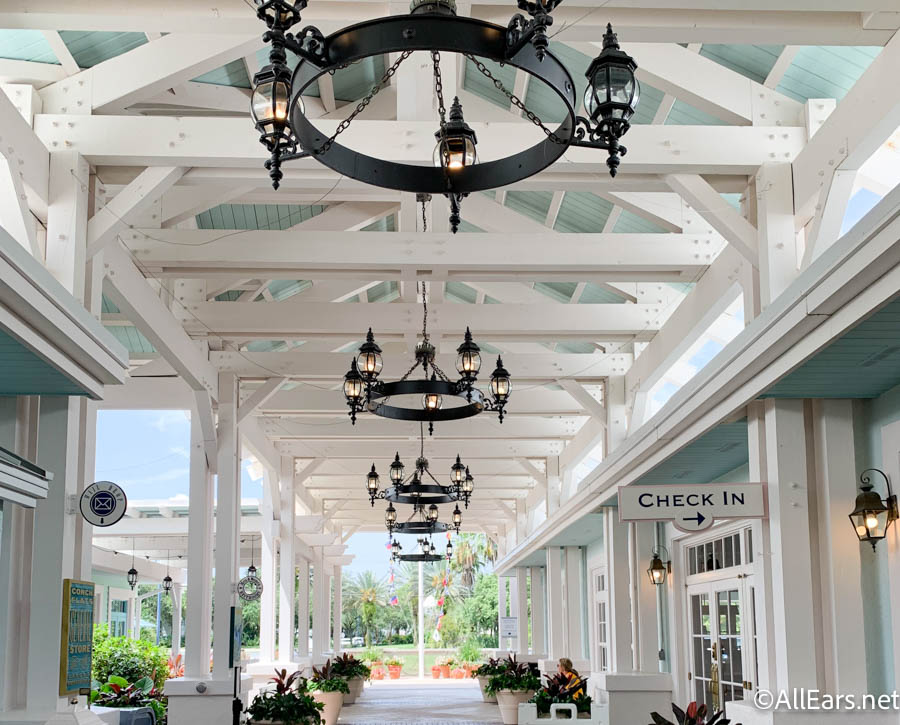 But do all Disney deluxe hotels match up? Take Disney's Old Key West Resort, for example, which is one of Disney's least expensive deluxe hotels, and one that is often overlooked due to its distance from the parks by comparison. How does it compare to the other deluxe resorts? Let's take a room tour to find out.

Resort Atmosphere
One thing you'll notice when you first step foot at Disney's Old Key West is that it feels very laid back — which is the idea. The concept behind the hotel is to make you feel like you're living your best life in the Florida keys, drinking margaritas, and enjoying a lot of sunshine.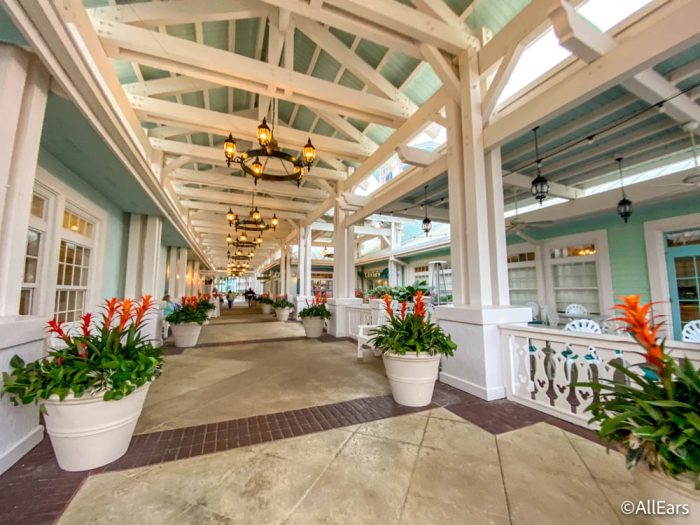 The theme here is laid back
That's probably why this is a very popular destination for Disney Vacation Club members — it's got that Florida Keys home away from home attitude going on. It's not that close to any of the theme parks, but for some, that might be a bonus. It is, however, just a quick boat ride away from Disney Springs.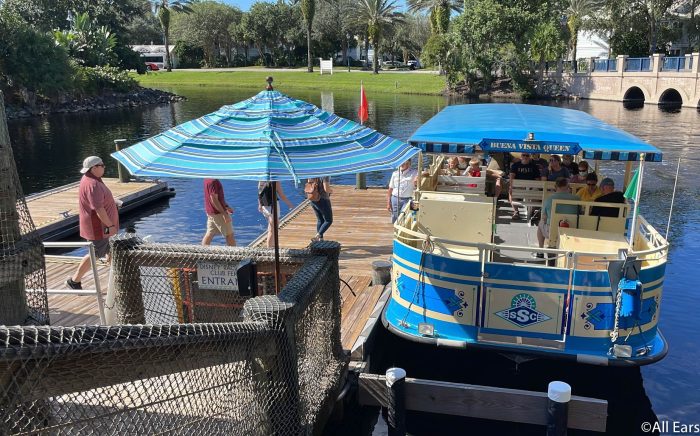 Guests Boarding to Head to Disney Springs
Even Sandcastle Pool makes you feel like you're on an island beach with a giant sandcastle watching over everything.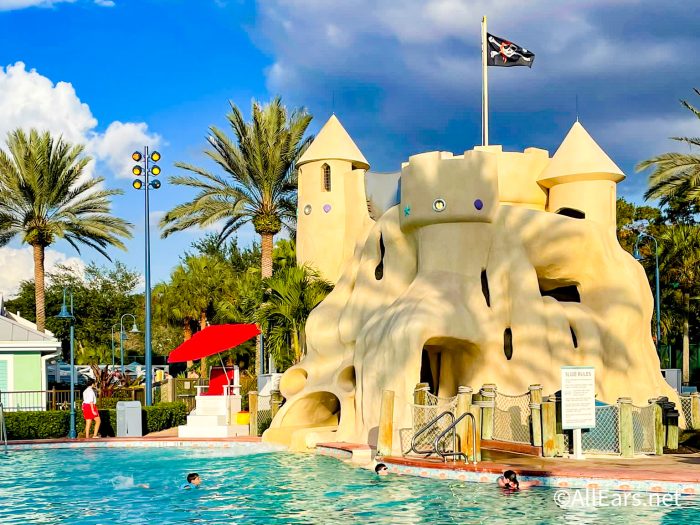 You'll find some great dining here, too — including the very underrated Olivia's Cafe, which feels like it came directly from the Florida Keys.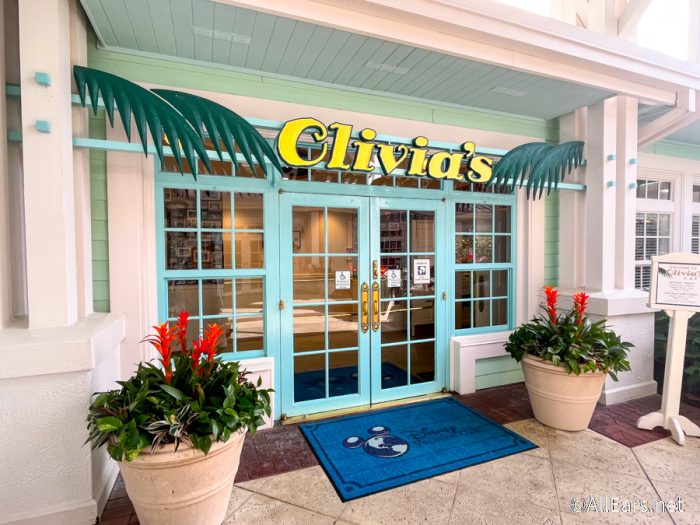 There's also a quick-service spot, Good's Food To Go, where you can grab a quick snack if you're in a hurry.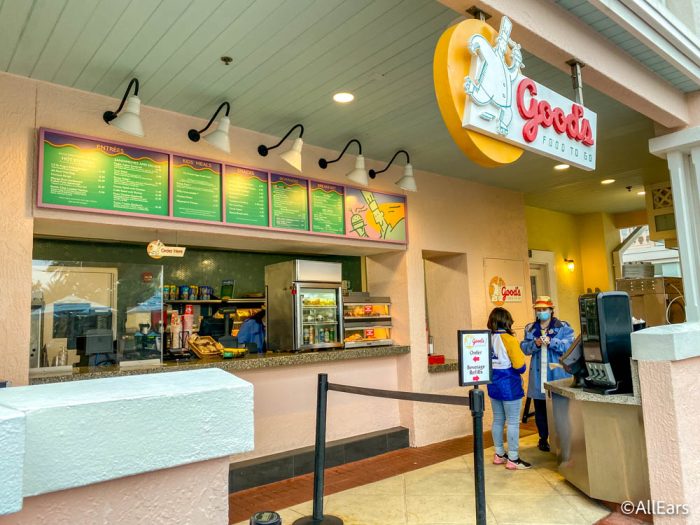 More snacks and drinks are available at Turtle Shack Poolside Snacks.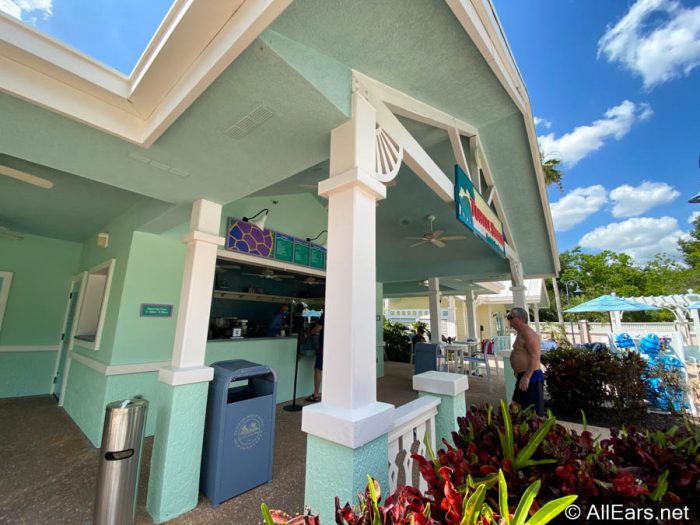 For some fun twist on island drinks, head on over to Gurgling Suitcase, which probably has the most unique name of any bar at Disney World.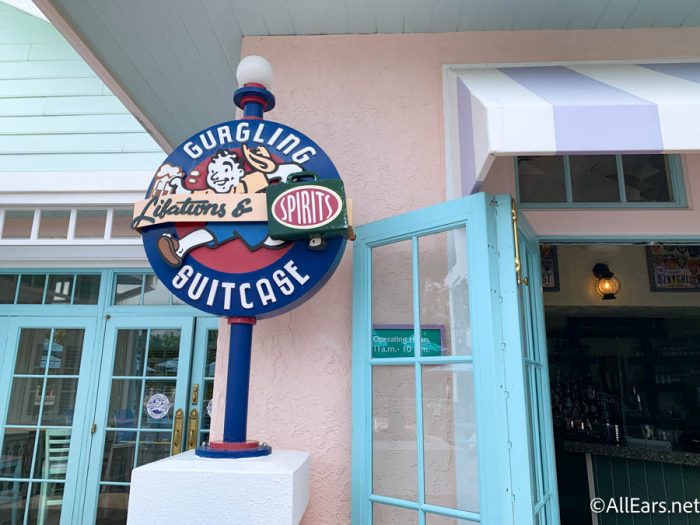 Old Key West lives up to its name with its tropical island vibe, but what are the rooms like? Let's take a room tour!
Room Tour
We stayed in a Deluxe Studio Room during our time at Old Key West.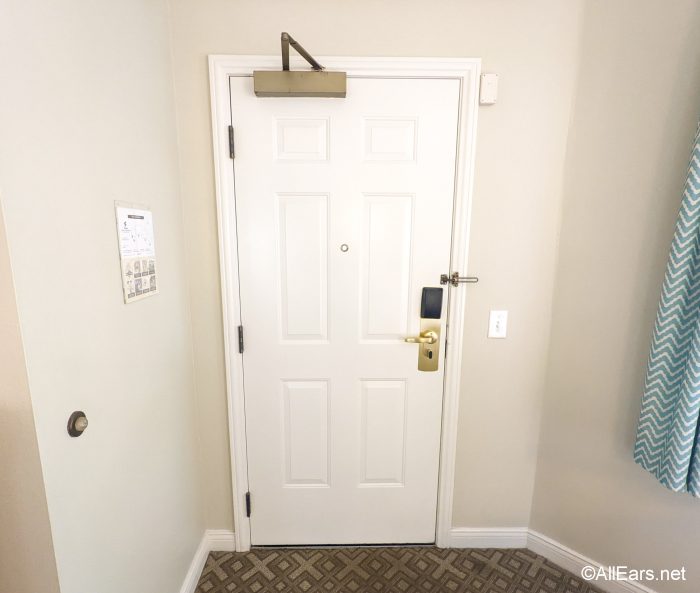 When you first enter, you'll see a spacious room with two queen-sized beds.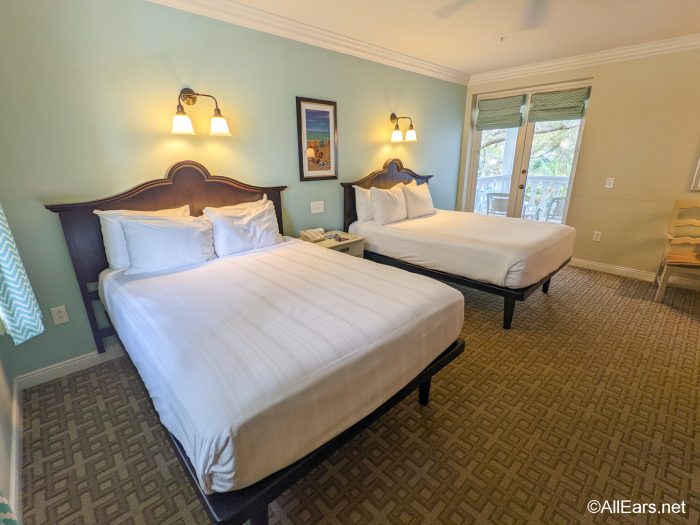 The room
You'll quickly see two sets of doors — the double doors open up into a closet, while the other opens up into the bathroom.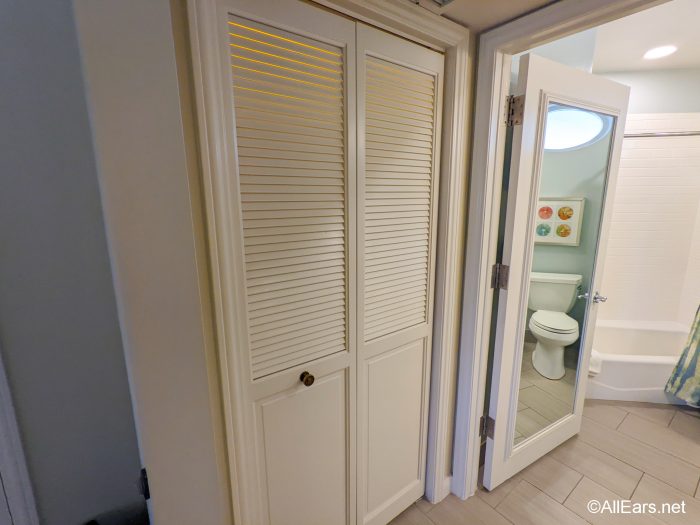 Doors
Inside the closet, you'll see everything you'll need for your stay.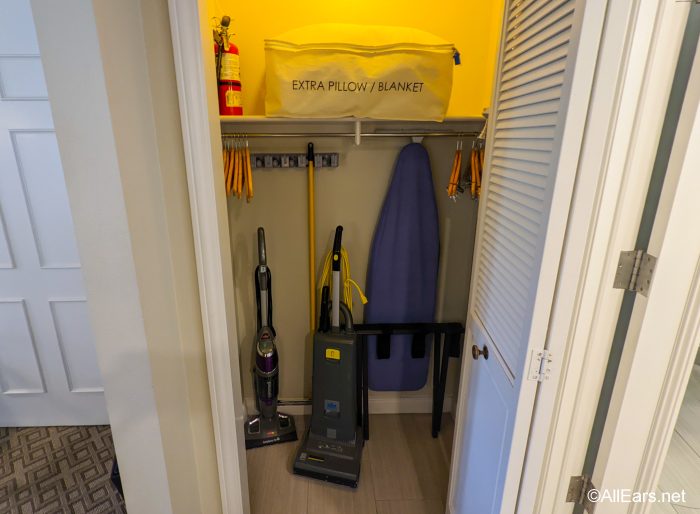 There's an extra pillow and blanket…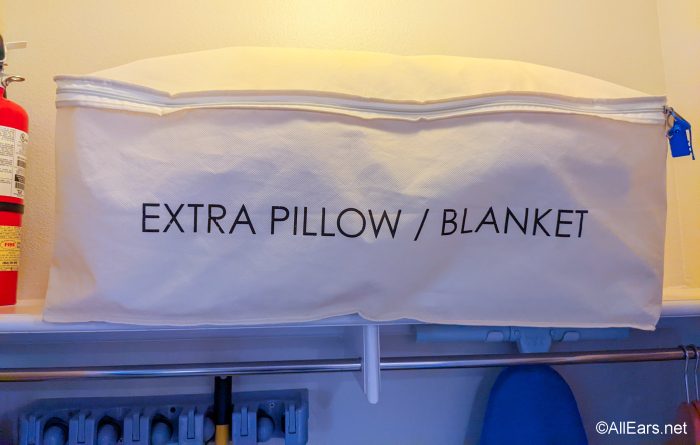 …a fire extinguisher…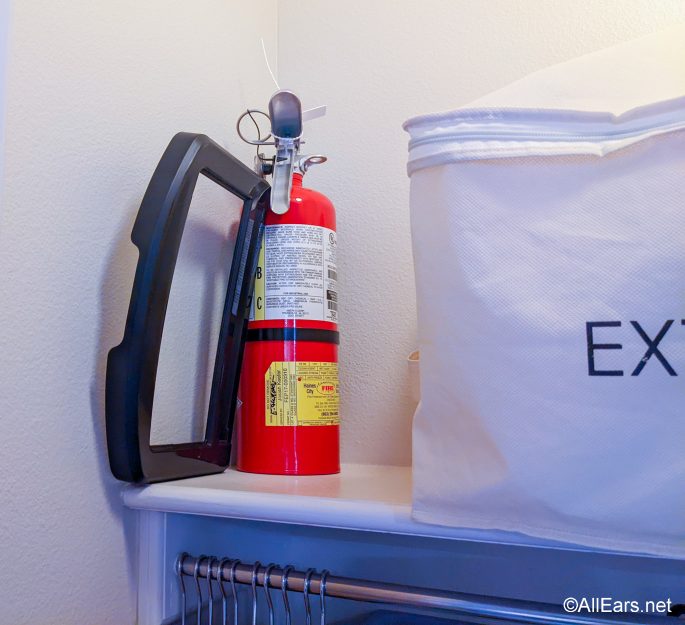 …plenty of hangers…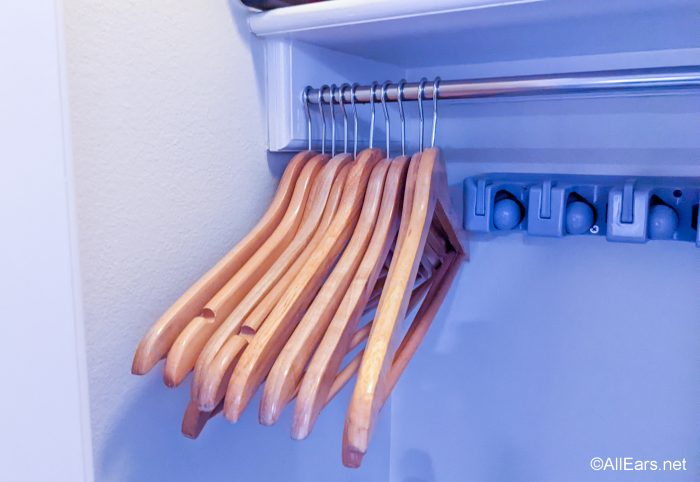 …a floor sweeper and vacuum cleaner (yes, there is carpet in this room)…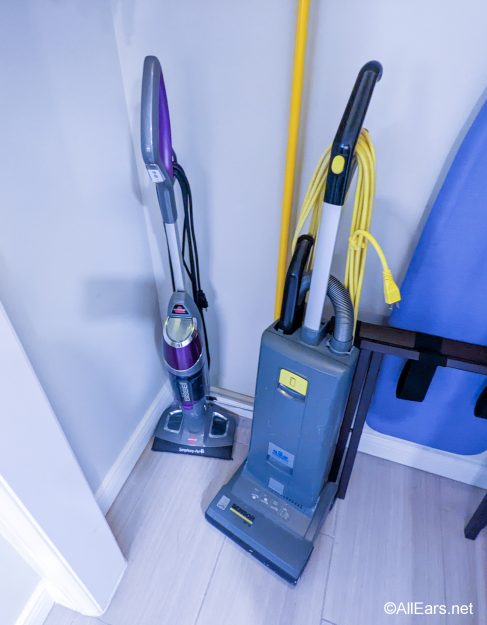 …an iron…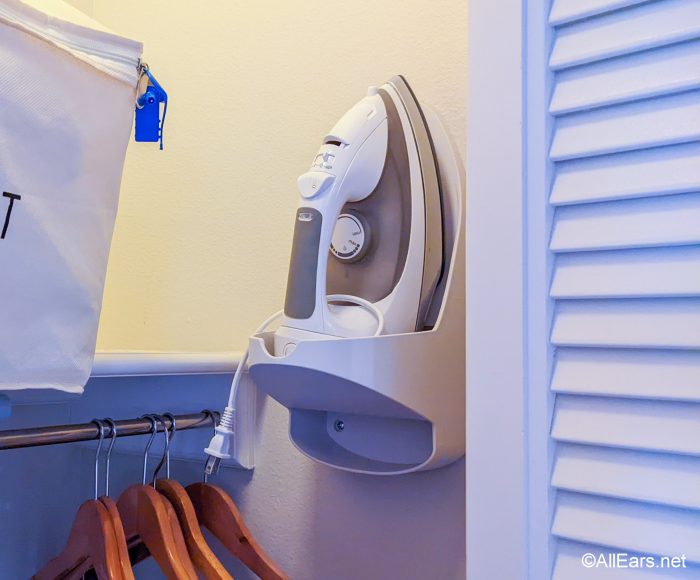 …and an ironing board.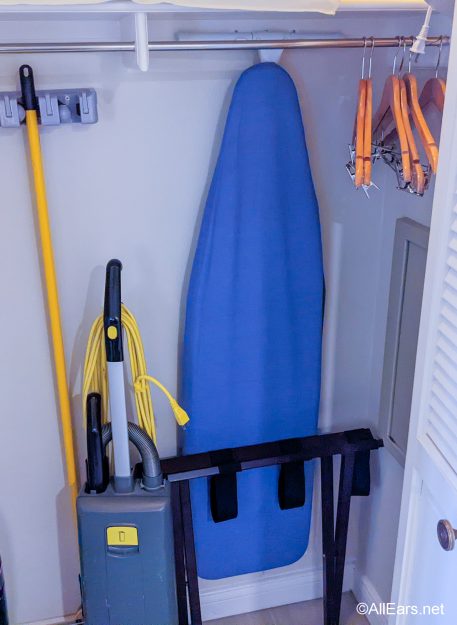 This is also where you'll find the room safe.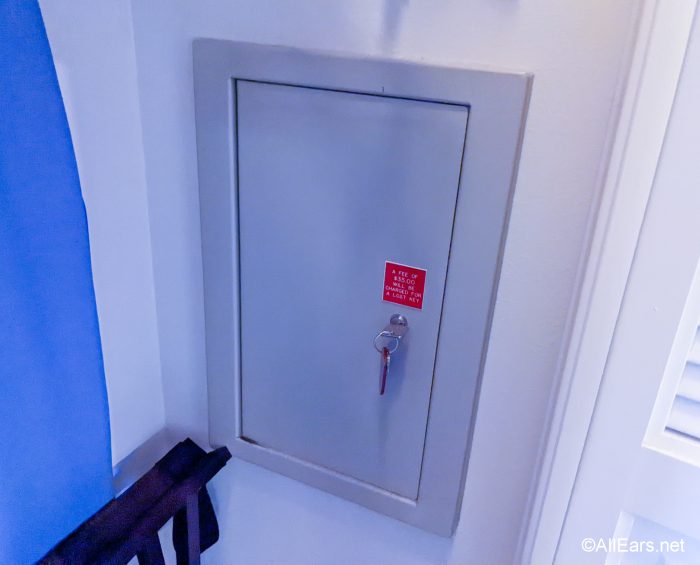 The room itself is well-equipped and even has a ceiling fan — so VERY Florida Keys. There's a dresser with plenty of drawers for your clothes opposite the beds. A flat-screen TV sits on top of it.
The furthest bed has a window next to it.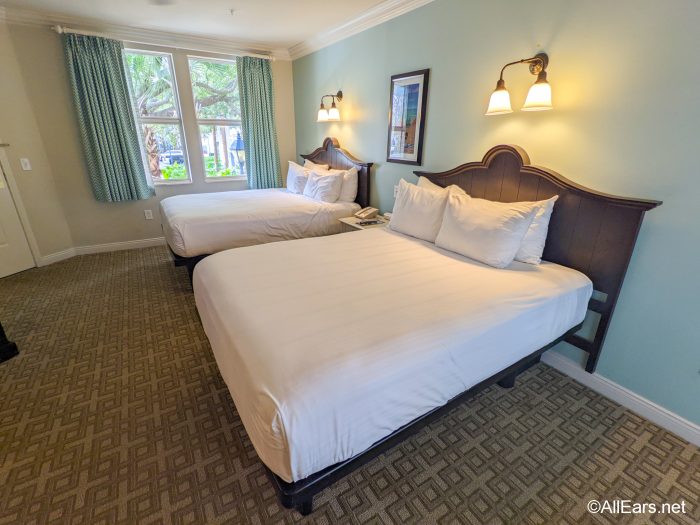 We could see palm trees when we glanced out — so VERY Florida.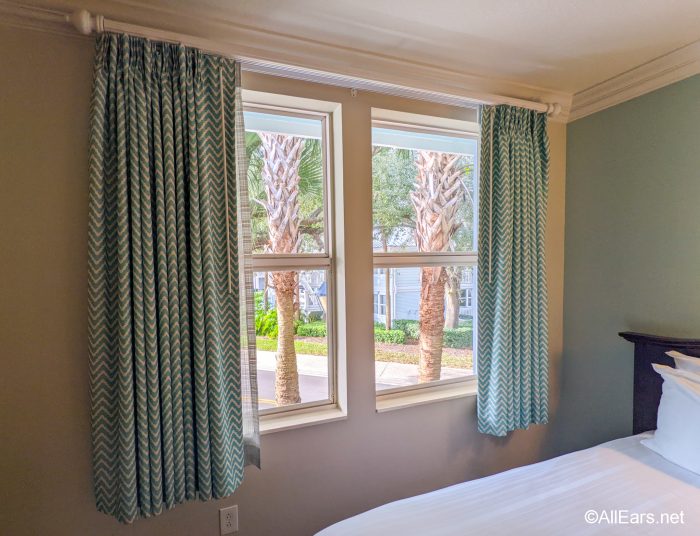 The window has two sets of curtains — a thin sheer curtain that pulls closed…
…and a heavier black-out curtain that pulls closed.
Near the window is a set of double doors that lead out to the balcony.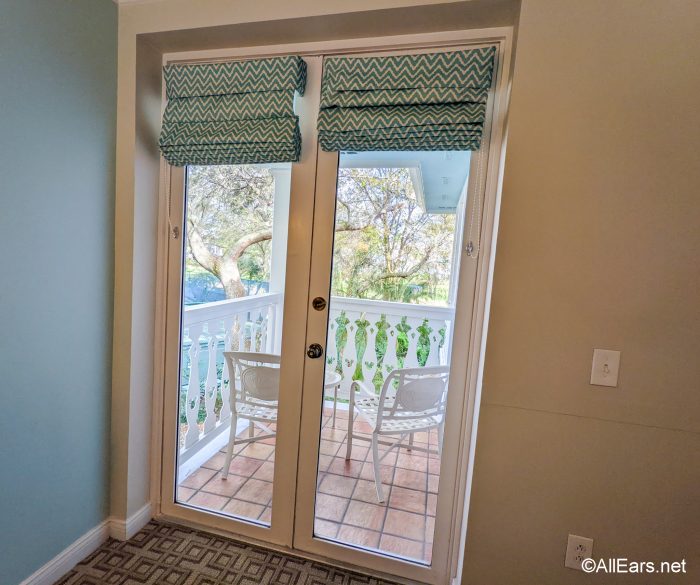 The balcony doors have two black-out shades.
There's a lock and handle on one of the doors.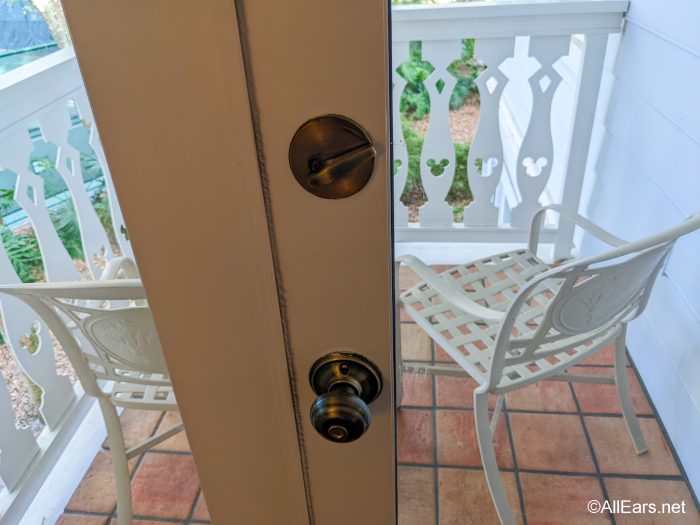 The balcony is small but has enough space for its small table and two chairs.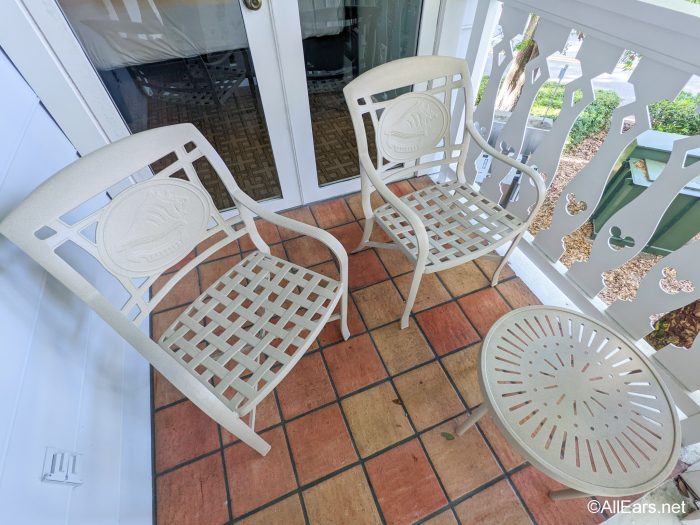 We had a view of palm trees, a road, and other hotel buildings.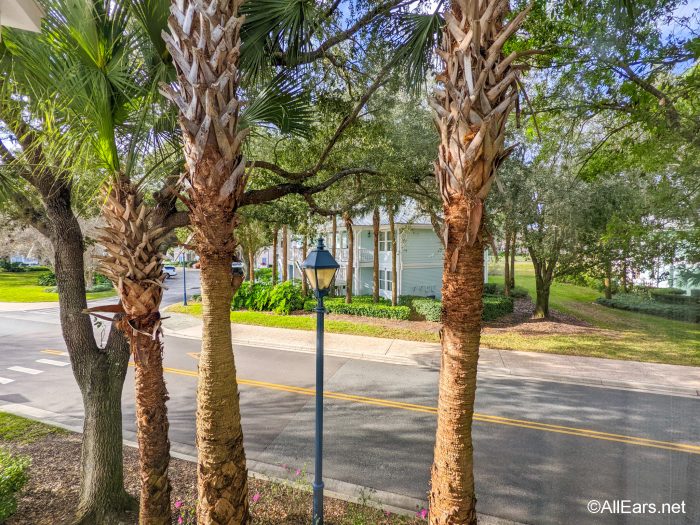 To our right, we could see the tennis court and more greenery.
Back inside, we can take a closer look at the carpet, which is a light brown with a textured pattern on it.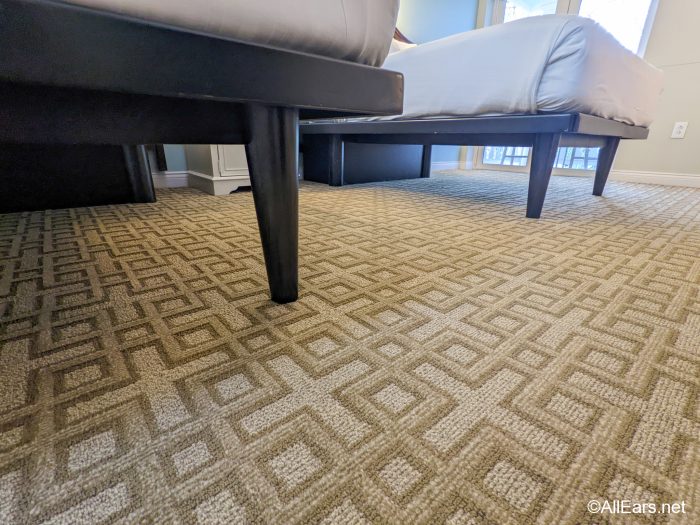 Above each bed is two lights.
There's also a small  table between the two beds…
…with a telephone…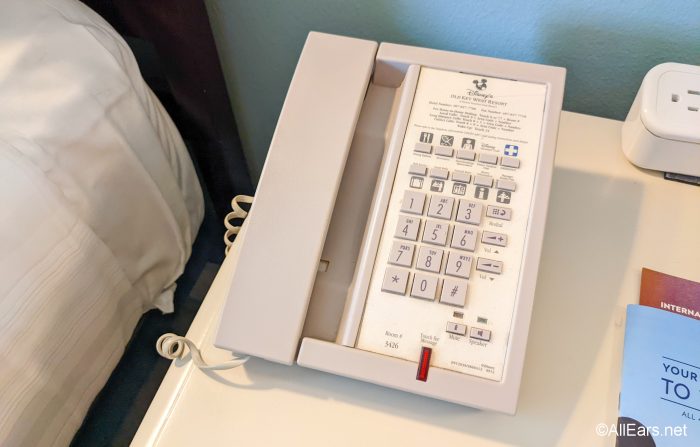 …and an extra outlet with three-prong plug-ins, as well as USB plug-ins.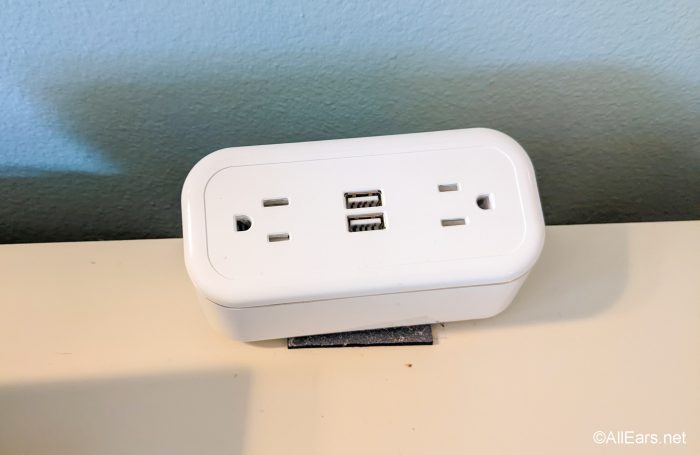 The remote sits here, too, sanitized and wrapped in plastic. You'll also find some Disney World brochures.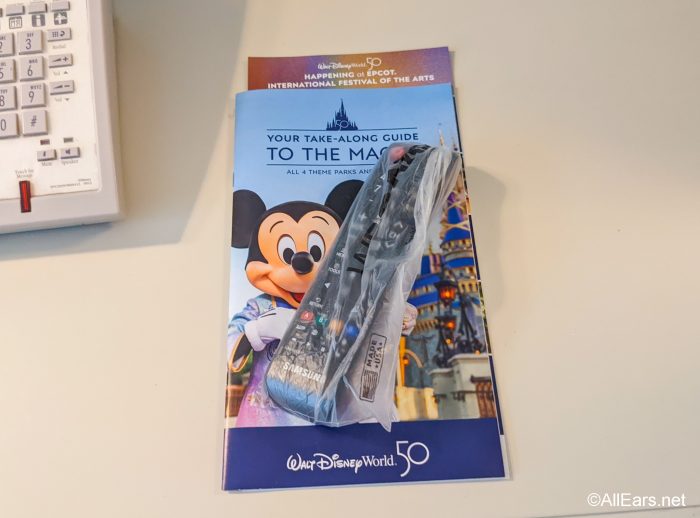 The top drawer pulls out for storage…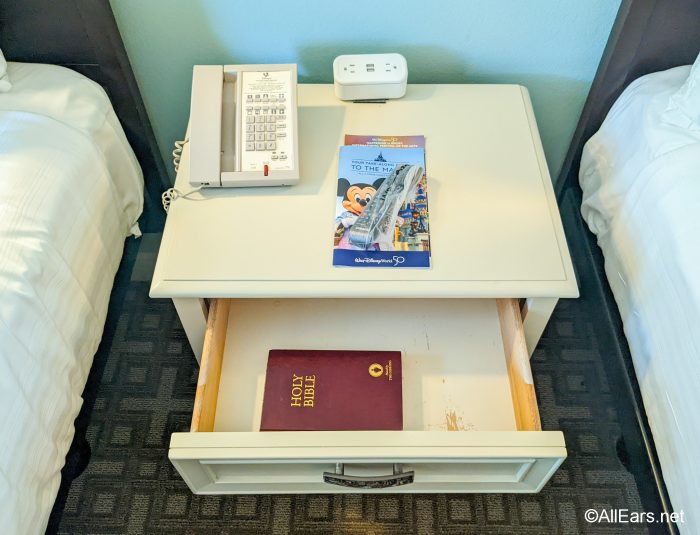 …and the bottom opens up for even more storage.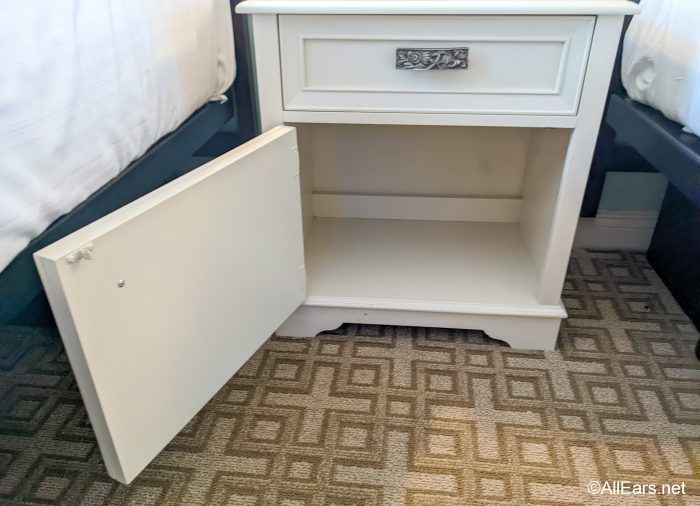 Above this table is some art of Mickey on the beach.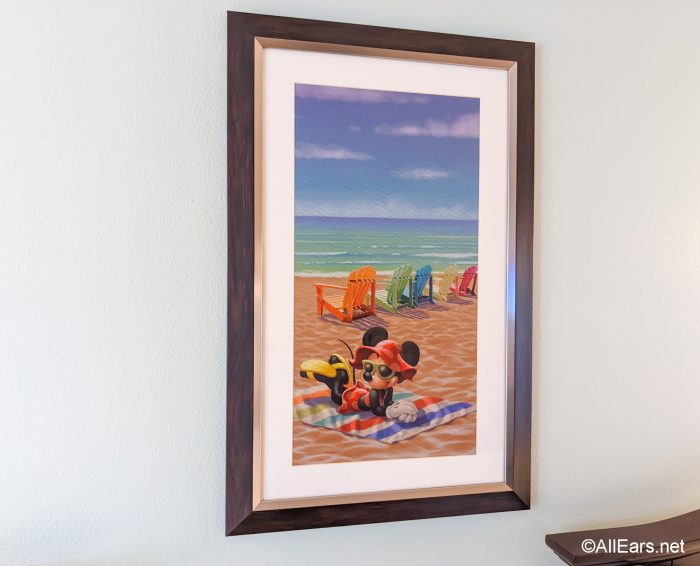 You'll find a table and two chairs tucked into one corner. There's a low-hanging light here…
…along with some fun art on the wall.
The thermostat is nearby so you can keep the room as cool or as toasty as you like.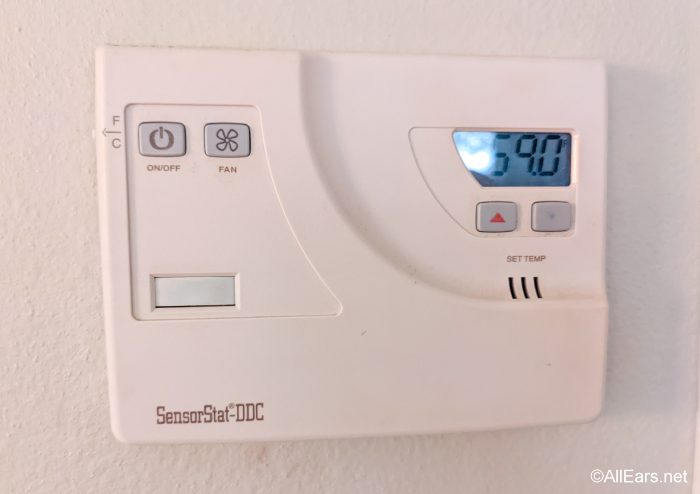 A trash can sits nearby just outside the bathroom.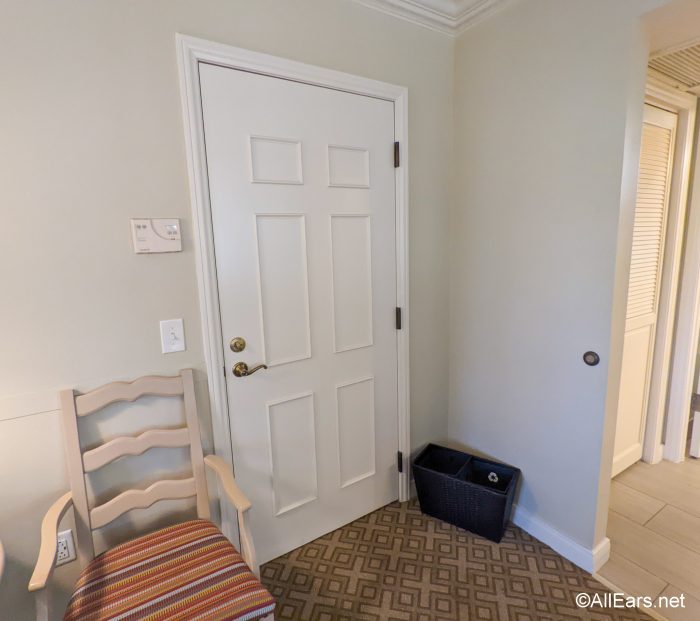 It has a space for regular trash and recyclables.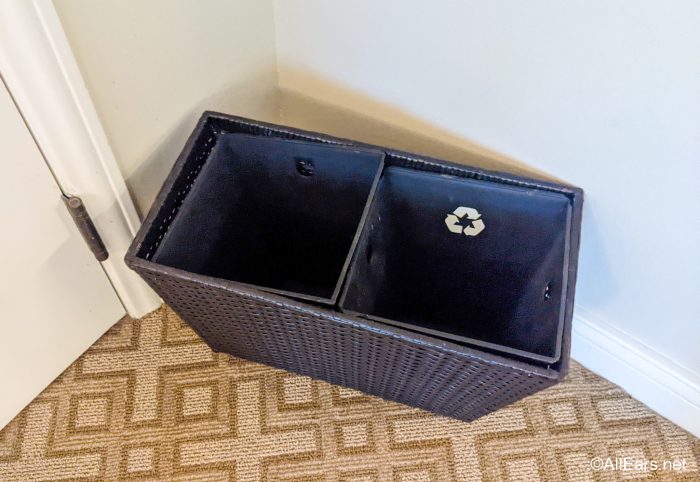 There's an "Enhanced Cleaning" placard on the table describing Disney's cleaning protocols for hotel rooms.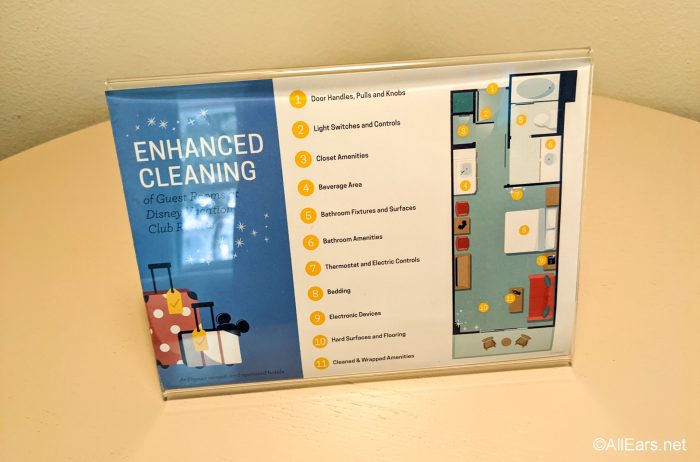 These rooms also have a kitchenette.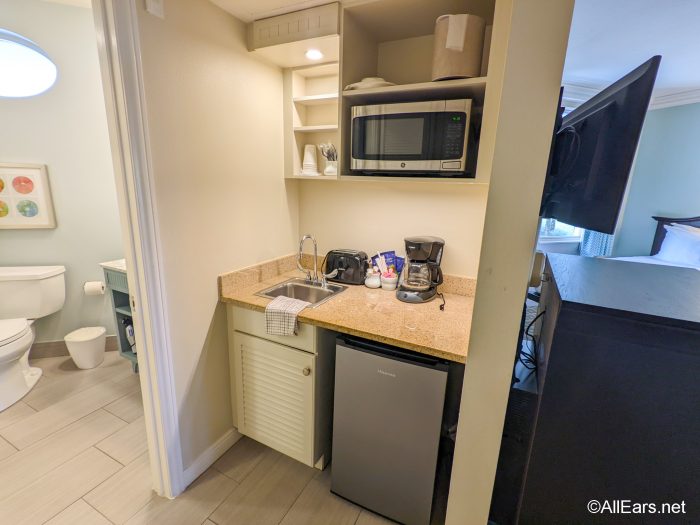 The kitchenette features disposable silverware and cups…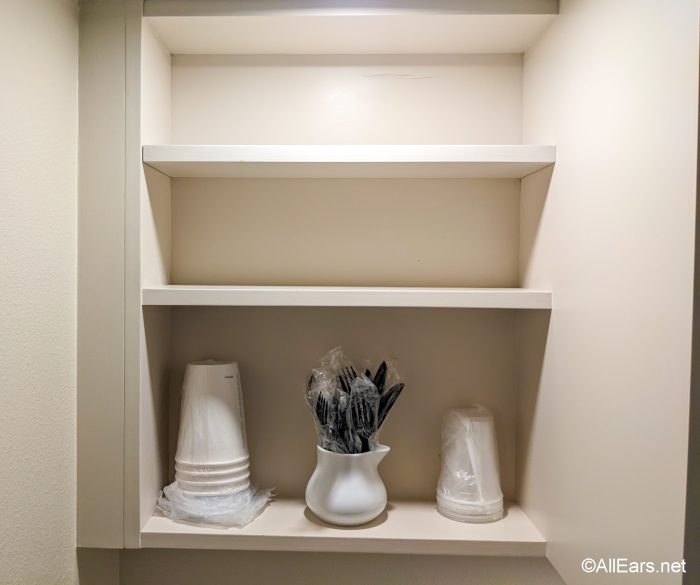 …an ice bucket…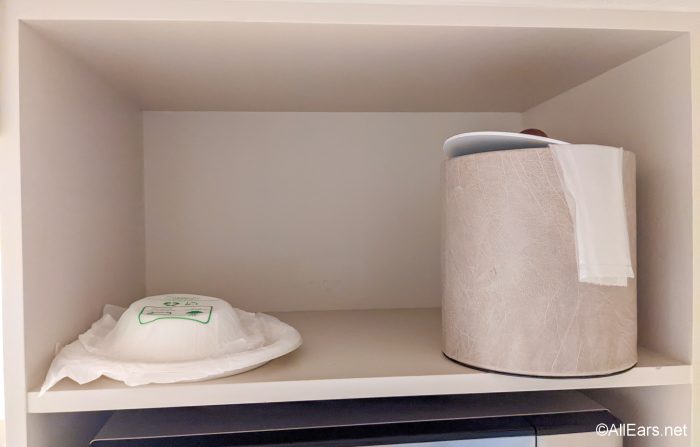 …and a microwave…
There's a countertop, complete with a sink, and a dishrag to wash your dishes.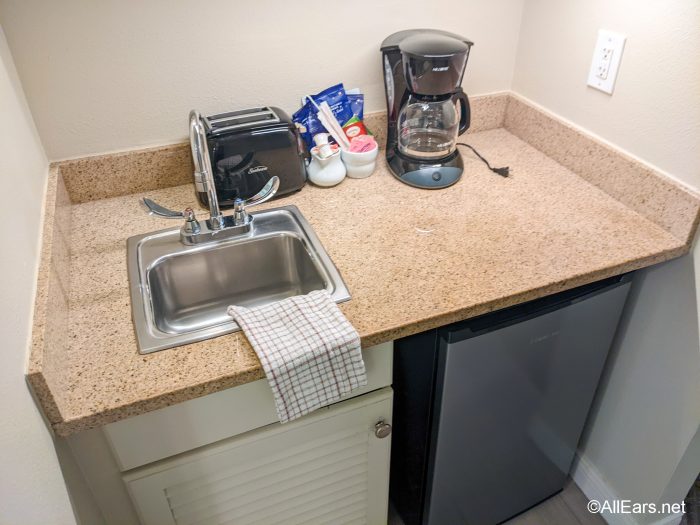 On the counter, you'll find a toaster…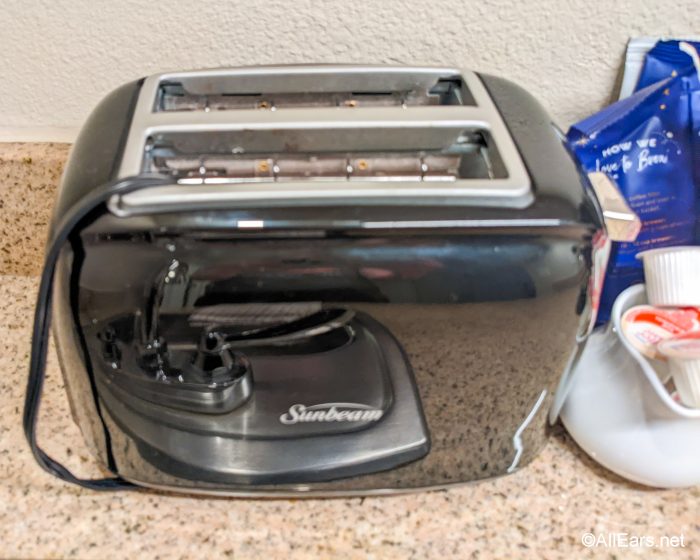 …a full-size coffee maker…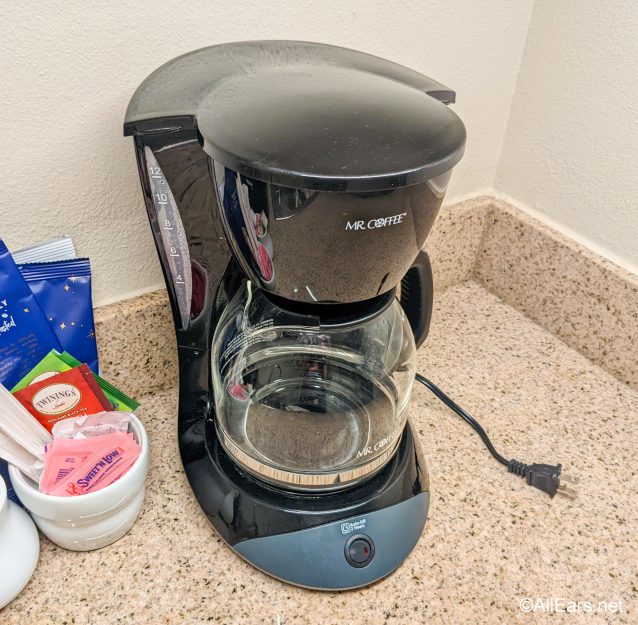 …and Joffrey's coffee, tea, creamer, sugar, and sweetener.
Underneath the counter is a cabinet, along with a mini-refrigerator.
Inside the cabinet, you'll find another trashcan and a paper towel roll.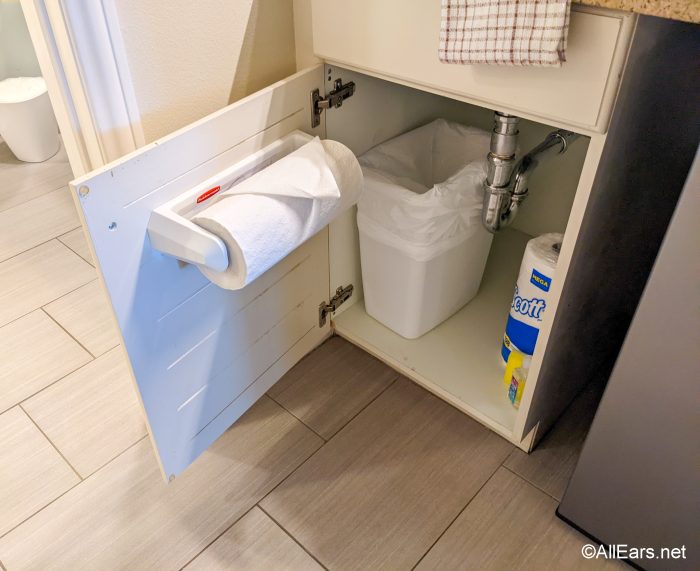 The cabinet also holds extra paper towels, a sponge, and a mini dish soap.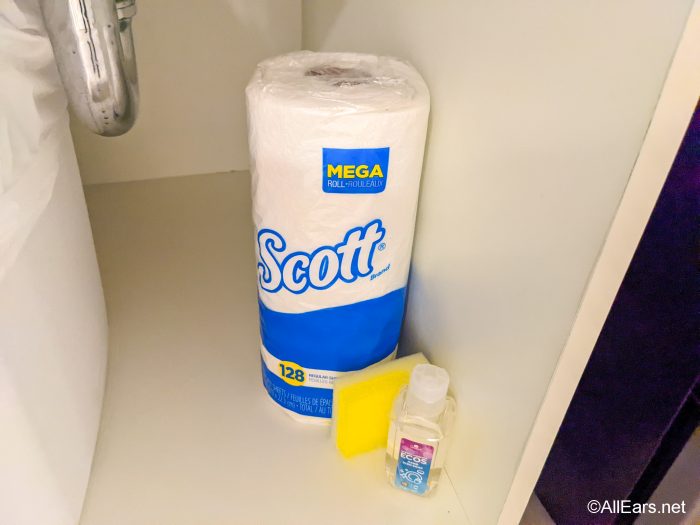 There's an extra mirror outside the bathroom.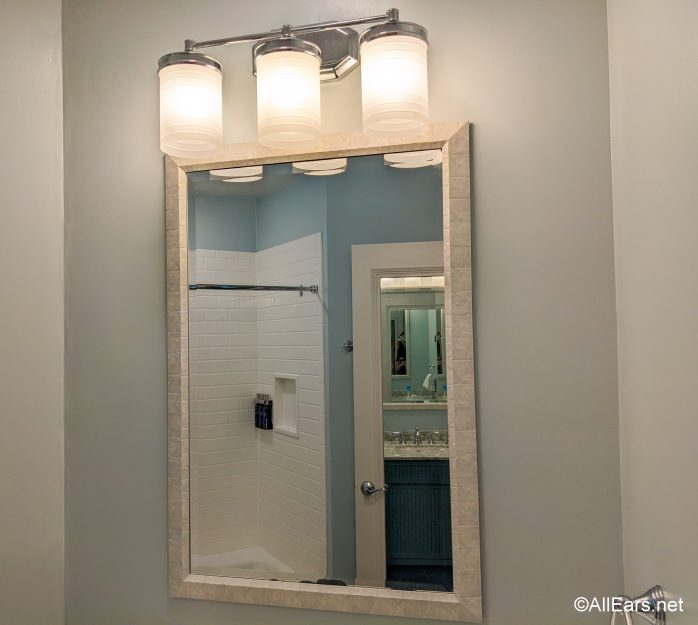 Now let's take a look inside the bathroom. There's a full-length mirror on the outside of the bathroom door.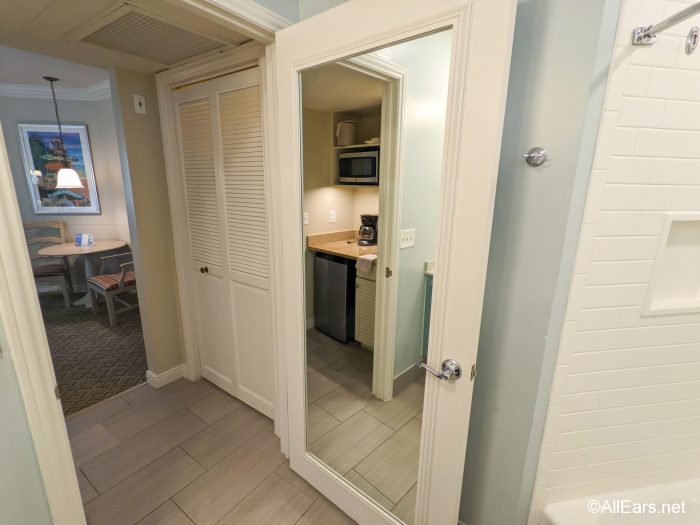 The bathroom is well lit with a bathtub/shower, toilet, trashcan, sink, and vanity mirror.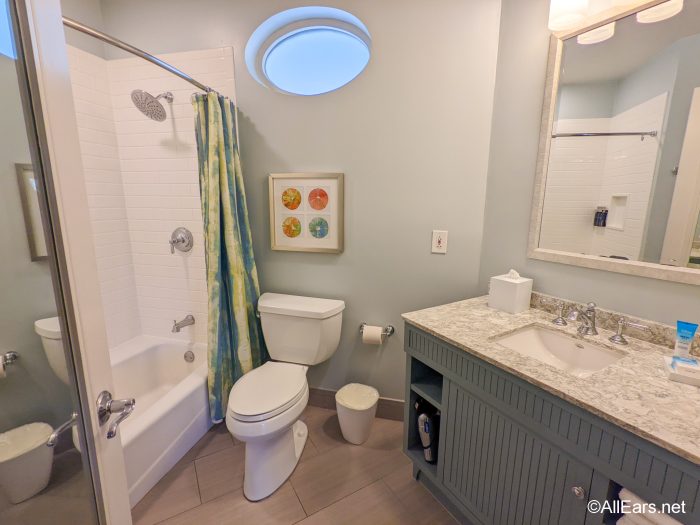 You'll find towel racks with towels behind the bathroom door.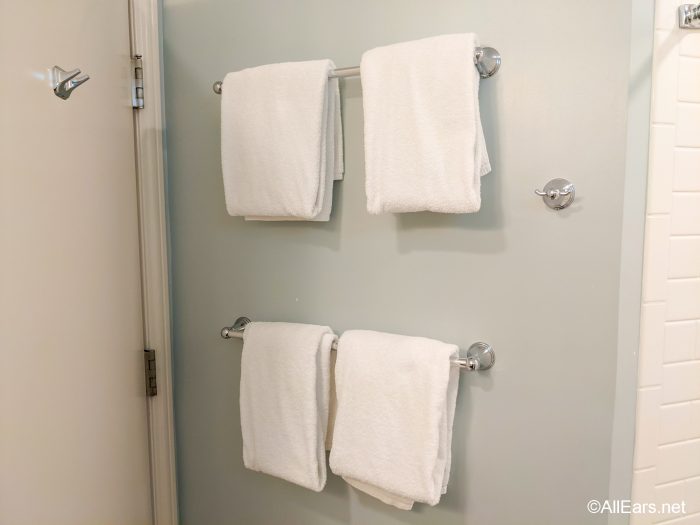 The set-up underneath the vanity mirror has plenty of counter space for your makeup, beauty supplies, grooming tools, etc.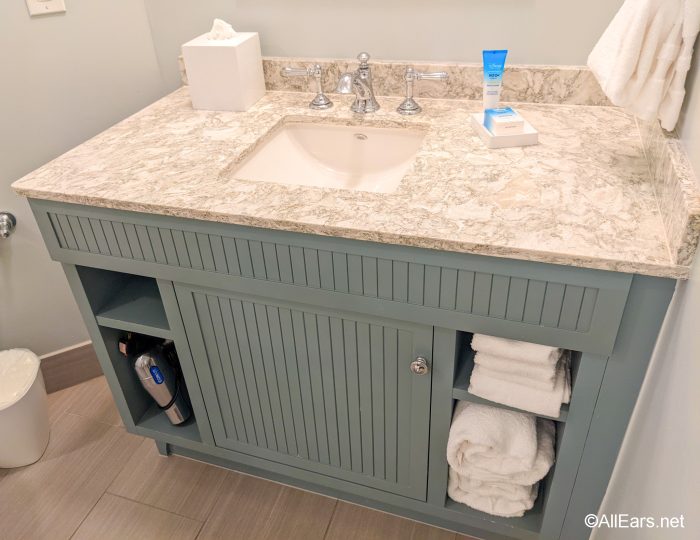 You'll find a box of tissues on the counter.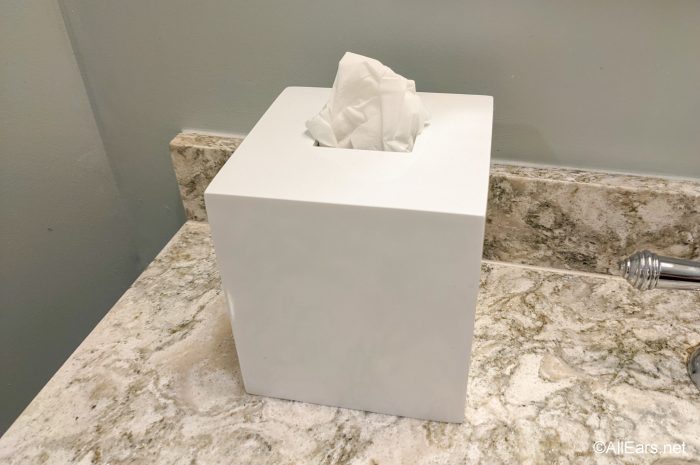 There's also a sink here.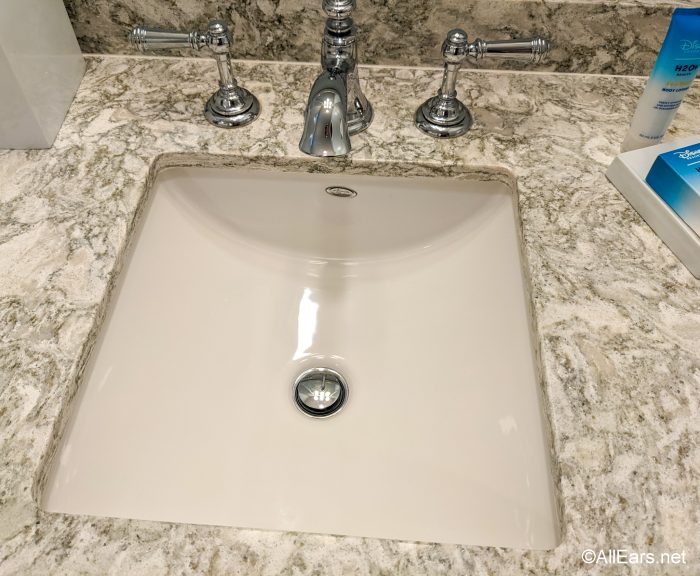 You'll be supplied with H20 Body Lotion and Facial Soap.
Underneath the counter on the right, you'll find extra towels and washcloths.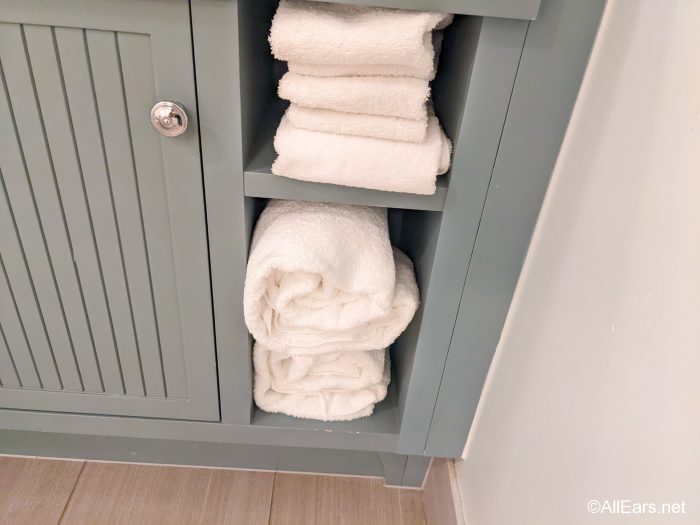 The cabinet opens up and has space for more of your stuff. It's also stocked with extra toilet paper and tissues.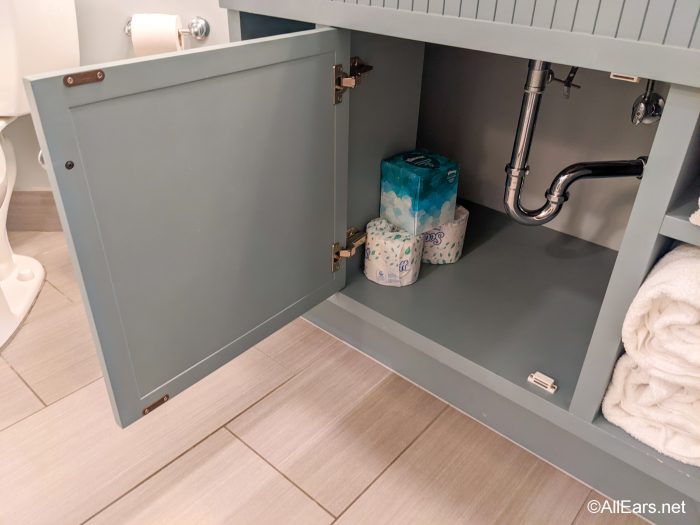 There's a blowdryer on the bottom shelf on the left. There's an empty top shelf for your stuff.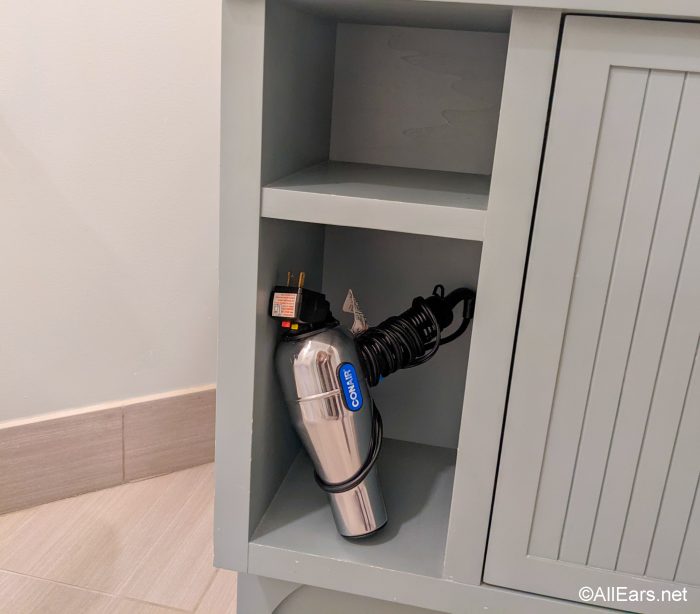 The toilet has a small trashcan beside it, as well as a toilet paper holder stocked with a roll of toilet paper.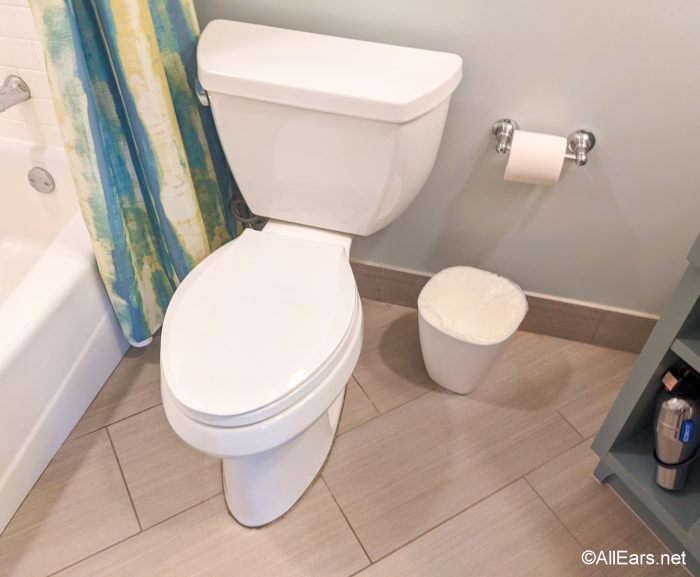 There's a nautical art print above the toilet.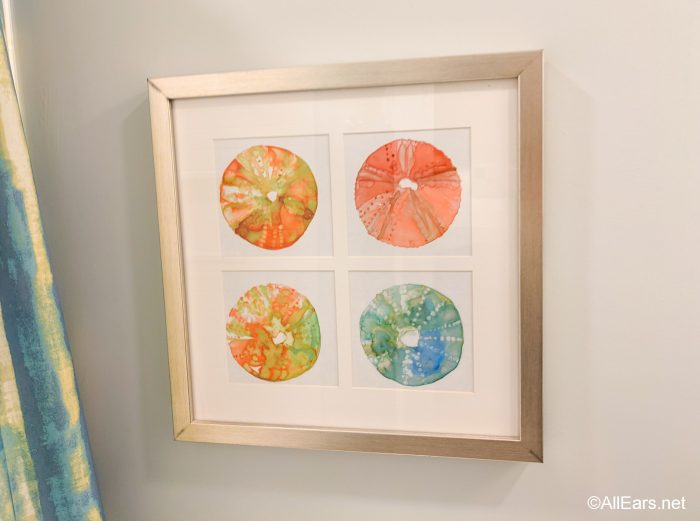 The tub and shower a blue and green curtain.
You'll find H20 Bath Soap, along with a washcloth and bath mat draped over the edge of the tub.
On the far wall of the shower, there are dispensers for H20 Conditioner, Body Wash, and Shampoo.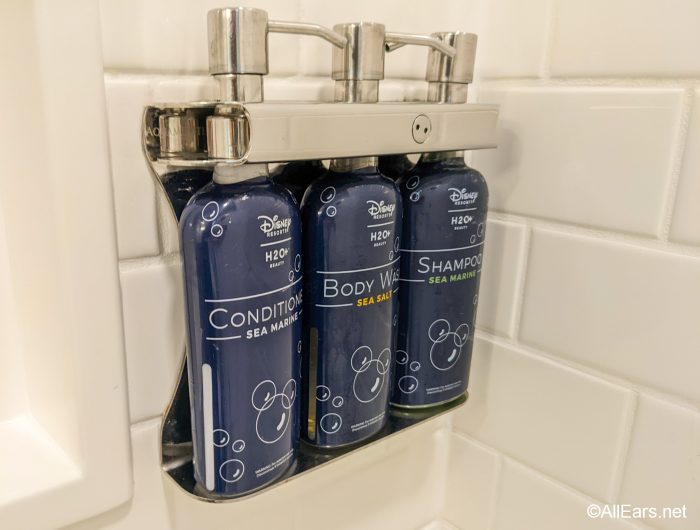 Beside the dispensers is an alcove where you can set your own bath and shower supplies.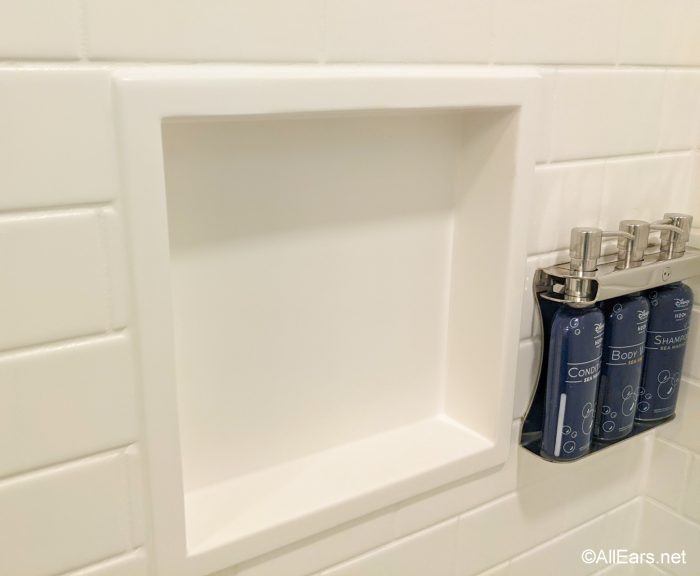 The tub is about the same size as what you would see in other Disney World hotels.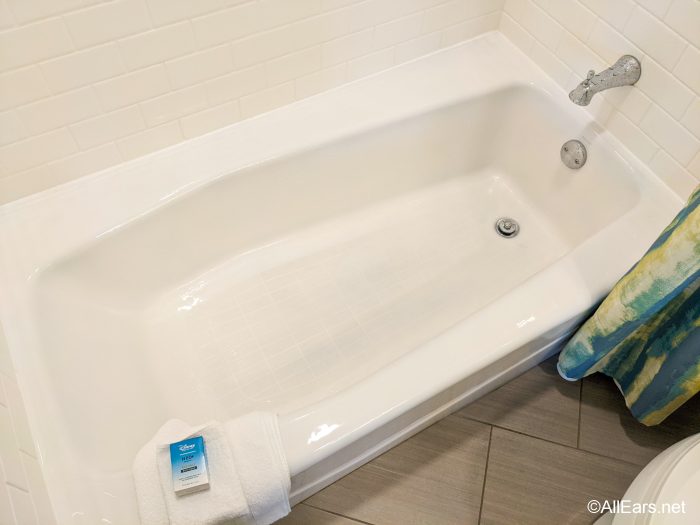 Above is a tall showerhead for those who prefer a shower.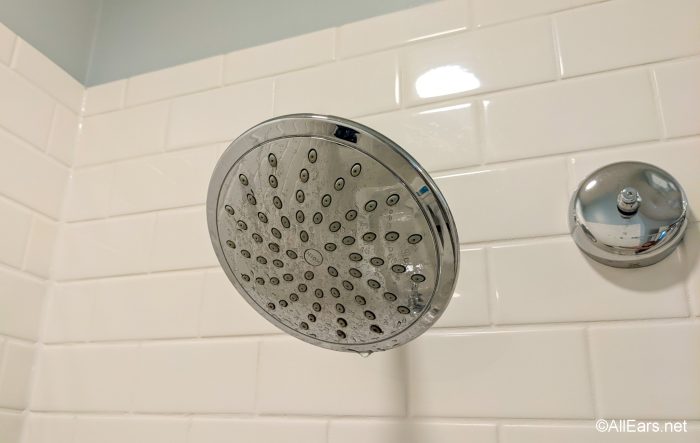 Now it's time for a cup of that Joffrey's coffee because that was a lot!
Overall Impression
Our room at Old Key West was more spacious than most other deluxe studio rooms we've stayed in. It was also comfortable and had some nice DVC amenities you don't always get in Disney World hotel rooms. Having a kitchenette is always nice, along with a full-sized coffee maker and microwave. The Disney details here aren't in your face, but the nods to Disney in the artwork remind us of where we are. If you're looking for a deluxe hotel that has the same amenities as the other deluxes, but is less expensive, Old Key West might be the resort for you.
Join the AllEars.net Newsletter to stay on top of ALL the breaking Disney News! You'll also get access to AllEars tips, reviews, trivia, and MORE! Click here to Subscribe!

Have you ever stayed at Disney's Old Key West Resort? Let us know in the comments!