Disclosure: We were invited by Universal to attend a media event for Universal Orlando's Mardi Gras. This did not affect our reporting of the event — our opinions are our own.
The Mardi Gras celebration has kicked off at Universal Orlando and we're bringing you along on our adventures through the food, drinks, and entertainment!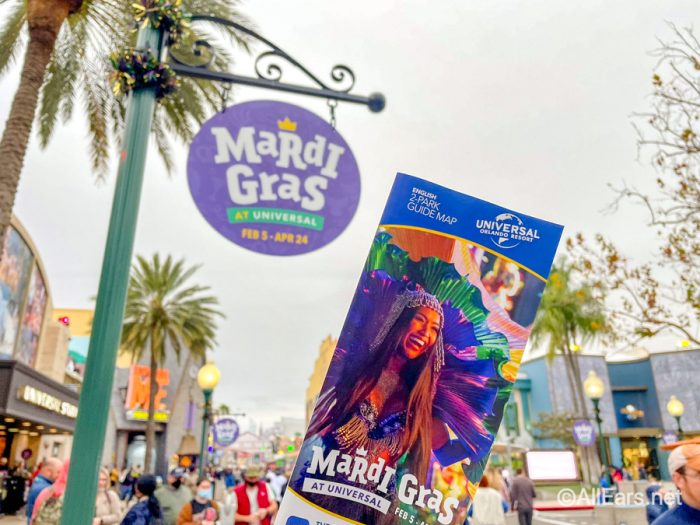 We've been waiting in anticipation for this year's celebration, and it's FINALLY here! You can expect live concerts, delicious Cajun foods, and of course — a parade! We're sharing our first look at the 2022 Universal Orlando Mardi Gras Nighttime Parade. Let's take a look!
The 2022 Mardi Gras party runs from February 5th to April 24th, 2022 — though it did get extended twice last year!
And of course, it wouldn't be Mardi Gras without a parade! The whole thing kicked off with some dancers in colorful costumes, some on stilts!
Throughout the celebration, guests will be able to see authentic New Orleans-made floats glide by, like this one!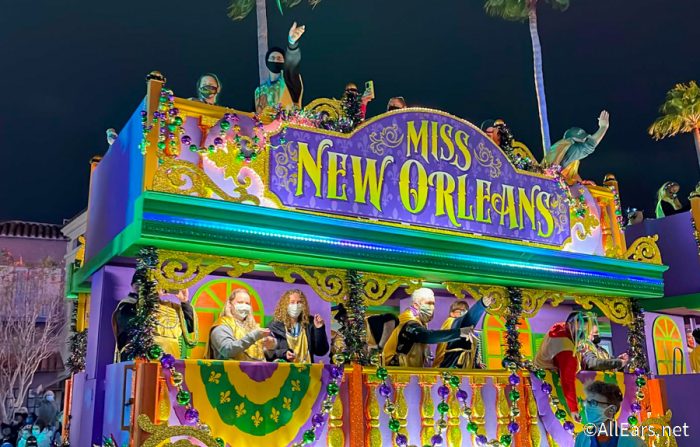 The Krewe of Dionysus brought a Dragon Float to the parade.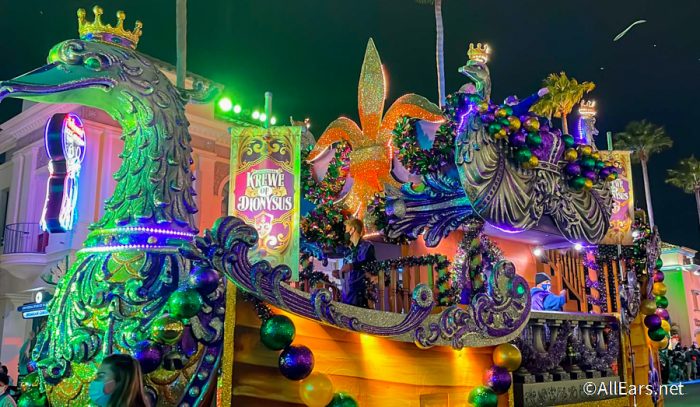 We're always amazed at the creativity behind each float.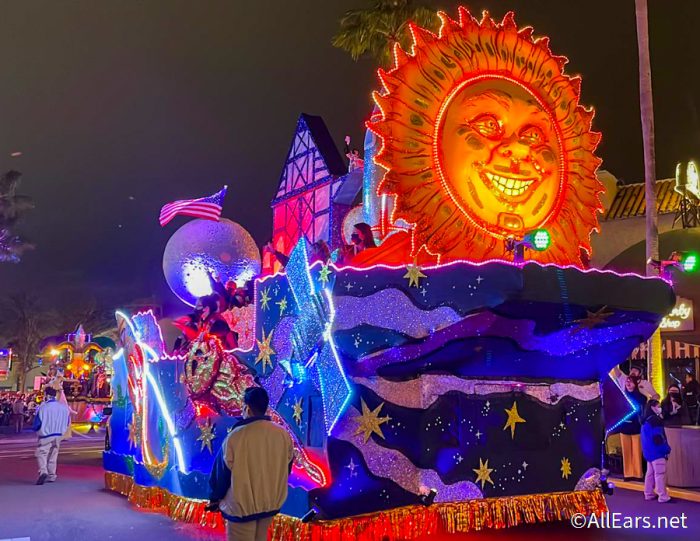 This one took us under the ocean to float around with some sea friends.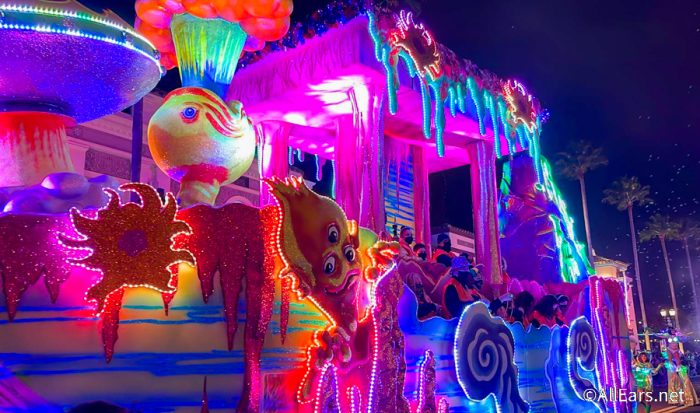 Look at all the incredible details of this float — it has a steampunk kind of vibe.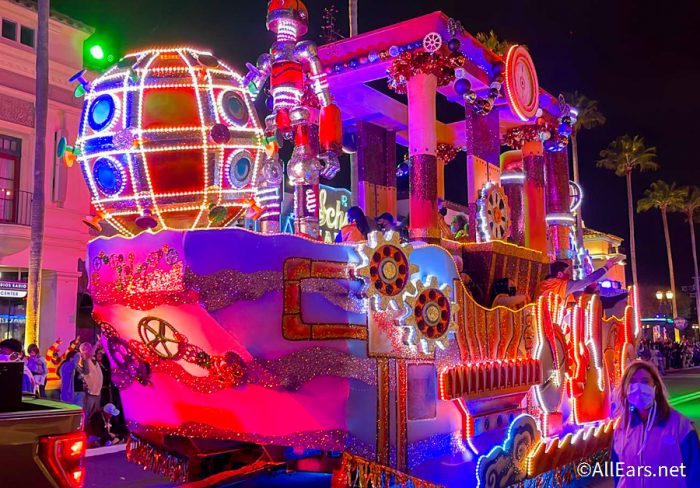 Oh, and don't worry, you'll get LOADS of beads thrown at you from each float!
The beads are flying at the Mardi Gras parade! We even caught some 👏👏#UniversalMardiGras #Hosted pic.twitter.com/iQE2aGn9El

— AllEars.Net (@AllEarsNet) February 6, 2022
There were SO many beads!
We caught more beads 🎉#UniversalMardiGras #Hosted pic.twitter.com/g1swoPUNHP

— AllEars.Net (@AllEarsNet) February 6, 2022
The performers between floats wore some amazing costumes that lit up the night.
This float was strung with its own beads!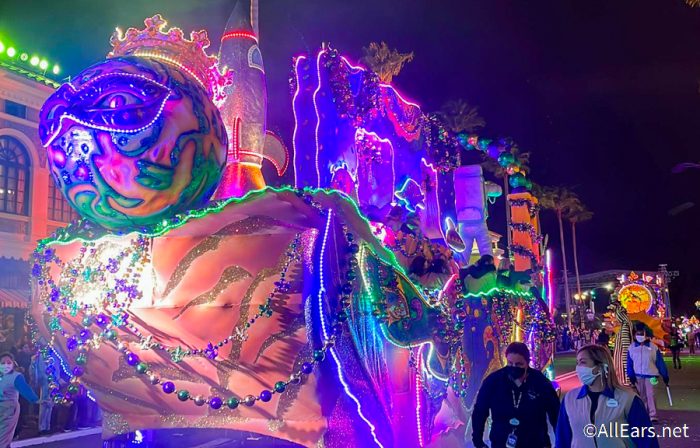 There was even a float depicting a Bourbon Street Jazz Club. Let the good times roll.
You can't have a Mardi Gras parade without the King and Queen.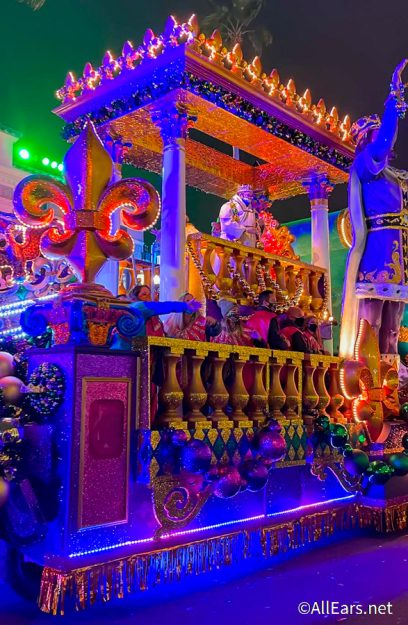 Check out these dancers made out to look like lobsters!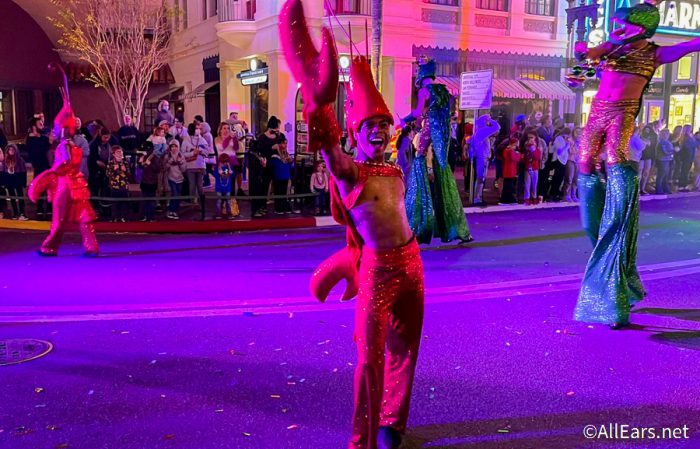 The final float was a bedazzled alligator, which is SO New Orleans.
Can't forget about the King Gator float in the Mardi Gras Parade! 🐊 👑#UniversalMardiGras #Hosted pic.twitter.com/peAnYz4VhU

— AllEars.Net (@AllEarsNet) February 6, 2022
Check out our total bead count!
✨BEAD CHAMPION✨#UniversalMardiGras #Hosted pic.twitter.com/VYu79dclGt

— AllEars.Net (@AllEarsNet) February 6, 2022
You can catch the parade at the following times:
February 25th: 5:15PM
February 6th-11th, 14th-17th, 22nd-24th, 28th, and March 1st: 6:15PM
February 13th, 18th, 21st, and 27th, March 2nd-4th, and March 7th-11th: 7:15 PM
March 14th-17th, 21st-24th, 28th-31st,  April 3rd-7th, and April 9th-24th: 7:30PM
February 5th, 12th, 19th, 20th, and 26th, March 5th, 6th, 12th, 13th, 18th-20th, and March 25th-27th: 7:45PM
Also, don't forget you can join a virtual line to get the opportunity to be IN The parade on one of the floats!
Keep up with us for a look at everything else going on at Universal Orlando!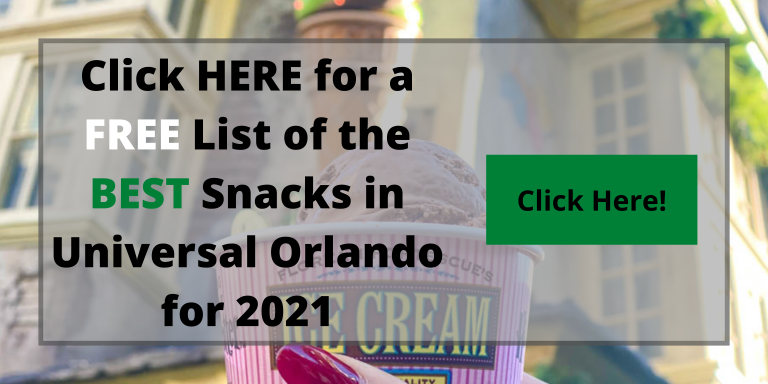 What's your favorite part of Universal Orlando's Mardi Gras Celebration? Let us know in the comments!