When it comes to deciding where to stay during your trip to Disney World, there are SO many options.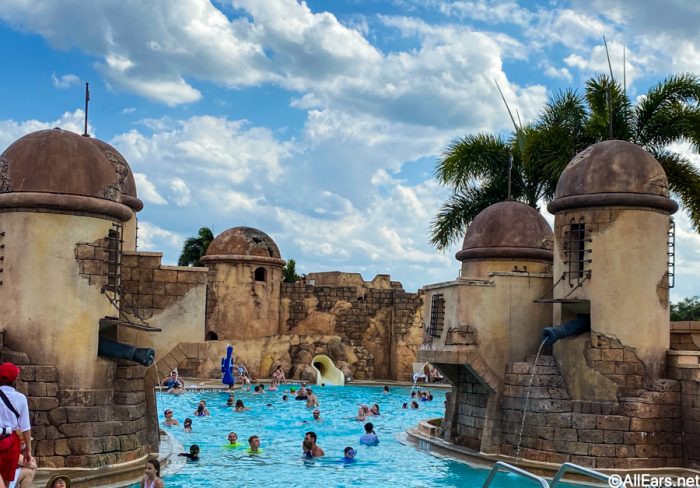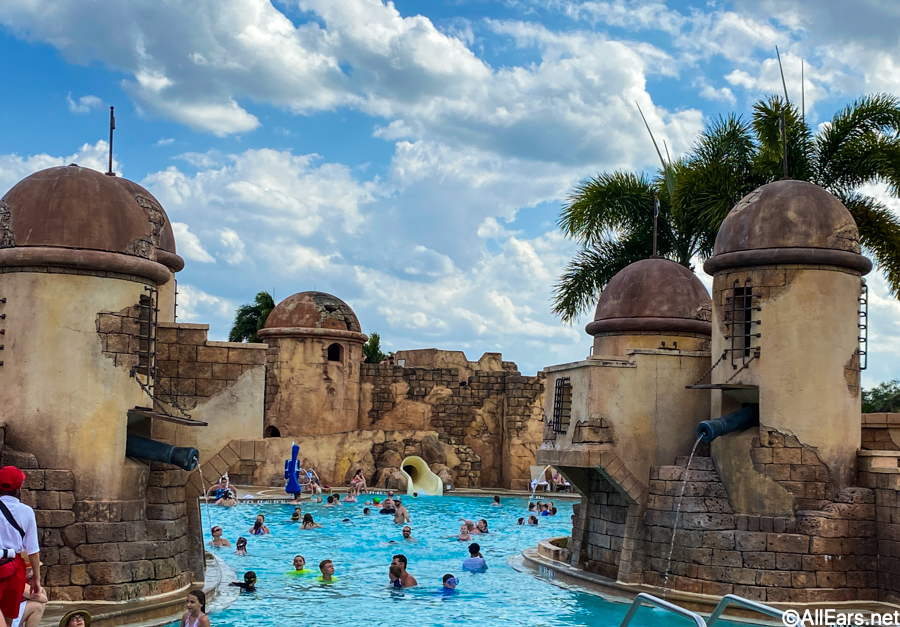 With over 25 places to stay, each Disney Resort has something different to offer. From themes to restaurants to amenities, there are so many things to weigh. Today, we're taking you on a little tour of one of the rooms at Disney's Caribbean Beach Resort!
Disney's Caribbean Beach Resort is a Moderate Resort with theming committed to making guests feel like they're vacationing on an island in the tropics.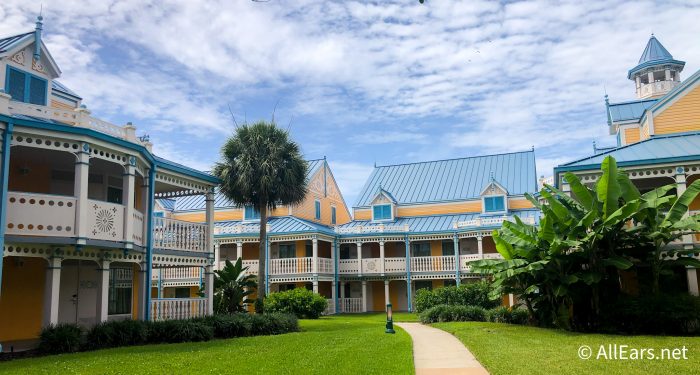 Now, when you mention Disney's Caribbean Beach Resort to any Disney fan, you will likely get one of two answers — and they are at completely different sides of the spectrum! This seems to be a hotel that people either truly love, or very much do not. The reasons for this are varied.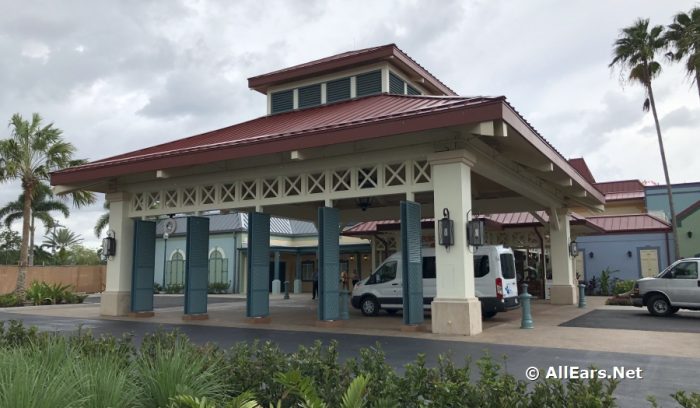 On one hand, you have Moderate resort-pricing with excellent transportation options. Specifically, Caribbean Beach Resort is home to the hub of Disney's Skyliner, meaning it's an easy line to easily get over to EPCOT or Disney's Hollywood Studios when you want to go to the theme parks.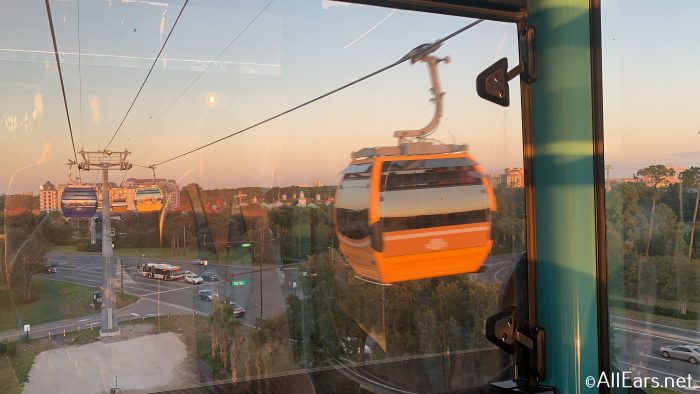 However, it's also a big resort that is incredibly spread out. The hotel hosts over 1,500 guest rooms that are split up across five different areas — Martinique, Aruba, Jamaica, Trinidad, and Barbados. Guests can get from one section to the next via bus or walkways, but there's no denying it can be a trek to get anywhere you need.
This includes traveling to some of the main amenities of the resort, which are located at Old Port Royale Centertown. These amenities include restaurants, gift shops, and more.
At the hotel you will also find six different pools, including the main pool — Fuentes del Morro. This huge pool has the feel of a Spanish fortress, with waterslides and water cannons.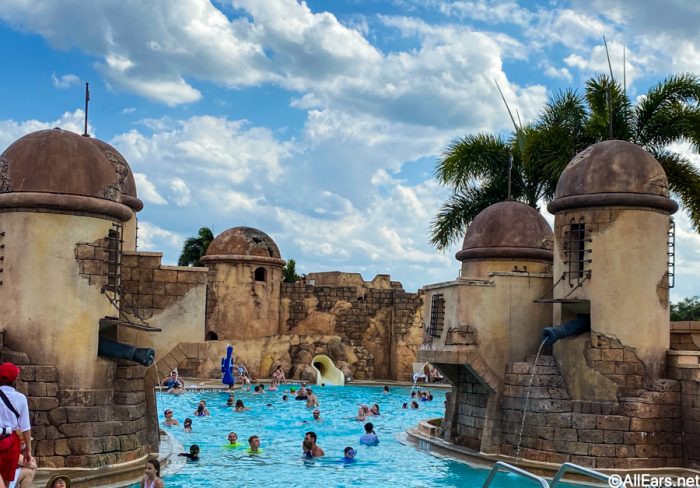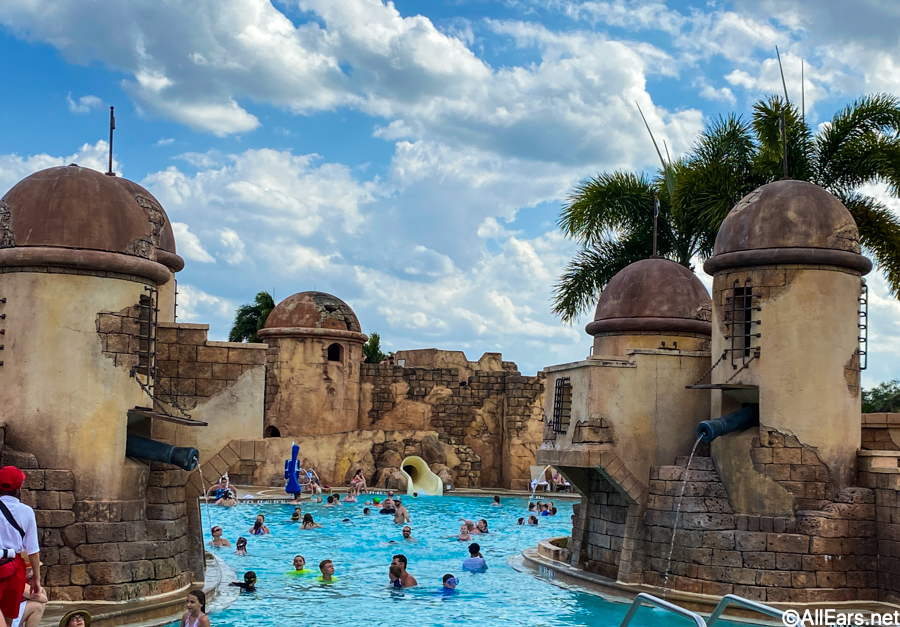 Throughout the resort, there are little walkways that connect the different villages together. Everything has a very beachy feel to it, and really creates the feeling of being on a lush, Caribbean island.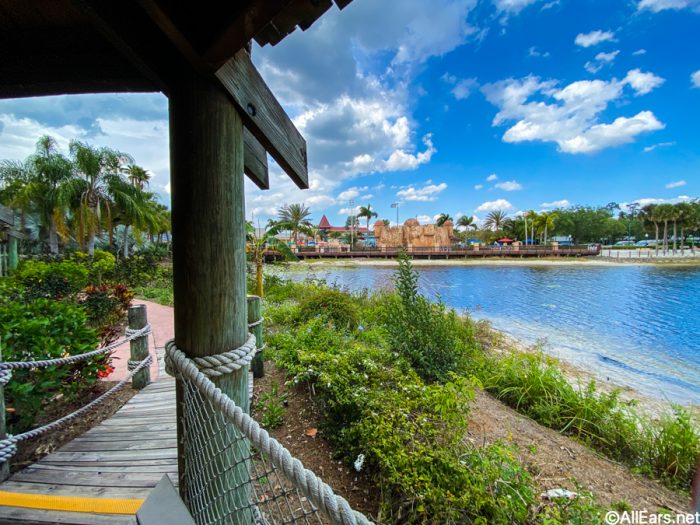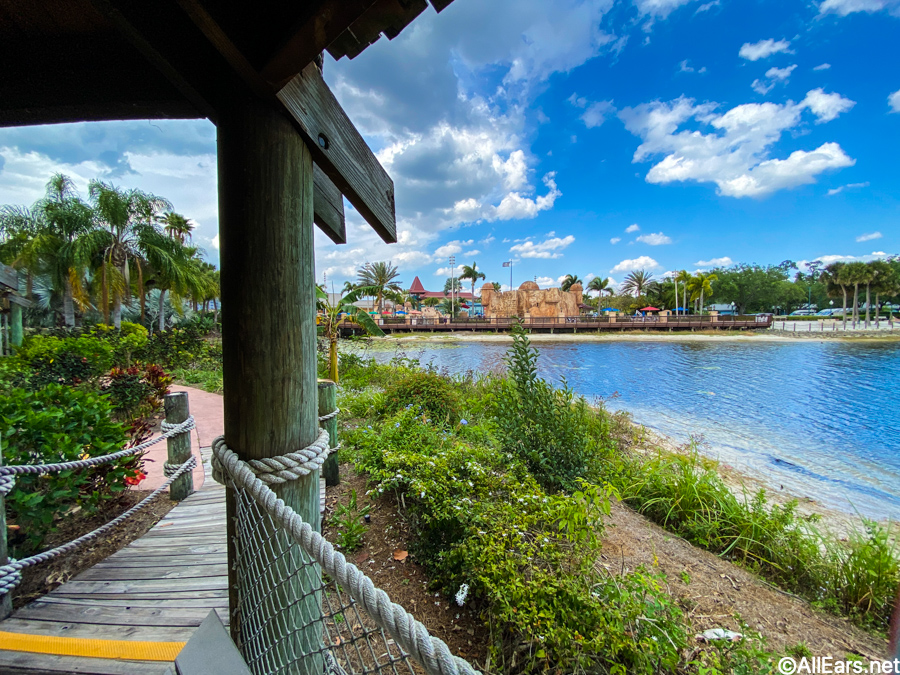 We recently paid a visit to the resort, so we're giving you a look around!
Pirate Room
One of the options for your stay at Disney's Caribbean Beach Resort is in a Pirate Room! Yes, pirate-themed rooms! How cool is that? We spent the night in one of these swashbuckling rooms — here's a closer look.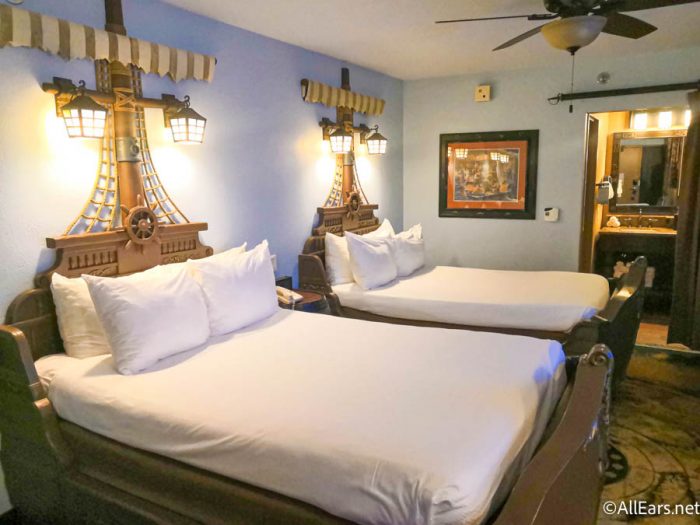 The main attraction of the room is the two double beds designed to look like pirate ships, but those aren't the only nautically themed features in the room. Dressers and tables are disguised as crates, trunks, and barrels. And even the carpet has some impressive designs!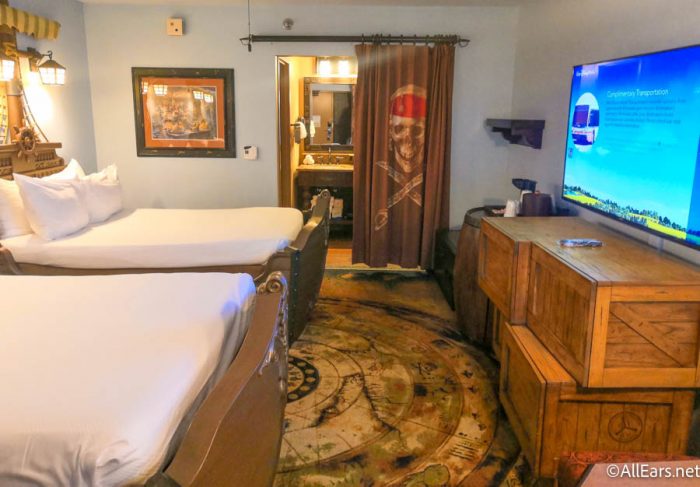 The headboard of the bed looks like the mast of a ship, with netting, a shredded sail, and cage lights.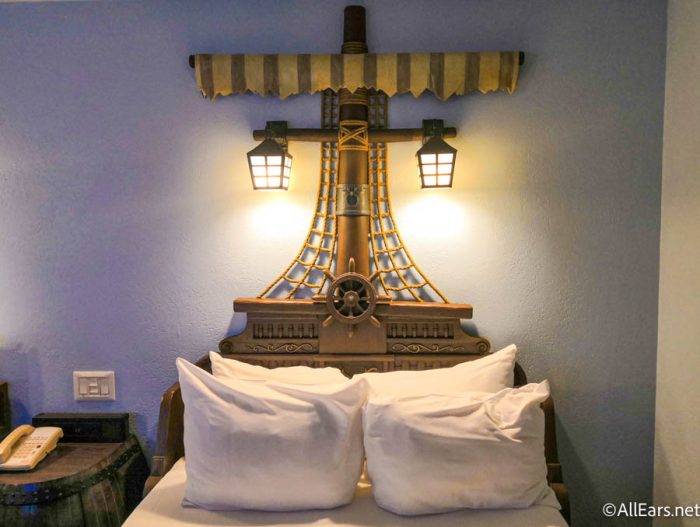 Oh, and there's even a little steering wheel!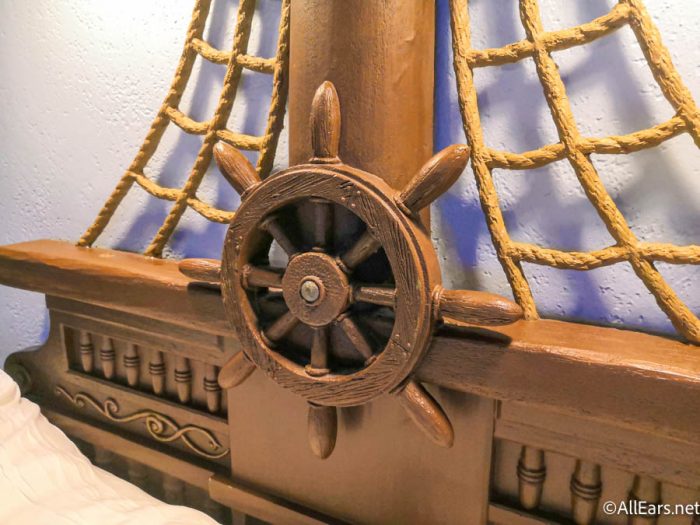 The sides of the bed even look like the sides of the ship, making it look like a fully enclosed vessel.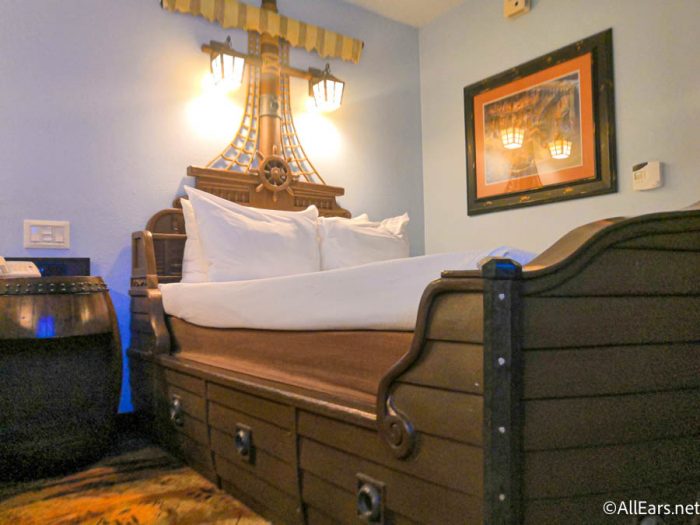 Between the beds is a barrel, er, nightstand!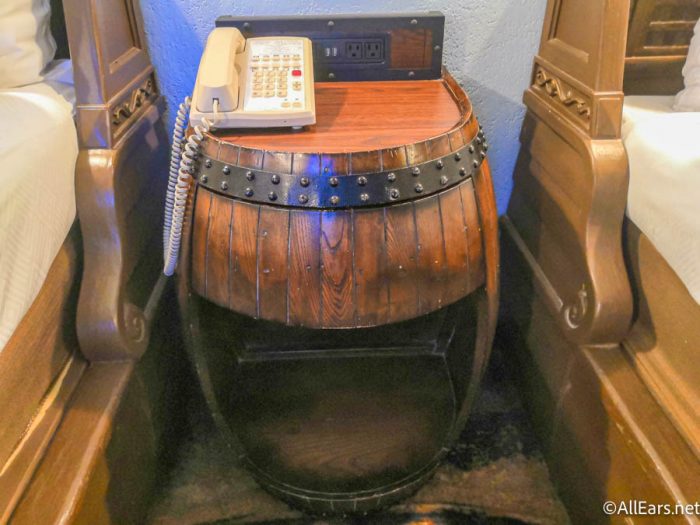 On it is a phone, along with a few different charging outlets.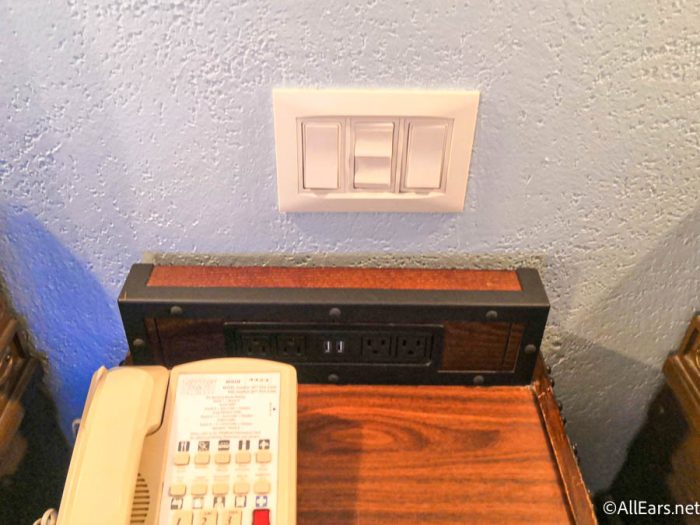 On the wall next to the bed, you can find some really cool artwork too!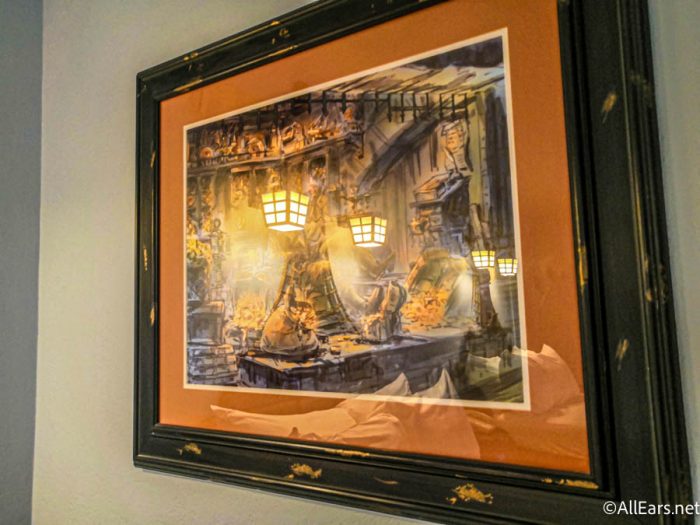 Across from the beds is a dresser, TV, set of drawers, and table with chairs.
The table has a nautical design, and the chairs are covered with a red pattern.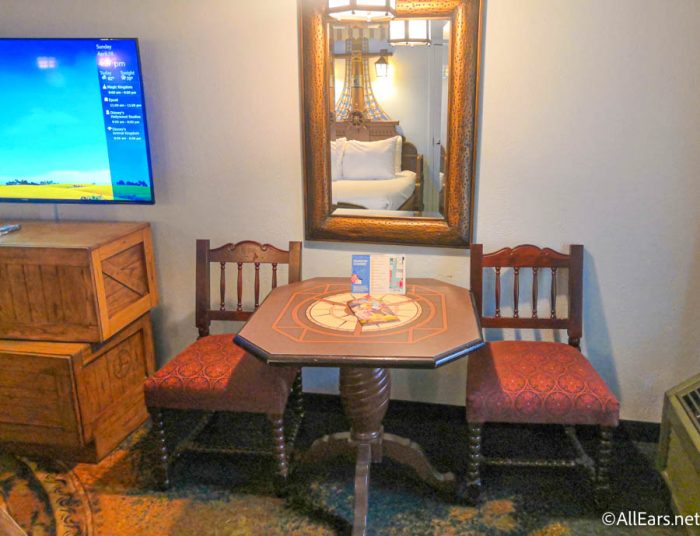 A guide on the table outlines the room's cleaning procedures, which include the enhanced sanitation of high-touch surfaces like light switches, door handles, electronic devices, bathroom amenities, and much more.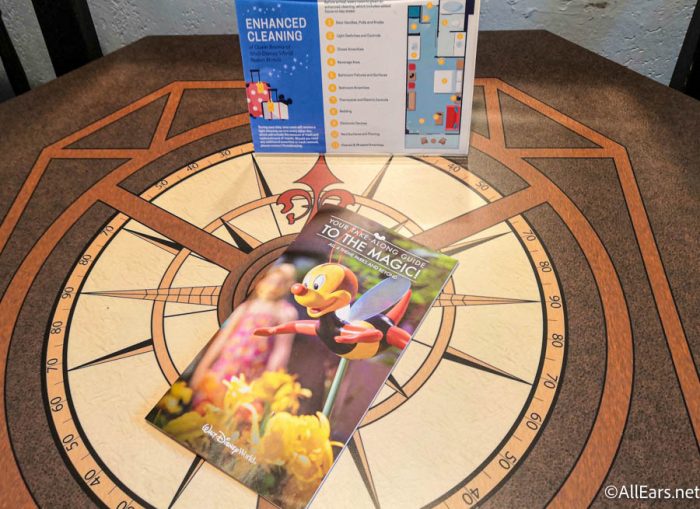 Right next to the table is a large TV atop a bunch of wooden crates. Hey, pirates have to store their clothes somehow.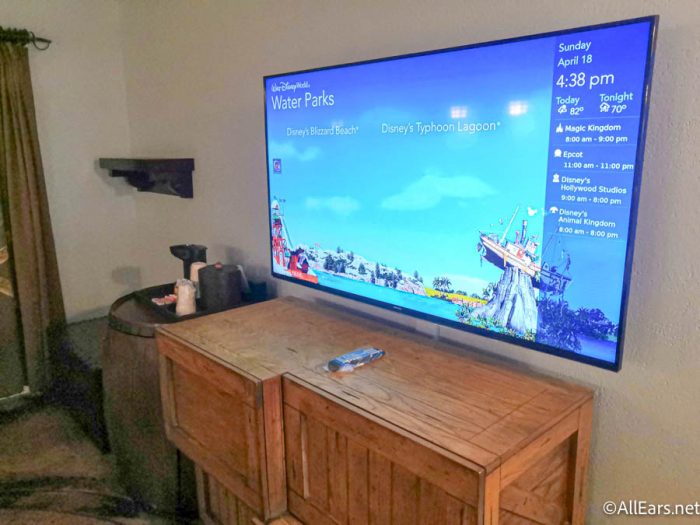 The drawers are deep enough to hold your park outfits, souvenirs, etc.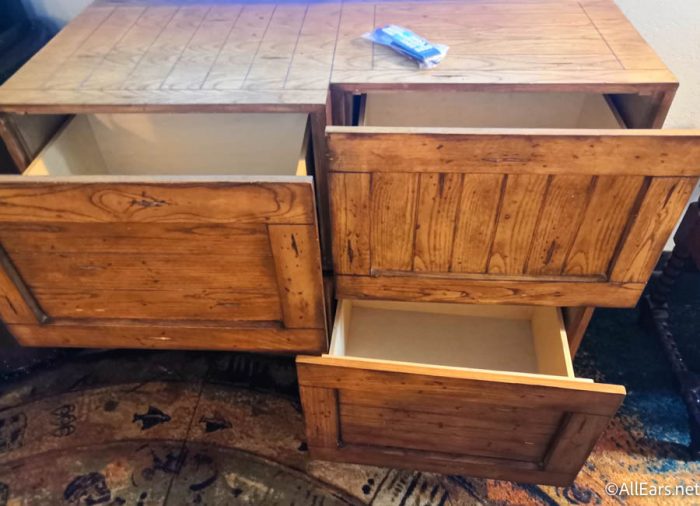 The TV remote is wrapped in plastic as a means to prevent the spread of germs in between guest stays. It's swapped out in between parties.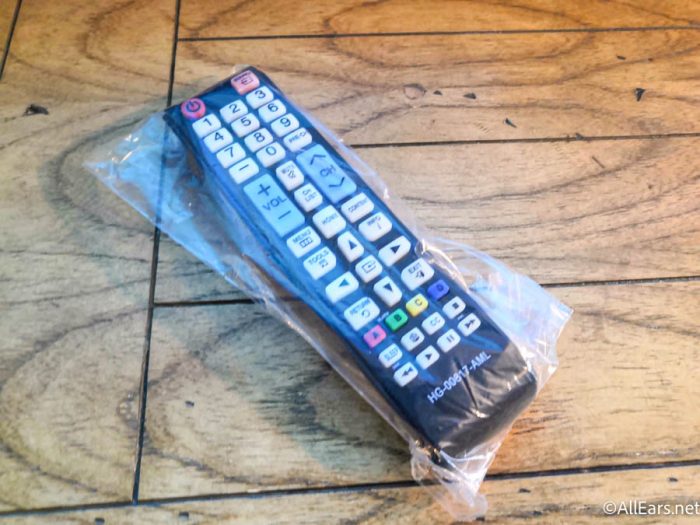 Atop this wooden barrel, you'll find a coffee maker, along with cups, tea, and coffee. There's also an ice bucket. This room is all about surprises because that's NOT just a barrel.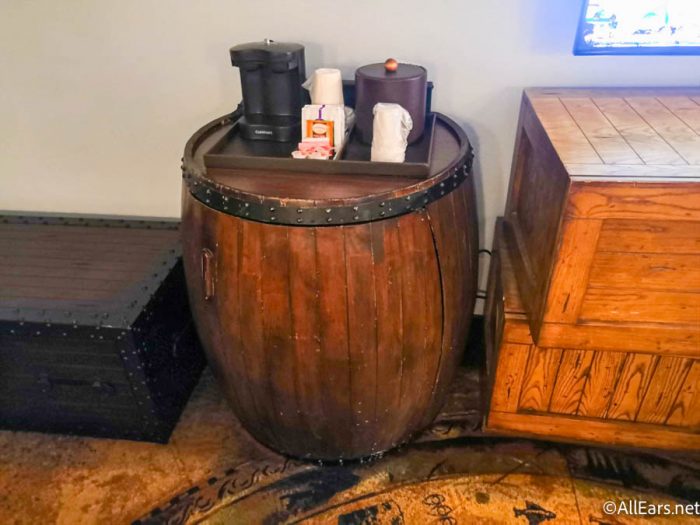 It's a mini-fridge! Pretty sneaky, huh?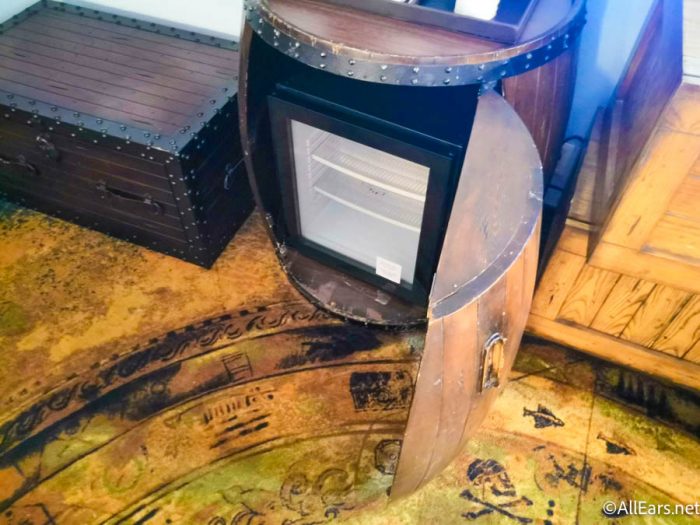 A drawer also slides out of the corner trunk for any extra storage space you may need.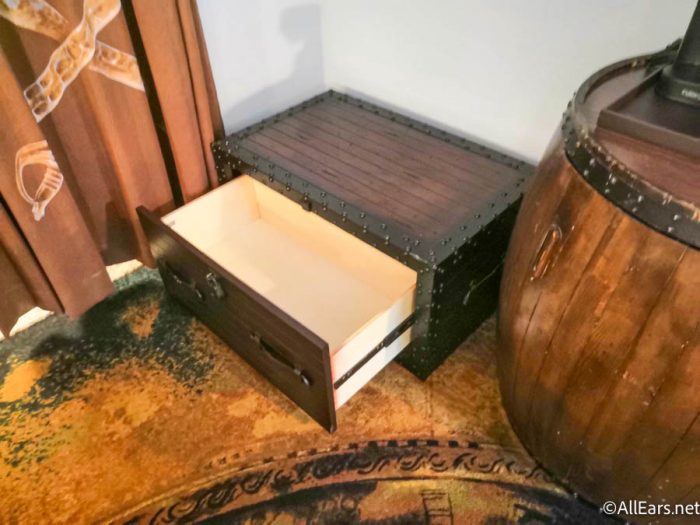 Oh, and before we forget! Look at the carpet! The green, brown, and tan colors fit in with the theme of the room, and the design incorporates little symbols that have to do with navigation and a Jolly Roger.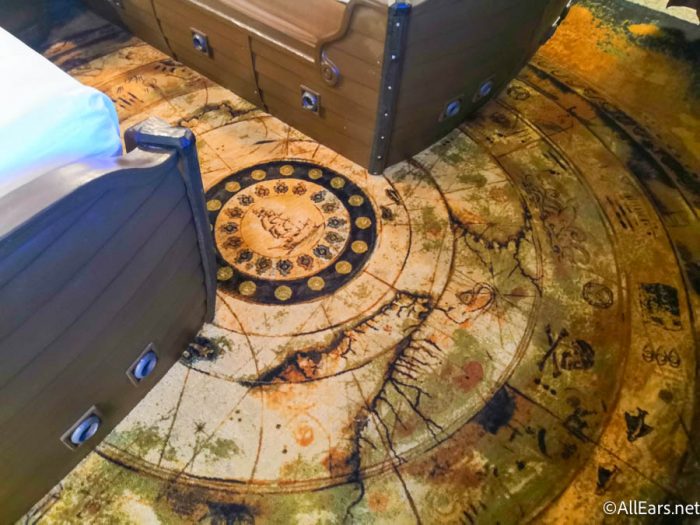 And that's not the only Jolly Roger you'll see. The curtain that separates the bedroom from the bathroom area features a big ol' pirate skull from Pirates of the Caribbean.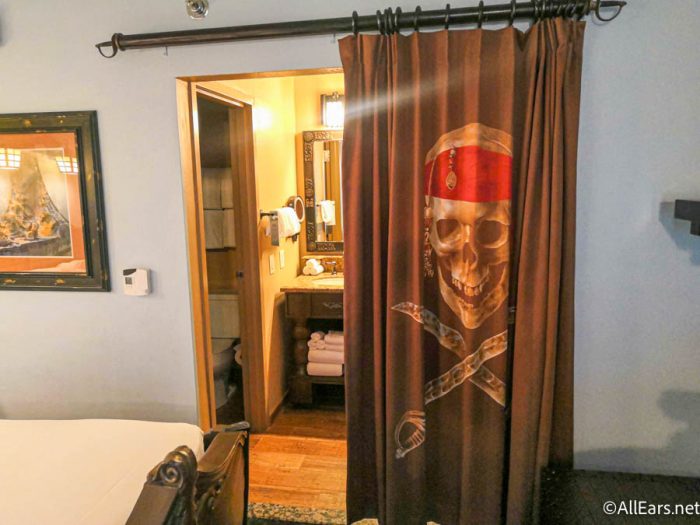 In the closet area, there's plenty of space to hang clothes. There's also an ironing board and iron, a safe, and extra pillows.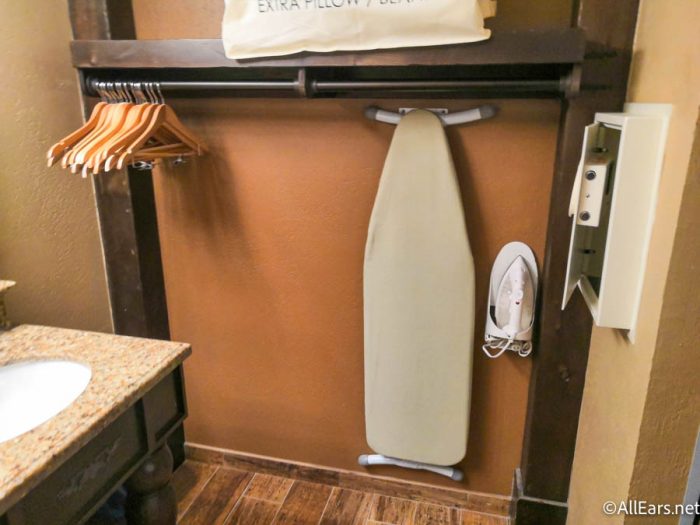 The bathroom has double-vanity sinks set in front of a huge mirror. The counter is stocked with extra washcloths, tissues, and H2O soap products. Even the faucet matches the pirate theme!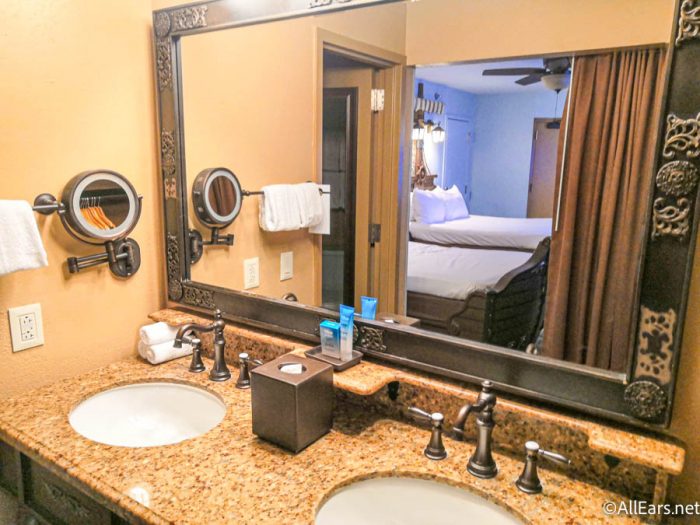 Below the sink, there are extra towels, tissues, toilet paper, and a blowdryer.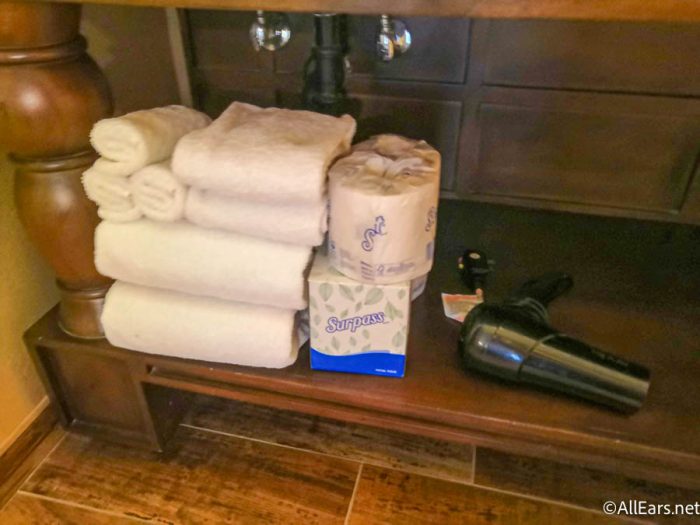 The door to the bathroom is covered with a huge mirror.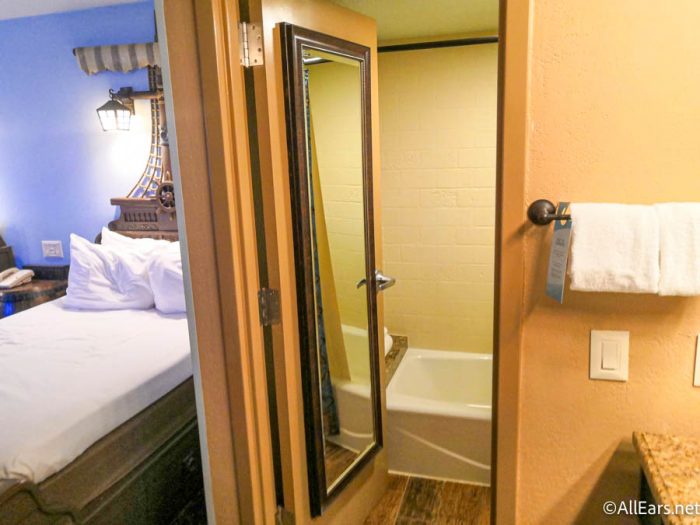 Inside the bathroom, you'll find a blue and gold shower curtain covered in pirate ships.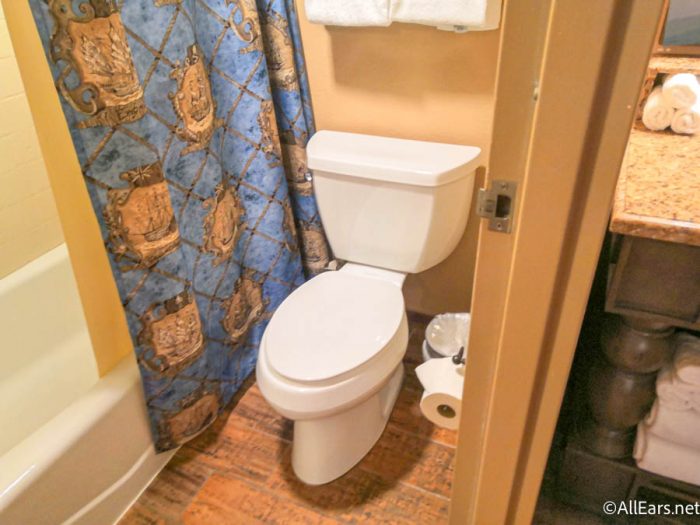 And, the shower has refillable H20 shampoo, conditioner, and body wash. The bottles are covered with a "clean" sticker, to let you know that housekeeping has sanitized them in between stays.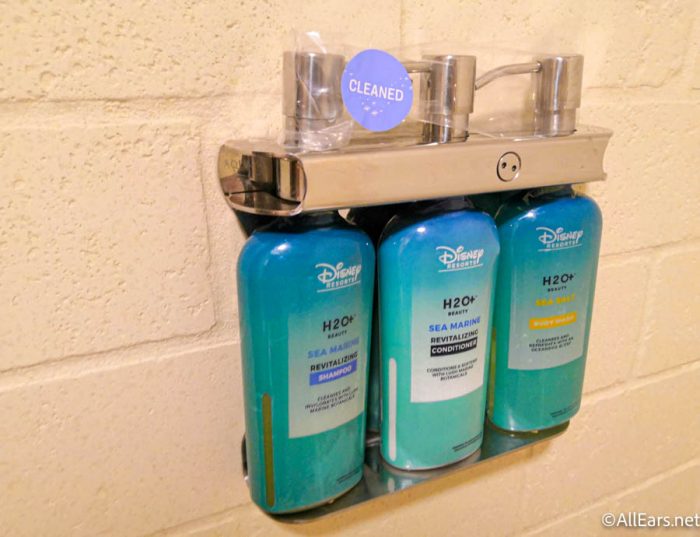 There are also plenty of extra towels, and spots to put them.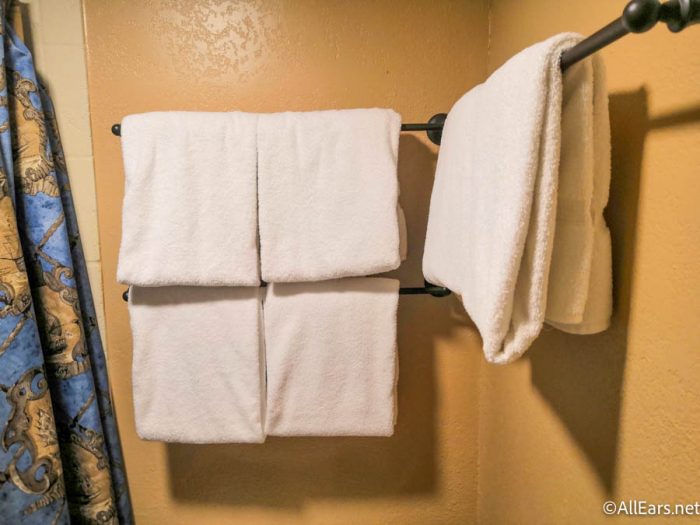 There's also a little ledge on the bathtub for extra towels, products, etc.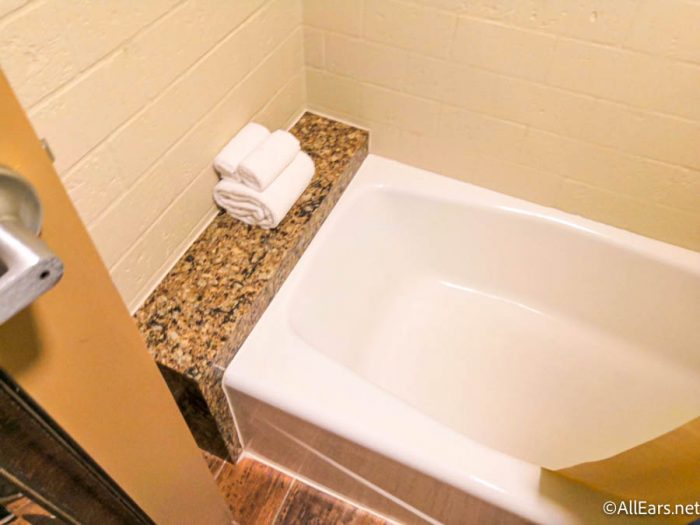 Alright, back to the main room. There's a sizable window next to the entrance of the room. Its curtains are covered in a pink and blue floral pattern.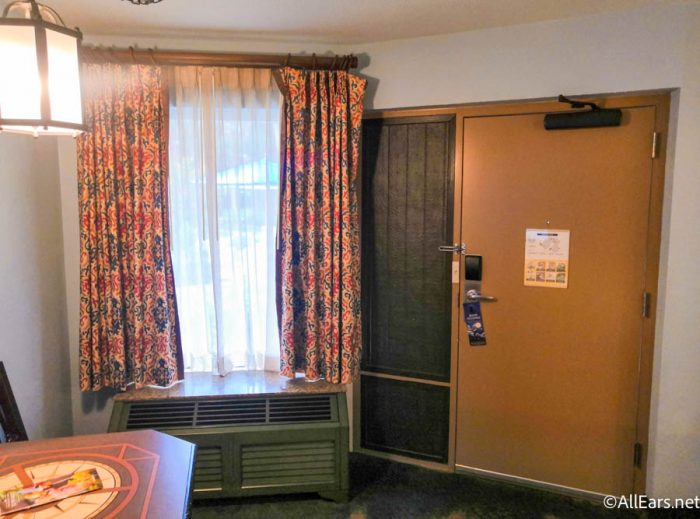 The door has multiple locks and a little door hanger to let housekeeping know if the room is occupied.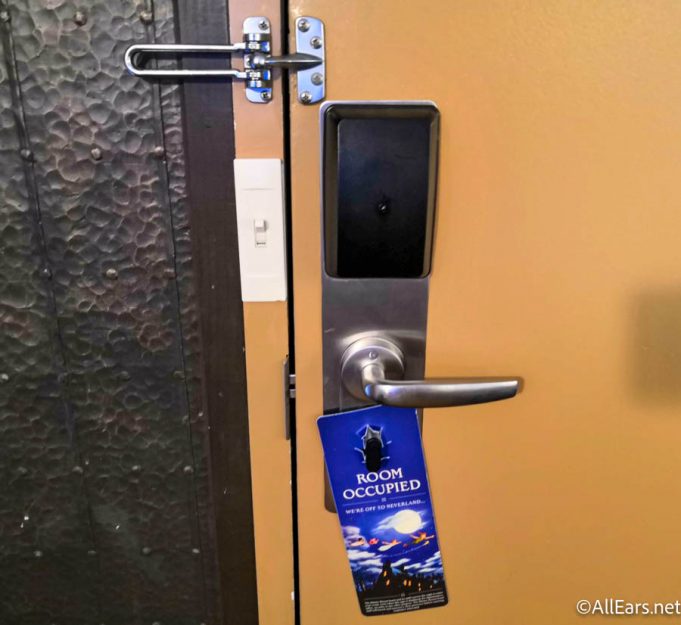 Let's give you a peek at what's just outside too!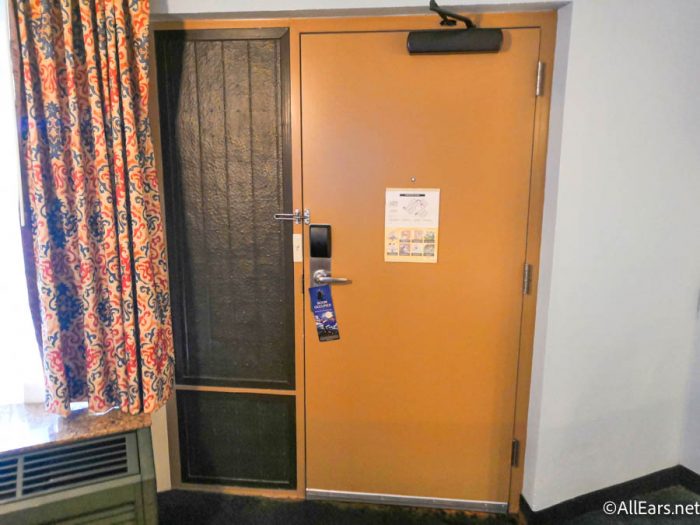 We were located in the Aruba section of the resort, so the buildings surrounding us were a bright pink color.
There were tables with umbrellas, as well as benches, so guests could sit and relax outside. Also, look at those huge palm trees! Even the foliage makes the resort feel really serene and immersive.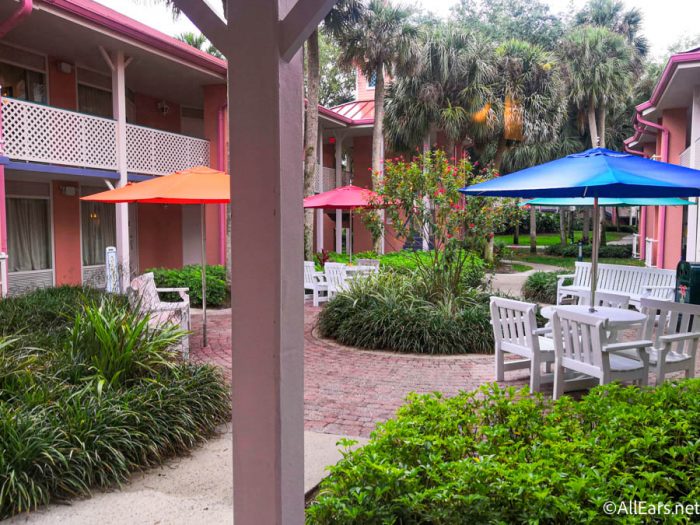 Now, Caribbean Beach Resort seems to be one of the most divisive hotels at Disney World, with guests either loving or hating it. Let's break down a few of the pros and cons of staying here!
Perhaps the BIGGEST pro is that it's home to the Skyliner hub, meaning you are an easy ride in the sky away from Disney's Hollywood Studios and EPCOT.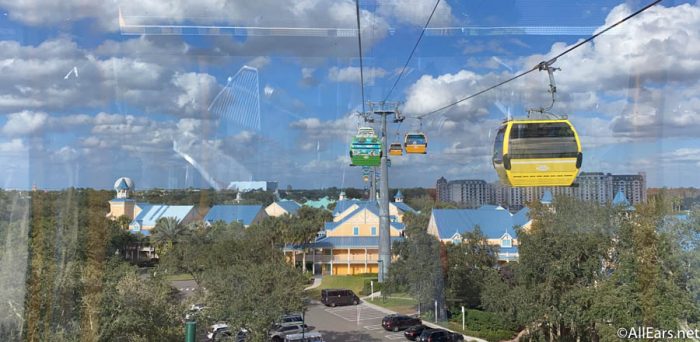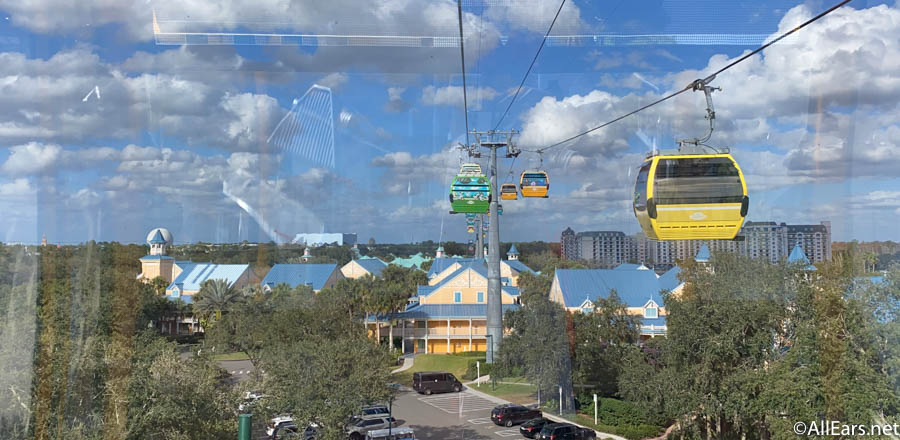 On the flip side of transportation, this is also a big hotel with a ton of bus stops throughout, meaning if you are going anywhere you need to take the bus you are likely in for a bit of a longer wait.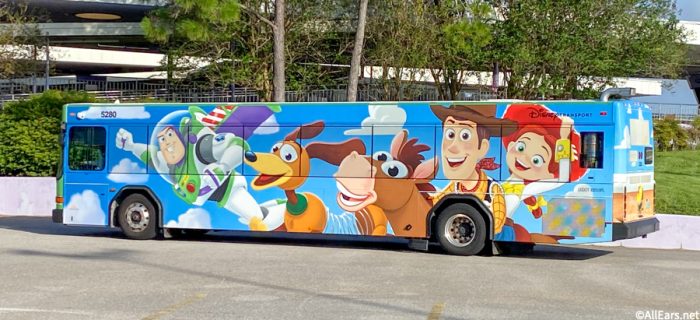 Caribbean Beach Resort can also get fairly pricey for a Moderate Resort. For example, the Standard View for the Pirate Room we stayed in started at $325 a night for nights in April. The regular Standard View rooms are less expensive, starting at about $225 a night. Both of these rates can go down with certain promotional offers, including deals for Passholders or seasonal savings.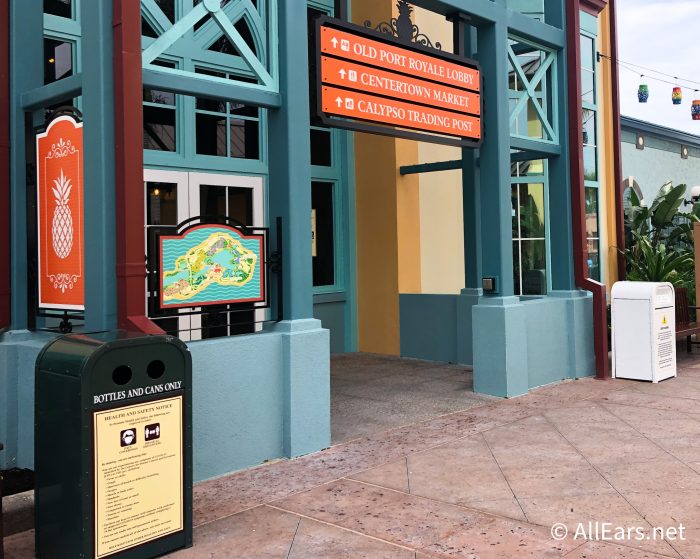 Ultimately, if you're looking for a Moderate Resort with great theming, transportation options, and a great pool, Disney's Caribbean Resort is one to consider!
Have you stayed at Disney's Caribbean Beach Resort before? Tell us in the comments!
Join the AllEars.net Newsletter to stay on top of ALL the breaking Disney News! You'll also get access to AllEars tips, reviews, trivia, and MORE! Click here to Subscribe!